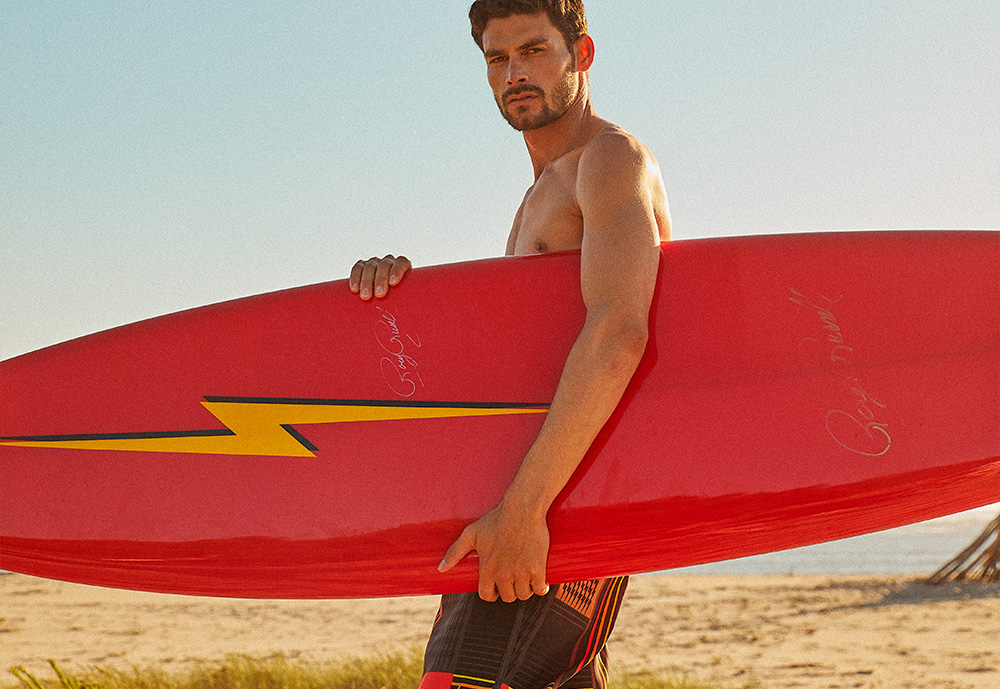 Lightning Bolt 2023 Boardshorts Preview
Retail Buyers Guide: Boardshorts 2023 Retail Buyer's Guide
Brand: Lightning Bolt
Interviewee: Sofia Dias, Brand Manager
Within the shorts category, what is roughly the market share for (surfing) boardshorts?
Lightning Bolt's boardshorts are part of our imagery and core business. Since the foundation we are worldwide famous for that.
Did the boardshort category get spared by the COVID aftermath (costs of materials & shipping, innovation)?
Unfortunately, not. The different stages of the Covid pandemic impacted the productions and sales seasons. Particularly on the boardshorts category, these impacts are felt mainly due to the quality standards and technical requirements of the items. Suppliers have had difficulty responding to the high-quality raw materials demand. On the other hand, confections were also forced to close for a long time. This resulted in delays in production, which already had ambitious delivery times due to delays in the supply of raw materials. Despite we had to struggle like most of the companies with delays and raw-material scarcity, to produce locally – a sustainable option (it allows us to reduce the logistic operations and transport waste) – also lets us have more control over the production settings. We kept close contact with our suppliers to ensure the minimum impacts on production timings and zero deviations to our quality standards. Our goal at Lightning Bolt is to provide a good connection from production to consumer, creating satisfaction from start to finish, whatever the context is.
What are the main design trends of SS23 in the shorts category? (boardshort, walkshort and beachshort overall)?
All-day comfort is undoubtedly a feature of our shorts. From the fit to the fabric details, with the ideal length and silhouette, and pockets, they are designed to work seamlessly with the rest of a summer wardrobe. Whether hanging out at home or outside, through beach and surfing days.
What are the stories behind your SS23 boardshort collection??
The origin is the beginning of everything. The beginning of the World as we see it, know it and live it. In the search to understand our Origins, explain the Nature and the complexity of all matter, there are the Classical Elements. Water, Earth, Air and Fire: four interdependent elements believed to be essential to life. And if we go back to Lightning Bolt's origins and all its life, we'll immediately find Water.
Lightning Bolt was born in the sea, in the water. An element seen in Nature, but also in us. Essentially, an element that is present in all dimensions of our life and that deeply influences it. Water is gracefulness, fluidity, flexibility, movement and agility. It's adaptability. The Spring/Summer 2023 collection is precisely inspired by this idea and by the four Classic Elements, in a harmonious dynamism between the present and the future.
"The Wave is just like life: if you don't move with life, life passes you by!" – Gerry Lopez
What about your price range? (entry-level to high-end models)
Our range of prices varies according to the product we are selling. Above all, we work to have the best balance between price/quality and the market recognizes that.
What are the colours/patterns of choice in your SS23 collection?
This Collection rescues colors from Nature, profoundly inspired by its Elements. Navy, Tempest, Seagrass, Double Cream, Brindle and Old Rose make up a light, balanced and pleasant color palette. Natural tones that make us feel serene and work like a fresh sea breeze. The fabrics used throughout the collection are lighter – as if we were creating with Air – and composed of natural fibers, such as organic cotton and linen – Earth. The printing technique uses Water-based tints, to show the respect and sustainable relationship with Nature. The prints, inspired by the origins of Lightning Bolt, by the surf and waves, appear with vibrant color contrasts and innovative details, giving the garments a retro and at the same time contemporary touch. A wide variety of styles, that suits different circumstances, characterizes this versatile collection and lifestyle. After all, we want to live the present and look into the future in an integrated and balanced way. Enjoying its various dimensions, respecting the origin of everything, the Essential Elements.
How did you mix the synthetic/natural fabrics in your offer?
We continue to privilege production methods and raw materials that promote sustainability. Upcycling and reuse are concepts that are always present in our collections. When planning productions, we always analyze the fabrics and remnants we have in stock to avoid waste and new orders of raw material.
In addition, focusing particularly in SS23, we'll work with organic cotton and linen, a natural fiber. When in need to use other kind of composition, we go for viscose, a plant-based fiber, and more sustainable alternative to polyester. In the printing processes we privilege digital technique and water-based inks, more ecological options.
When it comes to sustainability, what do you bring to the table?
At Lightning Bolt, we always aimed to «Keep this land beautiful». There has always been a pioneering message on environmental protection, which we insist on communicating in our collections: https://lightningbolt-usa.com/eu/sustainability.html. We see it as a responsibility of a global company.
Following our strategy, the plastic used to pack our garments is made from recycled materials and the card boxes, which are completely recyclable, are closed with paper glue tape. Besides this, our hang tags are made of recycled paper.
We're using leftover fabrics and giving them a new life. This has reduced the idea of waste and allowed us to also cut the destruction of unsold goods. Now we can ensure that products can be recycled. Our reuse, reduce, remake technique will be carried on further into the brand and make a more significant impact on our company as time goes on.
In what regards surfboards, our "Gold Level" certified ecoboards have 70% lower environmental impact in every board produced and 45% reduction on resin consumption and waste. These surfboards have the same technical performance as any other board, but a reduced environmental and toxic impact using more sustainable materials and manufacturing processes.
Key Products:
~Surf Squad (90% PES 10%EA)
This longer shorts (46cm), with inner lining, are ideal for sports. Its composition with elastane makes it more adjustable and flexible. Fixed waist at the front with adjustable drawstrings. Back pocket with eyelets to facilitate water drainage, embroidered logo on the front. Mix of prints that go from the traditional sunset colors stripes to a pied-de-coq formed with Lightning bolt rays, creating a unique pattern with the face of surfstyle. This fabric composition (PES + EA) with elastane (spandex) ensures maximum comfort, dries faster, and is lighter (105 grs) than any other Lightning Bolt ever used.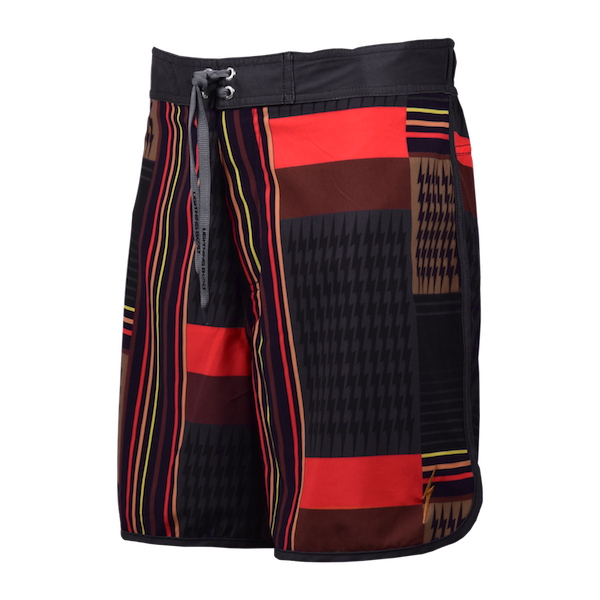 ~Bolt Stripe Boardshorts (90% PES 10%EA)
It is impossible to dissociate the pure and original surfing from the Lightning Bolt boardshorts. In '71 they were the only garment needed for a surfer to get into the sea. And it was more than enough. Nowadays our most iconic boardshorts are inspired by those colors and cuts, as well as this boardshorts (46cm) with the iconic Lightning Bolt and colored stripes on the left side. These boardshorts have elastane on its composition and fixed waist, which makes them more flexible and perfect for surfing. Inside pocket for the keys and back pocket with eyelets to facilitate water drainage.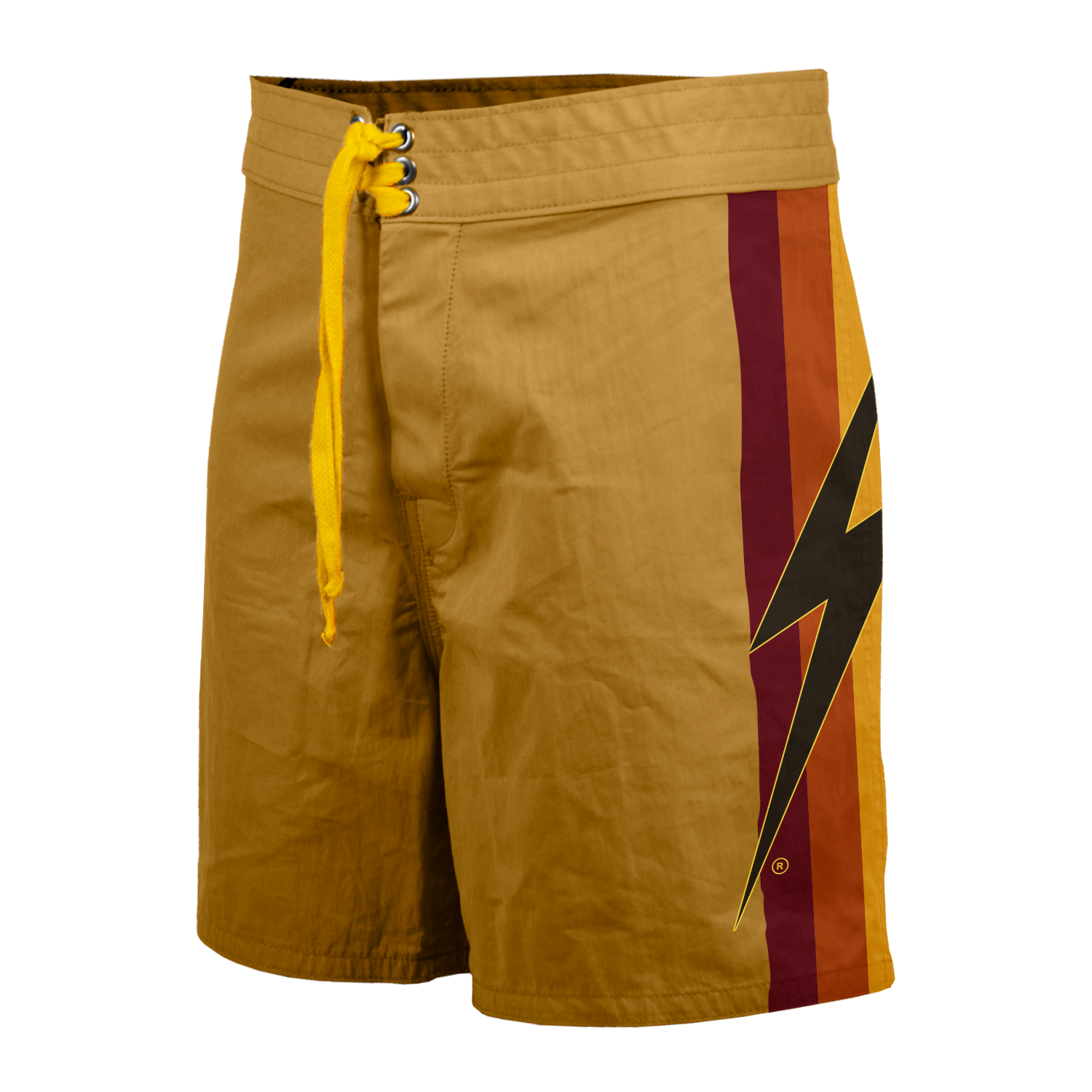 ~Essential Boardshorts
These boardshorts, made of cotton/polyamide, are our carryovers through the seasons. It embodies our essence: the classic and charismatic colors of Lightning Bolt on timeless and vintage looks that carry on the true spirit of aloha. The plain turtle boardshorts are essential pieces we should all have.