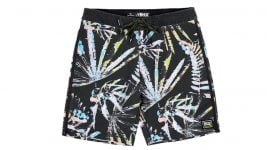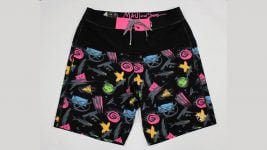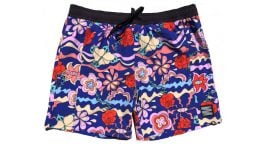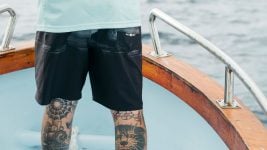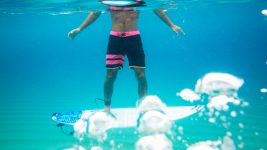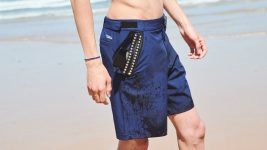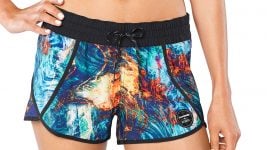 Half-technical, half-fashion garment, boardshorts present a whole range of problems for designers. This puzzle has an extra element to it now that surfers have started demanding hybrid models: multi-function board, beach and walkshorts. Buyer's guide by David Bianic.
While we are slipping into our boardshorts of choice for 2019, designers are putting the finishing touches on their spring/summer 2020 collections, doing their best to get a headstart in the world of fast fashion. Boardshorts are their own exclusive domain, distinct from beachshorts, but this latter category has nonetheless sneaked into surf apparel. Beyond being an exercise in style, the boardshort is a big sales lever, confirms Alexandre Berthonneau, Head of Product at Billabong Europe: "Boardshorts is the #1 category in spring, with a consistent growth compared to apparel." Even though the mainstream market is looking for different cuts in swimming shorts, Head of Design at Maui and Sons Lacey Corkery explains: "we maintain a strong line in technical 4-way stretch boardshorts." When it comes to figures, the beachshort has taken the upper hand on the fixed waist boardshort", confirms Jan Lindeboom, Head of Men's Clothing at O'Neill whose swimwear category constitutes the majority of their summer sales.
TECH VS. STYLE
For a few years now, the boardshort has emphasised fabrics and fits more so than styles. In 2020, the balance will be somewhat redressed, as the slogan of the Airlight range from Billabong characterises: "Tech is not dead, it's hidden". Stretch and ultralight synthetic fabrics are still in the mix but "in a less tech/minimalist direction", explains Alexandre from Billabong. So prepare yourselves for shorts that are more visually rich, along the same lines as the Short Series Co. collection, influenced on one side by Hawaiian Art Deco imagery of the 1940s (Old Gold style) and on the other side by sixties pop art (Love Trip style). This colourful past is coupled up with the brand's commitments to sustainable manufacturing using recycled polyester with multidirectional stretch, digital printing and low-volume production, explains founder Brett Chittenden.
HYBRIDISATIONS
Apparently incompatible, boardshorts and beachshorts (as in core surfers and bathers or worse still, kooks) are borrowing more and more characteristics from each other. Quiksilver sum this up with disconcerting ease: "Boardshorts for surfing, Boardshorts for living" and in this second category we find beachshorts that look so much like them they could be mistaken for boardshorts if it wasn't for the side pockets and string around the waist.
COLOURS & MOTIFS
The firecrackers of previous seasons seem to have been put out, with most brands opting for sobriety with injections of sparkle. We see many "black bases with touches of colour and shades of blue" cites Alexandre from Billabong. The same choice was made at Quiksilver whose two "colour stories", Wave Rave ('90s, grungy, dark and a bit psychedelic) and Tropical Flow (printed with tropical flowers, revisited with bright colours), go alongside black or dark blue dominators. Salty Crew has built a new color story for their SP20/SU20 line, made of "brighter blues, corals and yellows popping up",  that is to say freshy options for the brand, with a positive response so far. Although O'Neill are going for seventies style (navy blue, orange and faded yellow with motifs from the era like flowers and stripes), the brand are offering a new line of those fluoros: "A FLUO yellow in a colorgroup with Army green. Quite sure this will be a very commercial combination", assures Jan Lindeboom.
FABRICS AND SUSTAINABLE MANUFACTURING
So retailers have no shortage of sales arguments to guide their customers in 2020 and it's just as well because these boardshorts have a relatively high price point and rightly so. Say €40-50 for simple beachshorts, €60-80 for mid to high-end technical board shorts and up to €130 for super technical models. Fortunately, they are more durable than in the past…
HIGHLIGHTS
-More discreet technology
-19"-20"outseam length
-Versatile hybrid shorts
-Dull/dark colours and flashy touches
-Recycled polyester everywhere