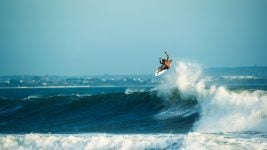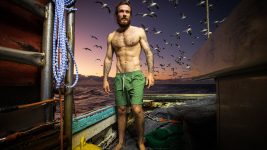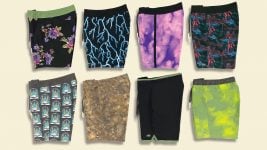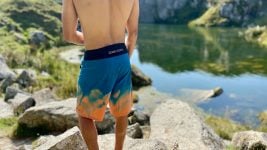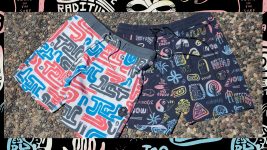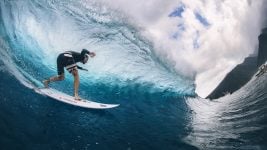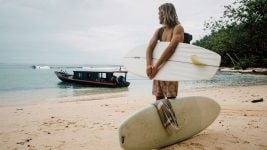 At the time of writing this edition of Boardsport SOURCE, a heatwave is sweeping across Europe, an increasingly common occurrence in recent years. In fact the climate is an "opportunity" for the boardshort category but one that's not about unscrupulously exploiting the planet as it burns. A peek at 2021 collections by David Bianic.
The English expression "the elephant in the room" depicts issues that we can all see but no one dares to confront. In this case, the boardshort category is somewhat biased in the sense that "shorts for boards" only represents a marginal proportion of overall bathing shorts sales. "The demand for technical boardshorts is always slightly lower that the one for our wide range of walk shorts and beach shorts", confirms Joffrey Delfgaauw, Design Manager at O'Neill Europe. At Rhythm, Marie Azam also asserts that "beachshorts are enjoying big success and sales are increasing more in this category than in fixed waist boardshorts." Amongst these bathing short sub categories, beachshorts are losing ground to the benefit of volley shorts, explains Tom Purbrick, Global Design Director at Quiksilver and this is the consequence of a more general trend from the wider public textiles industry for versatile shorts with elastic waists and drawstrings. Behind this trend hides a desire for multi-use shorts, as embodied by Dewerstone's Life Shorts, shorts that are "built to be the short that you travel in, the short you train in, the same short you dive in, surf in, climb in, adventure in, live day to day in", assures the brand's founder Rory Atton. It's not surprising then that the beachshort is also gaining ground from the walkshort or bermuda, getting away from the beach and invading all corners, outdoor to urban.
THE VIRUS AND BUSINESS
The economic and sanitary crisis linked to the COVID-19 pandemic is not happy with just affecting current 2020 sales and is weighing down on collections to come for spring/summer 2021. Let's start with the unveiling at the tradeshows, or in this case, without the tradeshows: "usually in July we would be attending a bunch of trade shows in Europe and USA, whilst visiting our customers for face to face appointments", reminds Nicholas Crook, Founder of Boardies Apparel. "That's all gone out of the window now as we are presenting our shorts collection via Zoom video meetings." At Lost Enterprises, Freddie Sipowicz (President) and Jonathan Gilbert (CEO Europe) explain that the Covid crisis has affected every development phase, including production timeframes for samples and shorter pre-orders. As a result "they have moved the seasonal offering closer to the actual seasonal timeframes." It's a similar story at Quiksilver who have not cancelled any ranges but have rescheduled some of them for later release. Vissla have also adapted and some spring/summer garments have been put back to 2021 (7% of the 2021 range). Hurley are doing the same, explaining that it "not only helps clients reduce their orders and reduces the pressure on them, but it is also a good way for us as a brand to keep control of the brand representation in the market," says Manon Jouanine (Hurley EMEA Product Manager and Valentine Grandamme  (Hurley EMEA Marketing Manager), the other solution being to thin out the SS21 range, an idea supported by Dewerstone, counting on the collection's flagship products.
The impact of COVID can be seen in a positive light as well thankfully, like for O'Neill Europe with "a significant growth on all online platforms not just our website but partner/account platforms as well", says Joffrey Delfgaauw. Many have been swamped by this online demand, like Protest Sportswear who have bolstered staffing at their distribution site in The Netherlands. The brand has also put in place an online b2b tool, Elastic Suite, which allows you to see the collections and place orders without physical journeys, explains Menswear Manager Ingrid Kalma. When it comes to pricing, brands are all saying that the most popular models come within the €50-70 bracket while the most technical models like the Hyperfreak Hydro from O'Neill come in at €129.99.
2021 TRENDS: PRINTS & COLOURS
Designing a boardshort rests on a three-layer design brief: "It's all about prints, lengths and fabrics", as summarised by Vissla. Let's starts with prints and more generally with the pieces' graphic story. Unsurprisingly, the 90s are revisited by many of our players. Boardies Apparel are rolling this out in the form of tie-dye and Memphis style (poppy colours and geometric shapes) and while flower and palm motifs are losing ground, black is at full throttle, "In the water, everyone we've seen surfing in Bali is wearing solid black", assures Nicholas Crook. Rusty are also leaning on their 90s glory days with emblematic styles from the era, "reinvigorated for a new generation", adds Ben Noble, Head of Design. Another era and another style at Chiemsee who portray a really colourful, vibrant, dynamic world, paying homage to the 70s surf scene. To counterbalance loud retro colours, the brand is calling upon sun-faded effects for "a relaxed look". Lots of brands are playing on two levels like Hurley who on one side are proposing many different motifs inherited from the 90s ("bright colours, geometrical shapes and fun prints") and another collection featuring flower prints and more "classical" colours. Added to this is the rerelease of the Party Pack, one of the best sellers of recent years at Hurley: namely three boardshorts with all-over fantasy prints (parrots, hula dancers and pineapples). At Lost, the exotic style meets techno through a Cyber Tropics theme based on cyans and coral colours. From the tropics to Californian palms there's only one more step that O'Neill are taking, and that's pastels for their California Vacationer Pack, "with stylish American Retro Vacation silhouettes in pastel colours and nostalgic all-over prints." Protest have also opted for pastels (mauve, dusty pink, sand and shady blue) next to more classic colours (red, blue, petrol and mandarin).
Fortunately there are alternatives to the 90s, tropical and Californian options, like from Quiksilver and their Endless Trip collection with more earthy tones "Inspired by missions south of the border, desert point breaks and campfire nights". We also like the Life Shorts Pro in Muted Jungle from Dewerstone, inciting the need to act against deforestation: "For every Muted Jungle Life Shorts Pro we make, 50 trees will be planted in Central America", explains Rory Atton. For one model, the brand has also teamed up with the Gili Eco Trust, a foundation coming to the rescue of baby turtles.
2021 TRENDS: SYNTHETIC VS NATURAL
While technical boardshorts go hand in hand with synthetics, beach/walkshorts offer a more eclectic range of materials that call on comfort, durability factors as well as reductions to cost. Boardies, Hurley, Dewerstone, Protest, Rusty and Quiksilver are using polyester fibres obtained from recycled plastic bottles. Quiksilver are proud to announce they have used the equivalent of 250 million plastic bottles that ended their days in landfill. The brand also explains that their 2021 Highline range (performance) will benefit from a plant-based hydrophobic treatment (with no PFC and bio certified in the United States). For most brands it's about stretchy polyester fabric (uni and multidirectional) while the less technical ranges inherit mixtures of polyester/cotton that allow for more competitive price tags. Another option comes from Rhythm who are offering- as well as polycottons -100% nylon models or thick cotton canvasses, choices that correspond in our world to neo vintage aesthetic decisions rather than technical solutions. Vissla offers a range of boardshorts that are 100% eco-friendly using Cocotex fabrics (coconut and polyester fibres), as well as Repreve, hemp or bio cotton, not forgetting PFC-free beading treatments.
Finally, a few words on the details of finishing touches, starting with the Explore Phantom+ Apex boardshort from Hurley, a hybrid model with multidirectional stretch with a mesh liner for breathability and a mesh waist that holds the short in place without retaining water or sweat. At O'Neill, the WP-Pocket Hybrid model has a waterproof pocket (30 metres), featuring an automatic magnetic closure system.
So no revolution in the boardshorts world then but recurrent models/styles whose developments from one season to the next are not always outstanding enough to highlight to customers. The good news is the rise in the beachshort and hybrid short categories, two styles that are capable of seducing a non-core clientele who are rediscovering a surf look with the practical features of mainstream clothing.