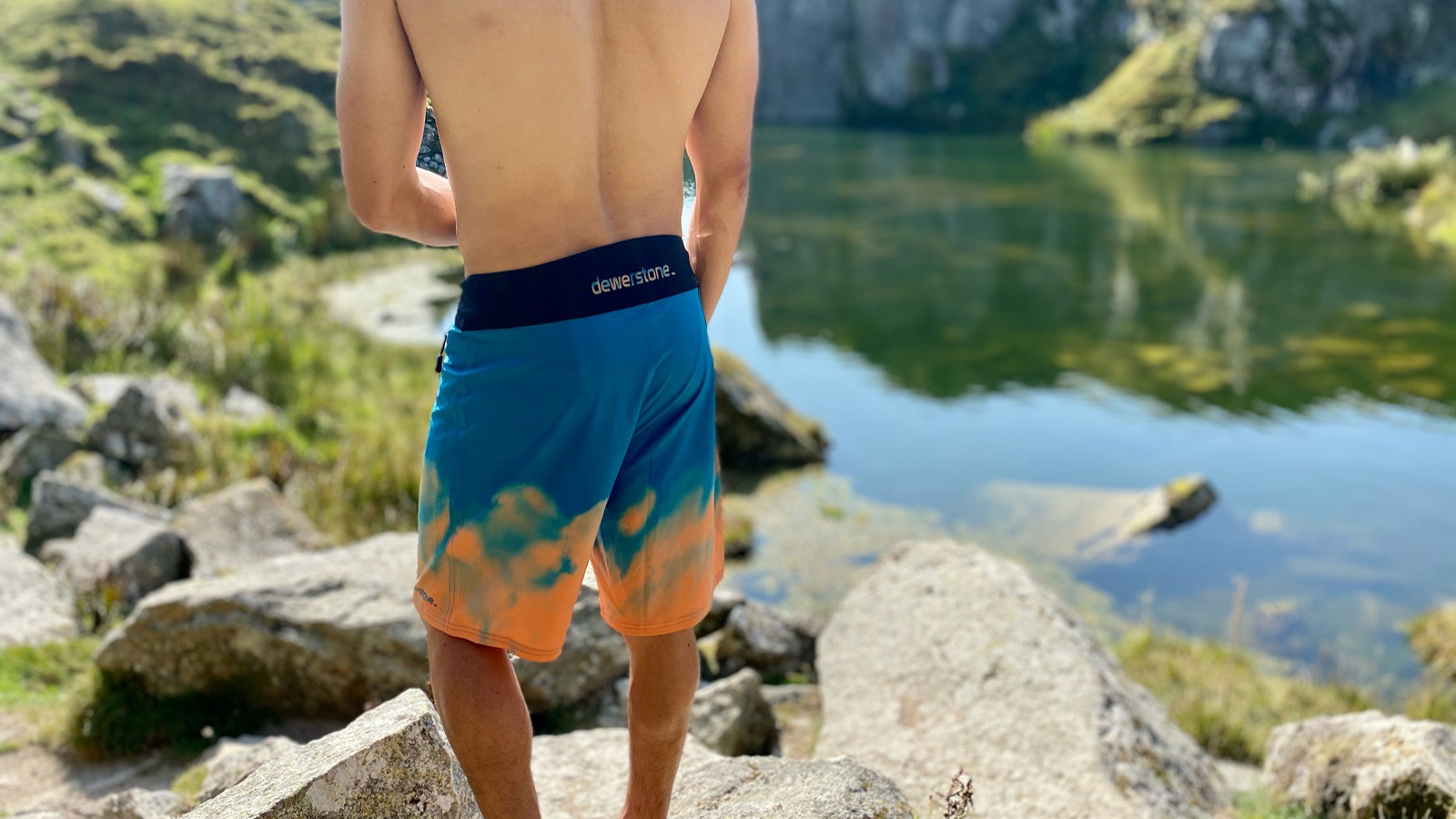 Dewerstone SS21 Boardshorts Preview
Brand: Dewerstone
Saleswise, how are the technical boardshorts doing compared to the walkshorts and beachshorts?
Working within a defined category gives an immediate ceiling, a status quo to the end product before a sample has ever been made.
We set out to create the short we'd been dreaming about. No ceilings, no corners cut, no features left out, no preconceived direction, no category in mind or price point to reach. Just the goal of making the very best short we could, for any adventure.
The Life Shorts were built to be the short that you travel in, to be short you train in, the same short you dive in, surf in, climb in, adventure in, live day to day in.
If there was ever a category to do it all, the Life Shorts are it.
How has Covid affected your SS21 sell in plans ? (delays/range cancellations/carry over…)
Covid shook the World, it shook our World.
We opened our first retail location in October 2019 and shut it the same day we launched SS20, the same day we were planning to ship in to our first national retailer. For a brand that a couple of years ago was printing t-shirts in the garage, this was going to be a big year.
If we were going to rise from the ashes of 2020, it was time to dig deep, focus on why we are in business and remind ourselves that it was never easy to start with.
We sold out of Life Shorts by mid Summer. We either didn't manufacture anywhere near enough, or people are really starting to value where we are coming from; all signs lead to the latter.
It's with great pride that we turned what is arguably the most difficult year most businesses have ever had, into the best year we've ever had. It is a testament to the values we uphold, the people that form them and the customers that believe in them with us.
Just like everyone else we're learning to live in a digital world, with product previews and sell ins via Zoom, training from a distance and a pause/rethink on new product being the new normal.
We've extended order deadlines to give retailers time to make the most of Summer and be in a good situation before them having to finalise orders for SS21. We'll tighten our range for SS21 to carry more depth in our core product lines knowing that retailers are feeling cautious now more than ever.
What's hot, what's not (anymore) for summer 2021? (influences/silhouettes)
The world is literally hotter than it's ever been. Whether it's surf or snow, the boardsports community have always been tuned into the climate and its influence on the environments where we work and play. This is the underlying influence behind everything we do.
Aesthetic design has to be on trend but our product design has to run deeper than that if we want to see real change. The planet has to have a say in what we as brands are doing, what we are consuming and what we are putting into the atmosphere through the manufacturing and distribution process.
The reality is that systems to measure, offset and reduce exist. Whilst every system is not perfect, that is no reason to not do it. Consumers are aware of this and are beginning to look for the Climate Neutral Certified label on the products they buy.
As an industry if we want to continue to build brands around the environments the planet gives us, we need to be at the forefront of protecting it.
Sizing: boardshorts lengths are going up and down. Do you offer several outseam lengths?
We don't. We've got a short that is built for any adventure, not a seasonal or fashion trend
It would be a contradiction to what we stand for and why we created the Life Shorts to start offering a whole host of different lengthed shorts based on what other brands are doing.
As an industry we need to slow the pace of fashion, we need to make less, not more and we need to build products that last years not seasons. The textile industry is a dirty industry and we as the outdoor and board sport industry need to lead the way in being a part of the solution, not contribute to the problem more.
What is the sweetspot for boardshorts as far as pricepoints are concerned?
The Life Short Pro sits in the upper end of technical board shorts. Our innovative design combined with technical features more commonly found on shorts twice the price give the consumer considered value.
However, 'value' as we know it is changing, the consumer is also becoming more aware of what brands do with their money, fueling the traditional stakeholder does not fuel the consumer anymore. The consumer requires more from the brands and retailers they buy from and as 'value' changes to 'values' it's what we do with our consumers hard earned money that will define the brands of the future.
Our 1% for the Planet membership and our Climate Neutral certification are essential in maintaining our commitment to the retailers and consumers who buy our products and in doing so join us in our mission to protect the environment our brand is founded upon.
What colours/patterns will drive the SS21 season?
For SS21, in our staples, we'll have focused colour blocks, with accents of colour that represent our brand heritage. Clean lines show technical design, in shorts designed to break the mould and disrupt the board short category as we know it.
In our patterns, we tell the story of our mission; It is our responsibility to protect the environment our brand is founded upon.
There will always be trends when it comes to colours and patterns, however, for us there is meaning and there is story amongst what we do. Using our product to tell a story, to provoke a reaction in the consumer and to ignite emotion in something that is normally purely aesthetic.
The Dirty Fades colourway tells a story of a textile industry that needs to change, a call to action to be a part of the solution and a constant reminder to address the problem, not add to it.
The Muted Jungle colourway represents what was a leafy jungle, fading into the black. A story we all know too well, a story which we can rewrite.
SS21 is the opportunity to influence the change. Brands, retailers and consumers need to work together to be a part of a more sustainable future.
Polyblends or natural fabrics: what's your take for SS21?
Right now our Life Shorts are made from recycled polyester and plastic bottles. Encouraging a World where we value recycled product is an important step in driving change and the shift from a fossil fuel to a climate economy.
We need to see value in the materials we use, ensure the fabrics are compatible with a circular economy and that we have systems in place to process them when they reach the end of life, with nothing thrown away.
Cultural barriers to this shift in mindset exist at every level: from manufacturers and fabric suppliers through to retailers and consumers. Our mission is to make sure we do everything we can to accelerate this change in mindset, which starts with valuing recycled product on a global scale.
Do you have an eco initiative associated to your boardshorts offer (manufacturing, education programs…)?
The planet is at a tipping point and we need to do something about it right now. As people that matter to us, as a brand, it is why we exist.
We feel that as a brand we're able to open up those difficult conversations, bring up the subjects that need addressing and inspire other brands to rethink their strategy. The bottom line is no longer purely financial, we all have to step up and choose our future.
We see retailers as being in a real position to make positive change, through the brands they stock and the products they choose to offer. It's not so much of a choice between right and wrong, but a choice for what happens next. As brands and retailers we need to be the solution that consumers will demand.
It's no longer good enough to have an 'eco range' within a brands product offering, the boat has long sailed on that one. It's time for brands to step up and take responsibility for their manufacturing actions and the environments they rely on to sell products.
All our products are Climate Neutral Certified, for every product we manufacture we plant a tree and through 1% for the Planet, we commit 1% of our annual revenue directly to non-profit environmental action groups.
Please describe your 3 hottest products retailers should carry.
SS21 will see us grow the Life Shorts category into two key products: the Life Shorts and the Life Shorts Pro.
The Life Shorts Pro continues as our flagship short, with fresh colourways for SS21. It is the ultimate go anywhere, do anything short – the short we always dreamt of creating.
The Life Shorts take what we learnt from developing our Pro model and combine this with a return to the simplicity of our original 2014 short. All the defining features of a Life Short are retained: the cut, shape and unique no laces system. But this is delivered in a trimmed down style, and of course uses our 4 way stretch fabric made from plastic bottles.
Best Sellers
Please name and describe your 3 highlight pieces and items that retailers should definitely order.
Life Shorts Pro – Navy / Tan Gold
The Life Shorts Pro were designed from the ground up to be the short we always dreamt of creating. A short designed for any activity, in the water or on land, ready for anywhere your adventures take you.
Our bold Navy and accented Tan Gold colourway reflects the foundation colour stories our brand was built on. The navy represents water, the rivers and the ocean, the tan gold representing the woodlands and the fall colours of the National Park in which we are based.
Life Shorts Pro – Muted Jungle
Muted Jungle tells a story of deforestation and a need for immediate action. What was once a leafy jungle has been destroyed by man and we cannot sit by and watch the jungle fade into the black.
Muted Jungle is a call to action, it is a statement from us as a brand, the retailer that sells it and the consumer that buys it. With that together we are going to make a positive change.
For every Muted Jungle Life Shorts Pro we make, 50 trees will be planted in Central America, directly helping to combat deforestation.
Life Shorts – x Gili Eco Trust
Destined for a life in the water, our Life Shorts are as at home in the ocean as the new born turtles Gili Eco Trust strive to protect. They are the guardians of their path to the ocean, ensuring they are safe from both human predators and man made ocean trash.
As one of our 1% for the Planet non profit partners, we are committed to supporting Gili Eco Trust and the incredible work they do not only to protect the environment in which turtles start their lives, but to restore coral reefs and bring recycling solutions to the Indonesian Island they call home.