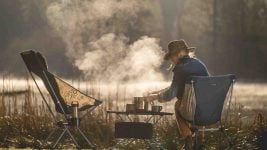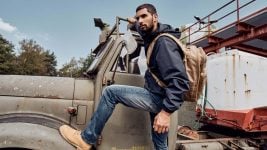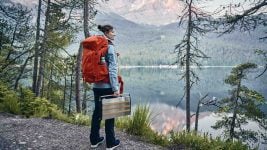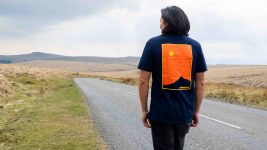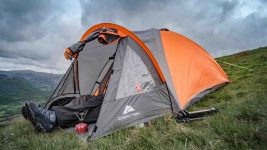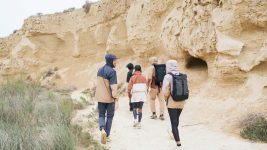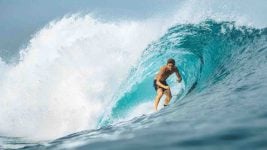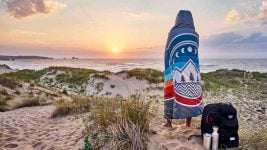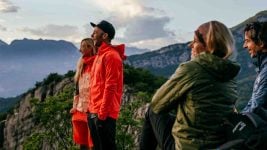 Great Outdoors S/S 2022 Retail Buyer's Guide
In the wake of the pandemic, more and more people are taking up outdoor sports as they become increasingly aware of the health benefits that spending time in nature can bring. At the same time, consumers are willing to invest more of their time and money in the 'outdoor' lifestyle. The shift to the outside and the resulting growth of the outdoor sector creates exciting opportunities for new and existing brands. The Outdoor Retail Buyer's Guide for SS22 by Natalia Maruniak. 
Individual outdoor sports are booming
As soon as the days get longer, many people feel the urge to get out into nature. Even a pandemic has not been able to stop this craving for the outdoors. On the contrary, Covid-19 has intensified this phenomenon. Whether hiking, cycling, mountaineering, climbing or trail running – many outdoor activities are booming at the moment. "The outdoor industry is probably one of the few industries that can speak of positive developments in relation to Covid-19. Due to the various restrictions, people have gone a little 'back to the roots' again, into nature. Alternative outdoor activities, long walks, local vacations, etc. are awakening a growing number of buyers to the need for the appropriate equipment and clothing suitable for outdoors," explains Madeleine Koziolek, Head of Marketing at Brandit. While all outdoor brands have suffered to a greater or lesser extent from the shops being closed during the lockdowns, they nevertheless share the view that the trend is very positive. Jeckybeng Founder Moritz Lorentz even declares Covid-19 "a blessing for the outdoor industry". 
Versatility for more adventure
The modern outdoor athlete no longer focuses on just one specific activity; instead, a combination of disciplines is becoming increasingly popular. While in the past you were either a mountaineer or a mountain biker, the new generation goes freeriding and ski touring, biking and trail running or climbing in equal measure. This is also reflected in consumer demand, which is for versatile products suited for a variety of uses. Peter Räuber, CEO and co-founder of Maloja, reports: "Multi-sports apparel will play an even bigger role as well: functional clothing that's so versatile you can wear it outdoors for completely different activities without having to compromise on function. That started some time ago with Bike & Hike, and new combinations are continuously being added. Apart from that, a lot of people have discovered camping, which is also reflected in the looks in the upcoming season."
Another buzzword relating to versatility is 'performance apparel' – technical products with a lifestyle look. After all, not only does outdoor clothing have to be suitable for different sports, but it also has to look good in an urban environment. "We want our styles to fit in nature and in the city: therefore, we developed the cool 'EmeritaM.' jacket for hiking and for the city. It has a light, elastic softshell fabric and a very fresh colourblock design," says Peter Räuber from Maloja. Streetwear looks are thus combined with high performance characteristics – with a focus on protection from the weather and climate control. Middle and outer layers feature visible functionality, while often superfluous pockets and belt details add an extra touch of style in SS22.
Durability for more sustainability
By purchasing versatile products, people reduce their consumption and do something good for the environment. "People are making ever more conscious consumption choices – buying less and demanding more from those things they do invest in… definitely an upward trend in customer behaviour," says Clement Mesange of Patagonia. In addition to versatility, the durability of the products also plays an important role in this context. Daniela Giannini of Rab observes that "pieces are coming in with a much longer intended lifespan that we may have seen previously. Brands are building items to last again with a swift departure from fast fashion across the outdoor market as a whole. This is a really positive trend and one that Rab has always embraced with our business being certified as a Climate Neutral Company." Similarly, for Rory Atton, founder of Dewerstone, "sustainability is the most important buzzword for SS22." And he goes even further: "Any brand that has built their brand on the outdoors should have sustainability embedded so deep into the core of their business that we shouldn't even be considering the word 'sustainable' as a trend, or something new for SS22."
Technical innovations in the field of sustainability
Technical innovations are also very much in keeping with the spirit of sustainability, and many brands are further developing their products in ways that contribute to reducing their environmental footprint. Peter Bauer, founder and owner of Pally'Hi, confirms that the demand for sustainable organic materials is on the rise. "People start to realize that the petrol-based fabric of so-called 'functional apparel' is a road with no exit. Having synthetic fibres with solvent and softeners on the skin, and rinsing microplastic into the ocean with every single washing cycle is a no-go nowadays." With their "super cosy (as in 'unscratchy')" merino fleece fabric, Pally'Hi have created an alternative to synthetic fleece fabrics that is made of 95% sustainable merino wool and only 5% elastane. 
Mons Royale have also been working on a merino wool combination: "Merino Shift is a fabric specially developed by Mons to offer fast wicking performance for high-output activities. The unique mix of merino wool and durable polyester makes it the perfect fabric for bike apparel and all mountain adventures," explains Jana. In addition, the brand uses the super-lightweight Merino Air-Con fabric for year-round use and next-to-skin comfort, breathability, and odour control. 
Organic cotton, hemp & co. 
Many brands, including Dewerstone, Kavu, Picture Organic Clothing and Roark Revival, are increasing the proportion of organic cotton and natural fibres and the use of recycled materials with each new collection. Roark Revival are introducing Hampworx in SS22 for the manufacturing of their jeans – "better for the planet and tougher than hell", says Paul Palacio from the brand's marketing department. He explains the benefits for the planet as follows: "Hemp requires little to no irrigation and less fertilizer than most plants, so it's easier on the Earth and creates jeans that last longer." In addition, hemp has natural properties that are ideal, because the material regulates moisture and temperature, is breathable and odour-resistant, and is also very robust. No wonder that more and more brands – from Patagonia to Maloja – have rediscovered this traditional crop in recent years and are gradually increasing the proportion of hemp they use in their products.
But sustainability does not just limit itself to the materials. The brands are aware that efforts must also be reflected in other areas of production. "We've been working with our suppliers to migrate to more eco-friendly packaging. Now 92% of our items come with recycled or degradable packaging and recycled hang tags using vegetable dyes," reports Jeremy Goodman, International Sales Director at Kavu. 
Another issue that is becoming increasingly important for consumers concerns the conditions under which the clothing they wear is produced. Patagonia is leading by example in this matter: more than three quarters of its clothing is Fair Trade Certified. In addition, the brand promotes repair, reuse and upcycling so that things stay in circulation even longer (Worn Wear Initiative).
Performance materials 
Protection from the weather and climate regulation are among the crucial issues when it comes to outdoor apparel. For example, the main focus at Brandit lies on the use of the water-repellent, particularly lightweight, robust ripstop material for the spring/summer season 2022. "Our conviction in this material has led us to design a complete limited edition on the celebration of our 10th anniversary," reveals Madeleine Koziolek, Head of Marketing, who adds: "The materials Ripstop & Teddyfleece are for us indispensable guarantors from the past and future year." Rab are proud of their waterproof Proflex™ membrane, which "has revolutionised the way we view hardshell fabric". The Proflex™ membrane boasts stretch and exceptional breathability and, when combined with recycled knitted or woven fabrics, offers the protection of a hardshell with the feel of a softshell. "Gone are the days of noisy, crinkly hardshell jackets and pants. Proflex™ waterproofs feel soft and subtle to the touch and have excellent breathability making them comfortable enough to wear all day long," Daniela recounts. At Burton, the key technical materials are membranes like GORE and 2L, 2.5L Dryride (Multipath GORE, AK GORE, New Rainwear 2.5/2L Jackets). And Roark Revival rely on Primaloft for insulation in their jackets like the brand new Chopper, a classic chore jacket that keeps you warm and can be stored in its own pocket. "Quick drying fabric, odour control, soft natural handfeel and stretch materials are key when developing Activewear products," says Marion Betrand of Picture Organic Clothing, summing up the buzzwords for their SS22 collection, and citing as an example their Astral 2.5L Jacket, which has 10K water resistance and 10K breathability thanks to its exclusive Dryplay membrane.
Silhouettes, looks & styles
The looks & styles in the outdoor apparel segment are, by and large, utilitarian pieces of equipment with styling details. Consumers should be well equipped not only for adventures in the wild outdoors, but also in the urban jungle. Picture Organic Clothing's goal is to offer "the most stylish outfit with the right technical features." Pally'Hi focus on "Merino without the expedition look! Our customer doesn't want to look like he just stepped down from Mt. Everest descent." The oversize look seen in the fashion world is also in vogue for outdoor gear. "The current trend to oversize plays us very much into our hands and we are now looking forward to discovering more women with our currently still on men's cuts oriented products," is the word from Brandit. A broad selection of different styles are also available from Mons Royale, who cover everything from tomboy energy to minimalistic looks and have something for everyone with their three silhouettes on offer (slim, standard and relaxed).
While many collections have been designed with durability in mind and therefore focus on more neutral colour themes, there is also considerable interest in bright colours. Kavu's SS22 collection, for example, features plenty of bright colours, trend call-outs like tie-dye and utilitarian accents, as well as many Kavu elements. "Design has been having a blast while digging through the Kavu archives and reworking heritage styles from nearly 30 years ago," says Jeremy Goodman. Mons Royale, for its part, features "edgy, feminine colours with prints and tie-dye and unisex, earthy colourways with camo print to complement the tomboy look in the womens category." Jeckybeng, on the other hand, stays true to its timeless, subdued colours and Burton's carry-over range of products, which offers limited risk in terms of planning and buying, adapts colour and print concepts so that they work across seasons and help bridge collections. 
Glamorous camping: glamping 
The boom in the outdoor market is also having a positive effect on the sales of camping equipment. The hype about holidays with a camper/caravan or simply in a tent continues to rise. Travel restrictions resulting from the pandemic have further amplified the trend: "Demand for local getaways has risen dramatically, so customers are turning to a camping holiday due to a lack of standard holiday accommodation availability," explains Rose Bain, Marketing Communications Coordinator at Nikwax. "With the outdoors being one of the safest places to spend your time over the past year, we have seen an increase in demand for our waterproofing products across the board". 
For Stefan Clauss, CEO of Heimplanet, outdoor has become a true lifestyle, encompassing all aspects of life, from the daily routine to the experience of travelling, and one that consumers are willing to spend money on. "Outdoors is now seen as an almost luxurious experience". This trend is confirmed by Rose at Nikwax, who has seen a rise in demand for Nikwax Cotton Proof for cotton canvas bell tents: "Customers want to have the luxury getaway experience, and so demand for glamping-style tents has risen. Large, family-sized tents are also becoming very popular – an inexpensive way to take the whole family away at once." Treating tents with Tent & Gear SolarWash and SolarProof before heading out on the next camping adventure not only extends their life by protecting them from UV damage, but also increases the tent's breathability and durable water repellency (DWR). 
Must-haves for camping adventures 
SS22 trends for camping gear are consistent with those reported by the outdoor apparel sector. People are looking for high quality and durable products. "Sustainability, particularly recycled fabrics, continues to be at the forefront of decision-making, which is excellent news, and I would also say that the melting pot of fashion, lifestyle and outdoor aesthetics continues to open the category to new and diverse audiences," reports Joe White, Marketing Lead Europe at Helinox. The brand is launching its latest product in SS22: 'The Field Office' is perfect for those who want to move their home office to the great outdoors. "Work and play on the go. The Field Office is an aluminium-framed cargo and small detachable table in one compact unit. Perfect for camera set ups, fishing and any other hobby you want to transport delicate gear into the field and set up a work station."
Another must-have for outdoor adventures is Voited's Travel Blanket: a lightweight, packable, insulated and water-resistant blanket ideal for travel and on-the-go. Made from 100% recycled ripstop REPREVE® outer fabric, Teflon-treated for enhanced water resistance and finished with ultra-soft fleece for extra warmth, the Travel Blanket is "a super versatile blanket, cape and sleeping bag in one, a definite go-to outdoor accessory," guarantees Lindsay from Voited.
Of course, a good cooler is a must on an outdoor adventure, and Igloo Coolers is the place to find one. Buying a cooler from this brand also does something good for the environment: "This ECOCOOL Little Playmate cooler is the first of its kind to be made with post-consumer recycled resin! Now, everyone can expand their sustainability efforts while keeping their drinks and snacks chilled in the iconic Playmate," recounts Lifan Shiu from marketing. Cooking equipment for camping is available from Petromax, Anevay Stoves and Primus/Brunton, among others. The latter drew inspiration for their new Alika cooker from cosy gatherings around a campfire. 
For Primus/Brunton, a trend in SS22 is "social outdoor cooking on two-flame burner stoves. For that we designed a new, innovative, powerful two-flame burners – the ALIKA stove, which takes social cooking outdoors to the next level," explains Heidi Kreuse, PR Manager. Anevay offer Frontier Stove, which is easy to carry, quick to set up and eight times more efficient than an open fire. It can be installed in tents and yurts and used for adventurous outdoor cooking. Its long flue carries smoke and fumes away from the cooking area. 
Perfect for the beach, the mountains or weekend camping trips in the wild: those who love to cook outdoors should definitely take a look at Petromax's innovative tripod lashing. "Once the fireplace stands, every nature lover should have the possibility to hang something over the crackling fireplace in order to gain new strength: whether it is a percolator full of coffee or a Dutch oven filled with stew." To this end, the tripod set (consisting of a stainless steel disc, hook and chain) with a total weight of 450 g is the perfect basic frame for a self-built branch-tripod.