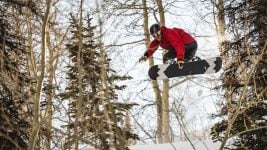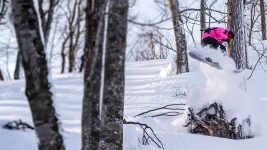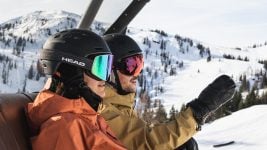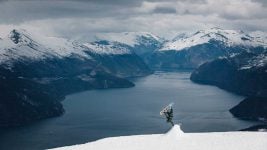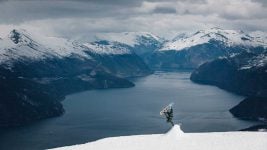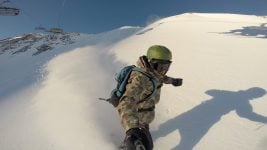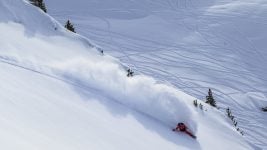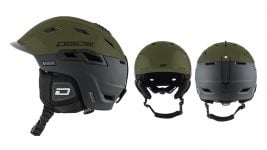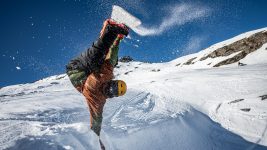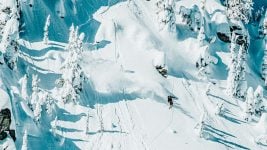 Snow Helmets 21/22 Retail Buyer's Guide
The helmet has become an essential part of any rider's kit, regardless of age or discipline. With widespread use comes education. Brands need to keep on being technologically innovative and consumers will reward them with good, steady sales. By Rocio Enriquez.
The conversation about the pros and cons of wearing a helmet on the slopes has definitely died down. New generations have no time for it and have pushed their views onto the older ones. For kids, it is an essential part of kit, and will remain so as they grow older. Also, improved helmet design in terms of comfort and aesthetics makes people more open to wearing them. "Helmets not only fulfil their safety aspect, but are now alsproo super comfortable, warm and stylish", says Katharina Acham from Head. Pro-Tec sees the increasing focus on helmets as an opportunity. "We are hoping to catch some latecomers to helmet-use, as well as new fans of the sport", says R.P. Bess. Nowadays it's rare to see an exposed head on the mountain. Consumers understand the benefits of wearing a helmet and are willing to spend more for the right protection. "As people understand the need for a helmet, they are ready to spend more than what they did on the first helmet they bought", says Marine Cessans from Rossignol. The debate has moved on to more specific issues, such as which technology is most reliable or what is the best compromise between safety and comfort.
With the acceptance of helmet use, came the education of consumers. They are now very aware of the existing technologies and features a helmet can offer. The combination of comfort, fit and safety is the holy grail of head protection. Consumers reward brands that can offer the best compromise. When it comes to comfort, goggle compatibility and lightweight construction are key. Helmet / goggle integration improves performance. A light helmet is easier to wear and easier to carry. This is especially important for the increasing numbers of touring and splitboarding fans. "The practice of wearing a helmet is no longer just appealing to grizzled mountaineering experts but also to the "turn earners" and "backyard explorers", says Darius Heristchian from Giro.  Users are also aware of the different levels of protection and the technology available for them. "Consumers know what they are looking for in a helmet and respect knowledgeable retail staff", says Tom Lazarus from Dirty Dog. "Consumers are now very well-informed about how a helmet may protect them in case of an accident. It is becoming their key purchasing driver", says John Lloyd from Koroyd.
Technology
Development in impact protection is an ongoing one. Giro builds up on the success of its signature Spherical MIPS for rotational energy management. They had implemented it into their racing and freestyling models. Now they are extending it to all mountain and backcountry riders with the Grid Spherical MIPS style. "Light and compact, this back-country helmet addresses an important need: the search for a lightweight, innovative design in a compact shape without any compromises in safety", says Darius Heristchian. Rossignol is also capitalising on its own developed IMPACTS technology. It prolongs the life of the helmet by reducing the damage caused by low-intensity impacts. All their helmets feature this technology, and they are adding a new style, the Fit IMPACTS. "It's an all-mountain design, and its main asset is that it is so light (400g) that you forget you are wearing a helmet", says Marine Cessans. Koroyd offers fully lined styles that combine direct and angled protection. It is also adding more models with zonal protection system. "This system ensures that Koroyd is placed in smaller areas which are typically affected during an impact", says John Lloyd. Roxy has stepped up the sustainability game with an injection shell that mixes EPS and raw cork. It offers the same shock absorption but with a cleaner production. Sweet is launching two new models with 2Vi MIPS platform. One of them, the Grimnit 2Vi MIPS, has a full carbon fibre shell. Quiksilver will keep its main technology, the torsion shock absorbing SRT lining, throughout its entire range. Anon is extending the use of MIPS, already present in all the youth styles and some key adult ones, to even more models. Pro-Tec is doing the same.
Consumer demand is driving innovation in comfort. Brands are very careful to match good impact protection with the right fit. Helmets need to be as breathable and lightweight as possible without compromising safety. POC combines the incorporation of Aramid Bridges at the core with innovative solutions like Recco rescue technology or NFC chips. Bern uses its signature low profile SinkFit system on the new Macon 2.0 and Watts 2.0 styles, saving over 20% on their weight. Head has brought on new materials and a whole new platform design for FW21/22 with its C-Series. It focuses on great look, perfect fit and supreme protection. It features their own patented Sphere Fit system, which makes the helmet wrap around the head like a beanie. "The system adjusts in all three dimensions, creating a snug and comfortable fit with no pressure", describes Katharina Acham. It also features an inside beanie liner with a washable micro fur that wicks off moisture. The auto ventilation system lets warm air out without allowing cold air in. Ventilation is the focus for Spy+, who has developed a new system that allows for all day wearability. Their Passive Venting system places openings at strategic points to ensure constant air flow. Sandbox has added its patented AirFlow Technology to its popular Legend Helmet, creating the new Legend 2.0. Sinner's Moonstone helmet features a double ventilated shell. It also has an impact absorbent liner, found in their Bullit-Visor model too. Salomon's new Husk range innovates in liners. The Husk Prime has a full breathable, non-mulesed merino wool liner, and the Husk Pro has a fully recycled PE liner. Triple 8 is introducing the new Halo liner. "It is softer and just an all-round nicer material. It is featured in all our snow helmets", says Noah Todaro. They have also attached the goggle clip to the helmet, eliminating the risk of losing the clip-on piece. Goggle and helmet pairing is also important to Oakley. They have designed a system that will fit any size or shape of goggles to any of their MOD1, MOD3 and MOD5 helmets. "All helmets offer the perfect goggle fit for seamless integration", announces Brita Dornick. Audio enabling offers some added value. POC offers the options of removable, wired or Bluetooth earphone headsets. TSG has a new collaboration with Earebel with ear pads that integrate Earebel Bluetooth headphones.
Retailer Support
The spring lockdown disrupted the sell-through of FW19/20 snow products. Many retailers were left with quite some inventory, affecting sell-in of FW20/21 as a result. Brands and stores have worked together on solutions to keep them both going. Many brands have postponed the launch of new models. Instead, they have carried over many styles from last season, so retailers can fill up the gaps in stock.
Brands are offering many POS solutions to support sales. Triple 8 has developed a branded tree display for twenty helmets. It is also providing a gondola display for helmets and pads for selected retailers. Koroyd has a new piece that can be used as a tabletop display or on a slat wall system. It will also include, for the first time, an integrated Koroyd part to communicate how the technology works. Oakley offers a complete shop-in-shop system that includes goggles, helmets and apparel, to showcase the brand. It will also have special solutions for presenting goggles and helmets on the shelf or counter. POC has helmet stands with assorted imagery options to tailor it to each particular helmet. Spy+ bases the POS programme on athlete collaborations. It will also add a new artist collaboration with San Diego artist Damasso Sanchez. Roxy and Quiksilver developed a new display that showcases goggles and helmets either combined or individually but had to postpone it due to the pandemic. Instead, they are focusing their efforts on providing education about technology and features. Their e-learning module for internal use and clinics help clients present their ranges at the beginning of the season. Education is a great form of support for such a technical product. Head is producing high quality videos with features, technology and fit to present the helmets to potential customers. Rossignol will be distributing posters explaining the IMPACTS technology.
Helmet use is so widely accepted in every age group and riding style that sales of this segment are expected to have a steady increase. With brands offering the right technology and retailers presenting it clearly to the customers, helmets should not stay on the shelves for long.