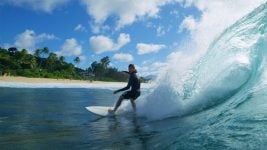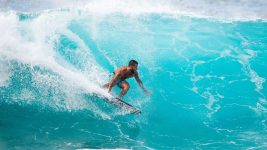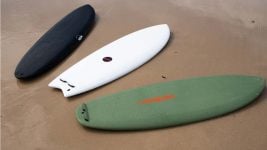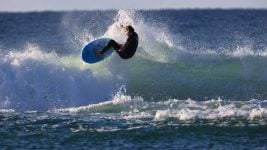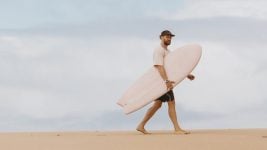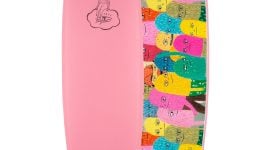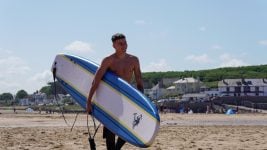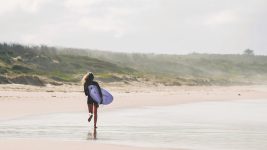 Softboards 2023 Retail Buyer's Guide
A bit like a Haribo – brightly coloured, soft but zesty – softboards call upon the child inside us all. But they have now entered adulthood, focussing on performance with more and more elaborate designs and constructions. Serious but not too serious, what will the softboards crop of 2023 look like? Answers to be found in this rundown of the "foamies" market by David Bianic.
I have to admit, very few of us thought that the softboard phenomenon would last more than 2-3 years: "OK, yes it's fun but let's get back to the serious stuff now." And yet "It feels more like everyone wants a soft top board… even in higher price ranges", stated traditional shaper Johnny Cabianca in the Surfboards Buyer's Guide in the last edition of BoardSport SOURCE. This new boon for the surfboard market, triggered by the 100% softboard brands, has forced the "traditional" brands to jump aboard the moving train. What do the softboard pure-players think about this? "It's funny how all those endemic brands used to hate on the softboard brands," smiles Brad Rochfort, Manager for Softech (Surf Hardware) Great Britain. This healthy competition between soft-only brands and traditional shapers only serves to support the former, reckons Joeri Van de Vliet, Founder of Softdogsurf: "I believe that softboards-only brands have a higher intent on not losing focus on all aspects of making a good softboard."
"It's harder than it seems to produce a really good collection of softboards that makes sense", insists Andreas "Maui" Maurmeir, Commercial Director for Catchsurf Europe, one of the instigators of the foamies" revolution. The constructions have also evolved a lot in just a few years, explains Lionel Franssen, Commercial Director at Napco Global (Medina Softboards/Qraft softboards/Mullet/Softlite), "from 100% soft, now most of the brand have an epoxy structure + EVA on the top". We'll come back to that later…
Now that the softboards market has fleshed out, it's all about brands accurately setting their position on the market from beginners to advanced surfers and everything in between the two ends of the spectrum. It's mainly newbies in the crosshairs at Gotcha for example with an 8' classic as well as a 9 footer for heavier weights. Ocean Storm, the soft top label from Hurricane Surf, are aiming more at the "shredder" with two twin-fishes (Vampire and Sanchez) and two resolutely performance orientated shortboards (Lil Ninja and Rockstar), soft versions of their hard models.
At Mick Fanning Softboards, we find ourselves in front of a complete collection, from the SuperSoft range (beginners, schools) to the Sugar Glider (single-fin), Twin Town (twin-fin midlength), Beastie (heavyweights), alongside a slew of shortboards like the DHD Twin, Catfish, Little Marley and the latest to date Kuma Fish signed by Mitsunoru Kumagai (winner of the WSL x MF Softboards Global Shaper Challenge). Softdogsurf are also offering clearly defined segments between the Alpha Dogs (high-perf) ranges, Kennel (all-round) and Skooldogs (beginners, schools).
After this little teaser, without further ado let's look at the solid trends on the softs market.
SOFTBOARD TRENDS 2023
1 FUNBOARDS & MINI-MALS, fun for all
The wackiest shapes attract the eye and create buzz but "the funboard shape and longer mid-length sizes are always a safe bet", confides Brad from Softech, backed up by Tom Hobbs, Co-founder of Spooked Kooks: "You really cannot go wrong with staple sizes of 7'0" and 8'0" which are the ideal learner boards." More surprisingly, these models are not just confined to novice surfers, assures Mark Brown, Technical Director at Vision Softboards: "We see surfers whether new or experienced opting for models that give them a board that can be used in smaller, fun conditions. A board that gives them the option that their other boards don't".
2 SHORTBOARD REPLICAS, hards softened up
For surfers at an intermediate or advanced level, there is a whole segment of soft board copying "glassed" shortboards line for line. Better still, these boards are quite often collaborations between softboard labels and signature shapers bringing a certain "surf-cred" to boards that are sometimes more considered as just for fun than performance. Here we're thinking of the RoundNoseFish from Catchsurf x LOST (5'5" to 6'5"), the Flash by Eric Geiselman at Softech or the Black Diamond MF x DHD. This is also the credo of a newcomer to the European market with Napco Global distributing Medina softboards (yes, as in Gabriel Medina). Their 3X model – for the Brazilian surfer's three world titles – ticks this box perfectly which was not easily done, admits Lionel Franssen, "but if you think quality + safety they are on the top. Because they are handmade". Collabs come naturally to JJF by Pyzel who released two signature models in 2021 which were big hits, the Ivan Florence Fish and the Nathan Florence Pod Racer: "Ivan Fish presents a skateboarding vibe while Nathan Pod Racer features a super hero look", highlights Rémi Chaussemiche, European Marketing Consultant.
3 TWIN-FISH
A winning combo for "funformanceTM" (trademarked by Pyzel) comes guaranteed with twin-fish type softboards which have superseded the micro-shortboards of 5' and under in the hearts of surfers. The Frankenfish 5'8" from Spooked Kooks is a good example of this with a retro-performance set-up, mounted with Future Fins and hand-finished rails just like the Mason Twin at Softech. Another example comes from one of MF Softboard's bestsellers, the Catfish, and its hybrid design with "a slightly decreased nose area when compared to a standard keel or quad fish", for greater versatility. The Catfish can be upgraded by opting for the FCSII Split Keel fins (twin) or Controller (quad) from Future Fins. For more of a classic fish, check out the Red Baron from JS Industries with its flat rocker and further forward wide point.
4 RETRO-MIDLENGTH
Mids are already a huge success on classic constructions, a winning mixture between hype boards and ease of use. If you add a "soft" touch then the potential audience expands further still. One of the best illustrations of this is the soft version of the Big Baron from JS Industries that even replicates the "triple stringer" effect from the "hard" version. A Torren Martyn type board but with a soft 3mm coating of PE. More classic despite its out-there name, the UFO from Spooked Kooks is a tried and tested egg available in 6'7" and 7'6".
5 SCHOOLERS, out in the playground
Because mini-Malibus mentioned above lend themselves really well to the demands of surf schools, most brands are making specific ranges for this market which is slightly different, especially in terms of the boards' durability. "Catch Surf has a Surf Camp Edition with fortified rails that handle crashes with more ease", says Andreas Maurmeir, while at Go Softboards we find two specific ranges for schools, the aptly named Surf School (wide shapes, nose and tail bumper, carry handle and flexible, removable fins) and XTR, standing for "extra wide" aimed at your very first experience in the waves. The models for schools and rentals at Go Softboards are equipped with decks in an ultra durable wood/sandwich construction. This dual range "normal/wide" already existed at Softech with the Roller and Zeppelin (up to 9' for 135 litres!), but the brand are also announcing new developments in this sector to be revealed next September.
SOFTBOARD CONSTRUCTIONS 2023
From a disposable foam object, softboards have become high-tech boards whose manufacturing is imitating classic hard surfboards more and more. Is this arms race really beneficial to the category? Should we not keep softboards simple? "Many brands come into the market with epoxy glues, glass, harder slicks and the brands that tend to offer this style of softboard are the endemic surfboard producers", suggests Mark from Vision who prefers more affordable and super durable softboards. One of the challenges resides in making these boards last longer and some models that are at "Very basic levels are made of foam only (no stringer, no supporting materials) and end up in the bin after only a few surfs. This is a massive waste of materials and money", regrets Tom from Spooked Kooks. Gotcha are therefore aspiring towards the ECOBOARD certification in the medium term and they are already using bamboo stringers to reduce their carbon footprint. Softdogsurf are also making an effort in their fins and plugs made of 100% recycled plastic, slicks that are 60% recycled, a 50% recycled EPS core and a 30% recycled skin.
In the sustainability stakes, it's hard to match the French brand Notox with their Korko construction: a 25% recycled polystyrene core, certified Oeko Tex flax fibre cloth, 56% plant resin and a locally grown cork leaf skin. Bonus: they are incredible. Talking about constructions, there's also the finish, i.e. graphics and other deco where the trend for total craziness is phasing out in favour of more refined decor that's even serious at times with many "clear" options like traditional boards. All black has also seen some success, becoming a best seller at JJF by Pyzel.
By increasing the seriousness (of manufacturing) without losing it's added "fun" value, the softboard of tomorrow aims to become a permanent fixture on the surfboard market, benefitting from a wave of newbies as well as becoming an essential part of the most experienced surfers' quivers. Who'd have thought we'd be having a foam party in 2023?