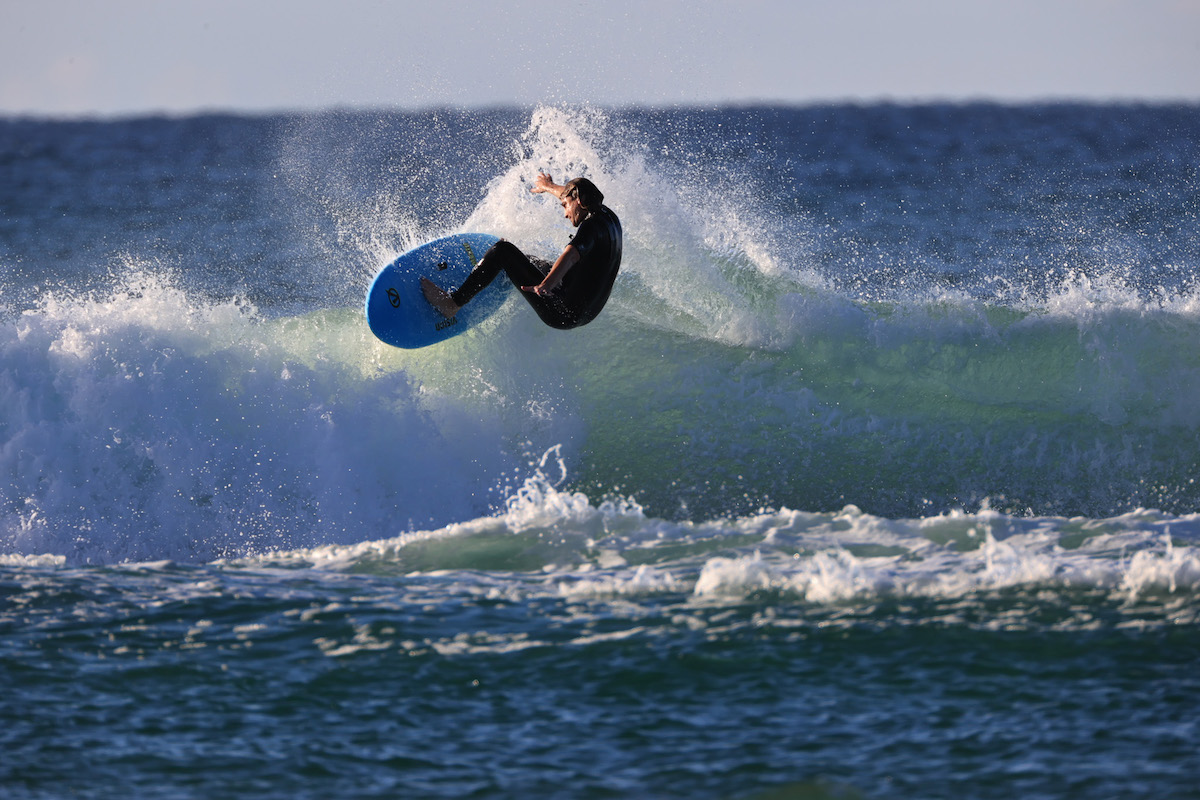 Vision Softboards 2023 Softboards Preview
Retail Buyers Guide: Softboards 2023 Retail Buyer's Guide
Brand: Vision
Interviewee: Mark Brown, Technical Director
The magic with softboards is they address equally to newbies and advanced surfers. As a brand, do you target a specific category of riders?
Mark: As you have said, the beauty of softboards is that they are perfect for both beginners and advanced surfers. There'll always be conditions where the best board to make the most of it is a softboard. For newbies, they offer a range of benefits – price, safety, volume and stability and for advanced surfers they definitely up the fun level in sloppy summer waves. The main focus for us is 'fun on foam' and whether young or old, new or experienced we believe our softboards are relevant for all.
The softboards-only brands shook the market (in a good way) a few years ago, but now, all the endemic names in the surfboard industry also offer foamies. What are your thoughts on this evolution?
Mark: The softboard market has certainly grown over the past few years and so its only natural that there are options now from some of the well-known surfboard brands in the market. Some of these brands certainly are helping to increase the appeal of softboards, so in general I think its good for the industry and will help the softboard category grow.
Which softboard designs will be the safe choice for retailers in 2023? Which ones comprise a more hazardous bet, but may pay off?
Mark: We still find our mini-mal and funboard shapes are the safest choice for retailers. Generally, we see surfers whether new or experienced opting for models that give them a board that can be used in smaller, fun conditions. A board that gives them the option that their other boards don't. So wider, fatter, higher volume fun board shapes are the go.
Do you have a specific offer for schools/rentals?
Mark: Yes, our Vision TakeOff range is our specific school/rental board, but recently we have also found retailers asking for this board. It ticks all the boxes that surf school owners require – super durable, affordable, solid carry handle and great shapes. The 7' & 8' TakeOffs are also available as 'Whoppers' (extra wide) models which are stable enough to get everyone up and riding.
The latest constructions tend to mimic the traditional surfboard. Should we keep the softboard simple?
Mark: Yes, we have seen many brands come into the market with epoxy glues, glass, harder slicks and the brands that tend to offer this style of softboard are the endemic surfboard producers. They seem to have opted for a higher performance construction. We believe in keeping the softboard as it was meant to be – great for beginners and experienced surfers alike; affordable and super durable.
The removable fin system on the VCT (Vision Composite Technology) boards like Mysto and Shoot Out is a simple but great way to change up the feel of a board and keep intermediates progressing.
Are the crazy artworks/colorways a thing of the past in the softboard segment?
Mark: We see a bit of everything in the market at the moment. Colour never goes out of fashion on products that are designed to be fun. It brightens your day and a softboard definitely gives you a license to go bright and loud!
The lifespan of a softboard being shorter due to the abuse and construction/material, how do handle the sustainability extent?
Mark: The best way we can handle the sustainability at the moment is to create the best long-lasting boards possible. Too many boards end up in skips after 1 season in a surf school – we see this all the time. Here at Vision, we have really focused on longevity which gives our customers great value for money and a lifespan that puts less pressure on the planet.
We are also looking at ways to package and ship our softboards more efficiently which will reduce our footprint further.
Key Products:
Retro fun meets modern performance. The Mysto combines an easy wave catching full outline up front with a performance-driven, rounded pin tail for critical surfing and confidence when the waves get bigger.
The modern hybrid shape is matched with a thruster configuration to make it your everyday softboard. Features Removable Fin System, Soft Carry Handle & Slick print.
TakeOff's ramped-up core gives increased volume and stiffness for greater stability and paddle power in more challenging waves. An advanced crosslinking process in production gives the IXPE deck a tougher, more premium feel as well as enhancing shock absorption. A thicker, more durable slick material and triple stringers in the 9-foot model add even more strength and longevity.
Surf all day long on the Shoot Out model. Classic funboard shapes from 6'0 up to 8'0 ensure there's a board for everyone in the range. The performance-oriented molds remove a small amount of volume which gives you loads of confidence to throw the board around in any condition. Paddle fast and catch loads of waves on the ultimate all-rounder softboard.