Softdog Surf 2023 Softboards Preview
Retail Buyers Guide: Softboards 2023 Retail Buyer's Guide
Brand: SoftdogSurf
Interviewee: Joeri Van de Vliet Founder, Product specialist
The magic with softboards is they address equally to newbies and advanced surfers. As a brand, do you target a specific category of riders?
Yes, we do. As from the beginning we believe in "Go Hard, Ride soft". Which gives right away an idea about the fact that we target all types of riders. As a brand we communicate 3 series of boards. Alpha Dogs, The Kennel and Skooldogs. Alpha Dogs, boards with all ingredients (construction/shape/design) for the high-performance surfers. The Kennel collection for allround surfers looking for a softboard with high standards in funshapes and materials. Skooldogs for all beginners and surf schools looking for very very durable boards with a rapid learning curve.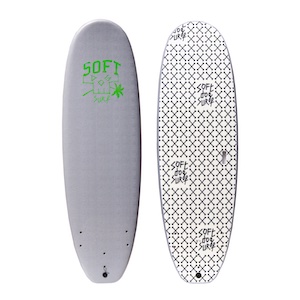 The softboards-only brands shook the market (in a good way) a few years ago, but now, all the endemic names in the surfboard industry also offer foamies. What are your thoughts on this evolution?
Ofcourse this is a normal evolution from the endemic names. They can build on their names to sell some foamies. But on the other hand it needs to be said that building good foamies is another artform (than traditional boards) and that's why it's, from a customer standpoint, important to look at the quality/materials involved in the making of those boards, and not only focus on the price. I believe that softboards-only brands have a higher intent on not losing focus on all aspects of making a good softboard.
Which softboard designs will be the safe choice for retailers in 2023? Which ones comprise a more hazardous bet, but may pay off?
We believe that our Kennel series will be a very good choice for retail. A great group of beginner/intermediate surfers will join the line-ups. They know the basics and have some skills to move around. Those surfers are in need of a quality softboard with loads of volume but already some characteristics to meet their learning curve. They will catch waves easily, smile and be safe in the line-up.
Do you have a specific offer for schools/rentals?
Yes we do! Besides very profound partnerships with "Skools"  and clubs where we start by offering very very durable rental boards with a rapid learning curve.
The latest constructions tend to mimic the traditional surfboard. Should we keep the softboard simple?
Yes and no. We choose to mimic the traditional surfboard a bit more for our Alpha dogs, aiming for the experienced high-performance surfer.  For our Kennel series we are working with basic 1 color prints. Skooldogs is all about technicality and durability so we work with a more clean look.
Are the crazy artworks/colorways a thing of the past in the softboard segment?
We've never followed that trend. We always had a closer feeling with "less is more" and have established our own graphical language.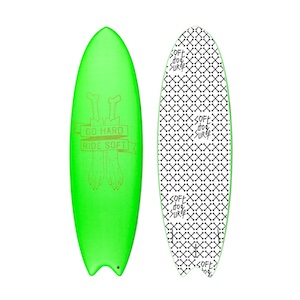 The lifespan of a softboard being shorter due to the abuse and construction/material, how do handle the sustainability extent?
Working with more recycled materials. All our fins and plugs are from 100% recycled plastics. Our bottoms slicks are 60% recycled. EPS 50% recycled. The Skin 30% recycled. Furthermore, we work around the fact that "a dog is not only for Christmas", a Softdog is a character part of your quiver family and should be treated with respect to surf better and last longer!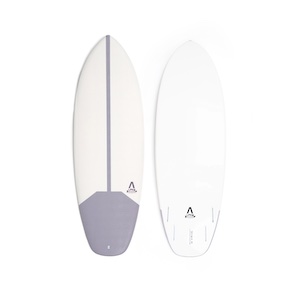 Key Products:
Alpha 5'6
The Alpha 5'6 is a surfboard that offers all the features a performance surfer needs combined in a lightweight- and solid construction. Invisible seams and a traction pad that makes you go Woof! are some of the characteristics of this top-notch surfboard. Integrated Futures Finboxes in a 5-fin setup give you a range of options for every wave the ocean has on offer.
Boxer 6'6
A very playful dog… Designed for maximum stability, speed and performance for surfers that are looking for their first maneuvers. The swallow moon tail is extending the rail length, giving the ability to work on maneuvers, also in weaker conditions. This 6'6 soft surfboard is very loyal to your intermediate level of surfing. A boxer is always fearless to learn new things.
Skool 7'2
This SKOOLDOG is a 7'2 soft top beginner surfboard with durable technology. Designed and equipped with flexible fins, extra soft protective rails, and an easy integrated handgrip. These beginner foamies have loads and loads of volume for loads of fun and nose rides. The SKOOLDOG collection are the ultimate beginner surfboards for surfschools.