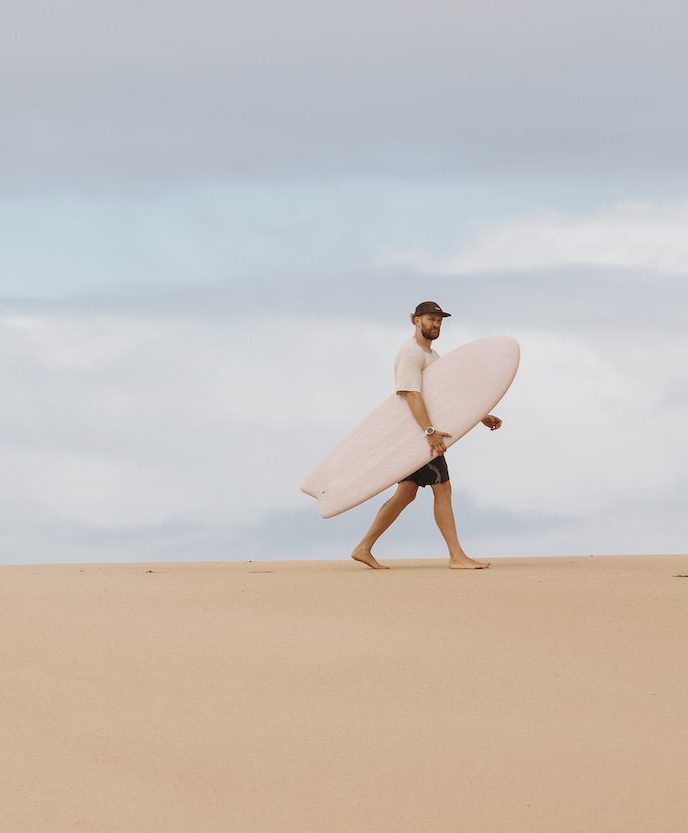 Spooked Kooks 2023 Softboards Preview
Retail Buyers Guide: Softboards 2023 Retail Buyer's Guide
Brand: Spooked Kooks
Interviewee: Tom Hobbs, Co Founder
The magic with softboards is they address equally to newbies and advanced surfers. As a brand, do you target a specific category of riders?
Spooked Kooks boards are designed with beginner and intermediate surfers in mind. While riders of all levels will have fun on our boards, the soft top and bottom will allow for a friendly introduction into surfing for the beginner, and an easier progression to intermediate levels for the progressing surfer.
The softboards-only brands shook the market (in a good way) a few years ago, but now, all the endemic names in the surfboard industry also offer foamies. What are your thoughts on this evolution?
Surfing has always had a very strong core, which often felt a bit intimidating to learner surfers. The big companies catered to the core for a long time, but now they are seeing that surfing should be open to a wider audience. Foamies are a learner surfers perfect introduction to the ocean, so it makes sense that the big brands have begun to focus on this area in recent times.
Which softboard designs will be the safe choice for retailers in 2023? Which ones comprise a more hazardous bet, but may pay off?
You really cannot go wrong with staple sizes of 7'0" and 8'0" which are the ideal learner boards. From there, mid lengths are a good option for those looking to progress their surf.
Do you have a specific offer for schools/rentals?
We do. Its specific to the location and school size. Please get in touch with us via emails to discuss more. [email protected]
The latest constructions tend to mimic the traditional surfboard. Should we keep the softboard simple?
Improving design and construction is very important for sustainability and durability. Keeping things too simple in construction of a foamie is often not good for the customer or the environment. Softboards come in varying levels of construction. Very basic levels that are made of foam only (no stringer, no supporting materials) end up in the bin after only a few surfs.This is a massive waste of materials and money.
Foamies have evolved over the years to rival the traditional surfboard for performance and longevity, this is achieved by development of materials and construction. Spooked Kooks uses an advanced level of construction to make sure the boards are durable and have longevity.
Are the crazy artworks/colorways a thing of the past in the softboard segment?
Designs will always ebb and flow depending on trends. There is always room for a lot of different approaches to artworks and colourways. Some things are timeless though, like pastels.
The lifespan of a softboard being shorter due to the abuse and construction/material, how do handle the sustainability extent?
With regards to sustainability, for both fiber glass and foam surfboards, the dream scenario is a closed loop recycling of the product at end of use. Unfortunately, the labor costs required to achieve this end of use recycling do not make financial sense as of yet.
Therefore, sustainability in materials up front (recycled plastics, alternative cores, and reduced/eliminated plastics in packaging) are the best approach for the time being. Spooked Kooks are proud to be at the forefront of this movement, as the only softboard in the world that uses post consumer recycled plastic waste as part of their construction.
Key Products:
The Dead Hippie 8'0" is our most popular board model for beginner surfers that are looking for a sustainable start their surf journey. With 66L of volume and plenty of width, this board has all the features to help new surfers find their feet out in the ocean. Also comes in 7"0" which has 53L.
Our U.F.O. (Unidentified Frothy Object) is the perfect progression board that allows beginners to work on all their next moves with increased maneuverability and speed, whilst keeping it safe in the soft top realm. Created off planet with the best of alien surf tech and human recycling ingenuity, both the 6'7" and 7'6" UFO's are perfect for any surfers quiver.
The Frankenfish 5'8" is our retro performance short board. Set up with Futures official fins and fin boxes, hand finished rails and a swallow tail + thruster set up, this Fish knows how to shred. Ideal for intermediate surfers and grommets.