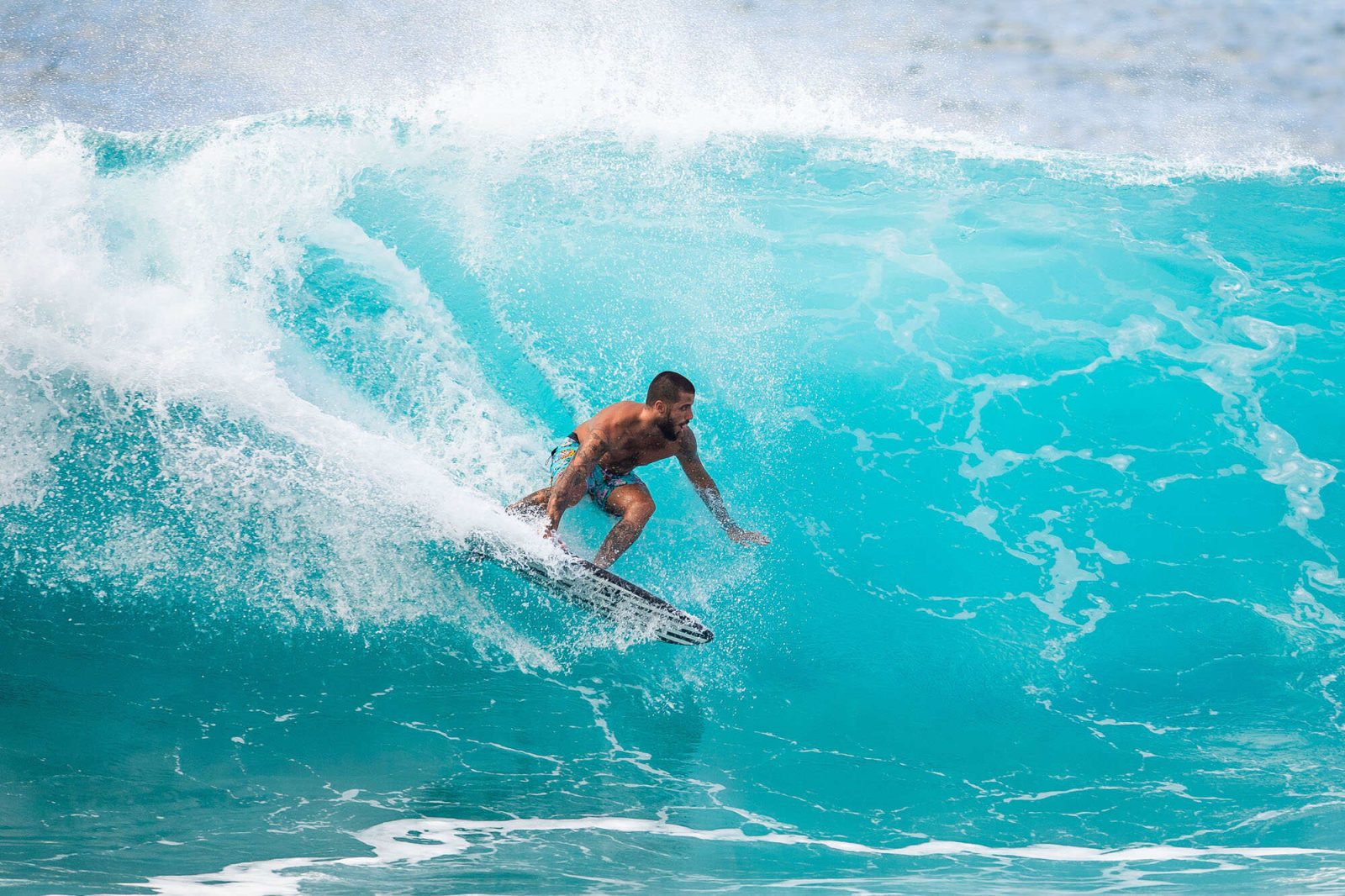 Softech 2023 Softboards Preview
Retail Buyers Guide: Softboards 2023 Retail Buyer's Guide
Brand: Softech
Interviewee: Brad Rochfort, Surf Hardware UK Territory Manager
The magic with softboards is they address equally to newbies and advanced surfers. As a brand, do you target a specific category of riders?
Softech offers a diverse range of boards which covers all categories from complete beginner to expert level and everything in between. 
The softboards-only brands shook the market (in a good way) a few years ago, but now, all the endemic names in the surfboard industry also offer foamies. What are your thoughts on this evolution?
It's funny how all those endemic brands used to hate on the softboard brands, but now the stigma is long gone and everyone has a softboard in their quiver. The rapid rise of surf schools really changed the game. Surf instructors found fun in shredding on foamies and that soon spread to their friends and so on. Surfers have kids and they want to teach their kids to surf, so the softboard is now a standard piece of equipment in any surfing families shed. On the flip side, softboards are price-sensitive, so when you see some boards on the market that are as pricey and technical as a custom board, you wonder what's the point of them?
Which softboard designs will be the safe choice for retailers in 2023? Which ones comprise a more hazardous bet, but may pay off?
The funboard shape and longer mid-length sizes are always a safe bet. The high performance styles below 6'0 are always harder to sell and the market for those is much smaller, but if you can meet performance with price then you could have a winner. Softech are aiming their new Epoxy Series at this market space with achievable prices and sizes up to 6'10.
Do you have a specific offer for schools/rentals?
Softech's best sellers for surf schools are the Zeppelin and Roller models. Both in the same durable construction that Softech are known for, with a soft carry handle in the deck. The Roller is a standard minimal design available in 7 sizes and 5 colours, and also very popular as a rental model. The Zeppelin is our 'wide boy' design which has become a surf school favourite and is available up to a 9'0 at 135 litres! Surf schools also love our 'progressor models' such as the Brainchild which they use for advancing learners. For 2023, Softech have a few new surf school models under wraps and available to view and pre-order from September.
The latest constructions tend to mimic the traditional surfboard. Should we keep the softboard simple?
I think there is a place in the market for both simple and more technical softboards. The simple construction is still the volume seller and value-for-money option.
Are the crazy artworks/colorways a thing of the past in the softboard segment? 
Artworks and colourways are still a very important part of our DNA, but we like to find a balance between too plain and over-the-top crazy. That's where Softech sits nice and comfortably. Our retailers give us a lot of feedback about what customers like and our design team really listen to them.
The lifespan of a softboard being shorter due to the abuse and construction/material, how do handle the sustainability extent?
Sustainability is always the hardest part to achieve in building surfboards of any kind. Softech only use the highest quality materials so the boards really last, and therefore they even hold a high value on the secondhand market.
Key Products:
Softech Middie – 
A well rounded board. Whether it be clean & pumping or desperate times, a drawn in tail with ample rocker out the back lets you whip this board around with ease. Don't be afraid to go up in volume. A wider nose and waist keeps you afloat, making it our best epoxy board for small/mushy conditions or for beginners looking for an easier way to catch waves.
Plenty of rocker in the nose to hook into a turn or keep you from pearling, this board was designed with all skill levels in mind.
Epoxy core with single stringer.
Vacuum glassed with 6OZ. cloth
High density PE foam deck
Ultra-thin soft HDPE slick bottom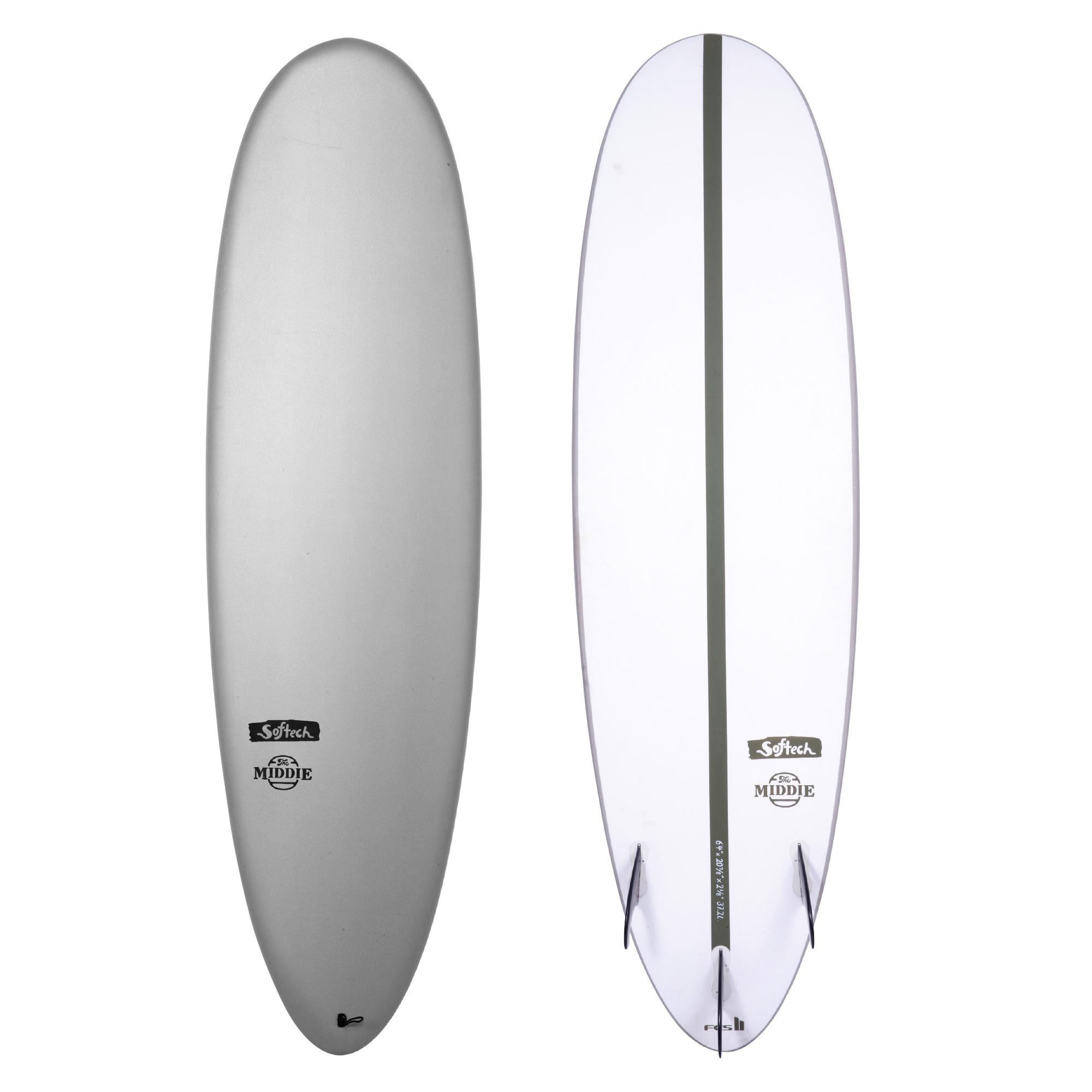 Size: 5'10" / 6'4″ / 6'10"
Dimensions: 5'10" x 20″ x 2 ¼",  6'4″ x 21″ x 2 ½" , 6'10" x 21″ x 2 ¾"
Core: Epoxy Core
Stringer: Single Stringer
Fin Setup:  FCS II tri-fin setup
Fin System: FCS II
Volume: 5'10": 28.5L | 6'4″: 37.5L | 6'10": 45.5L
+ Leash Plug installed
+ FCS II SFT Soft Fins included
Softech Roller – 
The large surface area and the abundance of foam creates a very stable platform for surfers of all ages to confidently ride waves and learn the basics skills of surfing.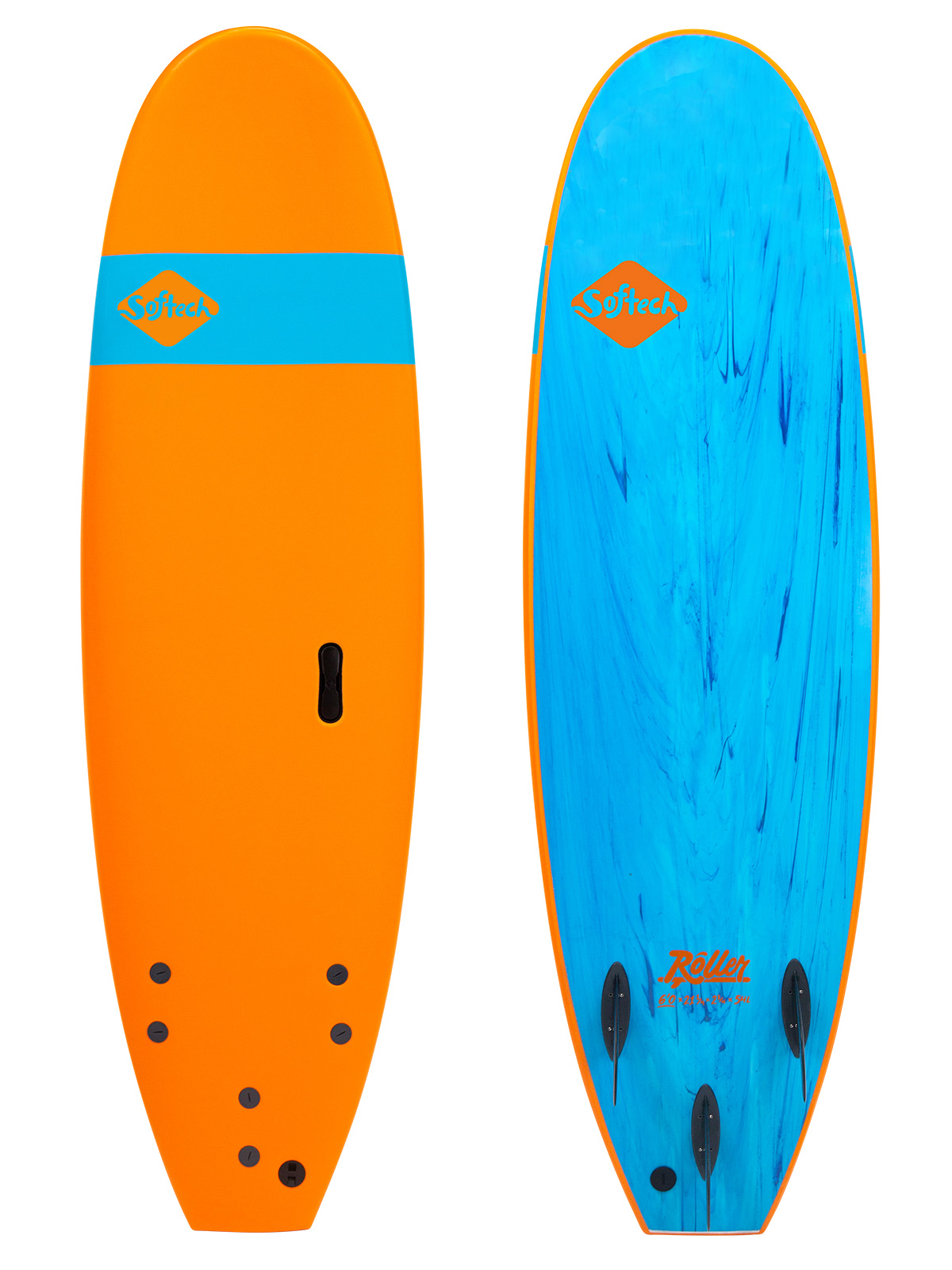 Size: 6'0″, 6'6″, 7'0″, 7'6″, 8'0″, 8'4″,9/0″
Dimensions: 6'0″ x 21 1/4″ x 2 3/4″ , 6'6″ x 22 1/4″ x 3″ , 7'0″ x 22 1/4″ x 3 1/7″ , 7'6″ x 22 1/4″ x 3 1/7″ , 8'0″ x 22 1/4″ x 3 1/4″ , 8'4″ x 22 1/4″ x 3 1/2″
Core: 100% Waterproof EPS Foam Core
Stringer: Double stringer
Fin Setup: Tri Fin Setup
Fin System: Softech fins
Volume:  6'0″: 54L | 6'6″: 61L | 7'0″: 66L | 7'6″: 71L | 8'0″: 94L | 8'4″: 103L  | 9'0″: 112L
+ Built-in carry handle
+ Leash Plug installed
+ Softech Fins included
Softech EG Flash – 
The Eric Geiselman Flash will motivate you to surf on any given day due to the uncanny feel and performance similarities between a soft and hard skin board. A great all-rounder offering shortboard performance, and a perfect option for anyone wanting to hone their turning skills. This is performance with a serious injection of fun.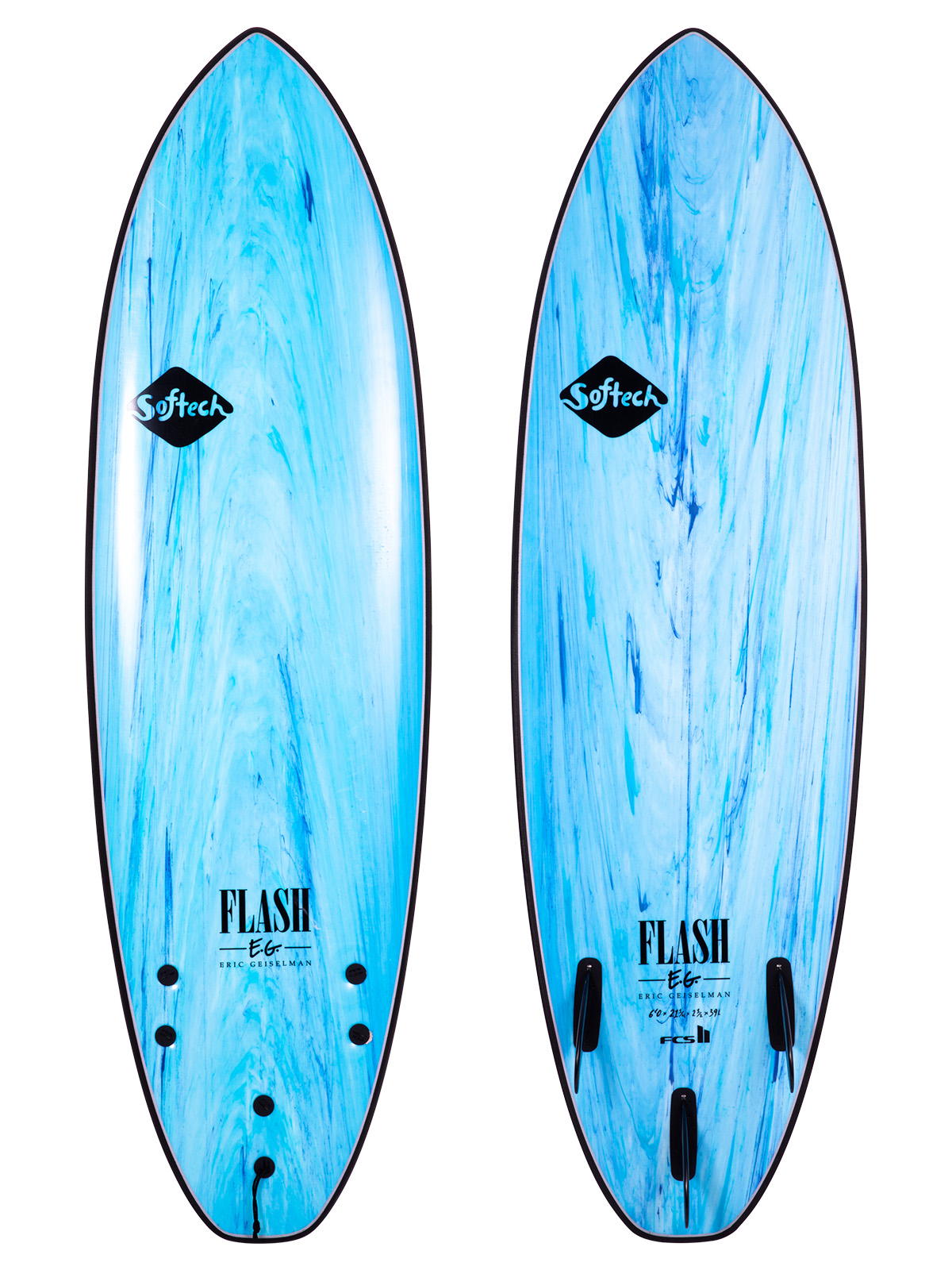 Size: 5'0″ / 5'7″ / 6'0″ / 6'6″ / 7'0″
Dimensions: 5'0″ x 20″ x 2 3/5″ , 5'7″ x 20 1/2″ x 2 2/3″ , 6'0″ x 21 1/4″ x 2 2/3″ , 6'6″ x 21 2/3″ x 2 2/3″ , 7'0″ x 21 1/4 x 2 1/2
Core: 100% Waterproof X-Density EPS Foam Core
Stringer: Double Stringer
Fin Setup: FCS II tri-fin setup
Fin System: FCS II
Volume: 5'0″: 32L | 5'7″: 36L | 6'0″: 39L | 6'6″: 44L | 7'0″: 50L
+ Leash Plug installed
+ FCS II SFT Soft Fins included