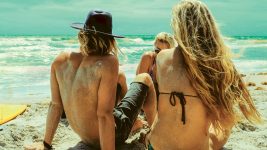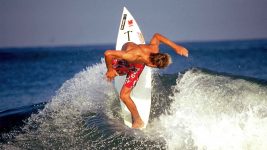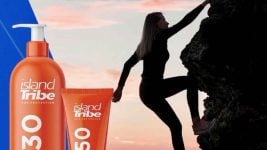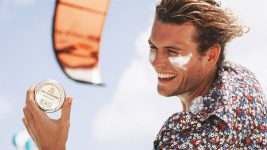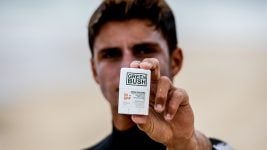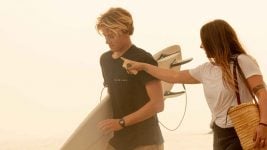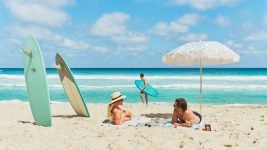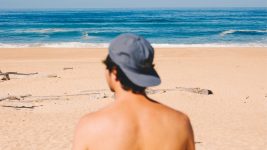 Sun Cream 2021 Retail Buyer's Guide
Action sports enthusiasts expect the very best from their equipment and apparel. A poor set up can be the difference between an all-day session in the ocean, on the slopes, or down the trails, and a disappointing early schlep back to the car. This demand for excellency extends further to miscellaneous items such as their sun protection too. When the consequences of a loss of focus can result in serious injury, enthusiasts will not accept sun protection that may hinder performance in any way. By Ruth Cutts 
DESIGNED TO PERFORM IN THE ELEMENTS 
Being able to withstand sweat, performing well in water, and providing protection from excessive exposure to wind and rain is integral for any action-sports specific sun cream to prove successful.
It needs to stay put to avoid stinging and irritating the wearer's eyes, it needs to be non-greasy to prevent a loss of grip, and it needs to provide long-lasting functionality to avoid the need for repeat applications throughout the day. As Maximilian Jagsch, CEO & Co-Founder of SWOX states, "those who partake in action sports set the gold standard for skin protection in every aspect."
For action sports enthusiasts the aforementioned high-performing and long-lasting protection is not enough in silo, it has to have it all. This includes the avoidance of ingredients that are damaging to the oceans or reefs, but also the functionality to travel well. Brands need to think about every aspect of the user's journey with their product. 
Suntribe's reef safe Face & Sport formula for example is available in a travel-friendly aluminium tin which is ideal for warmer temperature as it's leakproof and can handle extremely high temperatures. It's also available in a newly released cardboard Sun Stick which is suitable for use in colder temperatures as the stick makes the application smooth and fast even when it's cold. 
Similarly, Island Tribe offer popular travel-friendly 10 ml versions of their products that can be easily stuffed in the boot of a car, a board bag or a day pack up the mountains, and Sun Bum offer a convenient & easy to carry premium SPF 30 Sunscreen Face Stick that is perfect for squirming kids, sandy hands, or a quick swipe of sunscreen across your face. 
PROTECTING OUR PLAYGROUNDS 
It would be almost criminal for those who enjoy spending their leisure time in the outdoors to be using a product that would have an adverse effect on the very playground that they revel in. Using environmentally-friendly ingredients is no longer an optional extra for sun protection brands who seek to be included in the arsenal of any sustainably aware action sports enthusiast. 
"70% of the earth is covered by water, 70% of our body is water and we give back 1% for the planet" explains SeventyOne Percent Co-Founder and CMO Raphael Vannier whose latest innovation includes the use of 100% mineral filters to prevent harmful nanoparticles being released into our oceans without compromising on long-lasting protection.
RIDE Skincare use a non-nano mineral filter called titanium dioxide as their active sun filter. This mineral occurs naturally and once applied sits on top of the skin reflecting back the sun's UV rays. For premium water-resistance they use candelilla wax made from a shrub native to northern Mexico which provides a perfect barrier to prevent the product from being washed away over time. 
Island Tribe's products are all free of perfume, parabens and do not contain oxybenzone, Sun Bum's products are reef-friendly, vegan, and cruelty free, and, since their inception, Himaya have always used mineral filters in their products. Suntribe's biggest innovation to date is the creation of a high-performance sport sunscreen formula which only contains three natural ingredients that are safe for the oceans and for our health. 
For Greenbush's Founder Hervé Lacastaigneratte the paradox of travelling and surfing the world's oceans whilst simultaneously observing the deterioration of the very same environment he was thriving in lead him to set up Greenbush. "It was necessary to act, react, progress, and create an ecological project with three priorities: Environment, Health, Protection", he states. 
Maintaining biodiversity is essential, and Greenbush sun care products are made up only of mineral filters that do not degrade corals and provide stable and effective protection over time against UVB and UVA rays.   
With the knowledge in dermatological formulation acquired during four generations of pharmacists and following their brand philosophy: "there are only two places you can't leave: your body and the planet", Nuura are proud to offer a high-quality product that guarantees the highest levels of sun protection even in the most extreme conditions, while being completely respectful towards the wearer's health and the planet. This is achieved through the use of 0% chemical filters, 0% nano ingredients, and fragrance-free & cruelty-free formulas that are natural index certified and are free from parabens and other chemical preservatives.
For surfers and other action sports athletes, who need high performance yet sustainable sun protection, SWOX offers two types of products: a vegan and organic mineral filter-only option and a highly protective reef-safe sunscreen which combines UVA und UVB filters with zinc and titanium. The brand-new Mineral Stick and Mineral Lotion SPF 50 both contain mineral filters only, are reef-safe, organic and vegan. 
Similarly, British brand SETT, have always used only mineral UV blockers zinc oxide and titanium dioxide which provide protection against both UVA and UVB rays. Their sunscreens also use non nano particles which don't sink into the deeper layers of the skin. 
BEYOND THE PRODUCT 
Striving for sustainable practices extends beyond the formulas themselves and includes all aspects of the supply chain from packaging to sourcing ingredients. 
For Greenbush this means ensuring all of their formulas are of natural origin and all ingredients come from organic farming. Their range of products are Cosmos Organic certified by Eco-cert Greenlife according to the Cosmos standards.
The majority of Suntribe's packaging is completely plastic free, and all of their products are fully recyclable. They've recently switched to climate-neutral sugar cane tubes for their mineral sunscreens and, right now, they're preparing the launch of a new product ("we can give you a hint, it's also zero waste and comes in a stick format" explains Co-Founder Karl Roos) together with their brand ambassadors, "it's fun to create a community around our company philosophy and around the sports that we love!" continues Roos. 
Nuura's products come in cardboard, aluminium and 'I'm green plastic' which is made of renewable organic sugarcane ethanol; meaning that their packaging is biodegradable, reusable and/or recycled and recyclable. 
"At SWOX, our mission is to keep our eco-standard as high as the latest scientific research. We work hard to improve our products' sustainability, not only to keep these standards up, but to be part of the movement that pushes them even higher," says Jagsch. Beyond focusing on sustainable practices with regards to packaging and ingredients, they also source their products locally in Europe, in order to avoid long supply chains. 
In 2021, SETT are launching a 5-litre bulk container of their SPF50 reef safe sunscreen to zero waste shops with reusable and refillable pouches so customers can reuse the pouch and limit the amount of plastic they use. Similarly, Himaya's natural line is now available in a refillable package system, which is CO2 neutral and Plastic Neutral by offsetting.
ADDITIONAL BENEFITS
Many brands are keen to take a multi-faceted, holistic approach when it comes to their product ranges. Looking beyond only the protective properties of their sunscreen, brands are including ingredients that heal, soothe and care for skin pre, during, and post exposure to the sun. As Sun Bum's Dustin Smith states, "often times people only think about the protective properties of sunscreen, but we wanted ours to heal your skin as well." 
Sun Bum use Vitamin E, an antioxidant that helps to neutralise free radicals, which are the main cause of premature skin ageing. Nuura similarly are using vitamin E, alongside vitamin F, to help regenerate the skin, alongside shea butter, carnauba wax and sunflower oil for an anti-inflammatory, hydrating and protective effect. 
RIDE are using jojoba and coconut oil in their products to help re-hydrate skin and avoid chafing and chapping thanks to its anti-inflammatory properties. They're also using natural and organic ingredients in their post-sports moisturiser 'RIDE Recover' to help soothe and repair skin after exposure to the wind, rain, sun and waves
SETT's water-resistant sunscreen, is packed with moisturising argan, jojoba and Kalahari melon oils suitable for sensitive skin and ideal for children, whilst SeventyOne Percent are using organic sunflower vegetable oil which is rich in vitamin E and omega 6 to soften and nourish dry skin, organic jojoba vegetable oil to strengthen the skin's hydrolipidic layer and regulate sebum flow for normal to oily skin, and bio vegetable glycerin to improves and soften the appearance of the skin.