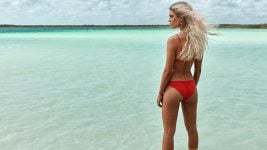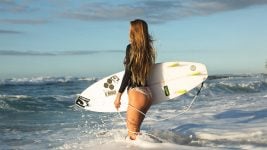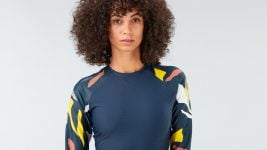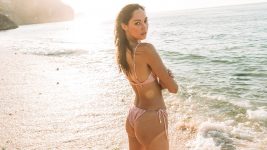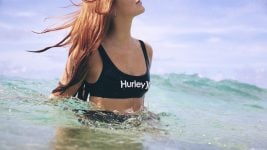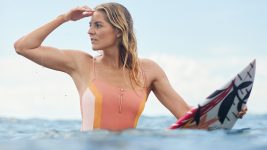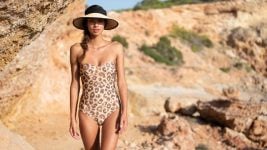 SS21 Swimwear collections empower women in sports, promote care for the environment and display total body inclusivity. Swimwear could be spearheading a much-needed transformation of the women's clothing industry into a fairer, more sustainable one. By Rocio Enriquez.
SS20 collections pushed a clear message: stay fit, love your body and look after the environment. For SS21 this message has been set in stone, becoming the three commandments no brand dares to ignore. Nature is present in all collections. Sporty styles will help you enjoy it. A great variety of designs will fit all natural body shapes. Widespread use of sustainable materials will help look after our habitats. By adding a pinch of nostalgia for 20th century beach life and globe-trotting adventures, the SS21 season promises vibrant collections for all women, without exceptions.
Shapes
Sporty styles remain strong. Women are active and demand reliable swimwear that will follow their moves. Not at any cost, though, looks are important. They'll reward brands that offer pieces that are equally supportive and sculpting. "Swimwear shouldn't just be outstanding in design, comfort and fit, it should also make a woman feel feminine and sexy", says Mariet Wieske, Sales Manager at Barts. Versatility plays a big role. Being able to transform a reliable sports bra into a nice beach lounging top adds value. Rhythm makes versatile one pieces that you can wear as a body suit with denim or shorts. Barts has introduced clips in the shoulder straps, so they can be worn in different ways.
Seasons of pushing body positivity have resulted in true democracy in bikini wear. High waist bottoms and one pieces share shelves with cheeky bottoms and minimal tops. O'Neill's Paul Martin announces, "for SS21 we created a new body shape matrix based on our research. We revisited shapes and sizing to ensure we have styles for all women, regardless of body type".  Activity and coverage preferences guide women's decisions, not so much body shape. Manon Jouanine, EMEA Product manager at Hurley, explains, "at a sell-out level, we see a pretty homogenous interest across all shapes of swimwear. The difference is mostly happening at a country level, where some would opt for more or less coverage". Marie-Kristin, founder of Zealous, believes that countries preferences are evolving too, "Northern European women are getting more used to the idea of cheekier bottoms and starting to be more playful when it comes to choosing prints and fits." She will be launching a plus size range to serve even more women. Mix & Match options are helpful as they allow women to create the perfect bikini set, with the top and bottom shapes they feel most comfortable with. Brands offering this are Boardies, Protest and Barts.
With all body types wearing any style, brands are extending their supportive and sculpting features to all designs. Rhythm has an increased offer of underwire pieces in both bikini tops and one pieces. This enables larger cups to find good support. Cup sizes get tweaked too. Rhythm is offering up to a double D cup, and Zealous has gone all the way up to G in its popular Mermazing top.
Materials and Construction
Combining comfort and fit requires a careful selection of materials and ingenious construction techniques. SS21 collections are rich with solutions that enhance support and shaping. Barts offers triangle tops with a moulded cup for extra support. Rusty incorporates a waist tie and underwire bust in its one-pieces. Rhythm offers a bandeau top with a hidden underwire for a seamless finish look. Essentially, brands are putting their designers' wits to work so that any woman can wear her favourite style. On a sports performance focus, O'Neill keeps working with the Hyper-Comfort technique that sits securely on the body and prevents skin digging. It also implements a Paddle Free concept to sports pieces, for freedom of movement and no under-arm rash. Roxy incorporates flatlock seams that reduce fabric bulk and ensure comfort in movement. Picture's Julien Durant speaks about its Curving Swimsuit, "Swell enthusiasts will appreciate the anti-irritation seams and lycra zones where needed for unsurpassed freedom of movement when paddling". Manon from Hurley explains, "when designing our SS21 range, we focused on our 'Purpose Built' approach. Our swimwear is made for surfing and in-water comfort, which is why our products are featuring added support for no distraction". These solutions are supported by performance enhancing fabrics, such as O'Neill's 'Superkini'. It sticks to your body when wet, offering a carefree swim or surf. Roxy pays attention to moisture wicking and quick drying properties in its Active Range. Oxbow chooses Carvico's polyamide, with anti UV properties and peach effect.
Reminiscing on the beach lifestyle in the 70's, 80's and 90's is a recurring theme. Textured materials and bold details help the journey back in time. "Fabric itself is a design element", says Ines Wouters from Protest. "We ruffle and smock it. You'll see fabulous lurex used as straps, bringing bands of sparkle to the beach. We've also used functional velvet that brings glamour to your beach look." Roxy incorporates ribbed fabric, micro terry and jacquard. Rusty's Designer, Noelle Aguirrebena, says, "one of our popular and premium fabrics is a solid colour textured fabric that gives a unique craft look design." As if materials were not enough, details adorning swimwear make 20th century nostalgia obvious. Franca Stahl, in charge of Marketing & PR at Chiemsee, describes, "frill straps, a tie band in the middle and a heart-shaped neckline make the bikini top an eye-catcher". Oxbow's Ladies Product Manager, Eléonore Courret, describes its most popular shape, "the Malia is a one-piece swimsuit with a bust-band and wide halter neck straps. It has a scooped open back with crossed straps". Zealous joins the trend, embellishing old fits with tassels.
The use of recycled polyester and polyamides increases by the season. Reversibility is also popular, for the added 2 for 1 value. Promoting less purchasing and longer use of your bikini makes it a sustainable practice too.
Colours and Prints
We can find three main trends in next Summer's prints and colour palettes: nature, retro beach culture and mixed world cultures. The timing couldn't be better. Celebrating outdoor spaces, long days at the beach and faraway travels will hit the spot of women who've had all three restricted during 2020.
The celebration of retro beach culture brings bright and pastel colours with sun fading and tie-dyes. Protest chooses candy tones. Rhythm goes for soft pastel hues. Hurley adds some psychedelic prints. Chiemsee brings back the 70's hippies favourite Batik print, with tie-dye prints on pastel gradients. Barts 'Shoreline' theme celebrates the endless summer with sun splashed colours and tie-dye prints.
Nature is referenced through sand and ocean colours, flower and animal prints, and landscapes. Nature is the common ground where an active and sustainable lifestyle meet. Oxbow's Communication Manager Laura Grenon describes, "the key in the collection is to reconnect with the elements, to keep the link between sport and nature". Barts' 'Natural Habitat' theme features animal skins and landscape structures. Chiemsee develops two ocean themes. 'Abstract Waves' features shades of blue with tie-dye optics and neon contrasts. 'Underwater Garden' features strong colours on a dark background. Oxbow's "Shapes" print also portrays a submarine garden, with pastel colours enhanced by a touch of gold. Roxy develops three colour palettes around the three elements that inspire the brand: sand, sky and sea. Sand features rich earthy tones with bright accents, Sky uses pastels combined with tie-dye effect, and Sea offers a selection of shades and saturation levels of blue. Zealous joins in the celebration of the sea, with lots of blue hues and tones. Animal prints remain popular, with most brands offering an interpretation of it.
Mixed world cultures bring different types of artwork. Rhythm's 'Adventurer' theme draws inspiration from Moroccan spice markets. It offers powerful prints in rich and bold colours. Chiemsee selects ethnic elements and rich colours for its 'Folklore' collection. Barts' 'Natural Habitat' theme offers traditional geometric art of native tribes.
Sustainability
Recycled nylon revolutionised swimwear. The use of recycled yarns from post-consumer waste and ghost nets is quite widespread. Most brands report the use of such fabrics in all or part of their collections. Barts, Boardies and Picture use it for their entire collections. O'Neill estimates that 40% of its SS21 collection is made with recycled materials. Roxy, who has signed partnerships with Repreve and ECONYL, brings this figure to 35% in its overall collection and up to 100% in its Swim range. Rusty and Hurley are introducing a new range made of recycled nylon.
Sustainability does not stop at recycled materials. It has to be supported by sustainable production processes and marketing initiatives. 'Trans seasonality' is gaining momentum. Many have shifted to offering pieces meant to last for more than one season. A sustainable practice that this year, due to post-Covid stock situations, has been helpful in business terms too. Packaging, labels and hangtags are being made from recycled or biodegradable materials. Protest uses an eco-friendly alternative to PFC for quick drying properties. Boardies' factory in Bali is run by locals with living wages. Chiemsee has joined the Green Button initiative that observes supply chain transparency. They are also members, alongside Oxbow, of the AMFORI/BSCI initiative that audits safety and environmental practices. Zealous donates 1% of its annual sales to 1% for the Planet. Most brands are engaged in sustainable practices, and they are all moving towards increasing this aspect of their business.  The sustainability message is strong, consumers are armed with questions, and brands want to offer the right answers.
Retailer Support
Retailer support has been of the essence this year. Lockdown during the crucial SS20 sell out months left retailers with unexpected stock. Brands and retailers have worked together on solutions that suit both. Payment flexibility has been key. Ines Wouters from Protest shares, "there has been co-operation and compromise. With the help of flexible payment terms, we have managed to retain most orders and helped our retailers through this trying time".  The Covid-19 crisis hit right when brands were developing their SS21 collections, and most were quick to adjust. Protest and Rhythm resized their collections, focusing on strong products. Many others decided to carry over SS20 products and colours. Barts froze the SS21 collection and just added a capsule collection to SS20. Picture moved half of its SS21 collection to SS22 and carried over 50% of SS20. Zealous has carried over two colours, so retailers will be able to fill up sizes of products they have in stock. Oxbow and Hurley have carried over best-sellers from SS20, too. Trans seasonality has become even more relevant. Brands who have been producing trans seasonal styles have less of a problem with the stock situation. Rusty's Noelle explains, "swim has not been very affected by Covid-19. Because of the virus, a more trans-seasonal focus has been given to fashion, but Rusty was already heading into this design structure".
The launch of SS21 collections to retailers was challenged too. Samples were delayed, presentations moved to digital platforms, and photoshoots cancelled. But brands have proven that where there is a will, there is a way. They will be ready to push SS21 with their messages that empower women and promote sustainability. Most efforts are concentrated on digital assets to help retailers with the shift to online experiences with their SS20 collections. These are mainly image banks to feed their websites and social. Barts will offer video tutorials explaining its different shapes. O'Neill will make its new body shape matrix available as a VM tool. Roxy will support its 'On The Beach' digital campaign with some experiential support for influential clients and innovative shop in shop set ups.