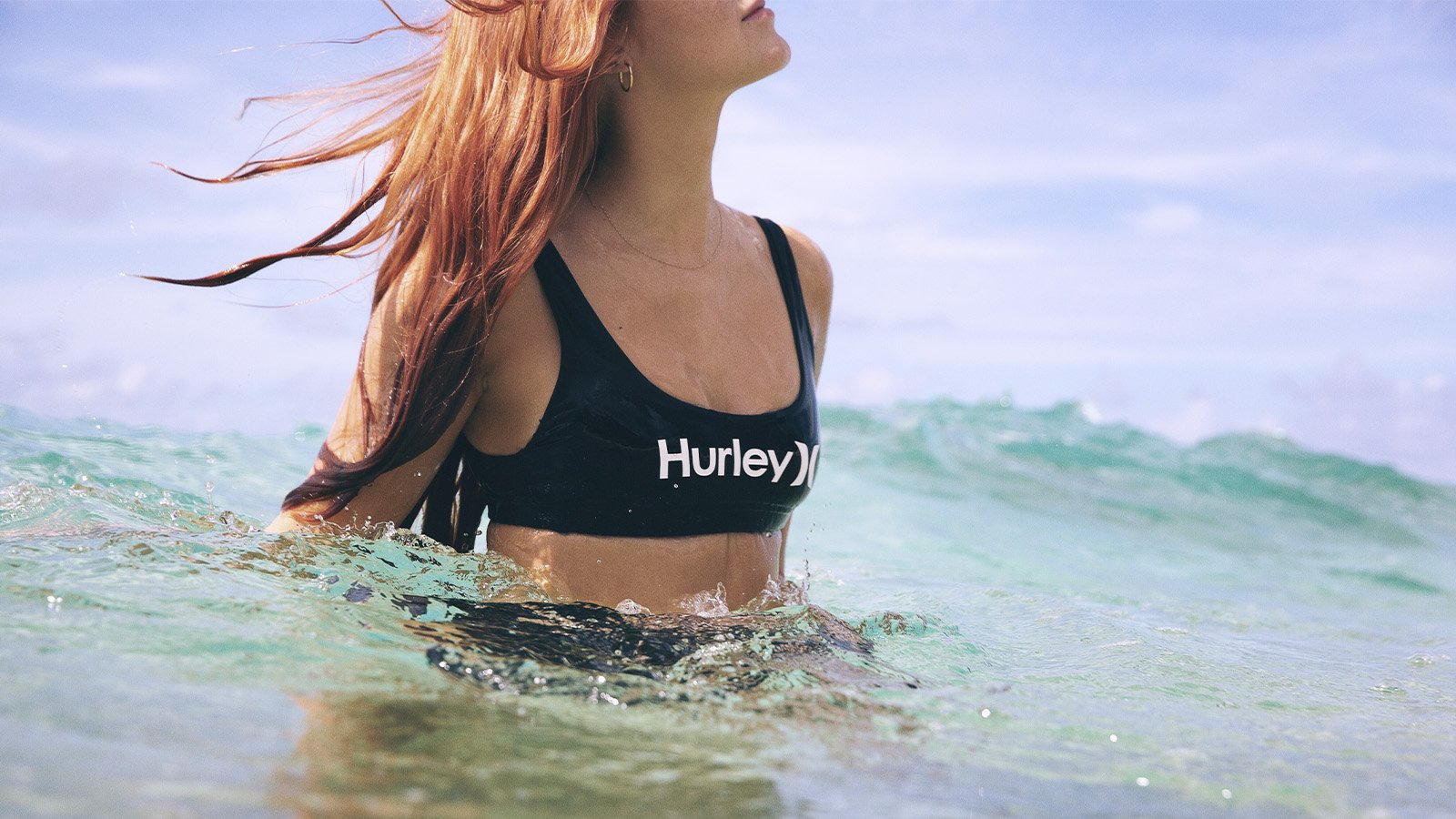 Hurley SS21 Swimwear Preview
Brand: Hurley
Interviewee: Manon Jouanine, EMEA Product Manager& Valentine Grandamme, EMEA Marketing Manager
What are the key industry trends in women's swimwear for SS21 and how are you implementing them in your SS21 collection?
We are in sync with the industry on trendy silhouettes such as high-waist bottoms, bandeau, triangle tops and drawstring cheeky bottoms. Popular one-piece swimwear are still a key piece of our collection. For this season we are also introducing new colorways and prints reflecting trends such as tie-dye, floral prints and bright colors.
What have been the major inspirations behind the designs in the SS21 range?
We get the inspiration on cuts and shapes from our athletes. They collaborate with us by sharing their precious feedback to build the line.
When designing our SS21 range, we focused on our 'Purpose Built' approach. Our swimwear is made for surfing and in-water comfort, which is why our products are featuring added support for no distraction. Our swimwear range is also designed with the purpose to be sustainable, which is why we are introducing the 'earth friendly' fabric made of recycled nylon.
This season we are also adding more 'fashion' pieces to the line, with trendy silhouettes and prints.
How has Covid-19 affected your SS21 sell-in plans?(Delays, Range cancellations, carry-over)
Our SS21 line hasn't been affected by range cancellations. Actually, on the contrary, with the new brand organization, we were able to add new product categories that we believe have a great potential in our market such as sustainable denim, active hats, socks and underwear.
In addition to that, we had to be reactive and smart during the current season: in order to help our accounts for SS20, we decided to move some of the SU20 products to SS21. This decision not only helps clients reduce their orders and reduce the pressure on them but it is also a good way for us as a brand to keep control of the brand representation in the market.
Finally, as for many brands, Covid compelled us to switch from a physical to digital sales meeting. This was a first but was well-received and proved to be a successful new way of organizing go-to-market meetings.  This was also made possible thanks to the great reaction and hard work from the team who efficiently built the line in a quick turnaround despite the challenges.
What style/shape of swimwear is most popular in your range? 
At a sellout level we see a pretty homogenous interest across all shapes of swimwear.
The difference is then mostly happening at a country level where countries would opt for some more or less coverage.
In terms of performance, what materials and construction techniques are you working? Are you implementing new ones in the SS21 range?
In terms of performance, we keep our construction which has proven to work, ensuring the right amount of support. The main new change is that in SS21 we are introducing a sustainable fabric made of recycled nylon.
What colour palettes and prints will we find in your SS21 range? Any crossovers from other brand product categories?
In our SS21 range, you will find pastel tones and floral prints. We will also have some bold geometrical and animal prints as well as some more colorful/psychedelic prints.
What efforts are you making towards sustainability?
As commented above, we are introducing a range of sustainable swimwear. Made of recycled nylon, these products are nonetheless very fashionable. Our tagline : « Feel Good, Look Good, Do Good ». As part of the brand values and priorities this was very important for us to further develop our sustainable range.
Any exciting marketing campaigns for your SS21 collection? When will it be launched?
From a marketing standpoint, we will be powering up women and sustainability – not only through our sustainable swim collection but also through our new sustainable denim collection.
We are super excited to announce the launch of our new sustainable denim collection – the Oceancare Denim made in partnership with Wiser Wash.
The Wiser Wash process process eliminates the use of pumice stones and toxic chemicals involved in traditional washing while still achieving beautiful abrasions and bright contrasts through decolorization with only one cup of water.
What kind of support are you offering your retailers?
Due to the recent shift and retailers having to be even more active online, we are making sure to provide as much support as we can on a digital level by providing product imagery as well as social media/lifestyle imagery.
BEST SELLERS
Please name and describe your 3 highlight pieces.  
Any product from the Oceancare Denim collection : Sustainable denim made with only one cup of water. Soft, lightweight and flexible denim.
The Hurley Max Palm Paradise Swimsuit : Made for surfing on warm days. It is a long-sleeve bodysuit-shape made of a quick-dry fabric and with high compressive support, featuring a UPF50+ protection.
The Hurley Nebula Swirl Itsy Bitsy Bikini : A fashion triangle top and drawstring bottom. Made in our sustainable fabric. Reversible to match your mood. Featuring a psychedelic print.