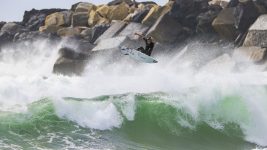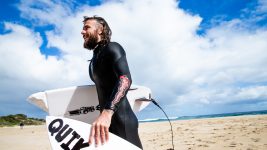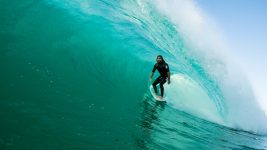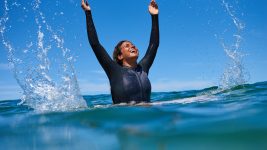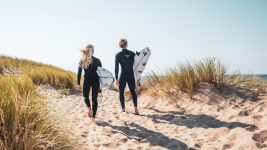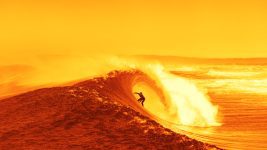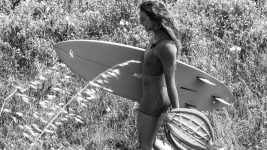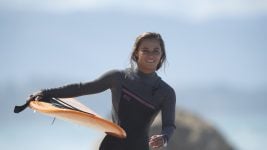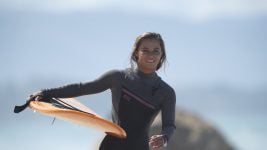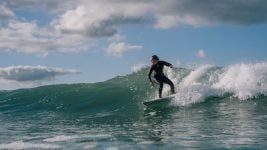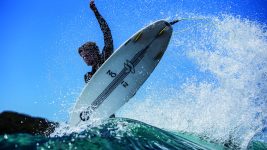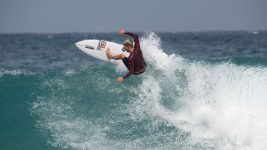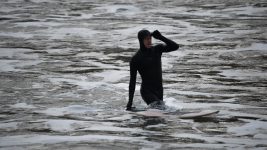 Wetsuits S/S 22 Retail Buyer's Guide
Dark matter is not just expanding through the universe but also through surf shops. Neoprene is exploding, right at a time when it has never been so difficult for brands to provide for their clientele. So what can we do about it? Answers to this question in the Spring/Summer 2022 Wetsuits, Retail Buyer's Guide. By David Bianic.
Who would have thought that the main fear for boardsports brands would be an inability to stock retailers' shelves and racks with enough items? However, this is exactly what's been happening on the equipment market – at force 10 – since the Covid crisis. And the neoprene sector is no exception: "2021 has been such a hard year to keep everyone happy", says Brett Verge, Creator of Adelio Wetsuits. 2020 was already their best year and the new rise in demand in 2021 has swamped the manufacturer, unable to fully provide. It's the same noise from all the brands, a first for Marty Kirby from C-Skins, shocked to see an empty warehouse so early in the season despite expecting the increase in sales. Before complaining, Benoît Brecq from MDNS Surfing reminds us that "it is always easier to manage shortages than large stocks at the end of the season."
For the really big players in neoprene such as O'Neill, Head of Product Tom Copsey reveals that the brand has had to make an earlier start on product development in order to give suppliers and factories a better chance to plan and therefore to counteract the longer manufacturing times and shortages in raw materials. One of the solutions to partly remedy this problem is once again to go for product reissues. This is the case at Patagonia and the decision also conveniently adheres to the sustainability values advocated by the brand: "we can drop the same suits into the stores, even if they come in later than we had planned due to shipping or supply delays", explains Gabe Davies, Ocean Marketing Manager.
WETSUITS SS22: AN AIR OF DÉJÀ-VU
In this unstable context, the brands are relying on their successful models and opting for innovations that do not cause disruption to the production chain, as summed up by Phil Bridges, Technical Designer at Dakine Wetsuits: "SS22 surf wetsuits are a development of our SS21 range with wider offering within the model lines in styles and colours. We're refining not reinventing to build on the success of SS21." At Xcel Wetsuits as well, life has been simplified by offering the same range as Autumn 2021, "with a few added new colours for SS22", adds Lance Varon. Like many others, Hurley reiterate that innovations are made to the autumn collection and as a result "SS22 has colour updates to the Fall line adapting it to the season with spring suit and short sleeve full suits".
With brands refraining from new developments, this is above all to make up for the inevitable price increases, to the order of 10% as revealed by GUL Watersports. It's also because innovations are not always visible. At Söoruz, their Bioprene neoprene foam on their Green Line range benefits from a new formula, certified by the USDA through its 75% bio-based make up: "We increase the percentage of hevea, sugar cane, and non-edible vegetal oil, making the foam even more respectable for the environment", explains Marin Mauriac, Product Engineer. 
Pioneer of compositions made of oyster shells (for cleaner Limestone neoprene), Söoruz have now been joined by a number of bigger and bigger brands. Adelio for example will launch an "oyster neoprene" in 2022 as well as C-Skins (top-of-the-range: Wired, ReWired, Session/ Solace), Xcel, Volcom as well as Picture, who are extending their Eicoprene to allow their whole range to benefit from it. Picture are also launching an evolution of their Eicoprene, the ultraflexible Flexskin, for the feeling of a second skin. Still on the subject of neoprene, Yulex has gained a few new adopters like Oxbow who are using it to their advantage on the top-end Wacanau in a collection redesigned for 2022.
As per internal linings, a few exceptions to the recycled nylon show up, such as the Bamboo Charcoal jerseys by Zion Wetsuits, as well as their even more surprising linings on the Yeti models (made for cold water surfing, as in the southern hemisphere, our summer is someone's else winter), made of wild wool : "Producing quite simply the warmest, most durable, water impermeable ocean sheath ever", boasts their boss, Maddog.
One of the tricks brands use to "innovate without innovating" is the art of the trickle down, in other words, how to use the proven technical characteristics found on premium models and apply them to the lower-end products. For this at Circle One, they have added Superstretch panels from their upper range Icon onto the Faze range (flat lock), "specifically to the lower leg", says Director James Trevelyan. This idea does make it easier to try on in the shop and therefore to secure a sale. Dakine are also supplying their mid-range models (Mission) with glued seams, "making this a crazily high-spec suit for the price" assures Phil Bridges. The final example from C-Skins basically takes the 2021 summer range and transposes the chest panel from their Dark Matter Liquid Skin onto the cheaper ReWired range.
One last solution to minimise risk: simplifying what's on offer as much as possible. Most brands are opting for a collection divided into three ranges (entry, mid, top), while others are taking up the gamble of reducing their supply further. At MDNS for example, Benoît Brecq explains to us that they have "eliminated the mid-range range, which in the end corresponds to very few people". Their reasoning is that now customers start with an entry-level suit before quickly moving on to a top-end model, skipping the middle step. It's the same idea at Onda who are offering either a Pro series with "with the state of the art materials" specifies Pedro Towers (Brand Manager) or the School Series which is self-explanatory. 
Volcom are choosing simplicity as well by rolling out their unique Modulator range in Spring/Summer with different options of cut and thicknesses (3/2mm and 2mm fulls, short-sleeved 2mm fulls and long-sleeved 2mm spring suits), all for a really contained price, explains Brad Dougherty, Global VP for surfing.
In the same vein, the new brand Florence Marine X are setting themselves apart by offering one single range, Japanese neoprene assembled by hand one at a time "that eliminates the need for stiff interior tape", explains Edd Seater from the Marketing at European Distributor, Hectic before adding that the made in Japan patronage is the most sophisticated in the world, for an unparalleled fit. Fit is also centre of attention at Manera who are using their 3D design technology even though "it's not something you can easily notice in the shop" adds Lucie Denjean from Communication Services, "but we're all about how you feel in the water instead of using expensive marketing gimmicks to impress the customers in shop". A word to the wise!
Even more bluntly, Maddog at Zion Wetuits points out their Ergonomic Cut, "a 100% mental fit guarantee. No weird stuff going on under the arms. No packages getting yanked up. No Atlantic entry point penetration. No back knee sag".
Here, O'Neill are an exception, preserving a number of impressive ranges (no less than nine if we count women's and children's), asserting their 70 years of expertise in neoprene. A different choice comes from Quiksilver who are rolling out three main lines (Highline: top-end, Everyday Sessions: mid-range, Marathon: cold water), in addition to offering limited edition series like the retro collection with smooth skin or the Mikey Wright signature model with flame decor. 
STYLES & COLOURS: LOW-PROFILE
A few years ago, the world of neoprene was hit by a wave of madness, bringing out flashy colours, neons and wild prints that shook up this technical category with codes from clothing. In 2022, all that has been put back in the cupboard so don't get your hopes up for getting all fluorescent in the water! As Brett Vergou from Adelio sums up, "If you want to be seen, you'll stand out for your surfing, for the right reasons, and not your suit for the wrong". At Dakine, Phil Bridges explains that it also relates to the supply from manufacturers whose colour palette is limited, but from a sustainability point of view, "less is more". This is why styles are expressed more in textures. For example, Alder are employing embossed mat anchors, "these small details make a big eye catching impression when hanging on the retailer's rail", assures John Westlake, aka 'Rubber Man John'. In the same way as Surf Apparel, wetsuits for SS22 will often harbour "tonal and earthy colours, such as vintage green, deep red and navy blue", says the Marketing Manager at Brunotti. The style brands often express themselves through work on their technical pieces like at Volcom who have "contrast stitching, subtle hidden Volcom stone logos, high-density printed logos, Volcom stone embossed knee pads and inner neck and zipper lining tonal prints", assures Brad Dougherty. This trend for playing with texture and finish makes distinguishing between the brands difficult, regret Hurley, who prefer to rely on technology like in their premium models Advantage Max and Advantage Plus.
There's one exception though, with an effect in clothing that's been really popular for the last two years: tie dye has made an appearance on wetsuits at C-Skins and Brunotti in particular. Likewise, Quiksilver have taken a punt on highly visible graphics and coloured panels influenced by the 80s on certain models.
WETSUITS SS22: EVEN MORE DURABLE
More than any other category in boardsports perhaps, the neoprene sector really has to show that its hands are clean when it comes to environmental efforts made by brands. Mentioned before, Limestone neoprene from oyster shells has gained market share and is less controversial than Limestone obtained from mines. And while some are still attached to this traditional Limestone, "the best thing we can do from a responsibility standpoint is create a quality wetsuit that lasts as long as possible without sacrificing performance", says Edd from Florence Marine X, a point well worth listening to.
For several years and in a widespread manner, everyone has been orientated towards carbon black (foam produced from old tyres), solvent-free glues, recycled nylon linings, recycling off cuts and reuse through upcycling, dope-dye procedures that save a considerable amount of water as well as repairing used wetsuits. 
Even Rip Curl eventually adopts the durable ethos, after having released last summer their first "Made With Sustainability in Mind" springsuits: "We'll expand this range this winter releasing brand new Dawn Patrol Performance featuring recycled jersey materials while the unique foam is neoprene free and 50% plant based", teases Léa, Wetsuits Product Manager Assistant.
These efforts do not just concern the finished product though, we should mention Manera and their "pizza boxes" used for packaging, a recycled cardboard box that takes up less space in containers along with biodegradable, compostable bioplastic film that wraps the wetsuits.
Despite everything, at Patagonia they believe that the rest of the sector has not done enough, hammering home the argument for natural neoprene like Yulex: "Each Yulex suit sold saves 80% CO2, imagine that positive impact on an industry wide level," suggests Gabe Davies, Ocean Marketing Manager. Patagonia are applauding the decision by Billabong to adopt Yulex and hope that the rest of the Boardriders group will use their buying power to make a significant change. For more transparency, making recognisable labels is one solution, in the mould of the Ocean Protect label at Söoruz which covers the whole of the chain, from design to material sourcing, manufacturing, logistics and recycling. We are on the right track my friends, be patient.