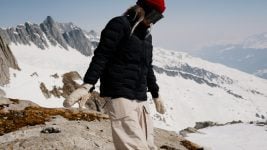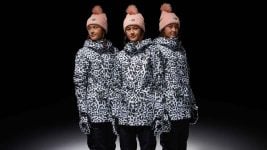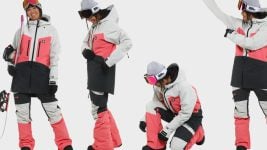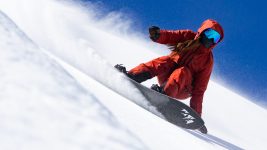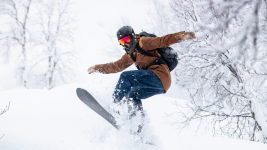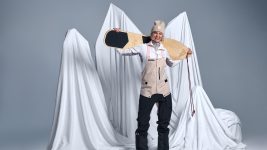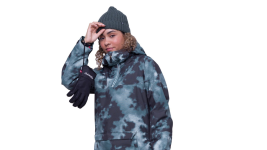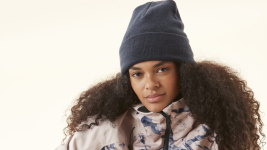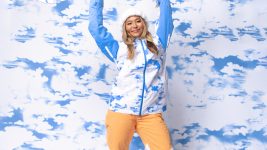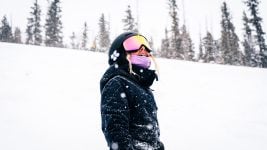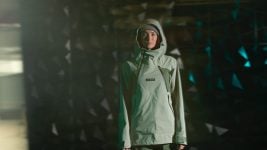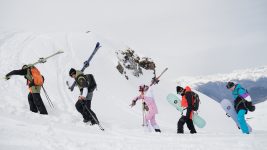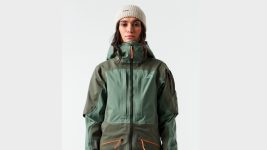 Women's Outerwear 2023/24 Retail Buyer's Guide
What to wear is a major question for many women and not made any easier to answer when you add in cold temperatures, wind and a sweaty sport. Luckily, the outerwear industry is as wide and versatile as it is functional, so literally any female will find something to her liking in the FW23/34 collections. Report by Anna Langer.
THEMES
Alongside their male companions, female snowboarders are also invited on a trip through time and back to the roots of their beloved sport. "For the third year in a row, Roxy wind back the clock to where it all began. Roxy Life draws inspiration from styles we made iconic over three decades of dedication to women. Sporty & fresh cuts are slouchy yet feminine and retro details bring a unique touch of cool. Enjoy the ride in vintage threads made with modern technology," says Global Design manager for Snow and Active, GwennanDavies. OOSC also take inspiration from the early days of snowboarding and snurfing, while Oakley mention organic, rounder shaped products.
Rojo also delve into their heritage, bringing to new life past combinations and retro notes. Yet their main influence comes from the riders, says Founder Jo Buckle: "This is celebrated through beautiful prints and colours combined with old-school and contemporary silhouettes staple to Rojo." Oxbow dedicate their range fully to the riders and Orage's design vision is inspired by their culture, their roots, the pure aesthetic of open spaces, wildlife and the beautiful mountains of their country.
There is also a strong focus on more high–tech to comfort backcountry missions and freeriding. "For 23/24 we really focused on building products that work well in a system for light and fast touring missions. At the same time, we really focused our insulation offering to fit well within those systems," says Martijn Linden, VP of Softgoods at Jones Snowboards. Oakley also have a deeper focus on products for touring/splitboarding, with greater depth in the layering program that includes new pieces to be used in different weather conditions. L1ta redesigned every piece of their technical Theorem collection and coming from the deep winters of Canada, Orage create technical and functional products that meet the needs of these weather conditions. Horsefeathers state that their primary goal remains: "to create an on-trend, high-end product at an affordable price with our unique Horsefeathers style," says Tomas Koudela, Head of Marketing.
The topic of inclusivity is also becoming stronger every year. Combining comfort, sustainability & style for all riders is the main aim for Roxy. "With design & fits that are specifically tailored for women and for movement, with both skiers and snowboarders in mind; and our unparalleled breadth of styles ensures we meet the needs of all riders out there. Roxy remains inclusive from shapes to type of riders: any women out there can be sure that Roxy designs for her." Kari Traa too see their mission beyond trends and themes: "It's important to encourage everyone to be part of this amazing activity, while constantly keep fulfilling the needs of the expert users. The autumn ripe Norwegian nature and beautiful female body has inspired KT to create the super inclusive silhouettes with standout KT design to attract both the pros and the beginners," says Senior Designer Hanna Haring. Norrona also vouch for timeless designs: "We design a concept to last for a minimum of 4 years. So every four years we relook at that concept and ask ourselves, do we want to build on what we have? Do we want to redo? This year we focused on Tamok. We still love the overall aesthetic. It's very technical but has a bit of a western look." Horsefeathers used their experience from the past years to adapt their approach to carry-over as well: "for the bestsellers, we keep the style and the name while always creating new colours in the theme of the whole collection."
FITS
When it comes to fits, the biggest trends in Women's Outerwear are genderless cuts. "We're moving towards unisex and gender-less styles that bring more neutrality to our program. Although fit and colour might be a bit different, all of our new designs are the same for both men and women," says Orage Creative Director Frederic Dorais. L1 have also broadened their genderless offering, "knowing that there are key oversized styles (Ventura and Axil) that we have equal parts men and women buying into. We simply expanded the size offering to accommodate the demand."
Volcom highlight their gender-neutral, Desire Melancon signature Gore–Tex Kit and 686 introduce a new model called 'The Outline Pant': "This is a completely team driven project with feedback from all the women who were looking to our men's collection for wide pants. The legs fit exactly like the Dojo pant, but the inseams are shorter and waist is sized correctly for the corresponding women's size," explains Brent Sandor, Head of Marketing. Rojo have a new non-binary model with the She Ripz Pant and Roxy have alsobeen pushing into looser, oversized fits, to match with the shift in trend and styling.
Bib pants are also common in the new collections, with an additional shell style based on the success of their softshell bib from Oakley, women's specific bibs from OOSC, the reinforced Katana bib from ThruDark to the new Johanne Ski Bib for advanced riders from Kari Traa. Orage introduce a new MTN-X Grade Light Bib, featuring lightweight and breathable Prime Alpha fabric. "These new bibs are virtually weightless and extremely stretchy, making for a versatile and comfortable product for aerobic activities." Horsefeathers continue their Stella bibs next to the Lotte shell, which is a technical non-insulated pants for the advanced rider.
Women can also still pull off fashionably slim styles on the mountain, like the new Norrona Hilflex200 slim pant which is more fitted and offers more warmth without the bulk, Oakley's Laurel Insulated Pant with slim silhouette and high waistband construction or the body hugging slim Benedicte Pants and Ragnhild Bib by Kari Traa.
Rojo highlight the re-development of their Plus Size range: "In our FW 23/24 range we are offering size extensions in some styles to cater for our beautiful plus size customers and various style options to enhance different body shapes and sizes within the range." And also the strongly re-emerging trend for baggy styles in boardsports is reflected in the women's lines by DC and Picture Organic Clothing.
On the upper body half, female riders have a choice of feminine and more unisex styles as well. Oakley introduce a new parka style next to new puffy styles: "The Autumn RC Vest has been developed in collaboration with Jamie Anderson. She is looking for a vest that she can wear over an oversized fleece when she is going to the Snowpark," says Laurent Vogt, Global AFA Category Manager Snow. Rojo combines Anorak styling with super easy Centre Front Zip access rather than pullover style. "For me, this piece embodies our Heritage and I love seeing how fashion revolves on its axis," says Jo Buckle. Horsefeathers continue their bestselling shorter anorak Mija, next to the technical anorak Derin II and the tailored long jacket Pola. And Jones highlight their packable Cloudripper shell, that is below 300 grams, stretch, 100% recycled 2.5L shell that boasts a Pertex Shield 20k/20k membrane. Shralpinist Stretch 3L Jacket, which is 100% recycled three-layer 30K waterproof / 30K breathable four-way stretch fabric that's soft-to-the-touch and designed to offer supreme protection without ever feeling restrictive.
COLOURS
With women buying and wearing whatever they like, many brands opt for genderless colour stories as well. 686 feature all of their colours in both the men's and women's collections, FW Apparel update their gender neutral colour stories from previous collections and Norrona use their new vivid royal blue in both collections as well.
Bright colours are often inspired by the heritage theme, such as Neons (OOSC), Purple (Oakley) and Velvet (Oxbow) and 70's ski pop colours (Picture). Kari Traa combine cobalt blue Azure with a deep luscious red Rouge. "This most versatile mix of shades is brightened with sporty bottle-green cress" says Hanna Haring.  Next to their new Sunrise Gold, Jones introduce one new women's specific colour called Terracotta: "It's an earthy red tone that's bright enough to be visible on the slopes. Other new shared colours with the Jones men's collection are the Mineral Gray and Dawn Blue. The Mineral Gray is light and fresh and works with every colour. The Dawn Blue is a very dark colour that has hints of blue and green."
Nature inspired shades is the other major trend in colourways. Oakley mix Hummus, Carafe, Sage Green and Soft Orange, L1 blend earth tone neutrals with softer pastel brights, as does OOSC. Norrona sport a new really dark green colour called rosin with cumin, ThruDark pair Obsidian Black and Olive Green and Roxy also push green tones in FW23/24, which is a "really fresh direction for Roxy". Horsefeathers pair Tea Rose, Raspberry, and Banana with a combination of Black and Spruce Yellow, Prune, and Phantom.
Since girls will be girls and some of them will always opt for the more "girly" variations, brands also cater to that of course. Norrona pair violet quartz and tawny port, Rojo continue their ever-present Lavender tones, with pops of Tangerine and Ochres, Passionflower is combined with Baked Clay and Kari Traa reflect "emotional understanding and empathy for others in restorative shades and mindful pastels, with a mix of beige Oat and selection of pinks."
PRINTS
"Prints are very different than before, more organic inspired. We have developed a new pattern this season inspired by a traditional Norwegian artwork but translated in an Oakley design language with some topographical elements and lunar phases," says Lauren Vogt. In collaboration with Jamie Anderson they designed a new animal print, with a mix of tie-die and Coachella vibes. L1ta are also stepping away from their historic approach to prints with a more sophisticated geometric print for FW23/24.
Roxy muse that prints are always important for them and serve this with a new really rich dark photographic floral which you will find in pieces across the whole range. Horsefeathers agree that especially "all–over prints are an important part of our women's collection. You can find three new ones in the W23/24 collection: Dalmatian, Polygons, and Splash." Picture highlight their Freeze print, which represents ice with an acrylic paint effect, as well as a feminine and sophisticated multicolor Baroque print, next to a combination of liberty prints forming a romantic patchwork. All the elements in the new prints in the Kari Traa collection are originally hand-painted with a direct inspiration from Nordic nature and fading away autumn-winter greenery.
MATERIALS & TECH INNOVATIONS
When it comes to technical innovations in Women's Outerwear, Kari Traa's new Female First Technology deserves a detailed look. Hanna Haring explains the process this stems from: "The technology inside the products has started and continued to be developed on average active male body. Meaning that everything that we are used to using and communicating as tools when describing technology, is based on very masculine starting point. And I must admit, we at Kari Traa have also been chasing these same features to the products to be relevant in the industry. And most of it is valid and useful but is it all relevant to the female bodies or are we missing something?" Of course women also need waterproofing and durability, which their pair with a laminated shell fabric that has female gentle-skin matching soft hand feel, mechanical or added elastane stretch for no friction or discomfort and soundless movement. The Porelle super light but functional lamination of their FemShell Pro fulfils 20K/20K weather proofness while also allowing the design to drape beautifully on curvier silhouettes, feel lighter and adaptable to our activities. The materials used are sustainably sourced and consist of recycled content and will match seamlessly into the existing wardrobes.
To cater for the needs of ski touring and splitboarding riders, Roxy created a highly technical capsule called Boundless Snow. "We have been partnering with current and past Roxy team athletes on the creation of a full backcountry assortment. For the first time there are Gore-Tex 3 layer fabrics in our Lunalite jacket and Lunalite bib." Also worth a mention is their Chloe Kim signature line with Dryflight technology, offering high-performance waterproofing & breathability while acclaimed lightweight Primaloft® insulation ensures you will not suffer from the cold between your runs, next to the HydroSmart technology, an all-natural & eco-certified formula encapsulated into the collars and neck warmers that cares for your skin and provides hydration to help you best fight the rough temperatures.
For brands that offer both Men's and Women's collections, efforts in the sustainability area are the same and outlined in depth in the Men's Outerwear RBG . Rojo are moving away from over sourcing too many varieties of fabrics, streamlining to the necessities and bringing together comprehensive ranges that focus on a more sustainable future. Their most technical jacket, the All-Terrain Jacket utilises a 20K/20K, 4 X way stretch fabric for comfort and fit and maximises movement.