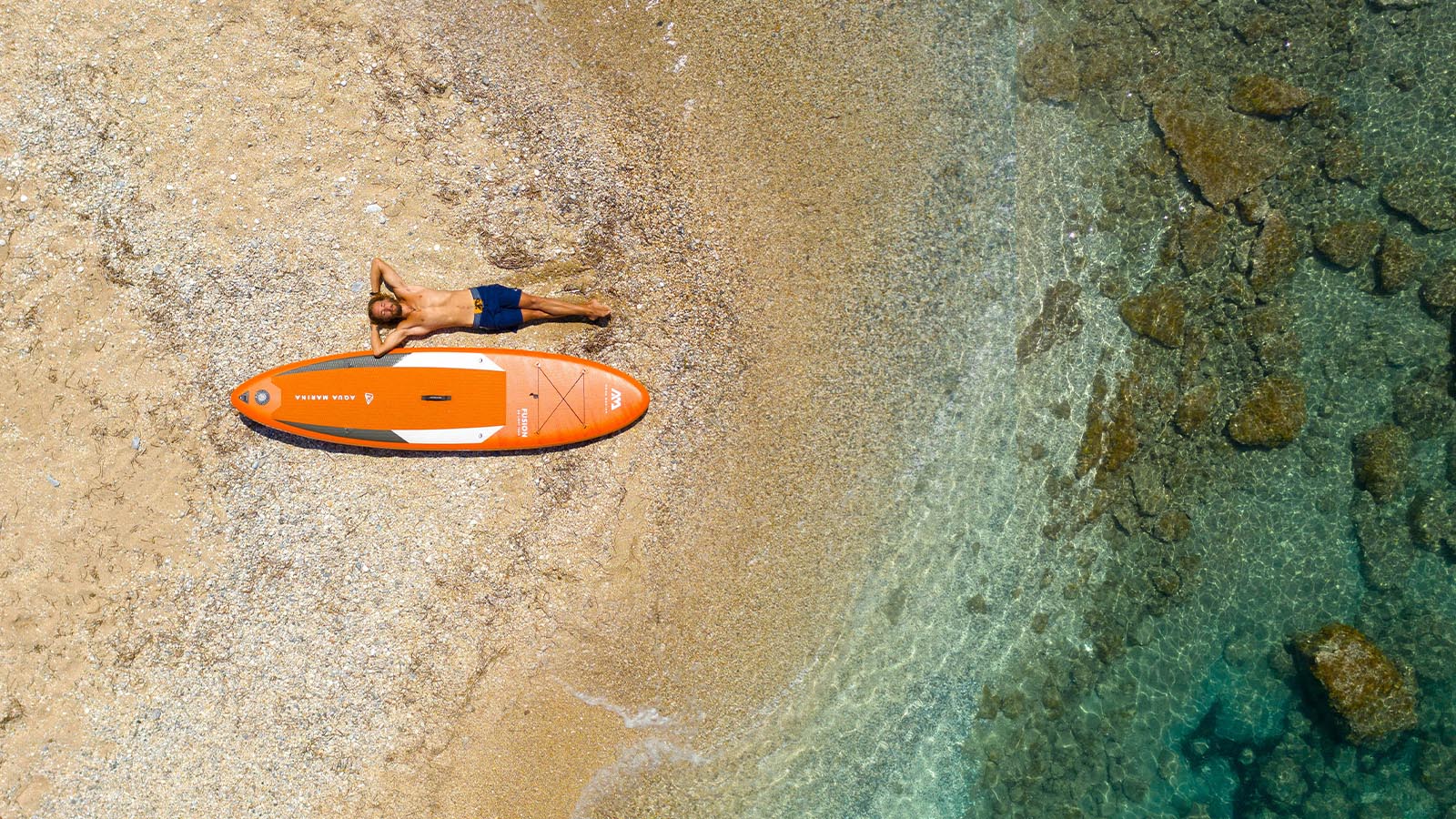 Aqua Marina S/S 2022 SUP Preview
Retail Buyers Guide: SUP S/S 2022 Retail Buyer's Guide
Brand: Aqua Marina
Interviewee: Chap ZHANG, Product Manager
Are sell figures still going through the roof? Did you manage to supply accordingly in 2021?
Yes, sales maintain robust growth but are not increasing as dramatically as last year. Our close partners are also quite optimistic to the new season, and we can still find a surge in demand for both ISUPs and kayaks in their pre-orders for SS22. 
The boost in sales has also brought challenges for our operation and production. To keep up with the fast-growing demand, each stage of the supply chain is crucial for smooth production. We've built a much closer connection with our raw material suppliers. Our factory has been supplemented with more advanced machines for higher production efficiency.
After a couple years where virtual relationships were the new normal, how excited are you to attend the Paddle Sports Show in Lyon and meet the distributors/retailers again?
Although our digital product launches were a huge success in the last two years, it can be quite different in sensory perception from the tradeshow where our distributors/retailers could take a closer look at and feel our innovations for the upcoming season. The exhibition of the new collection must be very surprising. We can't wait to meet our friends in Lyon for some face-to-face chats.
Do you think production time will go back to normal for the SS22 season?
Considering the advanced B2B new product launch (which is 2-month prior to the normal season) and the large number of pre-orders, the production should be arranged ahead of time for sure to meet the shipping time required by our partners.
In 2021, the MSRPs did not reflect (that much) the huge rise in shipment costs. Will they in SS22?
Maybe, as the shipment costs have more than tripled worldwide and have even arrived at five times in some regions.  But we have been working on optimizing the product package dimensions in 2021 to maximize the container loading quantity, and thus to neutralize the ridiculously increased shipping cost for our distributors as much as possible in SS22. This could help control the increase of MSRPs to a large extent. 
Beyond the all-around supremacy, any noticeable movement to report in the other categories (touring, SUP surfing, race, river, foiling…)?
All-around remains the top-selling category, and there's an increasing popularity in touring boards. SUP beginners tend to choose larger all-around boards to start with and share the board with their family members. The entry-level market still has great potential and favors a first all-around board for recreational paddling, cruising and fitness.
Inflatables: Which new technologies & models are you implementing in 2021?
Constructed with Drop Stitch Light Technology and High Frequency Welding Technology, the refreshed all-around boards are highly-rated in SS21 for their solid quality, stunning new look and upgraded whole package. This year, we contribute to improving our specialty boards for specific highlights, including long-distance racing, whitewater, surfing and windsurfing for SS22.
What's worth mentioning is that we introduced the CFR™ Technology (Carbon Fiber Reinforced quadruple stringers) for a new racing model called "RACE ELITE" for a 25% increase in stiffness and 60% more responsiveness. Together with the Fusion Double Layer Technology, this board is ultra-rigid to help riders race against the clock in long-distance race events.
The new whitewater board, RAPID, comes with the bonus newly designed ARCH EDGE™ Technology. With the raised rear edge and centered arch bar, river riders can focus on paddling with quicker response. 
For our new surf model – WAVE, a brand-new "Press & Click" thruster fin system is specially designed to catch waves and maneuver turns. This innovative easy-to-use fin system is introduced for fast secure fin attachment.
Other new models, such as our ladies-specific touring board (CORAL TOURING), new kids all-around board (VIBRANT) and the windsurfing series (BLADE), are of great value and performance.
Do you think core retailers should leave the allround boards to the big sport chains and D2C specialists, and focus on more specific (and advanced) designs?
We don't think it's a good idea at least for the next few years. The ISUP industry is still developing, and the entry-level market is expanding. It means that most end-customers are beginners who have no idea about this sport and need to be educated, so they need more guidance, services and after-sales support. They mostly choose the all-around boards as the first board to 'start with', not "upgrade". And we can still receive many emails inquiring where to buy a board every day. Hence, retailers are far from abundant for the moment.
Key Products
FUSION 10'10" 
FUSION 10'10": FUSION has long been the best-selling model in our all-around collection. It features a more generous volume and payload that cater to those looking for an easier ride and carrying more luggage. The comfortable diamond grooving footpad provides extra grip while the strengthened stainless steel leash D-ring ensures a safe ride in small waves.
CORAL TOURING 11'6" 
CORAL TOURING 11'6": CORAL TOURING is specifically designed for all levels of female trekking enthusiasts to effortlessly cover longer distances with exceptional glide and maneuverability over calm waters or to catch some small waves. Constructed with Drop Stitch Light Technology, this board only weighs 9.6kg while allowing up to 130kg to be loaded up. The newly designed lady-sized backpack makes the board convenient for travel, and to neatly pack all the lady-specific accessories until the next wondrous destination.
CASCADE 11'2" 
CASCADE 11'2": With the new CASCADE, adventures in nature will be easy but fascinating, combining kayaking and stand up paddle boarding fun into one. At 35" in width, this SUP-kayak hybrid watercraft is very stable and the 8" thickness permits maximized volume and allows those who want to carry great gear for long-distance exploration. Being very portable and ultra-versatile, CASCADE meets the needs of all paddle beginners who want to make their first attempt to embrace the lake, the river and the ocean.