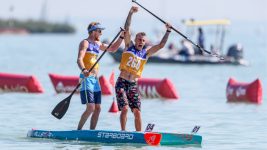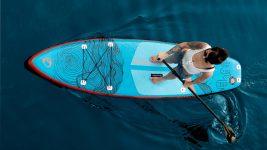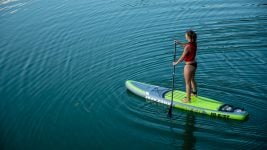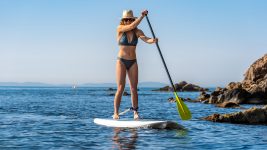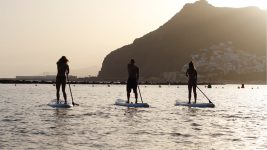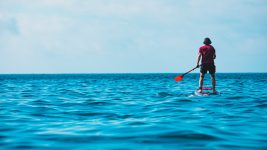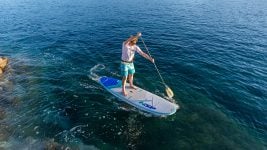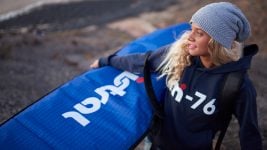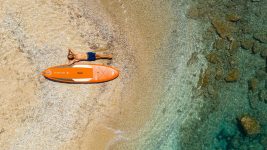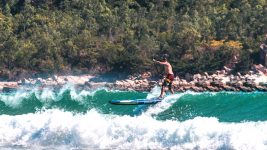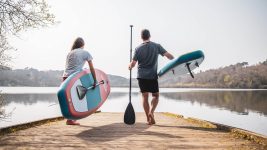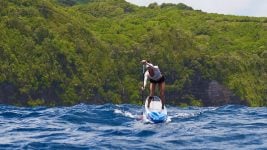 SUP S/S 2022 Retail Buyer's Guide
The SUP market has now gone way beyond the normal remit of boardsports in the variety of its uses, attracting more and more people to an outdoor sport: a sport of the masses whose critical size is far from being attained. The proof comes in this preview of what's on offer for Spring/Summer 2022, which is destined to be a busy season for retailers, so long as they get their orders right. By David Bianic.
In an international context where it has become more difficult to supply than to sell, the issue is no longer as much about whether the market is doing well as whether the supply and logistics chain can handle it. The proof? "We have almost 25% of our current turnover in customer orders that we cannot deliver at the moment due to lack of products", reveals Benoît Brecq, Brand and Marketing Manager for Ari'i Nui who have recorded a 200% increase in demand on last year! Just as revealing is the anecdote from Wyatt Miller, Brand Manager at Slingshot Sports who tells us how they ordered 500 inflatable SUPs in one go and sold them all in one single day. This is why you need to go for pre-orders, reminds Swen Rilhac, Communication and Marketing Manager at SIC Maui. The team at NSP tell us that the indicators would suggest that the demand is at risk of exceeding the supply of provisions "for at least another 18-24 months".
To keep up, the Chinese brand Aqua Marina have had to kit their factories out with better machines to provide higher production capacity, explains Chap Zhang, Head of Product. And for the European brands like JBay Zone, we're reminded that the blockage at the Suez Canal last spring and the shortage of raw materials (for inflatable SUPs) did nothing to help the situation. You could always follow the example of German brand Tripstix who relocated their manufacturing from South Korea to Europe earlier in the year, conscious of the fact that production would slow down, especially "as our products are technically sophisticated to produce", points out Chris Gollhofer, Marketing and Commercial Director and Engineer. Once again the figures are impressive when talking about production, like at SUNOVA in Thailand who have doubled their capacity since the pandemic "and we are about to double it again", assures Martin Jandke, Director General and Owner of the brand.
The spectacular rise to transport costs in 2020 hasn't really been reflected in the retail prices of 2021 and brands have generally preferred to trim their margins in order to contain prices. Some such as Hala Gear have even dropped the price of several models to make the sport more accessible during the lockdowns.
But the logistics costs are still just as burdensome this year; so should we expect a hefty bill in 2022? "Maybe" hints Chap at Aqua Marina, "as the shipment costs have more than tripled worldwide and have even arrived at five times in some regions". To counter this added cost, the brand has managed to minimise the size of their packages in 2021 and therefore maximise the load quantity in containers to neutralise the increase in prices for their distributor in SS22. An idea to take on board.
But beware, others predict that the tariffs will be slightly higher…"The new cost of freight will have to come down the line for 2022", regrets Wyatt from Slingshot before adding that "We ate a lot of the cost this year to keep our retailers happy, but it is simply not sustainable". Only Red Paddle Co are showing complete transparency by communicating price increases of €30-50 depending on the model, together with Indiana, who reveals a 5-10% increase depending on the different product sections: "Even with this increase we still lose margin", says CEO Maurus Strobel.
Luckily, a stronger dollar has allowed for this trend to be counterbalanced, says Gary Willingham from Marketing at Gladiator, which means this increase can be curtailed.
FROM VIRTUAL TO REAL WORLD: Paddle Sports Show
Between Zoom, FaceTime and WhatsApp, you could have almost forgotten about the world before where we used to assemble for Mass at professional trade shows. After two years of virtual meetings, the moment has come at the end of September to browse the aisles of a trade show once again, in this case at the inaugural edition of the Paddle Sports Show in Lyon, France. Excitement is palpable: "Seeing new and familiar faces again, talking shop, sharing our enthusiasm and gaining insights is exciting after a period filled with Teams & Zoom meetings", says William Doornekamp, Brand Manager at Jobe Sports. Same vibe at Indiana, as Maurus Strobel remains convinced that "direct contact is still the best way to transport a message and present the product range".
Like 2020 and 2021 have shown us, you have to be prepared for disappointment and so some, like Ari' Nui have preferred to decline their invitation to the show because the situation in France is not stable enough. So, this brand has prioritised the work of their representatives and commercial agents in the run up to it, "who have been travelling throughout Europe since the start of summer to introduce our 2022 products", explains Benoît Brecq.
TRENDS SS22: All-around but not just that…
Don't get your hopes up for a scoop on Spring/Summer 2022. With no surprise, all-around (or all-round) models will have a monopoly amongst our clientele and mostly in inflatable constructions. And this is why,"The entry-level market still has great potential and favours a first all-around board for recreational paddling, cruising and fitness", reminds Chap from Aqua Marina. The second flagship discipline in terms of sales, Touring represents a logical progression to the sport, allowing you to go further, faster with a racier design under your feet, more rewarding. Charlotte Green (Marketing Manager) at Red Paddle Co notes a quicker transition from an all-around SUP to their Sport or Voyager models with participants paddling more regularly in the last year.
But some touring models also make really good first boards, believes Stefan Perchthaler from Spinera, because their properties suit both beginners and accomplished SUPers alike. Furthermore, we find touring SUPs aimed at the wider public, from beginners to confirmed paddlers, like the 11'6" Touring Limited Edition from Moai, a shorter version of their classic 12'6" with effective colours and graphics, or the 11'6" Flare Short Tourer from Noah Boardsports. While we mention more compact designs, Indiana launches a 11'6'' Feather, an aptly named featherlight touring/adventure model (7kg, for riders up to 80kg) with very small packing volume once deflated.
Beyond the all-around and touring categories, the other disciplines are still niche shares of the market. However, specialist retailers can really shine when it comes to these elements that are more exclusive but not negligible given the size of the overall market. When you have more technical disciplines – in practice as well as equipment- you need advice and customer service, the two assets of a retailer.
Foil SUP is attracting a lot of attention amongst customers who are all the more encouraged by a retailer's salesmanship. The versatile SUP/Foil/Wind models have plenty of benefits to sway a hesitant clientele. Apropos, Naish reveals new features on their Hover inflatable line which is targeted towards SUP foiling (and wingfoiling). Amongst these hybrid models, one category has stood out in the last two years, inflatables with a central fin box to use for windsurfing and wingfoiling. We're thinking here about the Crossbreed from Slingshot and their optional keel fin called sUP WINDer which allows you to go upwind as the name suggests or the Mohaka 10'2" from Jobe offered in a package with its 3.5m rig. RRD have even developed a whole range (8'4", 10'4" and 12') aimed at use in the wind with their Air EVO Convertible models.
To round off this sub-category, we should mention the 13'2" Adventurist from Mistral, a model made for adventure which can hold a WindSup rig and an impressive load.
Likewise, for the landlocked regions, river SUP represents an interesting commercial avenue, especially models with retractable fins like the Atcha 96 and Radito from Hala Gear thanks to their Stompbox 2.0 system.
To round off the expanding disciplines, SUP Kayaking perhaps doesn't excite the waterman within us but the fact is that these models are more and more sought after. Aqua Marina are offering the 11'2" Cascade which at 35" wide and 8" thick allows you to take more than just a six pack of cold beers while Tahe (ex BIC Sport) have developed their Beach SUP-Yak, one of its strong points being the hybrid paddle that can take another blade for the kayak.
Retailers should not neglect the rental market either, under the proviso that they go for a fleet suited to this use. Rigid boards prove to be a good choice, as long as their construction can withstand the worst kind of treatment. This is the case of the HIT Cruiser from NSP, a board designed for schools and rentals. This High-Impact Technology consists of an eco-friendly EPS SecureCell blank, stratified in a military grade fibreglass with epoxy before being wrapped in a "bullet skin" made of styrene-acrylonitrile. Another solution comes to us from Equip, who are launching the world's first intelligent SUP station, connected via the Equip easy-to-use phone app to their automatic self-rental system that allows you to access SUP equipment where and when you need it. Unlock with your phone. Take your SUP. The Intelligent Station will then continuously monitor the state of your SUP, The station has 6 paddle racks and is Fully solar powered. Equip is looking for Distributors, Brands or Reps to scale this solution. Contact [email protected] for more info.
SS22 iSUP INNOVATION
In the all-around inflatable category you can find huge differences in construction (and quality) despite an identical outline. Dropstitch technologies are continuing to develop. Steve West, Brand Manager at Mistral mentions "A higher number of stitches per inch with thinner threads to improve torsional and longitudinal stiffness", a process christened DSFL for Double Skin Fusion Layer. There's only one extra step from double to triple layer and Gladiator have taken it for their 2022 race iSUPs which are incredibly stiff, assures Gary Willingham. It's the same idea at Hala Gear, the American wild water specialist who are going for a Thick Fusion construction for a thicker skin to stand up to the abrasion of rocks especially, without adding weight into the equation, assures Victoria Ohegyi, Marketing Director.
Another branch of evolution is weight itself and SipaBoards are offering lighter material, the new MSL (Fusion, double skin) as well as the ULT (Ultralight) technology at Spinera. Likewise, welding is benefitting from much more robust technology these days like High Frequency Welding at Aqua Marina for example.
After a big push for multi-chamber technology in the last two years, the trend is subsiding, only Massimo Vanzin from Marketing at JBay Zone announces to us the release of two double-chamber models. For others, it remains the no.1 sales argument like at TripStix and their ClustAir technology, a complex assembly of chambers with different thicknesses: "Due to the millimetre by millimetre accurately shaped tubes, a precise shape can be determined for each board section", explains Chris Gollhofer. This provides for shape, thin rails and a real rocker through the whole board. Tripstix have pointed to one of the SS22 trends: improved shapes for inflatable SUPs.
Swen at SIC Maui also explains that while inflatable technologies remain unchanged, the shapes and outlines are closer to their rigid SUPs. At Jobe, some iSUPs now feature discreet channels for more traction so we are told. For Noah Boardsports, a range of surfing iSUPs is seeing the light of day with smaller, more manoeuvrable boards. Niche within a niche, inflatable foil SUP will be the subject of a big innovation, promises Svein Rasmussen from Starboard with the arrival of their registered Airfoil model board. Watch this space…
Now's the chance to mention a future trend on the inflatable SUP market: in the same mould of the e-foil, the electrically assisted e-SUP may see some success in the future and SipaBoards are already offering a Drive range that's auto-inflating and propelled up to 7km/h.
RIGID SUP INNOVATIONS SS22
The first thing we notice when scanning the brands we talked to for this Buyer's Guide: few are offering rigid SUPs. William from Jobe was realistic: "The products themselves are great but there is less demand for them in comparison to inflatables." And so Jobe prefer to maintain their current range to allow retailers more time to sell them and retain their margins rather than offer new models. Commendable wisdom.
The rigids on offer are trying to provide a supplement of soul to inflatable all-rounds. The leisure SUPers who want to touch the waves a bit can count on models such as the Sunburst 11'9" from Mistral in 2022, a GRP epoxy board with bamboo cladding in a classic Malibu shape aimed at small waves, nothing more. The same goes for the 10'6" and 11'6" Breeze Performer from Tahe with the ultra-robust Ace-tec technology (thermoformed on polystyrene core). At Naish, Michi Schweiger announces updated shapes of their iconic SUP surf board, the Nalu (10' & 9').
But honestly, the most exciting rigid SUPs are to be found in the performance disciplines like racing and foiling. Newcomer to the market SUNOVA was created by a trio of composite specialists (The Board Factory Co.) and are offering a 100% rigid range, a real gamble in 2021! In race boards, their Flatwater FAAST Pro charger dominated the last ICF World Championships in Hungary. As for the Aviator Wing foil board and their shaper Casey, this slots into the category of high-performance foils for waves. It should be noted that this company has a second brand which is more accessible in terms of discipline and price called Suns Surfboards which in 2022 will offer "really affordable and super durable all round board" says Martin Jandke, before adding: "We only focus on hard boards and paddles and accessories atm, while we are building up a range of performance boards during the coming years with our collaborators."
Among the aesthetes of rigid SUPs, SIC MAUI are presenting a new category of race board, the Atlantis, "built for rough water and moderate to heavy downwind", reveals Swen Rilhac, a board created for competitions like the SIC Gorge Paddle Challenge, the Carolina Cup, Gorge Paddle Challenge, M2M and M2O.
RETAILERS: KNOW HOW TO POSITION YOURSELVES
We have sought advice from the brands by asking them a difficult question: should specialist retailers leave the supply of all-arounds to the big sports chains and other D2C specialists to dedicate themselves to more specialist disciplines? After a suspenseful pause the answer is a forceful, "no!". "Most end-customers are beginners who have no idea about this sport and need to be educated, so they need more guidance, services and after-sales support", insists Chap from Aqua Marina. For William at Jobe, the problem doesn't come from all-around SUPs but from low-priced SUPs with just one layer of PVC. Caren Forbes (Marketing Manager) and Sander Blauw (Sales Director) from NSP assure us that "there's still the authenticity of buying a cruiser from a traditional retailer with all the advice, expertise and accessories that the big sport chains miss… and these stores are the best to build relationships and community – an intimacy that the big sports chains and their websites cannot replicate". As if that's not a declaration of love!