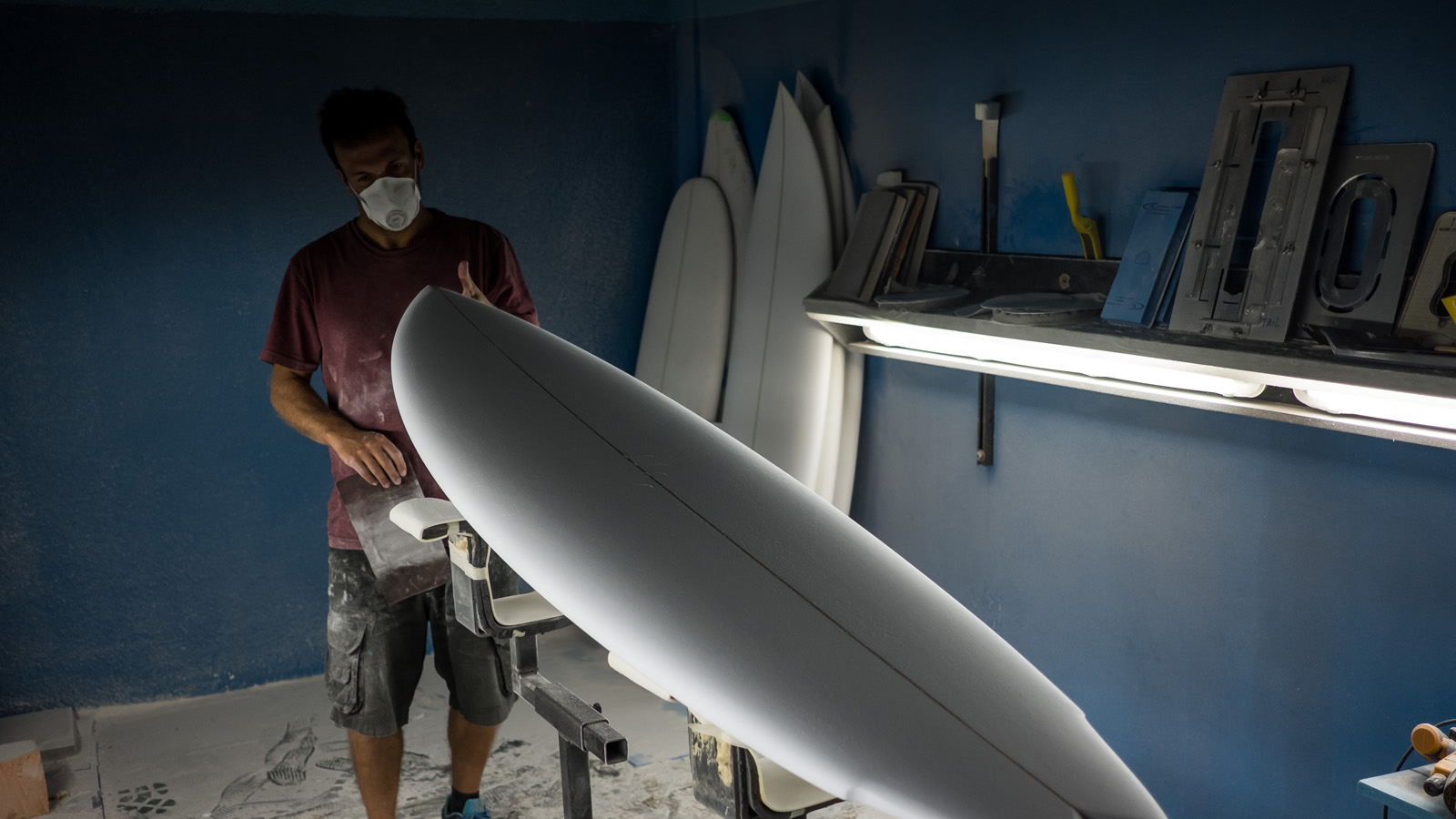 Cabianca Surfboards & Agote Surfboards SS21 Surfboards Preview
Retail Buyers Guide: Surfboards SS21
Brand: Cabianca Surfboards & Agote Surfboards
Interviewee: Johnny Cabianca
Despite the pandemic and global lockdown, has 2020 proven to be a successful year as far as sales are concerned?
As for anybody, 2020 has been a nerve-racking year for us. Especially April was challenging as we had to shut down our factory completely due to the very strict lockdown measures in Spain.
Looking back 6 months later, the overall outcome for us has been quite positive – orders are up and we had two additional people joining our team at the factory. As soon as we reopened after lockdown, we actually had so many orders that we sometimes had a hard time to follow up with the production!
There are two main factors that have influenced this direction: On one hand, there has been a decrease in imported boards and merchandise from China. The whole European outdoors industry has benefitted from this and there is a worldwide explosion in the demand for watersports equipment.
Also, surfers are moving less around and spend much more time at their homespots – instead of purchasing boards on a trip, they are now buying them at home. Generally, we can confirm a growing interest in local or regional production which is very positive for us.
What changes in sales and consumer demographics have you seen (age, gender, country…)?
Surfing seems to become more accessible and attractive for virtually everybody: Regardless age, gender, or location, we've witnessed a global increase in the purchase of surfboards. Surfing is more and more becoming a sport for the general public and we've had a significant increase in orders coming from direct clients – even in the US, where we don't work with any stores (also thanks to the positive review posted by Noel Salas on Surf'n'Show)
At the moment, Morocco is really the only country (we work with) where sales went down as they have very tight restriction and practically no tourist activity.
Which surfboard designs will be the most popular in 2021?
Currently, most of our clients are looking for a custom performance board. However, that doesn't represent all the market and the variety in shapes keeps on increasing.
Is the "ride anything" mantra a sound phenomenon? (both for sales and the sport)
As mentioned above, our clients really look for high quality performance boards rather than experimental shapes. I think this phenomenon applies to a fairly specific customer segment on certain markets that we haven't been too much in contact with yet.
EPS is driving the innovation, yet PU account for the bulk of sales: which of those is your favorite construction?
This is true in principle, yet every brand is offering EPS/Epoxy technology nowadays. As it takes more time to make them than PU/Polyester boards, most bigger companies produce in China or are planning to move their EPS/Epoxy production over there.
There are not that many factories besides us offering EPS/Epoxy boards in custom colors as it's just more time consuming (and thus expensive).
I like to experiment with many materials. But for me personally, my favorite construction to build and surf is still PU/Polyester. It is versatile, malleable and the board's performance remains unrivaled.
Which are your top 3 selling boards?
Our best sellers have consistenly been the same over the past years: The Medina, DFK 2.0 and the Muleke for Cabianca Surfboards, all of them classic performance shapes. For Agote Surfboards, the Rider is the best seller, but there have been a lot of orders for different models, too, so the variety in sales in pretty balanced. Many people specifically asking for an Agote Surfingboard are looking for a (semi-)gun.
Sustainability is in everyone's mouth: which are your latest implementations in the field?
Everyone tries to sell the eco label but until now the real « green » surfboard on a high performance level still doesn't exist. The best we can do is to optimise our production in order to economise on materials and produce as little waste as possible while shorting our supply chain at the same time. At our factory a drum of Polyester resin lasts for at least 130 boards. For EPS/Epoxy boards, we are using EPS from Spain and Resoltech Eco resin. Our factory is completely legal, all filters and environmental requirements are tested and approved.
But still… the perfect solution is yet to be found and surfboards aren't eco-friendly yet. We are closely following the movement, research and development in this sector and look forward to incorporate new, innovative material whenever they become available.
Online retailers and D2C are on the (slight) rise: how are you supporting brick & mortar surfshops?
It is very important for us to support the shops. We refrain from selling special low-cost deals, without VAT etc., to clients directly coming to the factory and maintain the same price a board would retail at in a store. Many smaller factories have special direct-to-client rates which makes it close to impossible for the shops to survive. The margin when selling surfboards is really low anyway.
Besides that, we have offered much longer payment terms this summer as many shops had to level up their customer traffic first before being able to pay their bills.
How have surf schools performed over the summer?
We don't know in numbers, but looking at the beach here in Zarautz and talking to the school we know, they have been really busy! 
Best Sellers
Please name and describe your 3 highlight pieces and items that retailers should definitely order.

Cabianca Surfboards: The Medina + DFK 2.0. and the Zero Salt for static waves is not a best seller in numbers, but orders have gone up significantly so we want to mention it.
Agote Surfboards: The Rider in the performance section, the Apex in the summer toy range and Bazooka/Torpedo in the (semi-)guns segment.