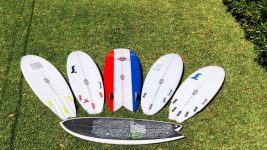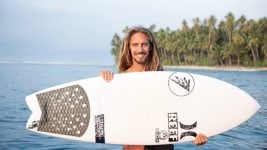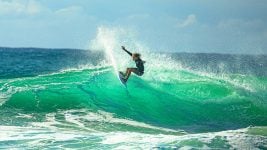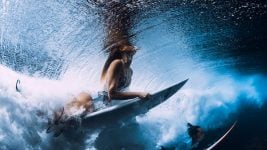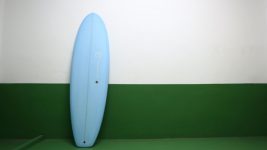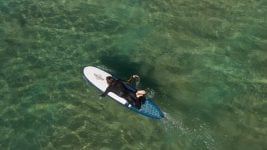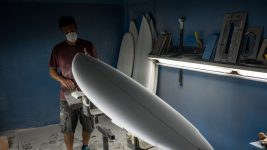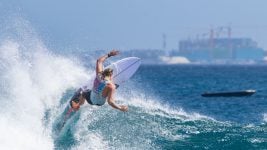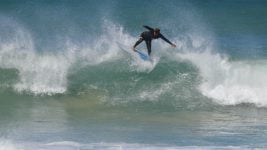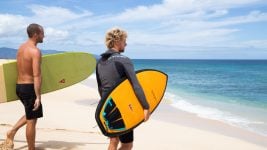 With the dust settling on the workshop floors, it's time for a quick run-down of the totally crazy year 2020. From paralysis to utter mania, the surf equipment market has – let's not be afraid to say it – largely benefitted from the pandemic. Overview and outlook 2021 with David Bianic.
As a healthy outlet during uncertain times, surfing has seen a considerable uptick since lockdown eased in spring. Matteo Fioravanti, Head of International Development at Euroglass (Phipps, Bradley, MR, Sharp Eye, Simon Anderson, Grace, Quiksilver & Roxy Tech) doesn't hesitate to throw some impressive figures our way: "We did 25% YOY 2020 vs 2021 and 145% increase YOY on the Spring Summer 2021 delivery pre book." Many confirm to have registered unprecedented productivity. One of the explanations is: "The fact that no one has really travelled that much, no one is going out at night because they can't", relates Nick Uricchio, Shaper and co-Manager of Semente in Portugal. Up until now surf trips represented a good opportunity to buy surfboards, says Johnny Cabianca from Cabianca & Agote Surfboards, whereas now "they are buying them at home".
These forced economies have robbed customers of their indecision and are more inclined to be "splashing out on a new board or more premium version of what they usually rode", says the team at NSP (Sander Blauw, Commercial Director and Caren Forbes, Marketing Manager). But for the brands manufacturing abroad, the upturn only lasted as long as the existing stocks did, as was the case at Norden Surfboards: "As we produce a lot of stock overseas and made our plans in 2019, we could only sell what we had and could not restock as quick as we needed, otherwise it could have been the best year in brand history," says Andy Wirtz, CEO and Product Developer. With the summer over, sales seem to have returned to their normal rate, says Benoît Brecq at Venon, letting shapers breathe a little bit! A short-lived respite if you are to believe Tara Priestley, Brand Manager for Surftech UK, whose summer 2021 pre-orders for the Learn to Surf boards aimed at schools are in good shape after a solid year in 2020.
CUSTOMER PROFILE
For Chris Grow, Marketing Director at Firewire in the United States (Firewire Surfboards, Slater Designs, Thunderbolt Longboards) the most remarkable development is the heightened polarisation of the clientele, either younger surfers ("maybe 10-14 years old") or older than before ("late 30s to 50s"): "The two demographics can be considered together in the sense that parents who found themselves not confined to an office also found their kids not confined to a classroom and together they went to the beach after buying a new board or two or three." This "younger/older" polarisation manifests itself in demand for totally different shapes. Nick at Semente reports enormous growth in boards for kids really interested in high performance models whereas the retro boards and in particular twinnies appeal to "a lot of older guys getting back into surfing". Pyzel foresaw this upsurge in kids, offering a complete range for "groms" as well as XL versions of the best sellers available (Ghost, Shadow, Phantom, Gremlin, Pyzalien2 and Astro Pop) aimed at the older "weekend warrior" surfers who are "generally based in cities, not always coastal, they are not the sharpest surfers at the spot but they are definitely some of the most motivated", assures Rémi Chaussemiche in Marketing at Sugar Mill Europe, the Hawaiian brand's new distributor.
Geographically, Benoît from Venon declared that in 2020, northern Europe, "especially France, Germany and UK", comprised the largest market: "The South, due to the pandemic & a lower rate of tourism than the last years & the lower government aid, was more difficult in terms of sales compared to recent years." Andy from Norden even hints at an influx of new participants "at places which are not even that good in terms of wave quality but they could not go anywhere else!" This keen interest is confirmed by Susana Santos, Online Commercial Director for Xapheland in Portugal (Chilli, Rusty, JR, Simon Anderson): "As in recent years, we've been witnessing a rise in the demand for wave riding equipment in central Europe, following the burst of manmade wave facilities across the area."
While an increase in demand appears throughout age groups and countries, involvement from girls/women is even stronger than amongst men, a feeling shared by all brands, to which some are responding with specific ranges, like the Wahine models from Walden, fine-tuned versions of the original Magic model shaped for girls. In the end, the result is that you "need a big range to satisfy them all", concludes Alain Riou at Chilli Surfboards Europe (Santosha Distribution).
SHAPE TRENDS 2021
We asked the brands to look into their crystal balls and predict the big hits of 2021. One of the terms most heard was "mid-length": "Torren Martin mid-length twin fin is getting a lot of attention and I think we'll see a lot of them in 2021. We have one coming to The Farm (the Santosha Distribution surf shop in Hossegor)," reveals Alain Riou. A rarity in the history of shapes, these mid-lengths (mostly eggs between 7' and 8') appeal as much to beginners who see a board that's easy but cool, shedding the "kook" label, as they do to accomplished shortboarders. The latter, fed up of battling in the line-up with the growing number of counterparts, are in search of a breath of fresh air (and a certain advantage at take-off). Here we can cite the new Quokka model from Venon, "our new version of our EVO Model, a versatile Short-LONGBOARD for people looking for comfort & manoeuvrability", describes Benoît Brecq. At Euroglass, they didn't wait for the hype around mid-lengths before rolling out en masse the One Bad Egg model from Mark Phipps, an absolute best seller. It's a similar story at Surftech whose mini nose-rider In The Pink from Takayama features in the top 3 in sales tables with the Mega Magic from Walden described as a "short longboard". Beyond the mid-length phenomenon (set to last), the design's success is a good illustration of the mentality of the modern surfer, summarised by the mantra "ride anything": all surfing is good. From a commercial point of view it's a blessing for surf shops, multiplying the chances to complete a customer's quiver. Chris at Firewire welcomes this simplified movement as now "there is no social pressure to conform…in fact there is social pressure to not conform I think". He reminds us that the brand has in recent years released a small wave fish (Seaside) as well as a mid-length fish (Seaside and Beyond), a high-performance shortboard (FRK) and a range of carbon longboards (Thunderbolt Black, notably with Harley Ingleby and CJ Nelson). Eclectic.
CONSTRUCTIONS 2021
Despite all the efforts made by the brands in the last ten years on EPS/innovative epoxy constructions, these materials still only make up a fraction of surfboard sales, to the benefit of the traditional PU/polyester combo. From a shaper's point of view, Nick from Semente thinks that EPS is "not as mouldable and if you want to fine tune a rail here or there or the edge of your rail it's a lot harder. It's like comparing steel to clay". The result for Johnny Cabianca from Cabianca & Agote Surfboards is that manufacturing with EPS "takes more time than PU/Polyester boards, most big companies soon move their EPS/Epoxy production to China". While in use, PU constructions are less susceptible to ingress and easier to repair, reminds Matteo from Euroglass, even so he admits that the new EPS construction materials, and especially ones with bigger cells, do provide new sensations by generating speed in smaller waves.
The big brands like Surftech, Firewire, NSP and Torq obviously swear by EPS alone: "we created the whole EPS genre", proclaim Surftech. A construction with different technologies applied to it provides a lot of sales arguments: "TET serves the premium recreational market, our TEC construction is light and durable for day to day performance and ACT is the world's first Prepreg Surfboard. Based on high end technology as used in Formula 1, Super Yachts, etc." specifies Sebastian Wenzel, General Director at Torq. But even these big EPS players have kind of changed tack by incorporating polyurethane models into their Heritage Series line-ups: Kingfish (performance short twin), Magnet (egg funboard) and Sleepwalker (classic longboard). Even Surftech have a PU on offer with their Fusion Poly construction used on models "where it is appropriate – take a look at the Gerry Lopez boards", cites Tara Priestley. The reason these brands are doing this is probably to bring a touch more of the "handmade" with their constructions.
Finally, the narrative on environmental impact has evolved in the last five years. After really emphasising efforts made in terms of materials (EPS, bio-resins, waste and recycling, solar power), most brands don't want to talk about the so-called eco-friendly aspects of boards. "As long as we use polyester, resins, acetones, polyurethane foams, it's never going to be that way," admits Nick from Semente. Hurricane Surf are just about the only exception here with the CEO Craig Butcher intent on reminding us that the brand are offering boards with "Green EPS Epoxy (gold level Ecoboard project certified by sustainablesurf.org) on 85% of our range." We should highlight new drives like Yuyo Surfboards in France whose boards are made of "a 3D-printed core made from recycled plastic waste then stratified with a combination of 100% biocomposite materials, natural basalt fibres and epoxy bioresin", explains Founder Romain Paul. Just as innovative, HRT (Honey.Roots.Tech) technology from Kanoa Surfboards employs a 3D honeycomb structured core that combines upcycling and recycling ("upcycled" wood and cork, recycled carbon). Beyond the sustainable dimension, creator Thilo von Osterhausen promises "a new dimension in flex" with more bounce and responsiveness thanks to the 3D honeycomb structure (without slats or reinforcements added to the stratification).
There is another avenue available and that is to offset your carbon output, like Firewire do through the Sea Trees initiative set up by the Sustainable Surf organisation (sea-trees.org): "The programme enables us to calculate the total carbon footprint of our business each year", explains Chris Grow and then wiping that footprint through planting mangrove trees in Indonesia, supporting kelp forest regeneration in California and supporting the conservation of the largest contiguous rainforest in the world". While we wait for a truly clean board, this is one of the most honest and honourable solutions.