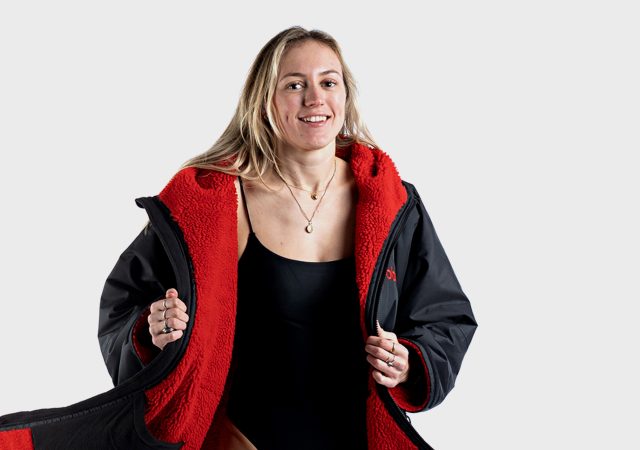 Dryrobe 2023 Surf Robes and Ponchos Preview
Retail Buyers Guide: Surf Robes and Ponchos 2023 Retail Buyer's Guide
Brand: dryrobe
Interviewee: N/A
Once a very specific piece of the kit of a surfer (windsurfer, kiteboarder, SUPer, etc.), surf ponchos and changing robes now appeal to the mainstream outdoor lovers. How is the market split between core boardsport users and the… rest of the world?
Since we created the first weatherproof changing robe over a decade ago, we've seen the type of users buying them really shift over the years. dryrobe® was originally designed by surfers for surfers, making changing out of a wetsuit on the wet and cold British coastline a lot more comfortable. Over the years the dryrobe® Advance has been picked up by a number of different groups of outdoor enthusiasts, from open water swimmers through to obstacle course racers and even dog walkers! The dryrobe® Advance is our best selling item with our short sleeve version still a popular choice for surfers.The ability to get changed anywhere, and stay warm whilst doing it, has clearly hit a chord with a lot of people. The versatility of the product also helped drive sales. People will buy a dryrobe® for surfing and end up also using it on camping trips, or wearing them at festivals.
From an outsider look, one would think surf ponchos and robes address the need in the warmer regions, where the changing robes (zip/lining/water & wind resistant) are a thing of the northern countries. Is that right?
We're seeing interest in the dryrobe® Advance from all over the world. The need to get changed outdoors whilst remaining decent is something that most people can connect with! The ability to stay warm both pre and post-sporting activity is also a feature that many athletes in warmer climates are keen to use the product for. Keeping your core temperature up helps improve performance and recovery, this is something that dryrobe® Advance does really well (it's even been proven in scientific tests by Manchester Metropolitan University) Following feedback from our ambassadors and partners we've recently launched the dryrobe® Lite. This an easily packable, weatherproof changing robe, made with very high-performance fabrics that protect you from the elements. This is designed specifically for athletes who travel a lot (such as triathletes) or adventurers who want to explore more. The packability and short sleeve design make it ideal for warmer climates.
What are the key trends in this market this season?
We are not a trend led company.Our products are here to enhance the customers experience of the great outdoors; they are designed and produced to be timeless and long lasting whilst we do our best to protect the environment. An event such as ISPO Munich, is a good source of inspiration.
From the simple no-lining, no-zip surf poncho to the feature loaded changing robe, what is the scale of the price range? And which price point is the best selling?
The Towel dryrobe® range starts at £50, followed by the short sleeve dryrobe® Advance at £140, the long sleeve at £160 and the new dryrobe® Lite at £280. The dryrobe® Advance Long sleeve is our biggest seller across all markets.
What are the key materials in your line?
The dryrobe® Advance is made from 100% recycled fabrics. The super-warm, fast drying inner is made from recycled polyester,  a large part of which comes from plastic bottles. The durable weatherproof outer is made from pre-consumer recycled nylon that would otherwise be destined for landfill – such as old fishing nets, tights and nylon carpets. This is finished with a PFC-free BIONIC-FINISH ECO Durable Water-Repellent (DWR)
While considered technical gear, how much do the aesthetics weight on the purchasing? (monochromic or prints/patterns, which one's steal the show?)
There's a huge range of colourways in our range now, but the Black/Grey is still our most popular colour choice! The Camo Pink dryrobe® Advance is the one that probably gets the most attention though, as it's often featured in fashion features or on the backs of celebrities.
Does sustainability make a good sales pitch in this category?
Sustainability has been at the core of everything we've done since the beginning, and we are proud to be a Certified B Corp™. Overconsumption is putting pressure on our planet's resources, and we want to encourage our customers not to buy more than they need. That's why every dryrobe® Advance has been built to last for years and years. This is something that many of our customers really connect with, and we regularly hear from people who've been using theirs for over a decade now. The B Corp™ movement is becoming more widely recognised amongst consumers and is something that people look for when purchasing, and since being certified we've had an incredibly positive response from our followers.