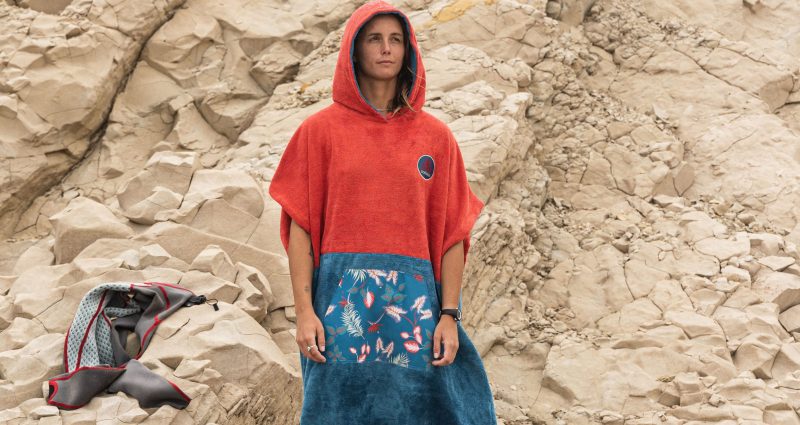 Soöruz 2023 Surf Robes and Ponchos
Retail Buyers Guide: Surf Robes and Ponchos 2023 Retail Buyer's Guide
Brand: Sooruz
Interviewee: Marin Product Engineer
Once a very specific piece of the kit of a surfer (windsurfer, kiteboarder, Super, etc.), surf ponchos and changing robes now appeal to the mainstream outdoor lovers. How is the market split between core boardsport users and the… rest of the world?In general, the split between watersports users and the rest of the world in the market for ponchos is difficult to quantify, but it is clear that ponchos have become increasingly popular among a wider range of outdoor enthusiasts. The convenience and versatility of ponchos make them a useful and practical item for many different types of activities.
From an outsider look, one would think surf ponchos and robes address the need in the warmer regions, where the changing robes (zip/lining/water & wind resistant) are a thing of the northern countries. Is that right?
We have made the same observation at Soöruz. For warmer condition our customers will use light surf poncho and for more extreme/colder condition they will use heavier/warmer changing robes.
What are the key trends in this market this season?
Key trends in the surf poncho market include:
Sustainability, with the use of recycled and organic fabrics,
Innovation, using materials that are more absorbent and quick drying,
Fashion, with designs that cater to a broader audience to satisfy everyone.
All aimed at improving the functionality, style, and appeal of the product.
From the simple no-lining, no-zip surf poncho to the feature loaded changing robe, what is the scale of the price range? And which price point is the best selling?
Our prices vary from 59.95€ to 79.95€. The material used and the manufacturing location will impact on the price. From our experience if the price of the poncho goes above 80€ it will be hard to sell unless there is a real technical feature.
What are the key materials in your line?
We use two different kinds of fabric:
A mix with 80% polyester with 20%cotton: the polyester allows the poncho to dry fast, and the cotton give a good hand feel.
A 100% cotton that feel really comfortable and will absorb the water quickly.
While considered technical gear, how much do the aesthetics weight on the purchasing? (monochromic or prints/patterns, which one's steal the show?)
Aesthetics has a big part to play on the purchasing, the poncho is one of the gears that can stand out with crazy design and flashy colors.
Does sustainability make a good sales pitch in this category?
Yes always at least we hope so that why we always consider the environment in our development when it's possible. For our poncho we chose to develop one range in Portugal closer to our main market that is Europe. This allows us to have a better control on our production.