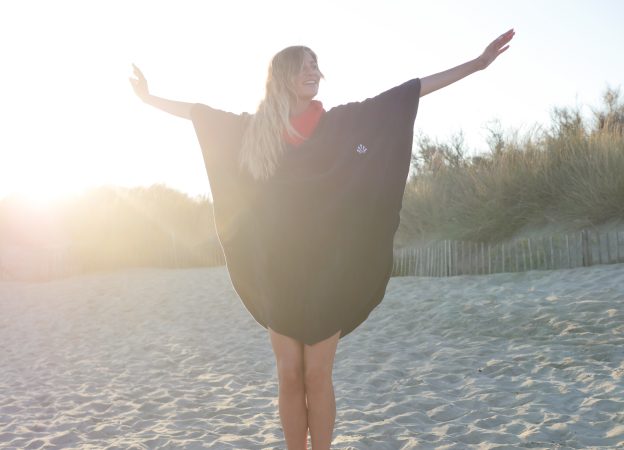 SAINT JACQUES Wetsuits 2023 Surf Robes and Ponchos
Retail Buyers Guide: Surf Robes and Ponchos 2023 Retail Buyer's Guide
Brand: Saint Jacques
Interviewee: Bresson Stan - CEO
Once a very specific piece of the kit of a surfer (windsurfer, kiteboarder, SUPer, etc.), surf ponchos and changing robes now appeal to the mainstream outdoor lovers. How is the market split between core boardsport users and the… rest of the world?
Nous vendons principalement nos ponchos à une clientèle de pratique de sport de glisse aquatique comme le surf, le sup, le kite, la wing. Effectivement nous avons une demande croissante d'une nouvelle clientèle plus mainstream, comme la nage libre et le longe côte car le produit est adapté.
La clientèle core semble arrivée à saturation quand les autres domaines se développent.
From an outsider look, one would think surf ponchos and robes address the need in the warmer regions, where the changing robes (zip/lining/water & wind resistant) are a thing of the northern countries. Is that right?
Effectivement les changing robes sont plus adaptées aux conditions froides et de tempête. En réalité la fonction est différente, on utilise un poncho pour se changer avant et après la session. Un changing robes permet d'attendre sur la plage lorsque l'on fait une pause par exemple. Ce produit rentre alors en concurrence avec la veste néoprène qui sera souvent plus adaptée.
What are the key trends in this market this season?
Nous avons eu un franc succès grâce à la qualité de notre coton velour 380 gsm certifé OEKO TEX. En magasin la différence est indéniable en terme de qualité perçue, et de confort à l'utilisation. Saint Jacques a choisi de conserver des modèles majoritairement unie, qui va de pair avec notre engamement d'élégance, quand quelques marques se concentrent sur les imprimés. Notre poncho cape , spécialement conçue pour les femmes, a été un réel succès dans ce domaine qui reste standardisé.
From the simple no-lining, no-zip surf poncho to the feature loaded changing robe, what is the scale of the price range? And which price point is the best selling?
Les tarifs ont beaucoup augmenté de part les matières premières, 60€ pour un poncho adulte de bonne qualité semble être le " bon tarif"
What are the key materials in your line?
Tous nos ponchos sont 100% cotton velour 380 gsm, parmi les plus qualitatifs du marché car nous ne voulons pas faire de concession avec des matières qui ne sont pas agréables ou qui ne durent pas dans le temps. Nous introduisons une gamme de poncho en nid d'abeille afin de proposer un produit toujours technque et élégant, mais qui est moins lourd pour l'emener en trip.
While considered technical gear, how much do the aesthetics weight on the purchasing? (monochromic or prints/patterns, which one's steal the show?)
Le côté estetique est très important sur ce type d'article. Les prints correspondent je pense à une clientèle plus jeune, l'unie avec le soucis du détail reste une valeur sûr pour nous, il n"est pas question de faire un produit monochrome avec un gros logo sur le ventre. Nos ponchos peuvent se rouler sur eux mêmes, ont une large capuche, des poches, des passages de main pour se changer facilement: ces détails font aussi la différence.
Does sustainability make a good sales pitch in this category?
Tous nos produits font partie d'une reflexion eco responsable. Le Standard 100 est une des normes techniques du Label Oeko-Tex. Elle atteste de l'absence de toutes substances toxiques d'un produit textile. Nous prêtons attention à la qualité de nos ponchos et veillons à vous proposer de plus en plus de produits textiles respectueux de votre peau et de votre santé. Nos ponchos sont emballés dans des sacs en toile polypropylène réutilisables et recyclables.