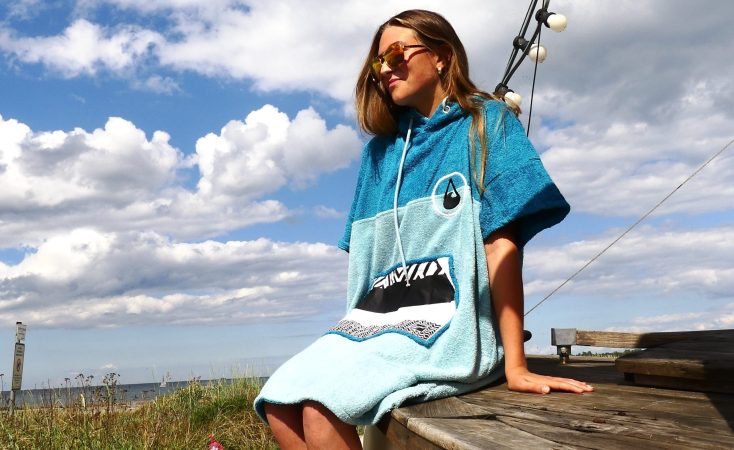 WAVE HAWAII 2023 Surf Robes and Ponchos
Retail Buyers Guide: Surf Robes and Ponchos 2023 Retail Buyer's Guide
Brand: Wave Hawaii
Interviewee: Carsten Raphael – Founder + CEO
Once a very specific piece of the kit of a surfer (windsurfer, kiteboarder, SUPer, etc.), surf ponchos and changing robes now appeal to the mainstream outdoor lovers. How is the market split between core boardsport users and the… rest of the world?The main difference, as we see it, is that surfers know what purpose a poncho has as a changing robe – and non-initiates have to be told about it first. What we find is that surfers now sometimes own not just one poncho, but several: One for cold days, one for the usual surf sessions and one for traveling. Otherwise, in our experience, there is no significant difference between surfers and the rest of the world.
From an outsider look, one would think surf ponchos and robes address the need in the warmer regions, where the changing robes (zip/lining/water & wind resistant) are a thing of the northern countries. Is that right?
That's how it was in the beginning, when the ponchos were just practical parts for warming and changing. In the meantime, materials made of thinner fabrics are offered, which have smaller packing dimensions and are thus more suitable for travel – and under which one does not overheat in warmer climates. Thus, ponchos also have their justification in the south. But right, the warm ponchos made of thicker fabrics and the wind- and waterproof models simply make more sense in northern regions.
What are the key trends in this market this season?
Key trends for 2023 are somewhat more muted colors and the continuing trend towards sustainable materials. In addition, fluffy fabrics are in, which warm well, but at the same time can "breathe" in warmer temperatures, so that you don't overheat. This may sound counter-intuitive, but it's entirely possible with new materials and weaving techniques. Our AirLite pochos, which we produce in Portugal, are particularly predestined and unique in this respect.
From the simple no-lining, no-zip surf poncho to the feature loaded changing robe, what is the scale of the price range? And which price point is the best selling?
We are starting with kids ponchos in bamboo and cotton velours with € 45,-, followed by cotton travel ponchos with € 55,-. Then cotton ponchos start with € 60,- , bamboo € 70,-, AirLite and zip € 75,-, long sleeve € 80,-, storm/ winter € 120,- – € 130,-. Bestsellers are our Air Lite ponchos.
What are the key materials in your line?
Key materials are bamboo and cotton (Oeko Tex Standard 100 certified) followed by recycled polyester.
While considered technical gear, how much do the aesthetics weight on the purchasing? (monochromic or prints/patterns, which one's steal the show?)
That is pretty easy: Style is king. But sure, function is important as well. That´s why we offer different fabrics, materials, versions for different purposes – and new ideas with new technical fabrics are in planning. But in the end this product niche has a lifestyle character in the meantime. And so people love your designs – or even not.
Does sustainability make a good sales pitch in this category?
Our brand philosophy has a clear focus on sustainability. Therefore, this is a concern for us and has top priority. The few products that we still manufacture from conventional materials in our overall range, such as our beach buckets, will be converted to sustainable materials in the future. So far, we have not found adequate substitute materials that are of equal or higher quality. However, when it comes to sustainability, it is not only materials and fabrics that need to be considered, but also short delivery routes. That is why we are already having a steadily growing proportion of our production manufactured in Europe – with raw materials that also come from Europe.