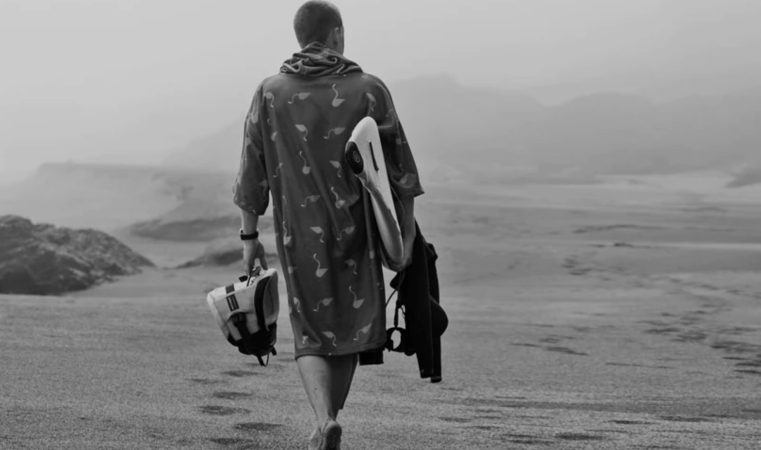 RIDE ENGINE 2023 Surf Robes and Ponchos
Retail Buyers Guide: Surf Robes and Ponchos 2023 Retail Buyer's Guide
Brand: Ride Engine
Interviewee: Gary Siskar / Marketing Director / PLM
Once a very specific piece of the kit of a surfer (windsurfer, kiteboarder, Super, etc.), surf ponchos and changing robes now appeal to the mainstream outdoor lovers. How is the market split between core boardsport users and the… rest of the world?
 It is a big world out there and really I don't believe that "changing robes" started as a specific piece in the world of surfing. Really, I think it is a late arrival in this particular market. Competitive swimmers and Lifeguards have been using oversized robes for changing, protection against the elements and warmth for ages. I think what has happened is the oversized functionality in the simplest form has been realized by brands and the consumer and this is how you see the category of "changing robes" and "changing ponchos" making their way as stand-alone brands and showing up in outdoor and cycling brands.
From an outsider look, one would think surf ponchos and robes address the need in the warmer regions, where the changing robes (zip/lining/water & wind resistant) are a thing of the northern countries. Is that right?
Well, I think it depends on what you consider "warmer". If you are in regions that are you don't need a wetsuit, then I would say the need for a changing robe is marginal. I think the whole idea of the changing robe started in cold or cold-ish climates where changing out of a wetsuit is necessary. Changing robes provide a great alternative to wrapping a towel around and awkwardly pulling a wetsuit off. So, as an outside perspective, then yeah, seems like it is a cold climate piece of kit. But, now the robe has become viewed not just as a tool to change out of wetsuits or swimwear but as a functional piece of outerwear expanding the use to all climates to address various elements.
What are the key trends in this market this season?
Looks like more technical materials and treatments. Insulation and thermal liners and of course color and prints keep thing interesting.
From the simple no-lining, no-zip surf poncho to the feature loaded changing robe, what is the scale of the price range? And which price point is the best selling?
For Ride Engine we have a premium range changing robes that we now offer in a lightweight, midweight, and insulated styles. The line sells equally well across all 3 categories and related price points.
What are the key materials in your line?
We are premium in our material selection and construction. For the Ride Engine Jedi Robe, our lightweight terry offering, we use premium heavy weight terry material that is water absorbent and feels great on the body. Our lightweight Shelter poncho uses a coated micro rip that weather resistant, The Tech Changing Robe is our midweight offering and is exactly what it implies. Packed with technical features such as weather resistant ripstop shell and a synthetic lambs wool liner. Our insulated Bonfire changing poncho features a wind and water-resistant shell with down filling.
While considered technical gear, how much do the aesthetics weight on the purchasing? (monochromic or prints/patterns, which one's steal the show?)
This is all subjective to an extent. That said, aesthetics play a huge role in the purchasing decision. For example what patterns are used and how they are applied plus are the colors on trend or creating a trend, etc…
Does sustainability make a good sales pitch in this category?
For Ride Engine sustainability runs through all our product categories. Making products that are using materials that are sustainable and making sure that our construction and build is durable to create a longer lifespan of the product.