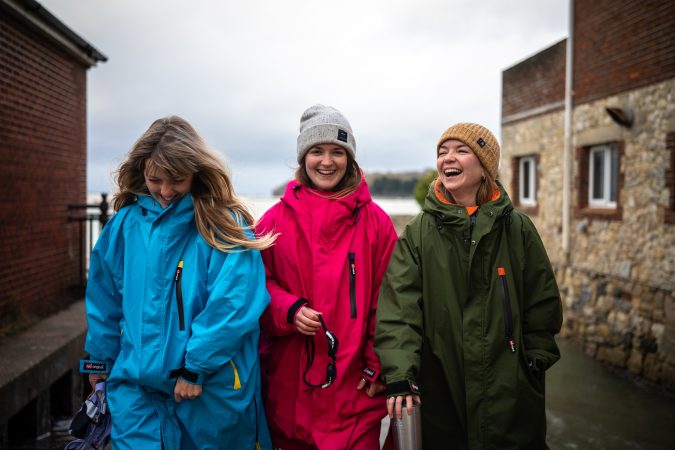 Red Paddle Co 2023 Surf Robes and Ponchos
Retail Buyers Guide: Surf Robes and Ponchos 2023 Retail Buyer's Guide
Brand: Red Paddle Co
Interviewee: Catherine Morris, Commercial Director
Once a very specific piece of the kit of a surfer (windsurfer, kiteboarder, SUPer, etc.), surf ponchos and changing robes now appeal to the mainstream outdoor lovers. How is the market split between core boardsport users and the… rest of the world?
Change robes really appeal to anyone who wants to stay warm & dry as well as potentially keeping the elements off whilst you change – that is a universal desire whether you are part of the hardcore elite or a more occasional outdoors enthusiast. Arguably this is even more critical if you are performing at a higher level with things like extended exposure to cold water, risk of after drop or the need to keep muscles warm pre-session – for athletes it might make a tangible difference to how you perform. They just happen to be super comfortable and convenient for the more social side too.
From an outsider look, one would think surf ponchos and robes address the need in the warmer regions, where the changing robes (zip/lining/water & wind resistant) are a thing of the northern countries. Is that right?
Not necessarily. Whilst they might not have the same established reputation yet, unless you are talking about tropical climates there is a place for something like a Pro Change EVO in most countries. If you're wet or near the water and there is a bit of a wind chill, it doesn't take much for a waterproof robe to become really useful. Similarly there is a place for towelling ponchos in all territories, it just offers the users different things.
What are the key trends in this market this season?
A key trend for the popularity of the robes is the "Anytime, Anyplace" mindset. Because people are rightly demanding their kit works harder for them, they want it to be multi-use. Red's more tailored silhouette and considered design with premium fabrics mean people feel more comfortable in using our robes to take them from one activity to another, whether it is keeping warm star-gazing, pitch-side or post-swim. Red innovated in this space by being more technical, and this also ties in with the theme for multi-use. If you want to use it like your favourite outdoor jacket, why can't it look, feel and perform like your favorite outdoor jacket too? The outdoors and boardsport consumer knows their kit better than most, and we believe they want a more technical approach to their gear. The recent launch of our premium Revolution 3-in-1 Parka was a real statement in terms of how far you can go in terms of creating something super technical in this space, that is versatile and good-looking too. Overall though, we think there is still plenty of scope for innovation and we have lots of exciting new things in the pipeline.
From the simple no-lining, no-zip surf poncho to the feature loaded changing robe, what is the scale of the price range? And which price point is the best selling?
Due to their versatility, high quality and adaptability in use, our bestselling product is our Pro Change EVO but there is a place for different types of products depending on what suits you best. If you like to get wet, we've got a robe for you.
What are the key materials in your line?
From extra thick 430gsm towelling, to luxury fully recycled twill – all our fabrics are selected for how they perform, and of course they have got to look & feel great.
While considered technical gear, how much do the aesthetics weight on the purchasing? (monochromic or prints/patterns, which one's steal the show?)
Aesthetics matter to people and 'what it looks like' with more of a fashion approach is something that might have been neglected in the past by some players in the space, but shouldn't have been. Why shouldn't you 'look good doing it'? For our consumers that means a more discerning look…. Some might be after big and bold, but we find our most understated designs resonate best with the pro watersports community as well as other groups who want to focus more on what they are doing vs. trying to make a statement with a print. The launch of our 'Stealth Black' Pro Change EVO has been very popular, with everyone from Premier League rugby Team Exeter Chiefs to the UK military ordering them.
Does sustainability make a good sales pitch in this category?
Of-course sustainability is critically important, and it increasingly matters to consumers too – it's only right that people should be demanding more from the brands they buy from. It's not purely about producing products with recycled materials though – that is just scratching the surface. That's why we're so proud to be B Corp certified – a measure to show the overall impact and responsibility of a business and it's operations, so you can buy with confidence knowing what you are buying is responsibly made.