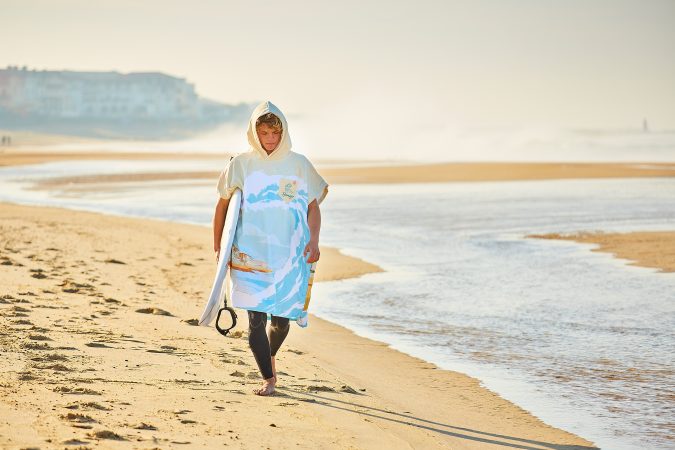 AFTER ESSENTIALS 2023 Surf Robes and Ponchos
Retail Buyers Guide: Surf Robes and Ponchos 2023 Retail Buyer's Guide
Brand: All Essentials
Interviewee: European Marketing
Once a very specific piece of the kit of a surfer (windsurfer, kiteboarder, SUPer, etc.), surf ponchos and changing robes now appeal to the mainstream outdoor lovers. How is the market split between core board sports users and the… rest of the world?
Initially the distribution is more surf oriented around 80%. But it tends to go broarder nowadays. After Essentials can easily be sold in surfshop, swimwear or dive shops, more traditional sport shops and boutique / concept stores. We work on an accurate segmentation to make sure it all works together. Most of the poncho brands, like us comes from an Action Sport background. Which makes sense because surfers are the population that spend the most time out in the ocean the need is more established. That said nearly everyone swims, showers or hangs out at the pool so the use of changing poncho can be extended to the very mainstream and to every generation from babies to older people. That is what we do at After Essentials we developed different designs: some fitting the core surf scene with pro-surfers collab or surf inspired graphics, some other more lady influenced, music influenced one, destination and travel inspired etc… And all of those designs feature the After Essentials touch. We also develop sizes in order to serve a broad audience: baby, toddler, kids, adult and over size for the stronger ones.
From an outsider look, one would think surf ponchos and robes address the need in the warmer regions, where the changing robes (zip/lining/water & wind resistant) are a thing of the northern countries. Is that right?
It is definitely right, in the warmer regions poncho made out of terry fabrics or micro fleece will be the best seller where we will sell more our sherpa or sofa ponchos made out of hairy fleece in colder regions northern countries or in the mountains. Next winter we will introduce the Shelter poncho: a full changing robe made out of water and wind proof recycled polyester, hairy fleece lining inside, waterproof front zip.  This product will definitely more sold in the colder areas and for more extreme utilization (surf schools).
What are the key trends in this market this season?
I don't know if we can really talk about trend but on our side, we see a way broader utilization of the poncho than just a changing accessory. That is why since last fall we've extended our poncho line with a new product category: The Rain Poncho. Easy to use, easy to pack, Waterproof and designed for a prefect freedom of movement, it brings the poncho from the beach to the city with another really functional use of it twisted with the After Essentials fun and colorful vibe.
From the simple no-lining, no-zip surf poncho to the feature loaded changing robe, what is the scale of the price range? And which price point is the best selling?
From the logo poncho to the most feature loaded Changing robe the price range for adult goes from 59,95€ to 159,99€. For kids we go from 44,95€ to 49,95. The best-selling poncho is the traditional changing poncho made of terry fabrics with graphics and prints.  
What are the key materials in your line?
Our line present different product categories and we use different material for each of them
The traditional beach: this terry fabrics, a blend of 50% cotton and 50% polyester
The travel poncho: thinner and lighter microfleece with high absorbing properties; 100% recycled polyester
Rain poncho: 100% recycled polyester
The Shelter (outdoor changing robe): 100% recycled polyester
While considered technical gear, how much do the aesthetics weight on the purchasing? (monochromic or prints/patterns, which one's steal the show?)
It is the whole concept behind After Essentials. For many years, there was nothing cool nor fun about changing ponchos, only plain dark colors with basic branding. From that statement, After Essentials was born, 3 friends decided to do something fun, vibey and colorful with this very functional item. in our case definitely patterns and artworks are our best sellers.
Does sustainability make a good sales pitch in this category?
I don't think sustainability is a sales pitch, it is definitely a goal everyone should aim. We like to play out in the open, have fun and enjoy good times with friends and family. But as many outdoor activities' enthusiasts know, we have to pay attention to our environment. If we want the fun to keep going, we need to act as sustainable as possible. By producing ponchos with premium fabrics, the better the fabrics are the longer the product will last and generate less waste. Our cotton comes from Turkey and Portugal which limits its carbon foot print by reducing the transportation process. We use 100% recycled Polyester on the microfiber ponchos and rain ponchos and most of our factories are based in Europe which once again has less carbon emissions. We are not about fast fashion, 70% of our line is carried over, so there is less waste and over consumption with After Essentials.
Last but not least we support environmental associations:
https://www.savelamermaid.com/notre-mission
https://surfrider.eu/
We know we are far from perfect but we are aiming to improve, and every step of our business is being constantly questioned to be better and more sustainable.