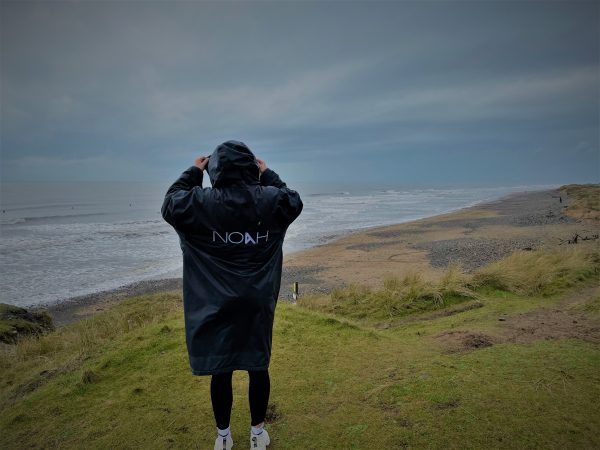 VAST ROBE 2023 Surf Robes and Ponchos
Retail Buyers Guide: Surf Robes and Ponchos 2023 Retail Buyer's Guide
Brand: VAST
Interviewee: N/A
Once a very specific piece of the kit of a surfer (windsurfer, kiteboarder, SUPer, etc.), surf ponchos and changing robes now appeal to the mainstream outdoor lovers. How is the market split between core boardsport users and the… rest of the world?There is definitely a split, undeniably. We have designed a functional, fashionable garment that entices both the boardsport user and the fashion market, looking for a warm coat. The key for us is that we will always be focused with our design and manufacturing decisions, on our key market of Boardsports, ensuring we keep the change robes as technically advanced as possible with the relevant functionality needed for our water sports enthusiasts.
From an outsider look, one would think surf ponchos and robes address the need in the warmer regions, where the changing robes (zip/lining/water & wind resistant) are a thing of the northern countries. Is that right?
In general, yes that's spot on, but perhaps too simplistic. The two items serve different purposes.  Of course there is an element of cross over, but we also see a considerable split in the Age brackets. We sell most of our surf towel ponchos to the younger age groups, generally, 3 years old to 10, where they then look to transfer in to the Change Robe.
What are the key trends in this market this season?
Lightweight and Warmth for Change Robes. Two things we hang our hat on. Its also becoming essential to have a range of colour options, a lot of the cheaper brands tend to have very tight ranges, and colour can be a great point of difference.
From the simple no-lining, no-zip surf poncho to the feature loaded changing robe, what is the scale of the price range? And which price point is the best selling?
Our Surf Poncho's RRP at £45.00 and Change Robe at £99.99.
What are the key materials in your line?
The Key Mainstays in our feature list are waterproof, durable and Warm. We do not want a mac, we want our customers to be as comfortable as possible when exiting the cold UK waterways.
While considered technical gear, how much do the aesthetics weight on the purchasing? (monochromic or prints/patterns, which one's steal the show?)
Naturally, aesthetics are important, but we want to ensure our customers are wearing the best gear possible from a functionality standpoint, whilst looking good doing it.
Does sustainability make a good sales pitch in this category? It's a keyword in all marketplaces currently.