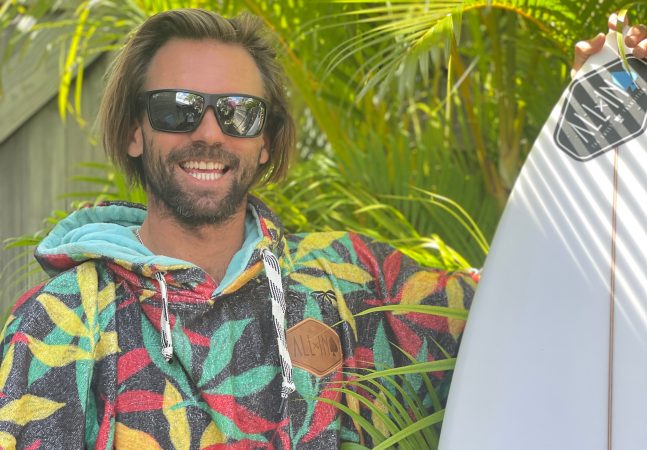 ALL IN 2023 Surf Robes and Ponchos
Retail Buyers Guide: Surf Robes and Ponchos 2023 Retail Buyer's Guide
Brand: All-In
Interviewee: JB CASTE, Founder & CEO
Once a very specific piece of the kit of a surfer (windsurfer, kiteboarder, super, etc.), surf ponchos and changing robes now appeal to the mainstream outdoor lovers. How is the market split between core boardsport users and the… rest of the world?
I would say 50/50 since 2015. It's not a new thing for us as we started to focus on Poncho in early 2012. We saw this split in 2015, when we started to sell to swimming pool, outdoor shop, diving…
From an outsider look, one would think surf ponchos and robes address the need in the warmer regions, where the changing robes (zip/lining/water & wind resistant) are a thing of the northern countries. Is that right?
I do not think Poncho is only for the North, we sell our products in tropical place. I would say that our STORM Line (water resistant) is more for winter but it's for all Europe. For example, in the south of France, Spain or Italia.. you can wear our super warm piece during the winter. It's a wind and rain stopper, so if you stay on the beach with 15°c with wind and rain, you will need our Storm line!
What are the key trends in this market this season?
Pricing, quality and range of colors are always the keys
From the simple no-lining, no-zip surf poncho to the feature loaded changing robe, what is the scale of the price range? And which price point is the best selling?
For adult, we start at 54,95 euros for a premium poncho and we to 189,95 euros for our premium Storm Vest.  The best selling is our V Poncho at 69,95 euros
What are the key materials in your line?
 All details are the key!
While considered technical gear, how much do the aesthetics weight on the purchasing? (monochromic or prints/patterns, which one's steal the show?)
Poncho is basically a beach towel that you can wear, so I think the look is more important than a simple technical gear. So, then it depends on the taste of the consumer. We have a large choice of colors and print so it's just about your taste!
Does sustainability make a good sales pitch in this category?
Sustainability is not only about the materials that you use, but also about the durability f the products. The feedback that we have is that our clients can use their ponchos for many years, 10 years later the Poncho is still great! So, I think consumers know that which make a good point to buy it.