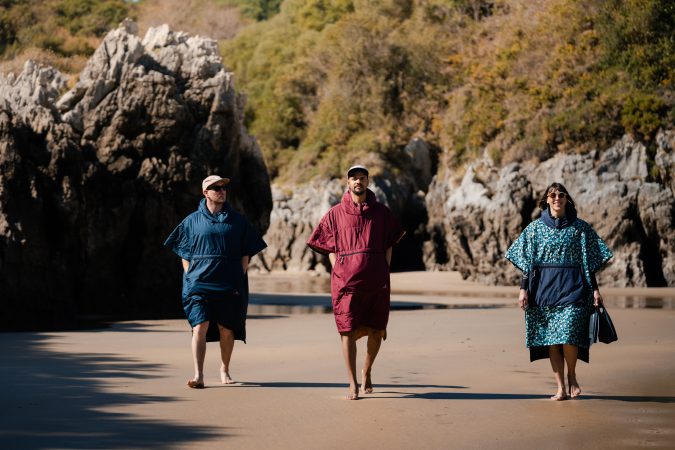 VOITED 2023 Surf Robes and Ponchos
Retail Buyers Guide: Surf Robes and Ponchos 2023 Retail Buyer's Guide
Brand: Voited
Interviewee: N/A
Once a very specific piece of the kit of a surfer (windsurfer, kiteboarder, SUPer, etc.), surf ponchos and changing robes now appeal to the mainstream outdoor lovers. How is the market split between core boardsport users and the… rest of the world?Our products are designed to cater to a wide range of watersport enthusiasts, with key features that include protection from the cold, insulation, quick-dry properties, and lightweight and easy-to-pack designs. When it comes to the market split between core boardsport users and the rest of the world, we do not differentiate based on the user's level of experience or skill set. In fact, we believe that many different people look for the same attributes in watersport products, albeit for different reasons. Whether you're a seasoned boardsport enthusiast or a novice looking to dip your toes in the water, our products are designed to meet your needs and provide the comfort, warmth, and protection required to enjoy your watersport activities to the fullest.
From an outsider look, one would think surf ponchos and robes address the need in the warmer regions, where the changing robes (zip/lining/water & wind resistant) are a thing of the northern countries. Is that right?
At first glance, one may assume that surf ponchos and robes are mainly designed to address the needs of watersport enthusiasts in warmer regions, while the changing robes with zip, lining, and water and wind-resistant features are more suited for northern countries. However, our Drycoats and Ponchos are built to be water-repellent due to their coating, insulation, and quick-dry properties, making them suitable for use in all kinds of weather conditions. In fact, most watersports activities are accompanied by wind activity and wind chill factor, which means that our products are equally applicable in both warm and cold regions. Regardless of the weather, our products are designed to provide comfort and warmth, making them an ideal choice for anyone looking for protection and comfort after a watersports activity. Whether you're in a warmer or colder region, you can feel comfortable in our products knowing that they will protect and warm you up after the activity.
What are the key trends in this market this season?
There is a growing emphasis on exploring different fabric options that are more sustainable and eco-friendly. This includes the use of recycled and organic materials that are combined with functionalities like wicking and insulation to create high-performance products that are both durable and environmentally friendly.
From the simple no-lining, no-zip surf poncho to the feature loaded changing robe, what is the scale of the price range? And which price point is the best selling?
As we are focusing on well executed and functional pieces, the VOITED products price level starts at €89 up to €155 retail.
What are the key materials in your line?
100% recycled 50D Ripstop fabric coated with 18.000mm waterproofness on the inside and the Bionic Finish®Eco – Fluorine Free water repellent finish on the outside. Adding a layer of recycled synthetic insulation, together with the combination of microfleece liner and the extra CloudTouch®  insulation in the lumbar area of our Drycoat, keep you warm and comfortable in every climate.
While considered technical gear, how much do the aesthetics weigh on the purchasing? (monochromic or prints/patterns, which one's steal the show?)
Our first and primary objective is to build products with functionality and versatility, using as much sustainable fabric as possible. Once these key criteria are met, we then consider colour trends and prints to integrate into our products. While we offer a variety of color and pattern options, our designs and product lines tend to be more clean and timeless, with the aim of creating pieces that can be used and enjoyed over multiple seasons.
Does sustainability make a good sales pitch in this category?
For us, sustainability is a core value that underpins everything we do and is integral to the quality and value of our products. We believe that it is not just a sales pitch, but a necessity in today's world. We recognize our impact on the environment and are committed to reducing it as much as possible. We source sustainable materials, use eco-conscious manufacturing processes, and strive to create products that have a minimal impact on the environment. We believe that consumers today are increasingly aware of the impact of their purchasing decisions on the planet, and that sustainability is an important factor that can influence purchasing decisions.