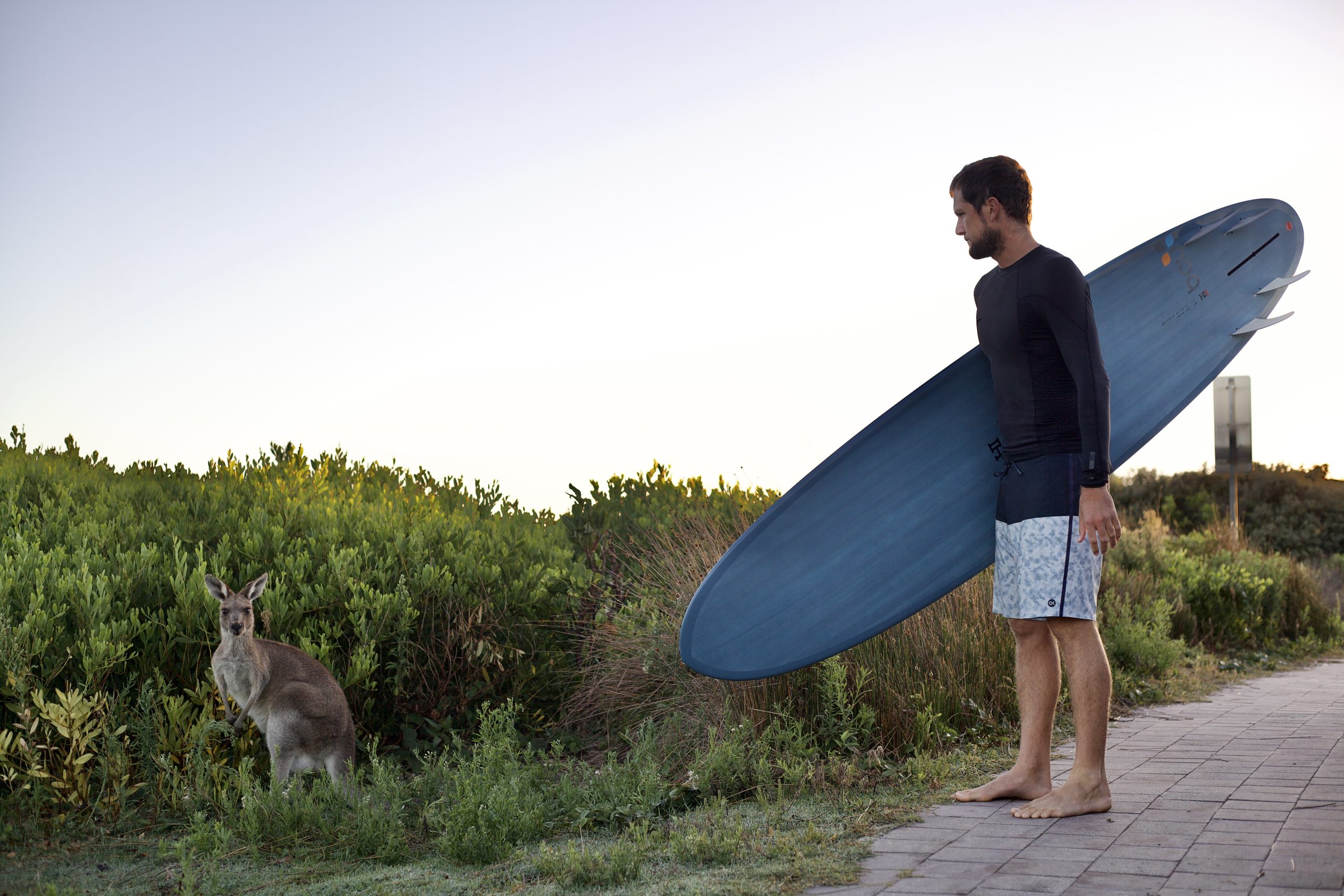 Firewire S/S 22 Surfboards Preview
Retail Buyers Guide: Surfboards S/S 22 Retail Buyer's Guide
Brand: Firewire
Interviewee: Chris Grow, Director of Global Content and Community
"Summer boards" did become a relevant designation in the surfboard industry. But how much of your business does this category account for?
If by 'Summer boards' you mean 'surfboards for small waves', then this product segment accounts for a very large part of our business. Surfers have come to understand their quivers as a collection of boards predominantly designed for small waves, because that's the wave type we're all most commonly greeted with at home. Rob Machado's 'Seaside' model has maintained its position as one of our most popular shapes since 2018, and most recently, Rob's new 'Sunday' mid length has been incredibly popular since its release in May of this year. Additionally, the Flat Earth and Dominator II have been successful for performance in small waves. The 'Flat Earth' being Kelly Slater's collaboration with Akila Aipa, and the 'Dominator II' being Dan Mann's update to his seminally popular 'Dominator' model originally released a decade ago. Lasty our line of Thundrebolt longboards has been the linchpin of longboard retail globally over the past year, featuring 9 foot plus boards by C.J. Nelson, Harley Ingleby, Kai Sallas and more.
Newbies in surfing are spoiled with beginner boards that do look cool (compared to a few years ago), mimicking the steezy models (shapes, colorways). Do you confirm?
Generally, yes – it seems that there are many easy ways to learn how to surf today that didn't exist even ten years ago. But specific to our business, we haven't specifically sought to cater to this market. Our thinking is that if we make performance product that exceeds the expectations of experienced and intermediate surfers, beginning surfers will 'graduate' to our product later in their surfing life, after having learned the basics of surfing on the type of beginner boards you mention.
According to you which surfboard designs will be the most popular in Summer 2022?
I think we consider each category of surfboard design as having a very important place in the market whether a groveler, fish or longboard, etc. But the market seems to have figured out that mid lengths have a very real purpose in one's quiver and we expect the popularity of that category to continue its current trajectory into next year.
With fishes, foamies and midlengths everywhere, is "performance" still a catchphrase in 2022?
Yes, because none of these board categories you mention have a place in a surfer's quiver if they can't turn or pivot or respond to the surfer's intended directional changes and maneuvers. If these kinds of shapes could only trim and glide, they wouldn't be experiencing the high point in their popularity that they're currently experiencing. Personally, my two favorite surfboards right now are the Sunday (by Rob Machado) and the Moe (by Harley Ingleby) because they don't just make catching waves easy, they also enable exciting sensations during turns; the Sunday for the way it slides and releases, and the Moe for the way it drives on a rail.
Beyond EPS and PU, new materials/constructions are popping-up, mainly greener options. Do you foresee a quantum leap in a near future as far as surfboard manufacturing is concerned?
A driving force of Firewire's business is seeking that 'quantum leap' you mention. Will it come next week? Next decade? We don't know but we do know it's coming and the pursuit of it is an enormous part of our research and development process. In the meantime, we remain the only global manufacturer of surfboards to build our entire line of surfboards for retail within Sustainable Surf's ECOBOARD standard; ensuring that the carbon footprint of every board we make is approximately 30% lower than the carbon footprint of a surfboard made with traditional PU/ PE materials. We additionally 'wipe' our carbon footprint each year by using 'Sea Trees'; a program that calculates the carbon footprint of our business globally each year and then empowers us to plant mangrove trees, restore kelp forest and protect ocean contiguous rain forest. We'd encourage everyone to learn more about how their business (and themselves personally) can 'wipe' their yearly footprint by visiting sea-trees.org. 
COVID has favored the rise of online retailers and D2C. Is this a threat for bricks&mortar surfshops or the more the merrier?
Short answer? No. Long answer? Brick and mortar surf shops seem to be experiencing a boom in their own right, un-impacted and undeterred from ecommerce. In our case specifically, we used the Covid pandemic as an opportunity to drive traffic to our retail partners, not to our own website. Throughout 2020 and into 2021 our stock holdings on line have been extremely minimal if not flat out non existent for long periods of time, as we've siphoned our production capacity to retail partners. We've additionally used our social channels and paid channels to specifically promote inventory at our brick and mortar accounts and a select few online retail partners like Boardshop.Co.Uk, Core Surfing, Tablas, Fritt Board and others, instead of our own website.
Key Products
The Sunday by Rob Machado – Rob Machado says: "My favorite thing about the Sunday is how it occupies both sides of the spectrum. I ride both the 5'6 and the 7'0. That covers a lot of territory. If you want to draw out turns and flow, ride it as a single fin. You can set it up as a twin fin if you want to liven it up."
The Flat Earth by Akila Aipa – Akila Aipa says: "The Flat Earth is a very easy to ride design that is user friendly, blending a happy medium between performance and ease of use. It has the benefits of a fun board without the draw backs, and the benefits of a performance board without being so sensitive."
The Moe by Harley Ingleby and Bill Tolhurst – Harley Ingleby says: "When I started out designing the MOE mid length I wanted to have an easy ride and good paddling, while keeping good stability. The bottom is pretty flat with a double concave between your feet, a really good combination in a wide board. A 5fin FCS II setup makes this a great one quiver board for traveling in fun wave areas. "