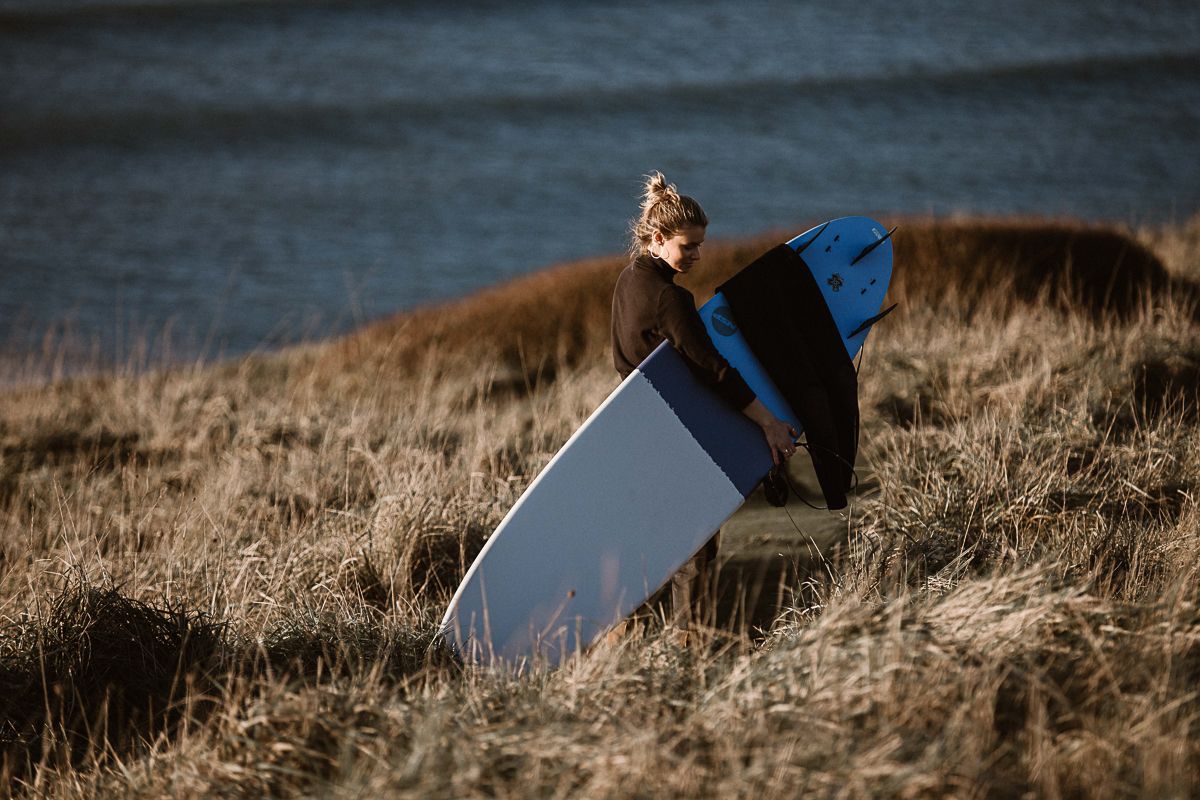 NSP S/S 22 Surfboards Preview
Retail Buyers Guide: Surfboards S/S 22 Retail Buyer's Guide
Brand: NSP
Interviewee: Sander Blauw, Head of Sales
"Summer boards" did become a relevant designation in the surfboard industry. But how much of your business does this category account for?
The majority of our boards remain the funs, mini-mal's and longs. In 2021 we introduced our Double Up with a wider profile and higher volume than regular 7'4's and 8'4's. It's playful and delivers a smile with the effortless ride. Especially in weaker and less than ideal conditions, this board really delivers.
Newbies in surfing are spoiled with beginner boards that do look cool (compared to a few years ago), mimicking the steezy models (shapes, colorways). Do you confirm?
Yes, as surf goes more mainstream, there's an increased demand for creativity and colour… Traditional shops might not like the pastels and colours, but its proving it's what's hot and selling well.
According to you which surfboard designs will be the most popular in Summer 2022? 
Different strokes for different folks, our custom surf epoxy Shaper's Union range is selling well to the more experienced riders. The longs and mini-mal's continue to drive a lot of demand. Our latest collaboration with Queensland shaper Tully St John and his Laguna Bay range of Sleepwalker longboards have been a real hit in both our traditional PU and more versatile Elements range.
With fishes, foamies and midlengths everywhere, is "performance" still a catchphrase in 2022?
We are very cautious of the word performance, using it sparingly for boards with a proven shape and heritage, for example, Carl Schaper's designs and Tully St. John's Sleepwalkers. We introduced our performance orientated short boards with our Chopstix range, which the markets are discovering delivers quite a punch above its class. 
Beyond EPS and PU, new materials/constructions are popping-up, mainly greener options. Do you foresee a quantum leap in a near future as far as surfboard manufacturing is concerned?
Yes, absolutely and we will continue to see the drive by many in the industry to push for more sustainable materials. We'll continue to see more innovation across all the leading brands and manufacturers. We introduced our Cocomat boards over 10 years ago, as well as using various bio resins. We will continue to develop and innovate in this category as we strive to improve our environmental footprint… stay tuned!!!
COVID has favored the rise of online retailers and D2C. Is this a threat for bricks&mortar surfshops or the more the merrier?
This is an ongoing question each and every year. Yes, online retailers continue to expand, but the best way for brick and mortar stores to strengthen and maintain their position is to follow suit and share their expertise online. There is absolutely a need for the traditional stores, but they must embrace online and by having both, ensure and secure their longevity. 
Key Products: 
Sleepwalker by Tully St John (in PU and Elements): Literally a board for beginner to winner. Smooth rails make this log forgiving for anyone looking into a true longboard and not high on handling. Easy in and very stable. Any chargers will trim with ease, park the rail and walk the walk, just an incredibly smooth ride.
Protech Double Up: Playful – The Double UP is all about having fun, easy in and carries lots of speed to catch those sections. For anyone who doesn't want the handling of a traditional longboard but a more playful yet stable board. Intermediate and advanced riders will enjoy a smile on their face with the effortless ride. Especially in weaker and less than ideal conditions, this board really delivers."
Tinder-D8 (in custom surf epoxy, Elements and Protech): When asked to just go surf the Tinder-D8 6'4, Mark Zahn set it up as a thruster, and he didn't like it. He then set it up as a quad for the next day and loves it. He was asked to surf it at least 3 times as a quad before straight-up giving us the good and the bad feedback. Here's what Mark had to say…"I'm loving that board man seriously haven't felt this good surfing since I was like 40lbs lighter haha" – Mark Zahn, California