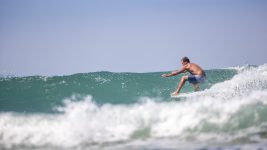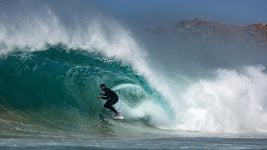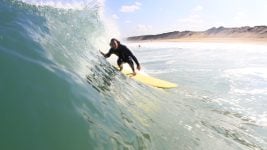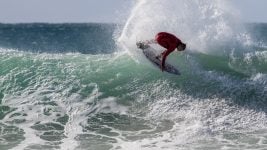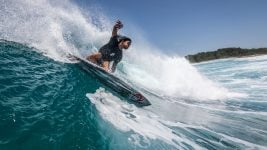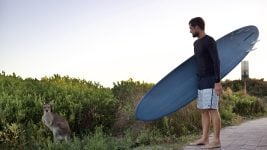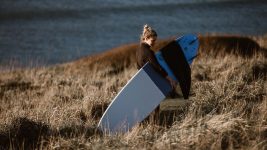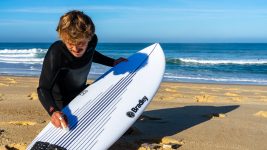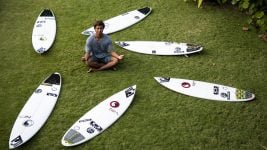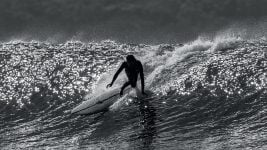 Surfboards S/S 22 Retail Buyer's Guide
A relatively recent phenomenon, at least in the history of surfboards, the category of "summer boards" has now made it into all the shops. A preview-premiere of what's to come for summer 2022. By David Bianic.
Surfboards also have the right to their own Spring/Summer collection, just like fashion does. While this season traditionally shows a spike in production/sales, the idea of summer specific designs is still new. "I would say 80% of our boards could be classified as summer boards…" reckons Peter Saari, co-founder of Lib Technologies. At Hurricane Surf, the ratio is at least 50% reckons Craig Butcher, Managing Director. Summer boards have to be "fun" boards (not to be confused with funboards). As Diogo Cecelio from Flowt enjoys reminding us, "The best surfer out there is the one having the most fun", while highlighting their range of premium soft boards.
But what ultimately characterises a summer board? "These are paddle-friendly boards that will get you up and going in the most subpar conditions while still working really well in up to a little overhead waves", summarises Susana Santos, Marketing Director of the Portuguese workshop Xhapeland (Chilli, Rusty, Simon Anderson…), hence the success of their BV2 from Chilli, Voodoo Redux and Jason Todd models as well as the Miso from Rusty.
While these little summer boards are still more the preserve of confirmed surfers, the tsunami of new participants is not left out, spoiled rotted by new generations of boards for beginners that have undergone a complete relook. "They copy colourways and stuff that looks cool because even if you're a beginner you don't want to be seen on an ugly beginner looking board", confirms Nick Uricchio, Co-Manager and Shaper at Semente Surfboards. But this evolution does not stop at an aesthetic level, adds Wilco Prins, Co-Manager of Town and Country Surf Designs Europe: "Material has evolved and more than just looking good there are a lot of new models that allow surfers to progress quicker as a lot of shapers have given it a bit more thought."
SHAPES SS22: TWIN 2 WIN & MID MADNESS
We can expect to see many surfers demanding twin-fins and mid-lengths again in Spring 2022. The proof is in the figures provided by Aristide Shöndienst, Co-founder of Polyola, a new manufacturer of ecological blanks: "2021 has been our first season on the market and our 6'4 F Fish model and our 7'4 M Mid – length model have accounted for around 60% of our sales." Not surprising then that at Euroglass we can expect to see the One Bad Egg and Demibu models gracing the sales podium once again in 2022 ahead of the Chocolatine, a high-perf shortboard. Same analysis at Olatu (Channel Islands, Pukas, …Lost, Christenson Surfboards, Mc Tavish, Indio Surfboards) as their Sales Manager Jaime Azpiroz points out the CI Mid as the #1 surfboard retailers should definitely order, followed closely by the Lady Twin model (a mid-length twin with channels: very very hot since last year).
Moreover, even the high-performance orientated shapers are in on the action, like Pyzel and their Mid Length Crisis model (an excellent play on words by the way) with "a semi-traditional, wide-point forward outline that is sleek and racy for fast, down-the-line drive, but full bodied enough to provide added stability and glide in weaker, slower waves." Other sure things for SS22, the Mid Length Glider and the Twin Fin version of the Hypto Krypto from Hayden Shapes. Even…Lost are following suit by introducing a new version of their Mid Size Crowd Killer next spring, a "hyperfunboard" as their shaper Matt Biolos describes it. The Firewire lineup ticks all the boxes when it comes to that trend, since their release of Rob Machado's Seaside in 2018, and now his Sunday modal, a mid-length which has been incredibly popular since its release in May of this year, reports Chris Grow, Director of Global Content & Community. Not to mention the mid version of the Seaside, the Seaside & Beyond, Harley Ingleby's Moe or the single-fin speed hull designed by CJ Nelson and offered in Thunderbolt construction (EPS), sold-out in 2021. Heavy stuff!
When it comes to twins, what's on offer is broken down into retro fishes and performance twins. Two examples: the Killer Fish from Country Surfboards, "a super versatile model designed by shaper Lipe Dylong and pro surfer Miguel Blanco", explains Vinicius Fonseca (Marketing Director) and there's the Uber Twin from Cabianca, a mix between a classic twin and modern performance shortboard that you can add "the rear stabiliser fin for extra drive and control", explains shaper Johnny Cabianca. In the same vein, the Sinr by Glenn Pang offered by Town and Country keeps the promise of a performance twin, available in a Venturi channel version to great effect. Among the hit releases of SS22, Surftech makes its mark thanks to a collab with Duke Aipa, son of legend Ben Aipa. The lineup sure is in the spirit of the times, with a fine mix of heritage and performance, between the winged Dark Twinn (Dual Core), le Wrecking Ball (4-fin), le Big Boy Sting (4-fin with stingers) et le Big Brother Sting (longboard with stingers & swallow tail), the three of them in the Fusion HD construction.
And for a sure-fire hit, combine twins and mid-lengths! "Twin fin fishes will stay in vogue going into 2022 with emphasis on bigger sizes allowing novices to really join in on the fun," ensures Craig at Hurricane Surf. This is what Venon have done with their Beaver, a round mid-length twin that joins their range of "mids", which is already well attended to by the brand with their Compass (comfort mid-length) as well as the EVO, Egg, Gopher and Zeppelin. 
As already mentioned in our previous Surfboards Buyer's Guides, the niche of 80s inspired shapes will be strengthened in 2022. We're thinking about historical models from T&C (The Saint by Glenn Pang, Martin Potter colours), as well as newcomers like the Mini-Ghost from Pyzel, a spin-off of the Ghost, designed with Koa Smith: "The best way to describe it is a sort of throwback 80s looking board with all the added performance features of a modern design", sums up Rémi Chaussemiche. A final example from Semente with the Vintage, the fruit of an afternoon of brainstorming between shaper Nick Uricchio and his esteemed team rider Nic von Rupp, "We sat down and designed a little 5'6" with an old school outline, pretty wide all around only tightening more in the tail with the help of an old school fluked wing." Rather flat, with its four channels to surf in quad or tri-in and retro logo, the board is a refined mix between old and new school. 
It's hard to call it a new phenomenon but the success of fairly classic longboards is undeniable. At NSP it's the centre of attention with their mini Malibus, and Commercial Director Sander Blauw can also confirm the popularity of the Sleepwalker models from Australian shaper Tully St John, whether in PU or Elements (epoxy) construction. Let's not forget the really fine longboards at suns Surfboards, new addition in the portfolio of The Board Factory Co. in Thailand, a factory founded by former members of Firewire and Cobra. Their 9'2'' Polaris is a mean noserider with its 60/40 rails and a defined concave in the nose for additional lift. Not to mention the so steezy pastel colorways, mimicking PU/tinted resin boards, while they offer a sandwich construction!
CONSTRUCTIONS SS22: PATIENCE IS PRESSING 
Despite all the pro-environment chat, the materials favoured by customers remain scarcely eco-friendly, to the great regret of the industry's players. "In the past we were building EPS/Epoxy construction with carbon & bamboo but in the end we came back to what our customers were looking for. Beautiful & quality surfboards in PU construction", says Benoît Brecq at Venon. It's not for a lack of ideas, like in the upcycled FutureFlex tissue from Hayden Shapes, a fibre produced by shredding carbon fibre and fibreglass off cuts whose bi-chromatic B&W visual effect is an absolute work of art.  
A role-model in this field, the Lib-Tech factory in the United States is exemplary in their use of non-toxic plant resin, foams with no nitrogen emanation, reduction of foam dust and in recycling the off-cuts of blanks… Just as 'eco-legit', Firewire remains the only global manufacturer of surfboards to build its entire line for retail within Sustainable Surf's ECOBOARD standard; "ensuring that the carbon footprint of every board we make is approximately 30% lower than the carbon footprint of a surfboard made with traditional PU/ PE materials", states Chris Grow.
At Xhapeland in Portugal the use of cork, bamboo and Japanese cedar (Cryptomeria) is being pushed. At NSP, Sander Blauw reminds us that the brand has been using Cocomat construction (Coconut fibres) for over ten years now, not to mention their bio resins. 
Amongst the most promising initiatives, recycled and recyclable PU blanks from Polyola mean that you can retain the polyurethane so treasured by surfers but in a more sustainable way. The blank is made from recycled PU foam, wooden components and polyols. The excellent reception from shapers and surfers would suggest it's a serious alternative to traditional blanks.
DISTRIBUTION: THE AFTER-EFFECTS OF COVID
On one side, Covid has favoured participation and therefore sales of leisure equipment like surfboards but, on another, it has boosted e-commerce to the point where it is a threat, even for surf shops. But what strategy to adopt? "We think the creation of an omnichannel is essential for surf shops", assures Diogo from Flowt because "having online stuff that redirects to their physical store is a bonus". Wilco Prins from T&C reminds us that "Most of the boards that are sold online are sold to people who do not have access to a good surf shop in their area". All the more so given that online resources mean that you can reach the majority of the best shapers in the world and that through interactive board building tools, "there's very little room for online orders to go wrong", says Susana from Xhapeland. It's up to retailers to follow the trend says Sander from NSP, sharing their expertise online will keep their business propped up.