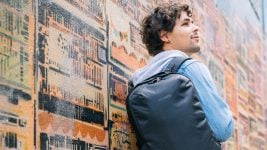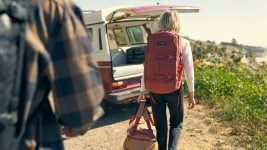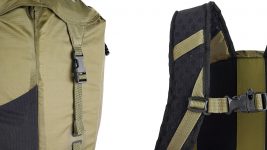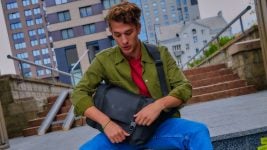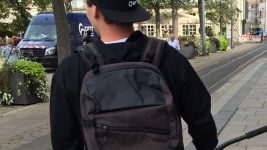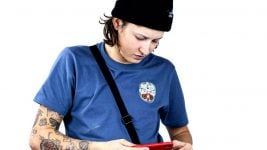 With travel down but skate participation up, what is happening in the boardsports bags and backpacks segment? Find the major trends for 2021 in our Retail Buyer's Guide by Dirk Vogel.
Welcome to the new normal. While skateboard hardgoods are booming, other segments are under pressure amid the coronavirus pandemic. With travel and holiday bookings in freefall, the luggage segment has suffered a 90 percent decline in sales over last year, according to the Office for National Statistics (ONS). As consumers spend less time on the road, boardsports bags and backpacks also feel the effects. "Our category was of course greatly impacted by Covid-19, with travel bags and backpacks being amongst the top 20 most impacted fashion accessories," said Domitille Parent, Product Director at Eastpak, adding: "That being said, we are seeing a positive turn as we ramp up towards the important BTS period."
What exactly back to school (BTS) will look like this year remains a guessing game. But even amid lockdown measures, consumer demand proved resilient: "The shutdown still led to a requirement among end consumers for backpacks and shoulder bags for daily use," said Maria Schmieder, Marketing Coordinator at Pacsafe. But daily use is changing. While indoor gyms, sports facilities, restaurants and bars remain closed (varies across regions), people congregate out in the open air, where it's safe. That's why the backpack emerges as a valuable companion, whatever the use case. "For the summer season, we believe that consumers look for light and durable backpacks with different pack options and extendible pockets to store bottles, jackets or towels. They want versatility and crossover to use one product in many different environments and situations," says Maxime Lemaitre, Bags & Accessories Product Manager, Picture Organic Clothing.
PRICE POINTS & MARKET
The boardsports bag segment has matured tremendously over the past years. As a result, solid quality is already available in the entry level price segment, with quality backpacks starting around €39. Then again, the demand for versatile packs that transition between usage scenarios also justifies premium price levels. "The trend of versatile, multi-purpose product is at a high right now. Consumers are investing in quality product that they know can help them transition between activities and accompany them in their everyday," said Bettina Rohde, Category Director Lifestyle at Dakine. Some brands stake their claim in the entry level/fun segment. Others in premium. Some do it all: "We have a broad range of backpacks starting with daypacks on lower price points like our Vardag collection starting at €79 up to high-end long-distance trekking backpacks like our Kajka 100 for €419.95," said Philipp Kloeters, Head of PR at Fjällräven International.
According to Amplifi's Head of Design Tom Howells, the current market situation demands, "continued focus on quality to price ratio. People need to get their money's worth if they're going to jump up to the next price point." In direct response to the crisis, brands have made sure to keep prices stable and supply flowing. Not an easy task, as February's shutdown in China created a squeeze and many endemic boardsports brands are bracing for lower overall turnaround. As a result, some of this season's product releases were pushed back to next year. Meanwhile, several brands resort to carryover of last season's products while focusing on the strongest, best-performing SKUs in their line-ups. Speaking of performance, here are the Five Hot Backpack and Bag Trends Retailers Need to Watch In 2021:
Season Trend: Sustainability
The pandemic has laid bare mankind's impact on the environment. On a positive note, nature has come back in a big way during shutdown (human-made noise levels are down 50% worldwide!). The impact on consumer behaviour is immediate: "Sustainable options are key, the younger generation is informed and cares about their future and the future of the planet, therefore a big portion of our line is using recycled polyester and bluesign-approved materials," said Bettina at Dakine. Look for models like the Fjällräven Kånken Re-Wool (made from recycled wool), as well as Pacsafe's daypacks and side bags made from Econyl, sourced from ocean waste. Eastpak goes full circle with the Rebuilt to Resist line, which deconstructs existing backpacks and reassembles them into a new and unique bag. Meanwhile, Picture Organic is proud to say: "100% of our range is sustainable. The light ripstop we use on our technical range as well as our Soavy fabric are 100% recycled and the cotton of our beach bag is 100% organic."
Made for movement
Consumers may travel less in the new reality, but they still move around every day. "Our customer is focused on journeys closer to home. The opportunity to pack up a car and hit the road shifts the need from larger bags or luggage to daypacks and duffles," said Jaelem Sangara, Director of Retail Marketing at Herschel Supply Co, pointing out the feature-rich and versatile Pop Quiz and Nova Mid packs. People also move around for work: "The Covid crisis has created even more digital nomads. People need to be able to work anywhere and we design our bags to enable this. Many people carry 1000s of pounds worth of tech and need their bags to help them stay organized," said Laurence Poole, Marketing Director at UK-based brand OID, home of the 48HR and EVERYDAY packs. Eastpak has the CNNCT collection for "urban professionals who are commuting in more sustainable ways to get to work." Pacsafe caters to this trend with the City Safe backpack in a pod design, while Fjällräven has the Vjardak 28l bag and Vardag Mini for keeping gadgets and laptops protected on the go. Picture Organic keeps it compact with the Helio 18L pack in ripstop fabric and the vintage-inspired Soavy backpack. Just in time, Dakine releases the Packables collection featuring "packs and duffles that are durable, lightweight and hold a long-weekend's worth of gear but are able to be stuffed down into their own pocket for easy storage."
Security in mind
The world became a more threatening place this year, not just in terms of infection risk. Street crime and digital fraud are on the rise, and bag makers are playing their part to secure people's valuables from illegal access. Pioneers Pacsafe double down on PopNLock, Roobar Locking Systems, eXomesh slashguards, and RFIDsafe blocking pockets. Several brands shield outside shells of bags and backpacks in resilient Rugged Twill Cotton, Ballistic Nylon, and Matt Nylon. They also tend to feature less directly accessible compartments, also meaning fewer velcro pockets. Instead, large zippers and roll-tops safeguard the bag interior, which in turn opens into additional pockets. Laurence at OID goes the extra mile by implementing, "Cordura to provide durability combined with our Safety Stitch. We have also partnered with D30 to provide the thinnest and most advanced protection against impact, the Impact Protection System (IPS)."
Durability and timeless styles
Another direct impact of Covid-19: Consumers buy less gear but demand better quality. Brands are responding by creating less hype products and more items that retain their relevance over the long term. "Even prior to the impact of Covid, we've been noticing a trend in trans-seasonal colours and styles, so rather than specific product per season the consumer is looking for product that is less seasonal. This reflects in our colour palette and prints in SS21," said Bettina at Dakine. Tom at Amplifi said the brand is, "keeping it nice and monochrome this year. We love our stealth packs, but we're throwing in loud colour hits here and there, too." OID continues to bank on understated exterior colours while maintaining its tribute to the original MA1 jacket as a brand staple, down to "the same high-vis orange on the lining of all our bags so the contents can be seen more easily." Bucking the trend, Herschel is celebrating its ten-year brand anniversary in 2020 with a line "inspired by the rich tones, prints and graphics of the 90's and from collections from Herschel's last ten years."
Original styles, large and small
Brands are breaking the mould by going beyond standard backpacks this season. Standouts include the skateboard-ready Everyday pack from OID that will keep shred sticks protected from rain: "Our Everyday backpack is totally unique and designed by skateboarders. With an adjustable and removable strap system, it can be changed form backpack to side carry mode for bikes," said Laurence Pool. Skate protection company 187 Killer Pads releases the Standard Issue Backpack: "Built from our 20-year heritage making skateboard pads for the world's top pros. Everything we know is packed into this everyday backpack perfect for travel to the skatepark, school, work, and beyond," said Noah Todaro. Compact backpacks are nice, but for those who want big bags for bigger adventures, Herschel has the Miller, featuring dual top carrying handles, a 13-inch laptop sleeve and 32L capacity, while Dakine launches the huge Split Adventure 38L, and Fjällräven has the Bergtagen 30L for all kinds of exploration. And if you only need to stash your phone, hand sanitizer and mask for a short trip into the outside world, last season's fanny (bum) bag trend has evolved into side bags. Worn over the shoulder, these compartment-rich models include the OID Side Bag and Pacsafe Vibe 325. For those who prefer to store their everyday carry around the waist, there's the Amplifi Hipster Pack and Eastpak's Iconic Springer bum bag. Stay safe out there and wherever you go, bring a cool bag this season!