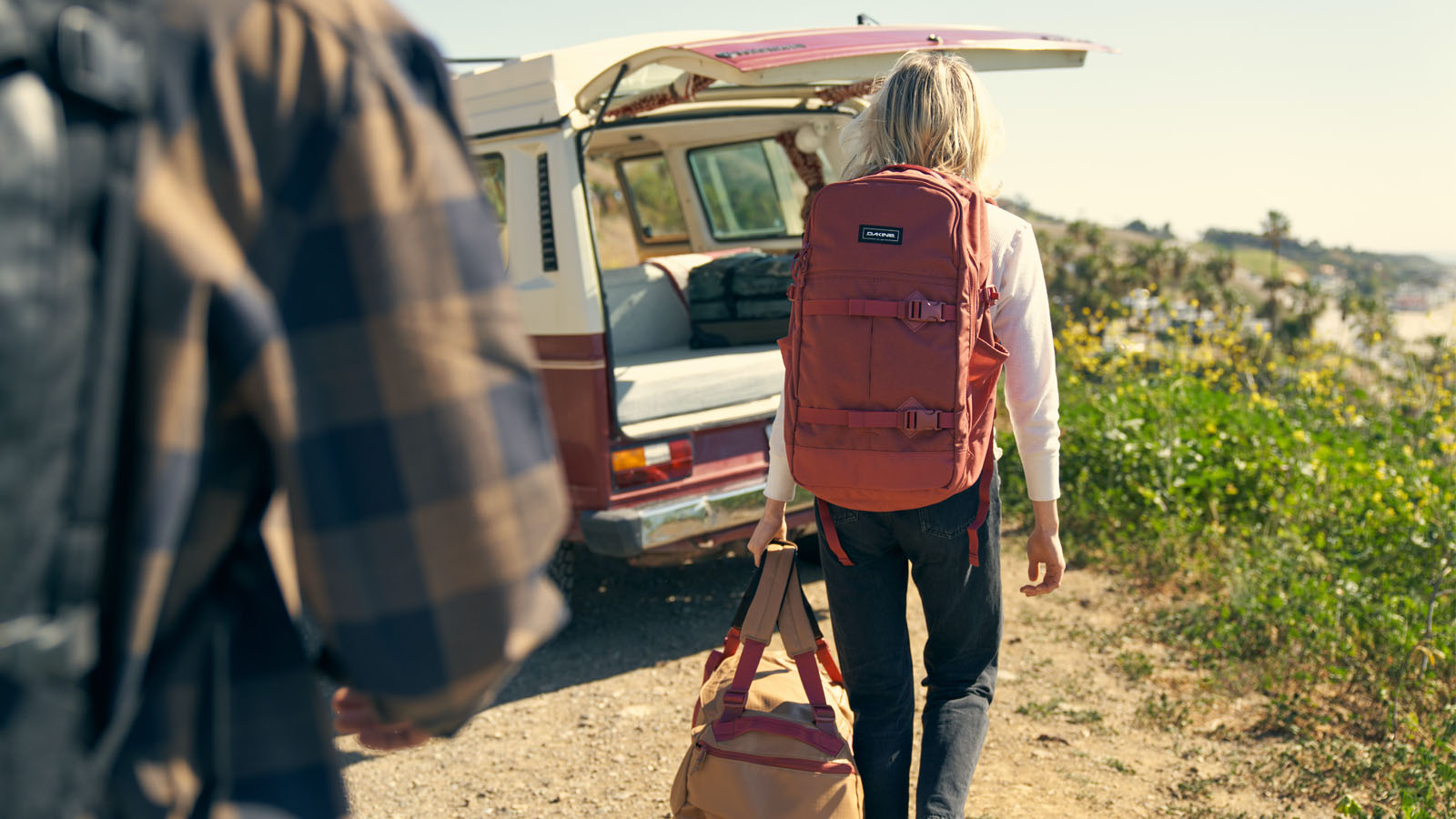 Dakine SS21 Backpacks Preview
Brand: DAKINE
Interviewee: Bettina Rohde, Category Director, Lifestyle
What are your main price points for next season?
Our pack and bag line continues to cover a broad spectrum of price points, based on consumer needs and functionality.
How are you segmenting your backpack collection?
We are segmenting our backpack line by consumer groups, so looking at the line by consumer tendencies, user scenarios, and how that dictates the design and feature sets of the bags. Building products and assortments by the target consumer.
What general trends are you noticing?
Even prior to COVID impacts, we've been noticing a trend in trans seasonal colors and styles, so rather than specific products per season the consumer is looking for a product that is less seasonal. This reflects in our color palette and offered prints in SS21.
The trend of versatile, multi-purpose product is at a high right now. Consumers investing in quality products that they know can help them transition between activities and accompany them in their everyday.
What do kids want from their back to school backpacks?
Similar to general trends, Kids want versatile product; they want packs that they can use to go to school but also outside of that when they go on trips with their family or meet friends.
Their choice is also driven by style, so colors, materials, and patterns are key. Giving them lots of options to express their unique identity.
Sustainable options are key, the younger generation is informed and cares about their future and the future of the planet, therefor a big portion of our line is using recycled polyester and blue sign approved materials.
How has coronavirus impacted sales expectations in this segment?
With store closures, travel restrictions, and uncertainty of when kids are returning to school, we definitely went back and adjusted our sales expectations and plan for 2020.
Despite the challenging market situation and our sales force having to adjust their sell-in behavior from in-person appointments and trade shows to a lot of virtual showings, we are positive on the outlook for 2021.
How has COVID effected your SS21 sell in plans in terms of delays/ range cancellations and carry over etc?
We definitely took our original SS21 planned line under the microscope and made adjustments. We dropped a few seasonal colors and made sure our line is heavier weighted with carryover and focus on bestsellers. Allowing retailers more time to sell through inventory, trying to limit heavy closeouts, and making sure we have the key styles available that our customers are looking for.
What is your collection theme and which stories are you telling to get customers stoked on boardsports backpacks?
This season we'll be launching our packable's collection. A range of packs/duffles that are durable, lightweight, and hold a long-weekends worth of gear but are able to be stuffed down into their own pocket for easy storage.  We'll be focused on consumers' end-use journies and will tell weekend travel, day trip, or an extended stay, trip ideas.
What makes this product category important to your brand?
Over the years, we have become a trusted resource for packs and bags by continually focusing on the best materials, thoughtful details, and product performance. Our customer trusts Dakine for all seasons and reasons. We work hard on the details, so they don't have to.
How are you serving the needs of retailers as more marketing shifts to digital channels?
We are focused on creating assets for all channels and supplying content to teams in a timely fashion for deployment. We also started a 'Shop Local' spotlight this year on social, that we plan to continue into S21, spotlighting retailers pages, product availability and restocks, and more.
Which technical features are you proudest of?
For SS21 we are launching a new series of packable and friendly styles. These are versatile styles that are ready for any adventure and travel. The series varies from fully-featured travel backpacks, our Split Adventure 38L and Split Adventure LT 28L, that are perfect for weekend getaways, road trips, and shorter trips, to a super lightweight Packable Backpack and Packable Tote Pack that can be stuffed in their own little pocket and can be brought along for any adventure.
What are the silhouettes and materials for this season?
The new series of packable styles come in a variety of different materials, all super lightweight, and vary from heathered cordura polyester to cordura ripstop and recycled polyester that features a unique print.
Besides the new series of Adventure products, our main line of daypacks features a variety of specialty materials with a broad selection of recycled polyester and blue sign approved materials.
What are the color/pattern/art trends for this season?
In terms of print and color our SS21 line is divided into 4 assortments, 1 the core assortment covering your basics with different fabrications of blacks and greys including an elevated material story with a tonal reflective print.
The first seasonal assortment is inspired by natural tones and a lighter palette featuring pastel sage and heathered purples. Second assortment, artificial hues, super-bright poppy colors that are trendy, youthful, and vibrant, featuring key colors like sun flare and aqua.
And the last assortment is covering our Hawaii heritage, featuring 3 unique tropical prints, providing island vibes and the spirit of Aloha.
Please name and describe your 3 highlight pieces and items that retailers should definitely order.
Highlights for SS21 you should definitely check out is our Split Adventure 38L,
Split level organization with side compression
Adjustable load lifters and sternum strap
Shoulder straps stow away and offer security buckle feature
Back panel integrates and slides over the travel bag handle
Padded laptop and tablet sleeve
Fleece-lined sunglass pocket
Shoe pocket
Internal organizer pocket for pens, small accessories, etc
Water bottle / quick access pocket
Packable Backpack 22L
Packable into an internal pocket
Lightweight mesh shoulder straps
Adjustable and removable sternum strap
Drawstring top closure
Dual web handles with a snap loop
Exterior zippered pocket
Mesh side pocket
Material options: cordura polyester nylon heather / cordura nylon ripstop/recycled polyester with print
Packable Rolltop Dry Pack 30L
Waterproof IPX4
Rolltop closure
Breathable and lightweight backpack straps
75D cordura ripstop material