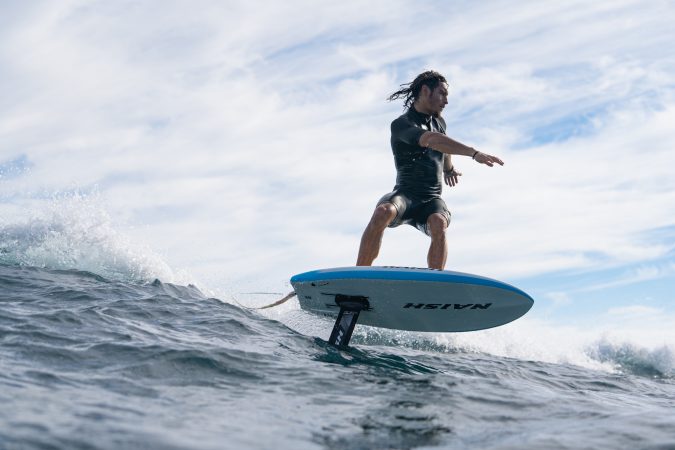 Naish SS24 Foil Preview
Retail Buyers Guide: Foiling 2023 Retail Buyer's Guide
Brand: Naish
Interviewee: Michi Schweiger, Product Manager
What are the main trends in foil construction, materials and design that the industry is progressing towards?
Pre preg construction is becoming pretty much the standard for premium foil setups. Mostly applied to front foils but also to monolithic carbon foil systems. The quality and strength is superior to wet layup production if done correctly allowing for better weight control while increasing strength. Aluminium parts have also increased in quality over the years with well controlled in house CNC capabilities with the factories that we work with. Advantages are that parts are well fitted, better controlled and of premium quality. 
What sport is driving more foils demand at the moment (kite, wind, wing, surf…)
Wing foiling is clearly the leader here. Attracting not only customers that come from other wing sports but also a new breed that has never looked at wind sports before. 
Which of your 2023 foils are selling well and why?
Commercially our Jet foil setups are doing really well in the entry level market – easy access is key in that segment. The goal is to get novices into the sport with quick success rates. The HA foil line and the Mach 1 foil line within the medium to higher skill level market. HA foils are very popular due to their outstanding glide while decreasing the low end treshhold due to their increased leading edge wing span. Mach 1 foils are gaining popularity with increasing rider skill levels and the wish to start to go faster on a foil. 
What are the highlights of your 2024 foil offer?
For the 2024 line we have streamlined our offering to the following key segments:
Ultra jets – the successor to our Jet line. Easy to ride while having the potential to increase the customers riding skill level much longer due to higher top speeds and increased glide
New HA line – increased wing span, new foil section with new wing tip style – resulting in maximized glide, pump and speed while offering turning ability. Sizes reaching from 640 – 840 – 1040 – 1240 – 1440 and 1840
Mach 1 range – the ultimate to push the speed barrier while offering incredible turning ability that also accommodates freestyle and waveriding for skilled riders. We have managed to decrease the weight of the new Mach1 1100 quite a bit while keeping the stiffness the same. Also suitable for kiting and windsurf foiling
Kite foil range – a well balanced range with the 650, 810 and a new 980 foil setup that offers well rounded performance for kiting. Smaller riders might also consider them for wing foiling
New mast setup – ranging from alumium masts to 55% carbon and 100% carbon – all with our 2 x M8 screw mini tuttle style connection 
New padded bags and foil covers
How will you segment the range, and which segment do you expect to grow the most?
I believe this question is mostly covered in the question above. In terms of growth (not market size) I believe that HA style foils and speed style setups will gain ground. HA style foils are gaining popularity due to their early take off speed and increased glide. And Mach1 foils have an increased following based on the natural drive of riders to go faster
What materials and construction techniques are you using for your 2024 range?
We continue with the prepreg construction for all of our front foils and stabilizers. Most of our front foils feature a dual expansion foam core while the stablizers achieve maximum stiffness with a no core layup. All of our front foils and stabilizers have a satin finish and are incredible scratch resistant. The prepreg layup allows for increduible durability and an easy sanding process in case the foils get run into the reef/ ground. For the masts we use a glossy finish for the carbon masts which makes it easy to clean them from any contamination such as sun screen and oil. A lot of the sanding processes are automated increasing the accuracy and minimizing the tolerances. 
Have you implemented any new sustainable practices in your production and shipping processes?
We have eliminated most plastics from the packaging process which we started some years ago already. We also offer semi complete sets which also decreases packaging materials by replacing them with useable covers and bags compared to selling and shipping individual parts. 
How will you support retailers to sell your 2024 foils?
All of our dealers will be trained to answer all questions possible and to be  the expert in their field and will have the possibility to get TEST packages so it will be easy for consumers to go to a dealer or teststation for a personal comparison.
 What's your current situation regarding stock and deliveries? What's your forecast for your 2024 foils? 
Our 2022/2023 range is actual stock and Naish is able to deliver most of the boards and foils within 24 hours. We see there a countries where Foiling and winging are taking off and are realy dominant, we also see that in more conservative countries the foiling scene is taking shape just now and will follow the leading countries of which the USA is certainly one of them.
Best Sellers
The Ultra Jet Range is the successor to our Jet line. The cutting-edge carbon construction technology provides unparalleled strength and agility for riders of all levels. With the use of 100% prepreg 3K carbon, along with UD carbon and glass core layup, this foil offers incredible lift and speed without compromising stability or control. The gradual lift and horizontal stability of the Ultra Jet foil wing ensure a thrilling yet accessible experience for wingfoiling, kitefoiling, windsurfing or SUP foiling. With its thinner profile and rounded wing tips, this high-performance foil offers unparalleled maneuverability and acceleration, making it perfect for riders of any skill level.
The new Jet High Aspect foils represent a significant leap forward in efficiency and performance. With an increased leading edge area for narrowing foil sections, the glide and stability of the Jet HA are second to none. The wing tips have been strategically designed to maximize speed, pumping efficiency, and turning ability, creating an unmatched level of maneuverability. With reduced drag from the slight rake angle, the new design provides more control and improved lift during turns. Ideal for all riders regardless of skill level, the Jet HA offers an unprecedented balance between stabilization and performance, ensuring a smooth foiling experience on any wave or swell.
Introducing the latest range of Naish foil masts, engineered to provide unmatched performance and durability. Our range of aluminum masts utilizes a new sectional structure that places thicker walls around critical buckling points, making it significantly more robust than its predecessor. Meanwhile, the C55 and C100 carbon masts boast state-of-the-art designs that offer superior bending and torsional rigidity. The carbon construction provides a light-weight build that enhances speed and control while preventing corrosion with stainless steel inserts and a molded fuselage connector. Choose between sizes ranging from 60 cm to 95 cm to suit all styles of riding. Experience the ultimate in foil performance with the Naish foil mast range.