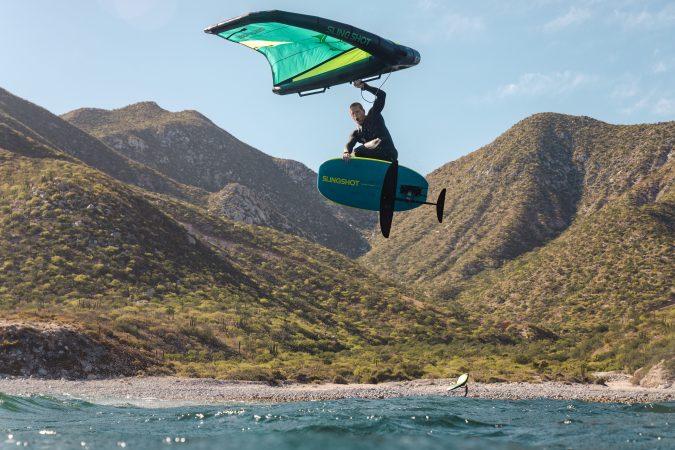 Slingshot SS24 Foil Preview
Retail Buyers Guide: Foiling 2023 Retail Buyer's Guide
Brand: Slingshot
Interviewee: Wyatt Miller, Brand Manager Wing/Wind
What are the main trends in foil construction, materials and design that the industry is progressing towards?
Everyone is using carbon fiber in their front wings to make them stiff and dependable in the carve with limited flex.  We saw a big trend towards extreme high aspect foils for gliding in the past year, now we are seeing customers preferring the stability and dependable carving characteristics along with  the increased get up and go of medium aspect foils.  Plus just looking at a super high aspect foil one can be unnerved by the sharpy and pointy wintips which makes many folks trend towards the less sharp medium aspect foils. 
What sport is driving more foils demand at the moment (kite, wind, wing, surf…)?
Wing is still driving the most foil sales, although wake is a close second.  There are still a ton of avid wake customers who have yet to be exposed to foiling and the more we see people using foils in wake the more people will realize that it reinvigorates peoples enthusiasm for wake boats that are less expensive and don't product a monster wake like the $250,000 boats do.
Which of your 2023 foils are selling well and why?
Our G Series wings are selling the most.  They are a medium to high aspect foil that are super stable to ride.  They have great low end getup and go, plenty of glide and generally make people feel like heros on the water with their ease of use.  You can really pick a single size like our best selling  G900 at 1263cm2 and use it in an amazingly wide range of wind conditions form 13 to 30mph!  We believe that stable wings that inspire rider confidence are what bring people into the market and make them stay.
What are the highlights of your 2024 foil offer?
The  5 sizes of G Series mid/high aspect wings with aspect rations around 6.5 described above, wings you can learn on if you are a tad adventurous and you will never outgrow as your skill develop. The 3 sized of E (Easy) Series wings with aspect rations around 5.5   that are ultra stable and come in bigger sizes from 1550-2200m3 built to make everything easy. The 4 sizes of full high aspect PTM series wings with aspect ratios around 9 that are built for more advanced riders who want to maximise pump and glide efficiency.
How will you segment the range, and which segment do you expect to grow the most?
Segments are above, we expect the mid/high aspect G series to grow the most as users can learn on them and not outgrow them as their skills develop
What materials and construction techniques are you using for your 2024 range?
We are using carbon wrapped around  a high density polyeurethane core for maximum stiffness and durability 
Have you implemented any new sustainable practices in your production and shipping processes? 
Our masts and lower packages (front wing/fuse/stabilizer) all come in padded bags that users will use for the entire life of the product instead of toss away Styrofoam.
How will you support retailers to sell your 2024 foils?
In addition to in store POP. We have a online "Foil Finder" that retailers can imbed on the website that asks customers a few questions ot help them find the perfect foil for their sport, weight, skill level and wind conditions.  This really helps to simplify the discision making process 
What's your current situation regarding stock and deliveries? What's your forecast for your 2024 foils?
Like most of the industry post covid,  we are well stocked on most of our range going into Spring.
Best Sellers
G Series:  The G Series is the the mid-high aspect line that is all about maximizing pump and glide performance while being stable in the roll so they don't take a ton of concentration and ankle work to keep flying balanced and steady.  They are all super dependable under foot and give you the confidence you need to carve hard. 
E Series:  We wanted to design a wing that would lead to that "Eureka" foiling moment as quickly as possible.  With a wide chord in the middle for smooth even lift at low speeds and then quickly tapered wing tips that were easy to control with downturned ends for safety.  These wing not only lead to early success but they can cruise at the low speeds demanded by our wake team playing 4 wakes back.
PTM Series: The PTM Series of high-aspect carbon-fiber front wings are the pinnacle of foiling efficiency. Designed to be ridden hard and fast, the PTM Series wings cut through the water like butter with minimal drag and incredible top-end speed. If you are looking for maximum pump and glide performance, a great turning radius, and lightning-fast speed reaches, this wing is for you.