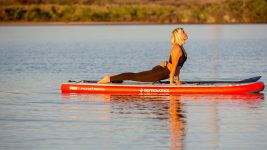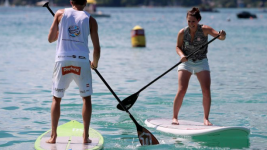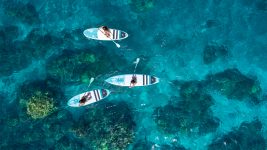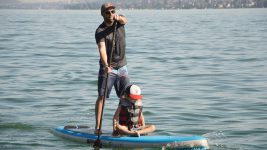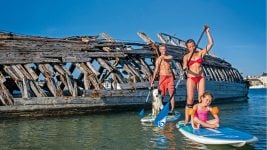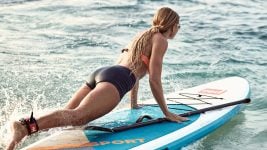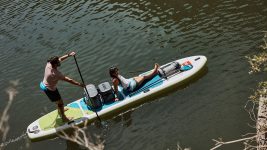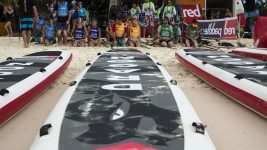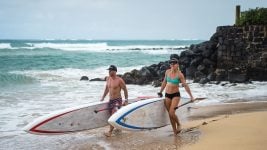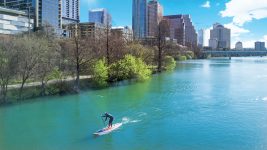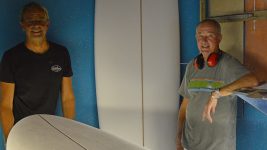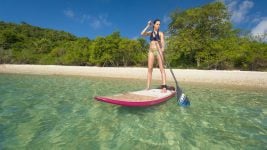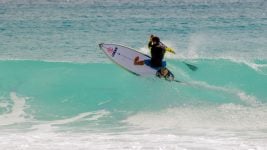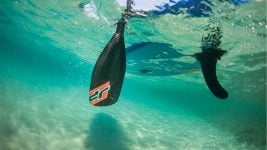 The crazy SUP boom is behind us now, but don't worry because a downturn is nowhere in sight. It's more like a levelling off in an upward track, which is helping everyone take a step back and relax in order to plan the next phase of market growth from a more realistic viewpoint. Find out how this vision is playing out in the inflatable and hardboard sectors in our 2018 SUP Retail Buyer's Guide. By David Bianic.
Over the course of five years, the inflatable board has played two roles simultaneously in the SUP industry. It has been its best friend, helping the number of SUP practitioners explode at a much greater rate than either of the more elitist race or surf categories. At the same time, and very quickly, the iSUP has also become the worst enemy of the original SUP manufacturers, because by opening up the sport to a wider audience than the traditional boardsport community, it has also attracted manufacturers from outside the boardsport industry and culture, which has clouded the waters and transformed Stand-Up Paddleboarding into a mass consumer product like any other. In 2018, endemic SUP brands are trying to reconcile inflatable and hard boards, all the while trying to communicate the message of an authentic culture to be preserved, since it means added value for everyone, stand-up paddlers and shop owners alike. "One of the keys to growth remains our capability to nurture the paddle community, to the point where when clients buy a board they discover that an actual community and lifestyle exists in which they can take part," hopes Anthony Scaturro, Global Brand Manager for SIC.
Anthony from SIC told us that as far as numbers are concerned, a study undertaken by the firm Kompass for SUPIA (Stand Up Paddle Industry Association) takes a look back at the year 2015 and notes an uptick of 5% in the amount of people who stand-up paddle board. The answer to this slight levelling off is perhaps due to the fact that "more and more people already own a SUP and the rate of renewal isn't as high as it was in the past," answers Benoît Brecq from Ari'i Nui, before specifying "90% of the market is centred on flat water strolls and recreational outings."
For Gerd Weisner, the Founder of Lightboardcorp, the percentage of market share of inflatable vs. hard is about 95% to 5%: "I'd say you'll find that the market of elite racing boards is currently at 30% / 70% between hard and inflatables, while the Touring and All-round categories are almost 100% inflatable, SUP surfboards are 100% hard, but very limited". At the heart of this market guided by a demand for recreational boards, what place is there in shops for the offering of core products?
INFLATABLE SUP TRENDS
For authentic brands in the SUP sector, the apparent simplicity of the all-round models often hides a considerable amount of work: "The concept of a well-performing product is often poorly perceived in my opinion," insists John Hibbard, Creator of Red Paddle Co., because "we put as much effort into our all-round boards as we do into our elite race boards." As a matter of fact, these introductory boards must set themselves apart through the quality of the materials used to build them and by their longevity, while no-name boards sold on Amazon suffer from a lack of quality manufacturing that are unjustifiable, even with rock-bottom prices. The warranty return rate at Red Paddle Co. is just 0.02% reveals John, while at Jobe Sports inflatables all come with a 3-year warranty, which William Doornekamp affirms is a solid selling point.
This improvement in quality is the result of much attention paid to details like new glues or the way in which the PVC is layered in drop-stitch manufacturing, explains Sylvain Aurenche, the Marketing Manager at Lohahi. The same attention to the little things is making a big difference at Lightboardcorp with a new fin box launch this spring, Ispeedboxx, which is compatible with all US Box fins, but especially that doesn't surpass the level of the hull and "eliminates drag to go faster, and turns out to be sturdier than glued fin boxes", Gerd Weisner assures us. At Hala, a retractable fin (Hala Stompbox) has been included on river models to avoid hooking up on underwater obstacles in rapids.
The quality of accessories is also coming into play, since these iSUPs are most often sold in package form, explains Neal Elbaz, the Head of Product at Poolstar (ZRay, Skiffo, Wattsup, Coasto): "It is important to note that all of our boards are sold as a "bundle" with high quality accessories (wheeled backpacks, pump, paddle, leash, repair kit, strap)."
iSUP CONSTRUCTIONS: MOSTLY MAINTAINING THE STATUS QUO
Most manufacturers continue offering two types of construction for two different market positions: a Fusion-style drop-stitch for the high end (two layers assembled with a thermal bonding process using little or no glue) and a single layer (often reinforced by stringers or other strips of material to help strengthen construction) for entry-level and mid-range products: "We are going to develop even better hybrid systems thanks to our belt/stringer technology, because it lets us combine the two strengths of an inflatable construction, which are the lightness of a single layer board and the stiffness of a double layer model," explains Markus Perrevoort from Siren SUP. In 2018, JP Australia is upping the ante in inflatable construction by offering triple layer models, which "make the boards super firm and solid while decreasing the weight in a spectacular fashion compared to certain competitors," affirms the UK Brand Manager Andy Chambers, while the lightest models weigh in at only 7.9 kilos.
This race for stiffness in iSUP isn't the only developmental axis, as Jack Castle from the US brand Hala Gear reminds us: "Making a board hard is one thing, but a shape that offers optimum stability and gliding properties represents a real challenge." Hala offers innovative rails (Hala Peño model) that use lower volume drop-stitch tubes. The Germans at Tripstix are betting on a completely new construction, VacuuAir technology, which is a multi-chamber board, filled with granules that once they are vacuum packed act as stringers, as rigid as a "bag of vacuum packed coffee", claims founder Stefan Klare. The goal is above all to be able to give a much more "realistic" shape to an inflatable SUP, with well-designed rails, a concave hull and a more balanced rocker. Very exciting on paper, the concept still has to be tested even though the first boards are already showing up in the marketplace after a fundraising campaign on Kickstarter.
HARD SUP TRENDS
Even though SUP hardboards have been relegated to a niche in the global stand-up paddleboard market, they obviously have a place in surf shops and especially SUP surfing models. It started last season, and the trend of a return to longboard-style shapes is becoming clearer in 2018 confirms Belar Diaz, SUP Brand Manager at F-One: "High-performance shortboards are disappearing little by little, in favour of long SUP and other more polyvalent boards." Easier to handle than more radical micro-SUPs, these SUP longboards are technical nonetheless: "They're designed with thin, low rails, tail fins, and classic noserider outlines," details Gerd Weisner from Lightboardcorp. A return to "real" surfing also translated by more traditional constructions, confides Andy Wirtz from Norden, whose performance SUP surfboards are abandoning carbon composite materials and are instead coming back to normal surfboard construction: "The boards are less expensive, look better – like a surfboard – and perform better thanks to the way they flex". Others are also betting on the rise of the hydrofoil in the waves, like Fanatic with its Stubby Foil Edition model equipped with the Foil S1 (sold separately). F-One is promoting its Papenoo Convertible, "the Swiss Army knife of SUP that lets you surf-foil and wind-foil with the same board," Belar explains in detail. For Maurus Stroble from Indiana SUP, the foil could be a partial solution to the cohabitation problem with other wave riders, "by trying to ride waves that no one was surfing until now, because they're not big or hollow enough." The brand will bring to market a 7'8" SUP foil next June developed by Gunnar Biniasch and Andi Widmann.
Race remains a flagship category, a veritable showcase for manufacturers' savoir-faire, even if it only generates anecdotal sales figures in comparison with recreational boards. Hollow and triple layer carbon construction at Lightboardcorp, or a choice of three to four widths of the same model (SIC Rocket Ship), the race board is following a price curve inversely proportional to the entry-level iSUP as prices continue going up, up and up: the average price tag in shops varies between 2500€ and 3000€. Last but not least, Surftech offers a treat to SUPer girls, through a women-specific collection, in collaboration with the women outdoor apparel brand prAna. The three hardboards (and two iSUPs), as well as paddles & accessories, display "fabulous aesthetics, with sustainable features, such as the 'Bloom' algae based deck pads," says Richard Priestley.
RENTALS & SCHOOLS
Since lots of shops on the coast offer a seasonal surf school and rental material, the soft-top SUP is turning out to be an excellent alternative to inflatable boards, like three models by Norden (9'6'' and 10'8'' surf/all-round, 11' touring) with an EPS core, double wood stringers, reinforced areas under the feet and on the rails, as well as tail and nose blocks integrated into the construction. In the same manner, BIC Sport believes strongly in its Tough-Tec technology for the school/rental market: "By moulding a PE skin on an EPS core, we've managed to produce extremely resistant boards, that are relatively light and for a low cost, with everything produced in France," points out Communication Manager Benoît Tréguilly. Marketing Director Caren Forbes confides that the rental market is also an opportunity for NSP whose SUPs featuring their E+ construction are highly sought after by rental outlets due to "a bullet-proof coating on the deck and hull," which is very reassuring for the durability of the boards. Also noteworthy is that the E+ models come with a specially built hole in the nose for keeping rental boards under lock and key. Surftech also place emphasis on the "unbreakable" features of their rental models, the Utility Armour series, "a range of durable, heavily reinforced boards," says Richard Priestley.
AVAILABILITY: THE MAIN STRENGTH
Above and beyond the interest of shops for one model or another – inflatable or hard together – the key to sales is often the availability of boards, due to the dangerous thickening of product catalogues over the last few years, which has multiplied the number of SKUs. "All of the boards are not represented in the stores. It would be physically impossible," admits Benoît from BIC.
The brands are aware of this and do their best to deal with the constraints of the shops: "We can count on a quality distribution network internationally and we have a central warehouse in Europe with a sufficient amount of stock to supply all demands during the peak of summer," explain Carin and Craig Gertenbach from Fanatic. It's the same method of operation at Lightboardcorop, with the only difference being that their hardboards are made in Europe, meaning a delay of four to seven weeks for delivery of a custom order.
The importance of a solid B2B-webshop is crucial, points out Maurus from Indiana: "The shops can see which products are available and the products ordered leave the warehouse the same day or the next".
Another solution, which is not incompatible with the first, is to reduce the product offering like at Norden, explains Andy Wirtz: "We try to reduce as much as possible our line and don't change things every year," as a results un-sold products don't lose their value from one season to the next. Reducing the number of models, but also the different types of construction: one board, one construction, adds Andy who says that having "every board in three different constructions is neither necessary, nor functional."
PAMPERING YOUR STORE
Partner is the one word on the lips of every brand, "it's the only way to envisage things," affirms Sylvain from Lokahi, before adding that "yes, we need feedback from the shops and yes, we need them to maintain a small stock, otherwise we can't know which boards to have in stock at the warehouse". That is why a certain transparency is necessary where prices are concerned, adds Markus from Siren SUP, whereas "other brands include (future) discounts in their prices, an unfair practice." Working hand in hand is also an obligation for Boardworks, whose range was entirely reworked for 2018: "We are aware that brick and mortar stores are always under pressure and we have created innovative new programs, including marketing strategies to which only our dealers have access," states Brand Manager Andrew Mencinsky. The same idea holds true at Jobe Sports, whose online platform Jobe Academy makes it possible "to inform dealers about different products, especially which ones to recommend to which clients," thanks to videos and questionnaires says William Doornekamp. In order to promote the most proactive dealers who do product tests on a regular basis, SIC offers partnerships using the label Five Star Glide Centre. Rewarding dealers is also the policy at JP Australia: in exchange for their pre-orders, store owners are guaranteed "to be able to satisfy their clients and to obtain the best margins possible," assures Andy Chambers.
The message is clear: the (low) price battle has perhaps been lost to the fake brands on the web, but the war will be won in the medium term through an ever-tightening partnership between core players, using the best arms available to the SUP industry: quality, innovation and a culture spread via a network of dealers. This is our call to arms!
HIGHLIGHTS
-Technical added value on iSUPs
-More elaborate iSUP shapes
-Soft-tops for schools/rentals
-Longboard SUPs (hard)
-Foil boards