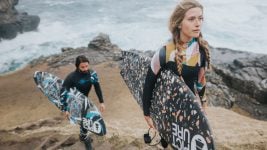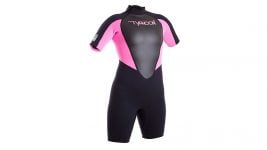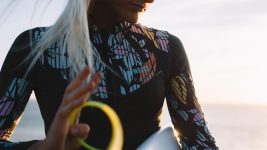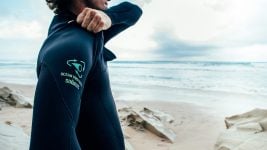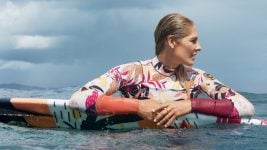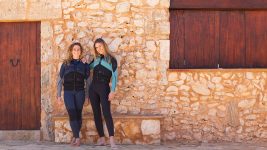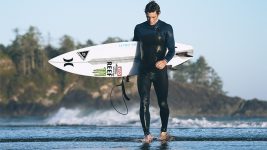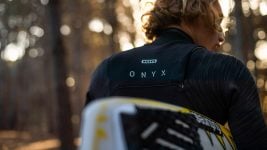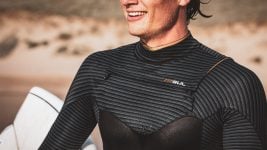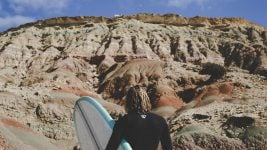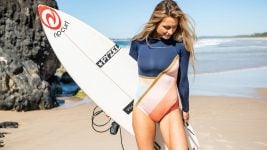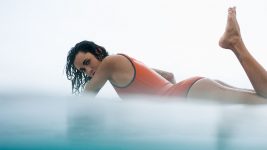 With summer barely even over, SOURCE brings you its own endless summer with a leap into the future. Destination: spring-summer wetsuits 2020. Next season will be warm but also cleaner and more comfortable. Buyer's Guide by David Bianic.
2018: the fourth hottest year on record. 2019? July was the hottest one ever recorded on Earth… The symptoms of global warming have had an effect on the boardsports market and the wetsuits market along with it. Will the spring/summer models be used as much as 4/3s throughout the course of the year? High demand has allowed new players to flourish, shaking up historical brands. The two weapons used by these new brands are either new, direct-2-consumer distribution channels or more eco-friendly ranges that industry big guns haven't necessarily adopted yet. To attain the same standards of flex, durability and warmth with the new, cleaner materials, a whole R&D cycle has been triggered in the sector once again and "not only in terms of raw materials and production processes," says Pedro Towers, Product Manager at Onda Wetsuits as he alludes to choosing more pragmatic collections staggered over several seasons. This is the case at Typhoon as well who have taken "a conscious decision for SS20 to minimise change", affirms Irene Duncan, Product Manager, to "assist the retailer in stock consistency and management due to the challenging market." "It's funny", states William Doornekamp, B2B marketer at Jobe Sports, "when I sit down with friends, everyone reckons wetsuits are a simple product for a simple market but the wetsuit market is constantly evolving throughout the years."
TRENDS SS20
CLEANER MATERIALS
The impact of Patagonia on the rest of the supply chain is now clear to see. Even though sales of their Yulex wetsuits (natural latex based on hevea sap) are still marginal, their efforts are being felt in classic models. The sourcing and manufacturing processes going in to them have been reviewed by almost all brands. Let's start with Carbon Black. This is a neoprene component "which can now be pyrolized from scrap rubber tyres", explains John Westlake, Manufacturing Director at Alder. Often brandished like an eco-friendly dagger, its manufacturing process is far from exemplary, reminds Benoît Brecq from MDNS: "Limestone needs a huge amount of energy to transform the rock into rubber and Ecoprene also requires a lot of energy to recycle the plastic". Limestone models are nonetheless on offer from Hurley, Volte, Saint Jacques, O'Neill, Typhoon, C-Skins, Jobe Sports, Xcel, Wildsuits, Picture, Roxy (Pop Surf), Adelio, Onda and Alder, often alongside more traditional models. Neoprene is not the only ingredient to get the green treatment; jerseys (inner or outer) are often now made of recycled plastic (Adelio, Xcel, Picture, C-Skins) and water is a resource that's treated with a bit more respect as well these days, thanks to dyes such as dope dye, which considerably reduces the amount of water required (Billabong Xcel, Alder, Hurley, O'Neill, C-Skins). Furthermore in glues, solvents are being abandoned in favour of aqueous bases (Billabong, Xcel, Alder, Onda, Picture, Roxy Pop Surf, O'Neill, C-Skins, Wildsuits) or replaced by water-based inks (Hurley). Finally, packaging is also subject to the same measures and brands are swapping out classic plastic films for biodegradable substances (Adelio, Billabong, Alder).
But the must-have is still Yulex, as mentioned above. 2020 marks a significant push towards this 'clean' neoprene, which is also used by Gul, Onda and MDNS (Madness successfully rebranded).
Do pay attention to the commercial realities though… Julien Durant, Co-Founder of Picture Organic Clothing admits to a lack of expected success in this niche even though their first models were made of Naturalprene (a Yulex equivalent): "We failed in this market because it is a niche market clearly led by Patagonia and where wetsuits are very expensive." Picture has now realigned itself on more accessible price points with their ecological heritage still intact (limestone, carbon black, aquaglue, recycled polyamide). For your wetsuits at the end of their lives, some brands like newcomers Wildsuits are offering a new lease of life, as donations to the Surfers Solidaires association or – if they are too destroyed – to Néocombine, "who make upcycled neoprene products such as Wildsuits bracelets or Wildsuits key chains," explains Olivier Boileau, Co-Founder of the brand.
LINERS: "INTEL INSIDE"
Graphine, the super fabric made from graphite (carbon) that earned a Nobel Prize in 2010 has made an appearance in Billabong's range. "It is the best heat conducting material in the world", rejoices Technical Division Manager François Liets before adding that this material is also "hyper flexible and it is also the best material at retaining heat". Just as high-tech, the Radiant Rebound inner liner mentioned above from Xcel uses an electro-galvanised metal, combined with fabric with hollow fibres. It all works like a NASA space suit, assures Lance Varon, by trapping in the heat and sending it rebounding back to your body. These liners are also very much prized for their comfort and at ION, their Plasma Plush 2.0 inner is equipped with an all-new Silk Stuff fabric that's silky to the touch. At MDNS comfort is added by integrating two mini cushions into the Pure models to avoid chafing on the ribs. "We also added paddle zones on the forearms that assist propulsion when you paddle," adds Benoît Brecq.
SEAMS AND PANELS
The best neoprene, the best liner, the best fit, all this can be undone by bad seams, which can limit stretch or take in water. At Jobe, they employ their Minimal Seam Technology to reduce them to a minimum. Quiksilver are pushing the envelope further still with their new 2020 Highline Pro model, an ergonomic 1mm wetsuit without seams: "It only features 9 panels when some wetsuits have about 20," explains Fares Hamida, Global Wetsuits Lead Designer for Quiksilver and Roxy. The model is aimed at short, explosive sessions and will be available in goofy and regular, delivered in a luxurious box. Although it is a winter model, we should mention the new integral Psycho Tech from O'Neill, also absolutely seamless and free from any stitch through which water can enter. The panels are subjected to triple gluing and the joints are sealed on the outside with their Fluid Seam Weld and an interior TB3X taped seal. As for Gul, they have abandoned this type of liquid seam in favour of Lava Tape, which is "as fluid as Lava, it stretches with your body to ensure no leakage as it becomes one with the lining of the suit," explains Sales Director Mike Pickering. Adelio are testing out an inverted stitch procedure on a capsule collection and we can't wait to see the results of that.
FEMININE SILHOUETTES
You just have to scan the line up in summer to realise that girls are much less shy when it comes to different cuts and silhouettes. Although classic models remain the best sellers, affirms Jan from O'Neill, the brand has noticed a rise in demand for long-johns (sleeveless suits) and are offering spring suits of different leg lengths and even really retro front zips. At Gul, the long-john has been feminised to Long Jane (and the short-john to Short Jane), all zipless. Other examples of sleeveless spring suits come from Roxy, Adelio with long and short-sleeved spring suits with cheeky bikini cut, MDNS (Short Booty Cut) and Onda (Hot Chilli). Although not strictly wetsuits, surf leggings have also become popular. Hurley and Roxy are offering them as well as C-Skins who are accompanying this piece with their Bra Top. Why not make a whole technical wardrobe to surf in? With their penchant for haute couture, the French brand Saint Jacques are offering a long-sleeved shorty with a stylish little skirt, the Jeanne: "A unique design inspired by the '60s casual trend of tennis dress. Or how to be fancy and sexy at the same time," assures Founder Stan Bresson.
AND THEN THERE WAS COLOUR
For a certain number of brands, playing with colour is not the order of the day, as if this aesthetic added-value is to the detriment of the technical properties of their wetsuits. This is the case at Xcel, whose philosophy remains "function over fashion," explains Lance Varon, as you sometimes need to add more seams to add prints. Picture also admitted to their U-turn from offering flashy colours in the past, which customers weren't really into, coming back to more sober prints in black and dark blue.
Billabong approaches it with little touches, panels of colour on the flanks of the body, and you have to look towards their wetsuit jackets to find prints, notably in camo or relief patterns on feminine models. Once again it's the ladies who inherit the coolest looks, like the tie-dye and palm tree patterns at Gul. At O'Neill, Jan Michaelis is also promising new things in terms of prints for ladies models, "the first is called Baylen, a dynamic twist on a traditional floral design and will feature in wetsuits, rashies, wake vests, swimwear, sunnies and so on…" With the 2020 Tokyo Olympics in mind, C-Skins are making a Japanese influenced choice through discreet logos and prints over their Core range while other collections offer more colours and prints using thermal sublimation. Each year Jobe introduce a flagship colour and for 2020 this will be vintage teal blue, "to give the wetsuits more ocean like colours", explains William Doornekamp.
Another aesthetic choice from Hurley is a quasi pro-model line, inspired by the different styles of their male and female WSL Championship Tour surfers: "These feature bright colours and patterns representing each surfer's unique personality", asserts Wetsuit Developer Emily Bridgford. To end on a celebratory note: Quiksilver's 50th birthday will be toasted with a black collection featuring golden logos on the Highline models. Less bling-bling and more tangy: little sister Roxy will continue the Pop Surf collection whose prints and colours reflect their swimwear collection.
This overview of the 2020 spring/summer shows that environmental issues constitute a formidable opportunity for wetsuit brands to forge ahead with, as cleaner wetsuits are sure to represent a big growth lever in the coming years. Please don't miss the boat dear retailers!