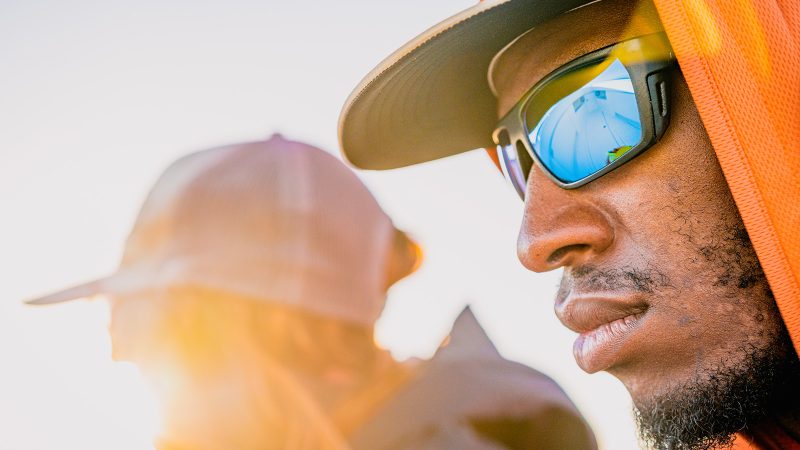 Bajio 2023 Sunglasses Preview
Retail Buyers Guide: Sunglasses 2023 Retail Buyer's Guide
Brand: Bajio
Interviewee: Shauna Metz, Marketing Director
What are the current trends in sunglasses for board sports?
We're not necessarily in the board sports market, but design will always draw inspiration from like-minded sport categories and even, unrelated categories/tends for inspiration. In a world where social media forces a mind-crushing pace of change, faster than a 1-2 yr development cycle can try to keep up with,  it's more important to focus design on what speaks to the brand and the features and performance that we promise our customer.  This will inform the design direction, more than any particular trend. In general, classic/heritage sunglass frame shapes have been played out and are trending toward the outer edges of their respective form factors, either more geometric/angular or softer/rounder.  Definitely more confidence in experimentation around the edges. Although the narrower, upswept sport shapes of the 90's/early 2000's are showing up on the fashion pages, I can't see a huge move away from the large lenses and great field of view that the customer has become accustomed to recently. Retro '90s colors and patterns have an influence across the board, where appropriate.
How are you segmenting your sunglasses?
We've organized our line into 6 collections for 2023. There's a saying out there we refer to as K.I.S.S. Keep it simple stupid. At Bajio, we believe in simple. Every style is designed for a reason. We don't need hundreds of redundant options in every color of the rainbow clogging up the retail space and causing customer confusion. Our line is simple. And smart. It features 6 collections, each with a frame style in every size. Our line totals 24 styles, each in three colors. Everything you need and want, but not more. It's simple.
Where do you expect your biggest growth in 2023?
We're going to continue to fan the flames in coastal communities around the US and spread in areas that surround our coastline. We're a water brand so winning these communities is key to our success.
What frame shapes and colours are most popular from your offering and why?
We launched our Las Rocas frame in June of 2022 and ended up winning the Best of Eyewear category in the New Product Showcase at the world's largest sportfishing trade show – ICAST. The Shoal Tortoise frame color and vibrant Green Mirror glass lens was a reel show stopper (pun intended!).
What lens technologies are you currently working with? 
The most common response we hear from customers when trying on a pair of Bajíos for the first time is, "Wow, these are so clear—I see more and see better." Here's why: Bajío is taking a completely new approach to light management. While others have technology that reduces yellow light, ours reduces blue light. We hear a lot about reducing blue light from computers, but the biggest producer of blue light is the sun. For those of us who spend more time on the water than in front of a screen, blocking the sun's blue light is critical to our vision and our health. Using proprietary techniques, Bajío is able to improve lens clarity, reduce blur, glare and haze while enhancing color and protecting your eyes from harmful rays. Blocking 95% of blue light up to  445 nm, Bajío sunglasses block more blue light than any other brand on the market. The result: See fish better in Bajíos.
Which lens colours and tints are you offering this year?
We offer 7 lens colors in 13 lens options
• Polycarbonate: Blue Mirror, Gray, Green Mirror, Silver Mirror, Copper, Rose Mirror, Violet Mirror
• Glass: Blue Mirror, Gray, Green Mirror, Silver Mirror, Copper, Rose Mirror,
What are the main materials used in your 2023 sunglasses offering? 
Because our mission is to protect the world's saltwater flats (Bajíos), every decision we make supports that quest. Sustainable business choices are key at each step along the way from design to packaging. everything counts—from the materials we use to the vendors we choose—we are conscious and committed to finding and continuously improving our products to meet the highest performance standards while using the most sustainable resources and best practices available.
Glass lenses
While you might think there's plenty of sand available to make glass, humans use more of it than we do oil. Thankfully, glass is 100% recyclable— it comes from the Earth and goes back to the Earth. Glass has an unlimited life and can be recycled endlessly.
Bio-based frames
Without sacrificing performance, we are driving the change from traditional materials to greener options. We consciously partner with factories who follow this ethos—those who are powered by renewable energy, self-sustaining, carbon neutral, and zero waste.
Cactus leather cases 
When it comes to storing your sunglasses, Bajío is in pursuit of the best case scenario. We've never wanted to use a traditional plastic sunglass case. Instead, we have sought sustainable materials. We sampled faux leathers made from mango skins, apple skins and more.
Recycled packaging 
When it comes to packaging, why wouldn't we use recycled paper? Using 100% recycled instead of 100% virgin fiber paper saves 100% of the trees, uses 69% less energy, uses 47% less water, and creates 39% less solid waste.
Organic cotton
Bajío t-shirts are made with sustainable GOTS Certified Organic Cotton. GOTS stands for Global Organic Textile Standard—a worldwide leading textile processing standard for organic fibers. GOTS established requirements across the entire supply chain.
Do you offer prescription glasses?
Yes, all of our frames are available in Rx. See more fish and catch more fish with radically clear LAPIS™ prescription lenses. Available in our polycarbonate lenses. Single vision and progressive.
Anything new in terms of sustainability ? 
Every Bajio starts out pristine, like a beach without footprints. We want it to stay that way, which is why we utilize biodegradable products in our frames. If you drop them overboard, the tides will break them down to simple organic compounds, just as the tides wash your footprints off the sand.
The box they come in is made of recycled cardboard. The case is made of cactus leather and the bag is recycled cotton. Even the bamboo shirts come in recycled bags. Everything from the product to the packaging has a purpose and a story. Create amazing products and leave no footprints, that's what we set out to do from the start. We've also created products specifically around conservation initiatives:
• Rooster t-shirt and hat- A percentage of the profits from those products goes towards cleaning up the beaches of Xcalak, Mexico, which is an amazing fishery whose shorelines are inundated with ocean trash and sargassum. Those products fund a daily clean-up crew, their tools and the truck to haul it all away. It helps provide financial support to the town while cleaning up the beaches.
• Camp Cups designed by tattoo artist Casey Anderson- $10 from every pair of sunglasses sold during our Holiday promotion went to fund ocean-minded conversation projects with partners including 4ocean, MANG, Toadfish, I.Care and Pilar Rum.
• With the success of our Holiday campaign, we decided to create a 4-pack of mugs where a $10 donation is made to help fund habitat restoration in our local Bajío, Mosquito Lagoon through the Marine Discovery Center in New Smyrna Beach, FL with every pack sold.
• Temples of Change limited edition sunglasses- With the purchase of the Nato or Balam Temples of Change frames, we plant one coral colony in Xcalak, Mexico to help combat coral bleaching and restore the Mesoamerican Reef through Oceanus, A.C. Bajío contribute $20 per pair—the cost it takes to plant and maintain one coral. Oceanus has planted 6,000 corals in Xcalak to date, each growing from approximately 3cm to 1m in just 7 years (which is extremely fast for coral growth). The positive impact is huge in a relatively short time. "Without healthy coral reefs, fish lose their habitat," explains Nunn. "These coral designs help keep ocean conservation top of mind while taking tangible action to restore our coral reefs."
How are you helping retailers sell this category?
We've launched a retail associate training program through ENDVR to incentivize and educate store employees on our product to help increase sales. We've created new POP materials for retailers to include in their shops to help attract customers to their sunglass display. We've developed stylish Beach and Surf collections that host a ton of technical features including our sun blocking hidden Sun Ledge™ recessed nose pads, interior rubber tips and durable barrel hinges. Score serious style points while reaping the benefits of key technical features with either of these collections.
What's your situation regarding stock and deliveries?
Launching a new brand during the pandemic was not a small task. However, we've been very fortunate and haven't experienced any major issues with keeping stock or delivering our product.
Best Sellers
Nippers- The casual style of the Nippers disguises a deep list of technical features. Wide, polarized lenses provide enhanced field of vision, and feature proprietary LAPIS technology that blocks blue light and diminishes eye strain on the brightest days. The low-density, bio-based nylon frames are lighter than traditional oil-based polymers—yet also provide higher strength and impact resistance.

Vega- Offering a bold, squared, high coverage 8-base wrap design with wide temples to block sidelight and protect eyes from the sun. Vega puts you in a veritable cocoon ready to laser focus on the task at hand. Bajío's polarized, color-enhancing lenses with proprietary blue light-blocking LAPIS technology cut through glare for better fish-spotting, while reducing eye strain and fatigue.
Palometa- Offering a bold, squared, high coverage 8-base wrap design with wide temples to block sidelight and protect eyes from the sun. Vega puts you in a veritable cocoon ready to laser focus on the task at hand. Bajío's polarized, color-enhancing lenses with proprietary blue light-blocking LAPIS technology cut through glare for better fish-spotting, while reducing eye strain and fatigue.