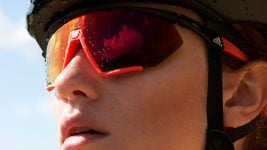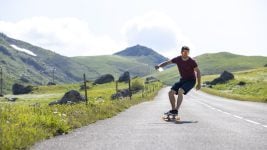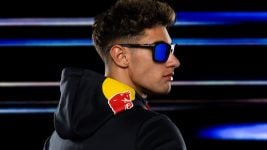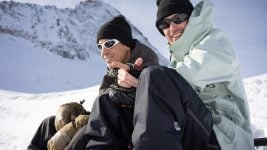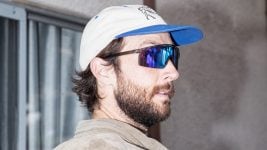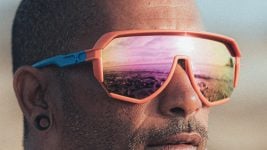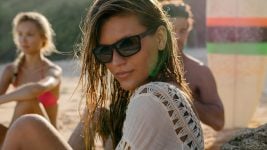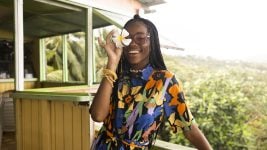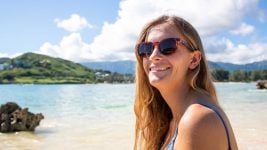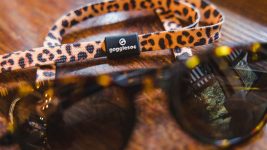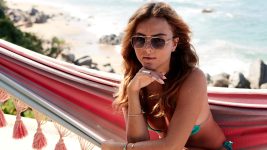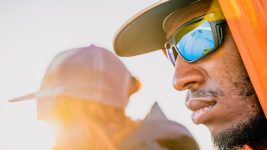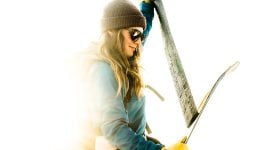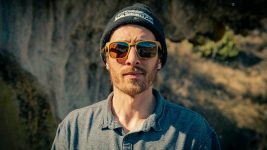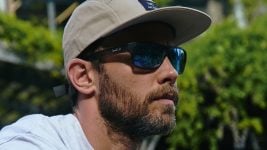 Sunglasses 2023 Retail Buyer's Guide
Vintage looks with modern technology have contributed to the comeback of sunglasses as an all-year round, all-purpose accessory. By Rocio Enriquez.
Sunglasses are no longer just for Summer or during downtime. Like in decades past, active people are choosing performance sunnies over goggles to protect themselves during sports, all-year round. This retro attitude brings retro designs and colours with it. There's a comeback of wrapped, oval and rectangular shapes, with oversized and butterfly styles for women. Shields remain popular. Colours go bright, and we find vintage patterns and milky treatments. Consumer demands have not stayed in the past, though. "There is a tech-savvy rider that wants the latest tech", says Joey Santleyfrom I-Sea. Users seek the latest lens technology and sustainable materials available.
Frames
Performance drives a lot of business and shields keep a steady demand. Cébé offers the S'TrackVision, a mono shield featuring their exclusive S'TechTM technology. Its rubberised nosepiece and temple tips prevent slipping. Smith highlights their cylindrical shield styles Wildcat and Bobcat. They combine a multi-sport purpose with a lifestyle crossover appeal.
Oakley's semi-rimless Hydra draws on their surfing heritage. Anon increased the appeal of their Winderness shield by giving them polarised lenses. Spektrum gets more business from their performance shields than any other style. They introduce two new ones, the Enan, and the Fröa for smaller faces. Other interesting styles are the Lom, that comes with a foam protector for comfort and perspiration management, and the sustainable Blank Raw. Bajio keeps pushing their award-winning Las Rocas launched last summer.
Red Bull Spect fuses their Action and Leisure categories with their Fusion range of shields that include the Tain, Till, Tuan, and Tusk. There are some hints to cyclists. Bollé has launched the Micro Edge, a half-rim frame with narrow shield and sharp lines that enhances horizontal and peripheral vision. Aphex has released a couple of retro cycling inspired models too. "A great alternative to goggles on sunny days", says Tom Howells.
Oakley's Sutro is a versatile style that can be worn on or off the bike. Hilx adds a frameless design to their range with the Savage. CHPO's offer for bikers is the semi-rimless and super lightweight Luca. Cébé's Stamina is a sleek cycling design with a ventilated frame and adjustable nosepads.
Wraparound styles are key in the active scene. Bollé's 8–base Cerber is the brand's rendition of their original wrap DNA. Dragon highlights their Box, a sleek design that sits close to the face. Hilx has fined tuned their Youngblood style to give it more wrap, producing the Newblood. It eliminates unnecessary reflection, improving the overall fit and enhancing sightlines. Their Revok style is a high wrap frame with a snug fit that reduces interference with headwear.
Adidas pushes their Competition range made of lightweight, half-frame, wraparound styles. Quiksilver's Ellipse is a 90s inspired wrapped style adapted for snowboarding, but equally suitable for cruising the beach or the city. Smith's Embark is a glacier glass design. It features a lightweight, impact-resistant frame and a 6-base curvature for a modest wraparound fit. Panda announces two new wraparound styles for 2023. "The Conquer has been hugely popular, which is why we are releasing a similar retro style in the Spring", says Oliver Heath. Melon expects their biggest growth in wraps, especially the ones with late nineties and early noughties influences.
Traditional styles remain strong. Dirty Dog updates their Vendetta wayfarer and Raccoon round styleswith a rubber lining in the nose and inside the arms. They have a very lightweight aviator shape called Maverick. Hobie's Woody Sport is a Cali classic design but sportier. It has co-moulded rubber temples and nose pad and a lightweight smaller round frame. They also offer the best-selling aviator styles Broad and Loma. Quiksilver offers their vintage Slash with various technologies. Roxy proposes the Mia, a classic and urban rounded shape with keyhole. Raen offers the Remmy retro round shape in two sizes, an oversized 52 for women and a 49 more suitable for men. Smith's Lowdown2 is a simple, sophisticated, and timeless frame.
Zeal adds performance attributes such as Z-Lite ultralight frames and ProFlex rubber to their classic shapes. Wave reworks traditional shapes with modern details. "A bit of retro with modern touches makes for a good mix", says Carsten Raphael. Their aviator Cotillo has a distinctive laminated frame made of ebony, white ice, and maple birch. The temples come with rose gold metal and amber acetate endings. Oakley has resurrected their 80s iconic Frogskins. Proof offers the Rainer, a bold oversized frame with minimalist design and laser-etched interior nose bridge detail. CHPO's interpretation of oversized is the Henrik, a very lightweight frame perfect for outdooractivity. Bollé counts two oversized styles in their recent releases, the Arcadia and the Euphoria. The Arcadia is a square navigator equipped with Thermogrip® temple tops and nose pads, and snap hinges.
There are other interesting shapes outside the above categories. Dragon follows the success of the Waverly adding options to their female range. The Tarran is a vintage inspired geometric shape and the Tempest is a flat top that could be unisex.
Roxy introduced the Faye, a 4-base rectangular acetate style. Quiksilver's flat styles are the best-selling Eliminator and Ferris. Their Warlock square shape with a low bridge and inside rubber pads is also strong. Hilx is launching a new 2-in-1 sunglasses + goggles called Samurai. Proof offers a wooden interpretation of the trapezoidal silhouette, the Ontario, with variations of wood grain and steel spring-loaded hinges. Their Grove model combines wood with a double bar metal bridge. Raen's Rune has distinctive angles and sculptural touches around the keyhole bridge and temples. Wave's Aik is their unisex bestseller, made with walnut burl laminated.
Lenses.
Lenses concentrate the big bulk of technological innovation. The main goal is to enhance contrast and adaptability to light conditions. Many brands develop their own proprietary technology. Anon'sPerceive Polarised lenses offer true colour contrast and glare reduction. Bajio's Lapis technology blocks up to 95% of blue light. Bollé developed the Volt+ technology for contrast and the Phantom technology for photochromic lenses. Dragon works with their Lumalens technology that enhances clarity and depth, filtering out light that produces glare.
Smith's ChromaPopTM technology uses dye to selectively filter light in the confusion areas on the visible light spectrum. It can be paired with photochromic lenses. Zeal developed their own plant based Ellume Pola lenses. Oakley's Prizm lenses fine-tune vision for specific environments by emphasising colours where the eye is most sensitive to detail. Hilx has patented their XVizTM lens that uses colour spectrum manipulation to emphasise the terrain that matters.
We find other well proven technologies across all ranges. Zeal partners with Auto Sun to combine photochromic technology with polarised protection in a single lens. Spektrum works mainly with Impacto lenses by Zeiss and are introducing the new Zeiss technology LightPro. This new lens reduces glare, offering up to 80% more contrast and high definition. Quiksilver, Roxy and Melon also work with Zeiss. Red Bull Spect pairs their seamless lens construction with Polar Z lenses. Hobie uses SightmasterTM Plus, especially designed to cut glare and enhance contrast of water surface in low light. They use HydrocleanTM lenses comprised of 100% polarised injected polycarbonate, shatterproof and scratch resistant. Most other brands all use polarised and photochromic lenses too.
Materials.
Sustainability is largely driving the choice of materials. Constant R&D allows to keep performance and quality standards in more environmentally friendly products. Adidas uses RPA12 for their Active product segment. This material is composed of 99.7% recycled plastics. All CHPO frames, and some of I-Sea ones, are made of recycled plastic. Dragon uses recycled PET bottles for their Upcycled collection, and so does Quiksilver for their injected frames.
Wave is working with recycled fishing nets. Zeal has developed See Grass that combines recycled plastics and grass fibres. Raen is updating their black styles to recycled acetate. "With this initiative we'll begin to transition all our black SKUs to Recycled Black", says Lara-Joy Balzer. Proof works with recycled aluminium. The accessory brand gogglesoc is launching an adjustable eyewear retainer made of recycled plastic bottles. "One plastic bottle makes two sunnystrings!", says Daisy Adamson.
Aphex and Bajio produce their entire collections with bio-based frames. Bollé's new Micro Edge has a 100% bio-based frame, and their Arcadia and Cerber feature a 45% of this material. Dragon and Spektrum offer plant-based resin sunglasses, made from castor oil beans. Smith, Zeal and Oakley have developed their own castor oil-based resin called Evolve, Z-Resin, and BiO Matter respectively.
Melon is moving to Bio Grilamid. Proof uses biodegradable cotton-based acetates. Quiksilver and Red Bull Spect choose Rilsan G850. Raen and I-Sea also introduce bio-acetates to their range. Wave and Proof work with different types of wood. Bajio offers glass lenses, a material that is 100% recyclable and hence has an unlimited life.
Retailer Support.
Such a technologically rich category requires constant training of sales professionals. Adidas makes sure their sales reps have all the detailed information about their technical attributes. Quiksilver also organises clinics for their dedicated sales force. Raen trains their sales rep on every new material they incorporate to the range. Smith places a lot of importance on shop staff training. They use ENDVR to incentivise and educate store employees. Bajio also uses this sales tool.
POP materials are important. Aphex offers custom-made graphics for their POP units. Bajio is producing new POP displays. Raen has a combined POP counter card and bullet point selling tool for staff. Wave's POP display shows the USP of the recycled fishing net sunglasses. They also offer counter displays made of bamboo.
Zeal has a very robust POP programme. Smith has added significant resources to this division to support POP opportunities. Most other brands offer POP fixtures too. Online presence is important to support stores in their own communities, through websites and social media. Hobie and Red Bull Spect save some budget for trade shows. No brands report stock or logistic issues. Stores can expect timely deliveries and enough at-once inventory to keep satisfying their customers' needs without interruption.