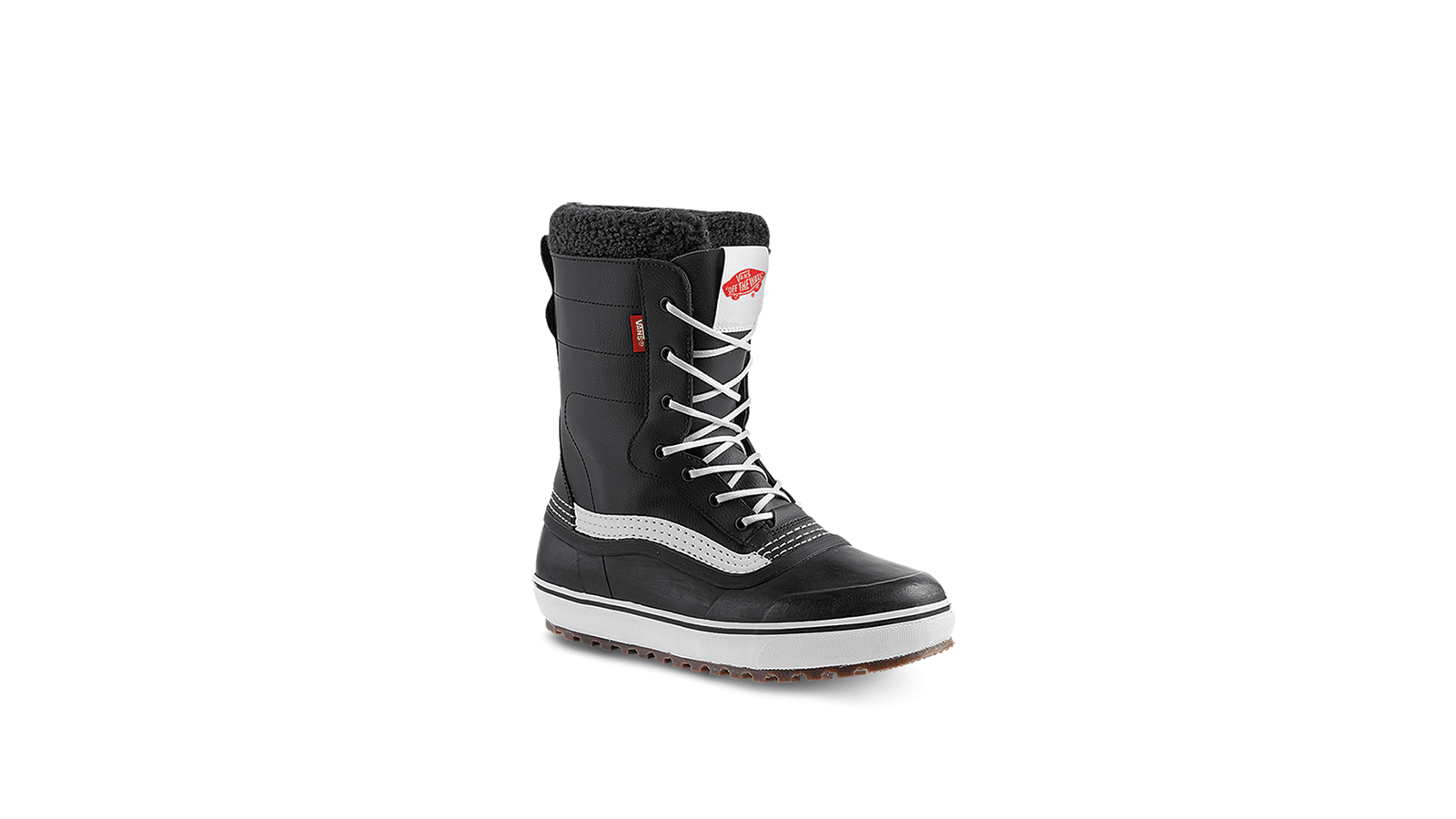 Vans FW19/20 Snowboard Boots Preview
Retail Buyers Guide: Snowboard Boots FW19/20
Brand: VANS
Interviewee: Matt Patti | Global Category Manager – Vans Snow
KEY PRODUCT FOCUS: What are the three most important products of next year's boot line? Why?
1. For the 2019/20 season, Vans will be introducing a brand-new women's boot called the Viaje (Vee-ah-hey, meaning journey in Spanish), a true journeywomen's tool. The all-new Viaje comes complete with a full complement of V3 series components and the Vans Flex Control System. Utilizing our Custom Focus Plus construction, this boot also features the micro-adjustability of a Boa Closure System in a dynamic, dual-zone configuration that ensures unlimited, on-the-fly flex control and superior heel hold for the most demanding riders. The Viaje comes complete with a new lower shroud, D-ring gator hooks, and one-way breathable valves make this the most moisture-managing and performance-oriented boot in the women's line.
2. The Vans Linerless technology will expand for the 2019/20 season, redefining simplicity and modern comfort. The lightweight construction and slimmed-down upper reduces the boot's overall size and weight and the increased internal foam package provides a softer, more cushioned feel. Without internal harnessing, riders will experience unmatched ease in and out of the boot. A calculated combination of support and free-flex articulation makes Linerless technology ideal for performance, street, or park riders choosing the Hi-Standard DX boot, or skill- and price-conscious riders looking for value and comfort in the new Aura, Encore, Hi-Standard, or Juvie models.
"Linerless boots are the most ninja-like boots I've ever stepped into. They're the simplification of the future and bring you closer to the snow. They make me feel like I'm wearing clouds, and I can do things in them that I couldn't otherwise do on my snowboard." —Mike Ravelson, Vans Global Snow Team Rider
3. The Standard MTE snow boot is the latest standard in all-weather boots—traction, warmth, and weatherproofing wrapped in classic Vans style. Complete with the vulcanized look, MTE 2.0 outsole, and Vans' signature Sidestripe, the Standard MTE is a new classic in the Vans family. Whether you're enjoying an après, shoveling the driveway, or binding-less pow surfing, the Standard MTE snow boot is the obvious choice.
Materials: using any previously unseen materials (in build, cushioning, support or grip) or construction methods?
New for 2019/20, Vans has partnered with the Merino wool experts at Smartwool to create another first-to-market tech feature. The all-new Vans V2 UltraCush Smartwool liner is made with soft, odor-resistant, moisture-managing Merino wool to keep you feeling dry and comfortable even in the deepest powder.
Merino wool is warm yet breathable—helping to maintain a dry, thermoregulated microclimate inside your boot. As your body heats up, sweat vapor is quickly absorbed by the wool fiber and transported away from your skin. A Merino fiber can absorb and retain up to 30% of its own weight in moisture and still feel dry to the touch. This makes it perfect for everything from long runs on groomers to backcountry explorations.
The new V2 UltraCush Smartwool Liners will be featured in the Implant Pro, Hi-Standard Pro, Aura Pro, Ferra Pro and Encore Pro.
Last season, Vans partnered with trailblazing outdoor innovators The North Face to develop the first-to-market FlashDry™ equipped snowboard boot liner on the men's Verse. This season, the FlashDry™ technology has expanded to the entire offering of V3 UltraCush liners and will be featured on the men's Verse, Infuse, Sequal and also on the women's Viaje. FlashDry™ fabric technology is engineered to act like a second skin, pushing moisture to the surface and eliminating it as fast as possible. These fabrics are engineered to repel and resist wetting out to help provide quick drying performance that keeps the user dry and comfortable.
What's new in lacing – trad, Boa, something different? What do people want?
Vans continues to highlight the Hybrid and Hybrid Plus Boa technologies for the 2019/20 season . The Hybrid Boa found on the Implant Pro and women's Ferra Pro combines traditional laces with a side reel Boa closure that is focused on the critical instep area of the boot. At the same time, the Custom Slide Guide simultaneously customizes the fit, comfort and heel hold. The Hybrid Plus found on the Infuse revolutionizes closure accuracy and flex variability for elevated flex control. The simultaneous functionalities unlock the doors to a new world of customization. Both Hybrid and Hybrid Plus are Vans industry-firsts and a technology that's expansion has been driving by both team riders and retail partners.
Imagine the overview section of your boot catalogue next year. What's the defining aesthetic, or overall theme? Talk to us about the colourways/prints/patterns/influences/textures you're using?
For 2019/20, Vans has created an entire collection with artist collaborator P.J. de Villers, aka Shallowtree. Shallowtree's work is an attempt to connect us with the timeless and infinite that we implicitly understand but cannot grasp in our own linear experience of life. His art addresses our connection to nature and all creation with its cycles of birth, growth, decay, and death. Shallowtree's visionary artwork can be seen on a men's and women's Hi-Standard OG, as well as a full collection of apparel and footwear that include a Sk8-Hi, an Authentic, a long sleeve T-shirt, and a snow sock.
Which part of your range are you investing in the most? Freestyle, freeride, do-it-all, beginner…? Why?
For the 2019/20 season, Vans is uplifting the entire snowboard boot line with an emphasis on comfort as it impacts performance. Vans is expanding the V3 UltraCush TNF FlashDry™ liner technology into four models and will be introducing the V2 UltraCush Smartwool liners at the Pro Spec level, which will be featured on five models.
The entire 2019/20 snowboard boot line now stands on Vans' all-new PopCush insoles which deliver the brands highest level of impact cushioning coupled with a custom-tuned energy return for snowboarding. The Linerless and OG models use the V1 PopCush footbed which has a single-density PopCush construction, advanced 3D-molded anatomical shaping, and anti-fatigue coring design. The V2 PopCush footbed adds a TPU arch support heel clip which provides stability while allowing for torsional flex. One step higher, the V3 PopCush footbed includes an Ortholite open-cell foam top sheet for maximum comfort. The V3 insole is also available for aftermarket purchase from Vans for the first time.
Which other footwear sectors do you follow which influence the line?
Vans' weatherized footwear continues to grow with the expansion of the Standard MTE snow boot collection. Offering two new models that include the Standard Zip MTE with a waterproof medial zipper for easier on and off, and the all-new Standard V MTE that eliminates laces all-together by applying a four-pass hook and loop system for simple transitions in and out. The Standard MTE collection creates a tiered price point and feature set of options for a wider range of customers.
What are your top marketing stories for next season?
Hi-Standard OG / Jake Kuzyk Collection : Jake Kuzyk
Ferra Pro : Mary Rand
Infuse: Pat Moore
Verse: Bryan Iguchi
Men's and Women's Hi-Standard OG: Artist – Shallowtree aka P.J. de Villers