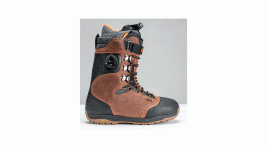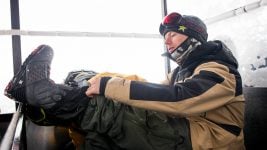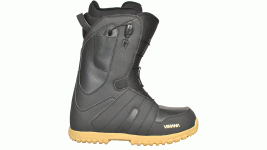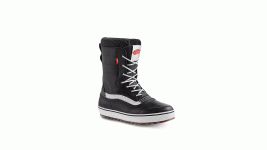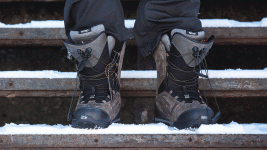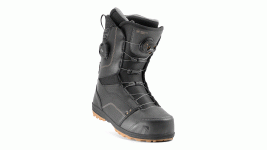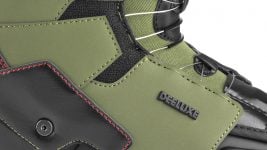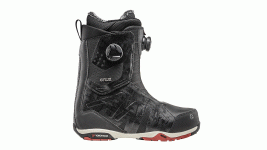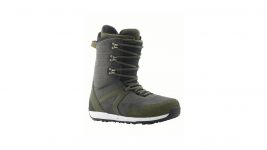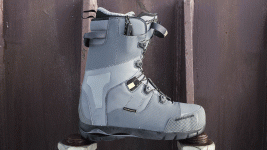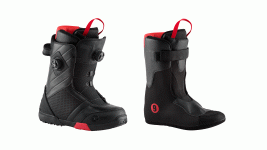 Ah, the double edged sword of the snowboard boot. A pain to sell online or off, lots of variance in length and width… and difficult binding compatibility because of inconsistent vamp heights and heel widths. Nightmare, huh? Well, every snowboarder needs a pair, and it's a great touchpoint for customer interaction and trust building if you can get it right. Meanwhile, Tom Wilson-North delves into the main trends of 2019/20 snowboard boot lines.
BIG CHANGES

First up, Flow boots are no more – since the merger they've become Nidecker boots. "But the history of Flow still lives on in Nidecker boots. 'FlowFit' is a core concept whereby our boots fit your feet perfectly and feel great," explains Footwear Manager & Designer Margaux de Mercurio. We saw widespread integration of Nidecker's cornerstone asym tech, as well as a full clean-up of the range, alongside a lot of familiar Flow names and know-how.
Next up, you have to have been living under a rock if you missed Nicolas Müller singing with Thirtytwo, and FW19/20 sees them release his first boot pro model since the old Nike Kaiju. It's a high-tech, high tie-dye masterpiece. "We especially focused on the idea of protection around the heel and ankle zones, and developed new technology to give Nico the cushioning that he needs. But even with the emphasis on support and our Elite Fit System, this boot is mid-flexing – which suits the way he rides perfectly," says Thirtytwo's James Kim.
COMPONENTRY AND CONSTRUCTION
We looked at new branded and unbranded technologies which are making boots ride better and last longer. DC are using Carbitex, which is a flexible carbon fibre composite. It's tune-able, with a dynamic flex and offers amazing resistance properties which make it perfect for use in boots. You'll see it used in the lower shell of Burton's topline SL as well. Thirtytwo have a new Michelin branded Fiber Lite outsole on the underside of the aforementioned Mullair (it's on the Ride Fuse too), as well as a 3D moulded football style heel cup called Cushion Cup out back. Vimana have changed the flex pattern a bit on the Continental – they're using urethane reinforcements to keep the boot flex consistent. Meanwhile, Nidecker have used a new outsole with the grippy and flexy BFT Vibram Ascent material on their Helios. Over on the other side of the Alps, Northwave's Prophecy and Decade models have new Seamless Shield rubber protection at toe and heel, which promises to make the boots more waterproof and last longer. The minimal application of the technology leaves a really clean, minimal look – which is common to many boots next year.
In liners, we noticed expanded use of Ultralon liners across the industry as a response to increased performance requirements. Rome are using a new Ultralon F.I.T. liner with dual density foam which is great at shock absorption, then Salomon are using Ultralon on the all-new Dialogue and Launch models, promising a great weight-to-comfort ratio. The liners are the big story at Rossignol too – the new Document, Cutback and Primacy inners all look more like ski boot liners than traditional snowboard boot liners, with a really nice fit, increased rebound and a healthy glop of forward lean. We saw a first from Vans too, whose V2 UltraCush Smartwool liners are made from merino wool, whose non-stinky, moisture-managing thermoregulating properties are beloved by wearers – and sheep – worldwide.
PREMIUM CATEGORY PERFORMANCE
No surprises here – the premium segment is still the one shown the most interest by consumers, so brands follow with investment and development. But the premium segment is mellowing out. It's becoming apparent to brands that not everyone needing a high end boot wants to splitboard, ice climb or scale the north face of the Aiguille du Midi, so there has been a refocus on making high end boots more 'do it all'.
"Our number one focus remains our Team boot", confirms Nitro's Tommy Delago. "Riders are willing to spend the extra buck for a boot that really fits and works." Nitro's new high-end women's model – called the Bianca TLS – is particularly foxy, with a heated ThermIC liner and genuine leather exterior. We liked the look of Burton's new Kendo premium lace-up, the DC Shuksan feels pimp and K2's Maysis gets upgraded to the new proprietary Conda system as well as getting new rubber toe and heel protection. Below the Maysis sits their new Holgate, which has a banging featureset from the likes of Intuition and Vibram as well as outsole rubber reinforced panels for durability. Meanwhile, at Ride the premium packages on their Insano and Trident models will add durability and improved fit via new Rebound Heel Counter and TPU Toe Caps.
Looking at boot-world innovation, Nidecker's Talon is stronger and stiffer with an eye-catching asym design, and Head's Eight BOA has a brand new socket construction and smooth traction to distribute lacing load over a greater area for a more comfortable fit. Then you get to Deeluxe's unique Ground Control; we've been excited about this awesome hybrid hard-meets-soft boot carver since we saw the first prototypes eighteen months ago. "It absolutely revolutionizes carving," says Deeluxe's Marketing Manager, Florian Heim. "The totally fresh design provides the power and precision of a hardboot while still delivering the enduring comfort that makes a softboot so appealing." Great job, guys.
OLD SCHOOL/RETRO/SOFT
The fact that snowboard boot preference is such a personal thing means snowboarders aren't prepared to sacrifice riding performance just for a bit of throwback steeze. Boots were shit back in the day anyway. That said, there is definitely an uptick on surf-inspired boards and riding, so there's a boot trend to match. "The Zephyr is designed for exactly that surfy and skate feel. It's cut slightly lower with a flex collar and has a very forgiving forward and medial flex – so you can get those knees turned in and get low", says Thirtytwo's Kim. The Zephyr will come in a Boa version next year too. Vans expand their Linerless technology for 19/20: "Lightweight construction and slimmed-down upper reduces the boot's overall size and weight and the increased internal foam package provides a softer, more cushioned feel. A calculated combination of support and free-flex articulation makes Linerless technology ideal for performance, street, or park riders," says Vans' Matt Patti, Global Category Manager. And don't forget the well-received DC Tucknee, which is back again with a super plush, squishy feel for maximum tweak. These surfy type of boots aren't to be confused with high-end, softer-flexing freestyle boots, which have more support and shock absorption properties. That's the biggest market in Japan, according to Flux, whose new TX-Lace model looks sick next year.
LACING
If you're short of time, we'll sum it up in just one word – Boa. Boa reigns supreme in the snowboard boot world – next year there's a Double Boa TM-2 from Thirtytwo, a sick OM-BOA from Flux, Boa on the entire range from Nidecker and a cool Ritual Limited Dual Boa from Burton. It's interesting looking at how brands have their own spin (groan) on the technology – Burton's soft lace in place of the metal cable, Thirtytwo's extra lower lace points and K2 with their patented Conda system. And Salomon are introducing Boa on the STR8JKT liner closure part of the Launch Lace, an application which is a perfect use of the reel.
That all said, next year you'll note a small increase in popularity of traditional laces – although this market remains niche in Europe at present. Burton's Kendo has a mid-flex, autocant outsole – same as the Ion – and Rome remain true to their roots with traditional lacing and powerstraps. "We're seeing riders gravitate towards this style because it creates multiple levels of adjustability and is the most foolproof, trustworthy system out there," explains Rome's Matt Stillman.
AESTHETIC
Well, clearly black is going to be the dominant colour on a boot wall today, but brands are making buyer's jobs easier with some well-designed earth tones, textures and patterns to complement the staples. Snowboarders want their boots to match their pants, not their board and binding, so where possible boots tie in to the season's softgoods colour trends. The most modern-looking boots we saw next year were Thirtytwo's Lashed in Spectrum with a bright prism effect, and Burton's Ion with a cool translucent shell. And we noticed a rising trend towards volume reduction and minimalism with Salomon, Flux, Rossignol, Head and many others citing the demand for thinner, slimmer, more compact and lightweight silhouettes and footprints.
The main inspirations next year will come from skate (duh), workboots, football cleats, hiking boots and vintage mountaineering footwear – finally snowboarding is trending away from the running shoe look and finding a wider aesthetic definition. "The outdoor influence is important for technical solutions – after all, we're not producing fashion good… but as an Italian brand we always keep an eye on style," concurs Northwave's Davide Smania.
CONCLUSION
So, there you have it. Next year's boots lines are cleaner and slicker than last year, with a focus on functionality and ingredient brands. Stitching is less and less prevalent on the outer shells, and the mid-to-premium sector is where a big part of your buy-in ought to be. But let's not forget the importance of making the boot purchase as easy and obstacle-free for consumers. The industry still has a way to go in that area, through the adoption of quantitative standards in insole length and width, as well as communicating clear and genuine flex ratings and forward lean angles. If the skiers can do it, why can't we? "Unfortunately, many riders choose boots in the wrong size. They often do this by simply defaulting to their shoe size when selecting boots. Yet the fit and size of boots varies tremendously across brands. Next year we'll be explaining how crucial it is to measure in order to get boots in the right size," says Deeluxe's Heim.