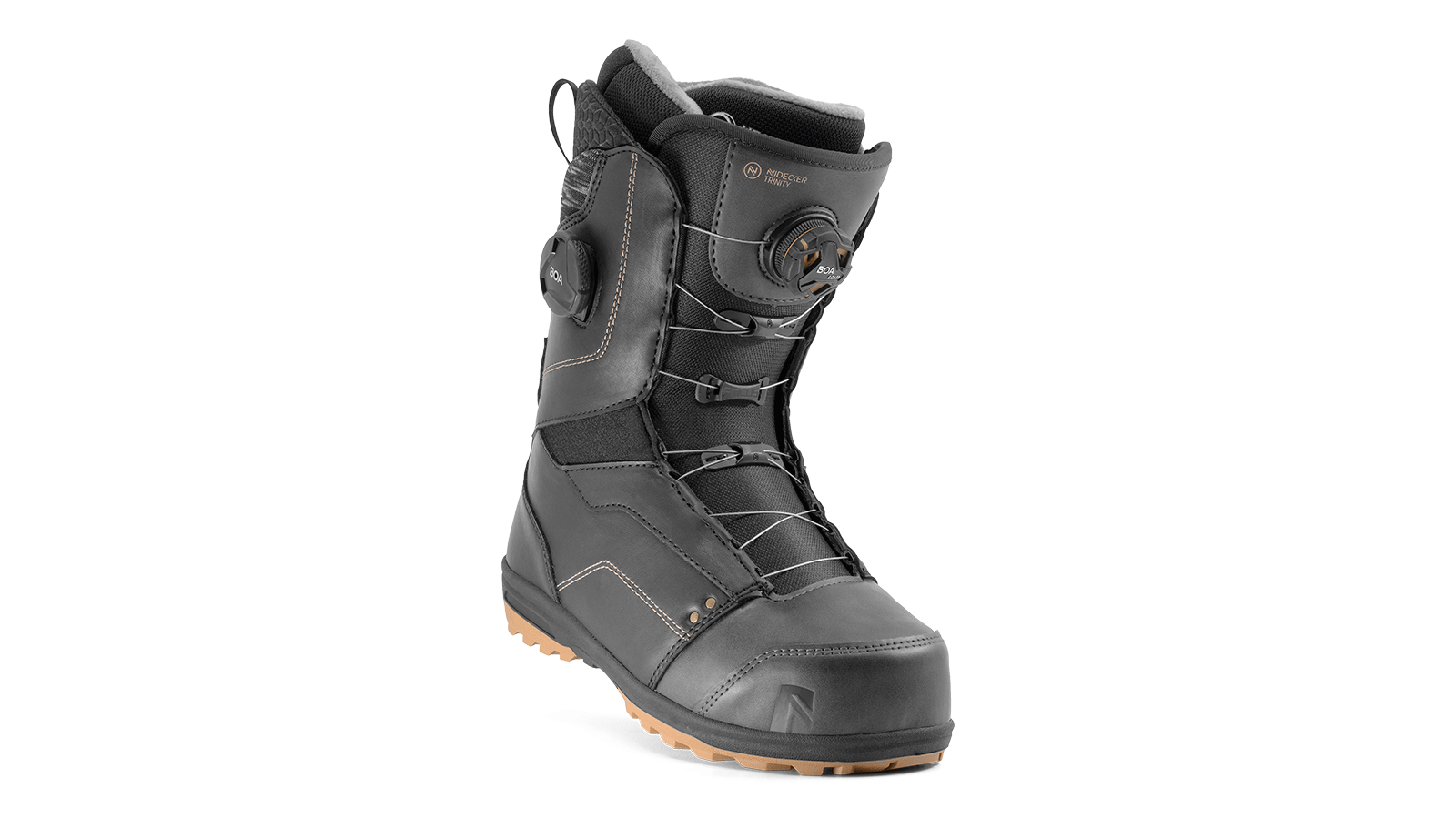 Nidecker FW19/20 Snowboard Boots Preview
Retail Buyers Guide: Snowboard Boots FW19/20
Brand: Nidecker
Interviewee: Margaux de Mercurio – Footwear Manager & Designer
KEY PRODUCT FOCUS: What are the three most important products of next year's boot line? Why?
This year is a turning point for Nidecker's boots collection. The history of Flow still lives on in Nidecker boots in what we call 'FlowFit'; FlowFit guarantees our boots fit your feet perfectly and feel great. Fit and feel are the keys to making a comfortable snowboard boot. That's why we use our proprietary and anatomically shaped inner and outer FlowFit last. Along with the other innovative technologies, we are continuously striving to improve the ergonomy of our products, giving our boots their perfect fit, specifically designed for all-day, all-mountain riding comfort for all levels of snowboarding. This year we defined the Flex Stiffness range to allow soft and stiff Flex on every quategory of the range. Because we believe this ''riding feeling'' component is one of the most important factors as much for beginners than for Advanced or Pro Riders.
The following three models reflect the importance we put in following snowboarder's needs in the all-new Nidecker boot range :
TALON: The Nidecker Talon is a sleekly redesigned high-tech Boa® Focus boot, built for demanding riders who require comfort, responsiveness and lots of support for all-day riding. It's stronger and stiffer than last year's Talon. The first thing you will notice is the NEW asymmetrical design of this boot. The ASYM3F Technology includes a 3D tongue and a Boa Closure System curve in and follow the natural ridge-line of your foot, to alleviate pressure points and give a more balanced feel of support and comfort. We integrated a new external backstay this year called Exo-Spine which re-enforced the link between the different parts of the boot, delivering an instantaneous transfer of force from heel to toe, increased support and a locked-in feeling for the life of the boot. The strong ArmorTech materials guarantee it's durability, and the supportive, high-traction Vibram® Approach B.F.T. outsole features Vibram Icetrek for extra grip and a dampening gel for added cushioning and comfort when hiking. The SpaceBlanket insulation and waterproof bladder construction keep your feet warm and dry. We have also taken the level of fit and comfort to the next level with the extra comfy Gold-Level Heat-moldable Liner with Ripper-lacing closure Harness, extremely easy to adjust. The upper and lower parts can be tightened separately, even when your boot is closed up. This all contributes to a great fitting, expertly designed, outdoorsy and rugged looking boot.
HELIOS: Riders looking for a stiffer, more responsive boot in the mid-range, still soft on the inside, with a clean, smooth, technical design on the outside will find everything they need right there. The Nidecker Helios features our new high-grip B.F.T. VIBRAM® ASCENT outsole, an added bonus in icy conditions. This completely redesigned outsole is made for excellent grip in all conditions with Vibram® rubber and a new tread design, lightweight EVA midsole and N-Gel cushioning in the heel for an unmatched comfort-performance ratio. The asymmetrical Silver-level Heat-moldable liner with an external Harness along with the full asymmetrical lacing curved 3D Tongue and Boa® Focus System really increase the level of comfort over the top of your foot and the even feel of closure between lateral and medial support. As it is one of our favourite team and customer models, you will find your perfect match in these three different trendy colourways this year.
TRINITY (Women): The Nidecker Trinity is a women's line mid-stiff boot with a clean looking, warm and comfy feeling. With an asymmetrical boot and closure system, it delivers an ergonomic fit and maximum efficiency. It also features the NEW all- rubber B.F.T GRAVITY outsole with an integrated N-Gel Pad which adds comfort, grip and a sleek futuristic look to your outfit. And great news, they're as comfy as your everyday sneakers. The Bronze-Level Heat Moldable liner, with reverse-cut cuff and flex panels guarantees a perfect fit, while the dual-dial Boa® Focus Closure System controls the support of the upper and lower sections making these boots highly customizable and easy to tighten. Without a doubt, the greatest fit and best value in Double Boa® women's snowboard boots.
Materials: using any previously unseen materials (in build, cushioning, support or grip) or construction methods?
We continue our research in anatomy and ergonomy and to move forward on custom liner program and boot fitting sensibilization this year to create more opportunity for the shop to offer personalized fitting.
Our all-new ASYM Full Heat-moldable Liner features an asymmetrical tongue, a minimal amount of stitches and new special foams. It is pre-moulded on our FlowFit lasts for a perfect fit right out of the box. The ASYM LINER is meant to be thermo-moulded in the shop for an excellent custom fit. It features a highly technical ergonomic design for optimal heel-hold and maximum comfort. Both the top cuff of the liner and the boot shell cuff feature our new reverse-cut and asymmetrical design, which accommodates different calf shapes and guarantees a perfect fit.
We were looking to develop a technology to reinforce the boot and make it look more steezy, so we created the new Exo-Spine. An external backstay designed to be a re-enforced link between the different parts of the boot and to deliver an instantaneous transfer of force from heel to toe. It also offers extra stiffness for optimal support, as well as increased durability and resistance to shocks.
In a further attempt to increase comfort when riding and grip when walking around in your boots, we have come up with the B.F.T. VIBRAM® ASCENT and the B.F.T. GRAVITY outsoles.
The B.F.T. VIBRAM® ASCENT, our mid-range sole is a lightweight, ergonomic, high-performance outsole, combining special high-traction Vibram® rubber and a new tread design for excellent grip in all conditions. It also features a lightweight EVA midsole and N-Gel cushioning in the heel for an unmatched comfort-performance ratio.
The B.F.T. GRAVITY, our entry level sole is all about comfort. This super durable, all-rubber outsole is designed to support the anatomy of your foot, with N-Gel cushioning in selected models. Strapped in or just walking around on the snow, you'll look as good and feel as comfortable as you do in your favourite pair of sneakers.
What's new in lacing – trad, Boa, something different? What do people want?
The entire Nidecker boot-range utilizes the easy-to-use Asymmetrical Boa® Closure System, a market leading closure system. Whether you are a newbie or a weathered enthusiast, you will enjoy these feelings of freedom. This Boa® Closure System curve in following the natural ridge-line of your foot alleviates pressure-points and gives a more balanced feel of support and comfort. We offer the gamut of Boa systems, from regular, Coiler and dual-reel Focus, to hybrids in our popular Heel-Lock systems so there is a Nidecker boot for every rider and every type of budget.
Imagine the overview section of your boot catalogue next year. What's the defining aesthetic, or overall theme? Talk to us about the colourways/prints/patterns/influences/textures you're using?
Sport > more subtle colours > deluxe materials > textil > strong
The overall Nidecker boot branding and aesthetics is really clean, performance, sporty technical driven product range with mostly black or subtle colours and a few bright accents. While each boot model has it's own carefully selected high-quality materials, technical details and aesthetic finishes, the whole range is unified by an easily identifiable and clean branding with the N-logos on the toe-box and pull-handles, as well as recurring asymmetrical technology in boot-shaped, asymmetrical tongue and BOA closure systems, and asymmetrical heat-moldable liners.
Which part of your range are you investing in the most? Freestyle, freeride, do-it-all, beginner…? Why?
Better level – Middle Range- Technology – what can make the boots more comfortable out of the box
With Nidecker we want to focus on our core customer base, which is the do-it-all All Mountain riders. And whether this is a beginner or an enthusiast with many years under the belt, occasional rider or season-pass grinder, we aim to have a boot in our range for each of their needs and demands.
This new generation of Nidecker boots combines the renowned fit of Flow boots, the innovation and passion that Nidecker is known for, to culminate in the perfect combination of comfort, support and control with a boot-shape designed for optimum performance with both Flow and Nidecker bindings.
Which other footwear sectors do you follow which influence the line?
All over. Over the last few years, the footwear sector has really embraced ergonomic product design and focused on improving anatomical fit, which increases the level of performance and ability drastically in many sports. Nidecker was the first to introduce full asymmetrical Boa Closure with a 3D asymmetrical Tongue in the Hylite, Helios and Tracer models last year, but with this 2019/2020 collection, the engineers and design team have really stepped it up to be the first in snowboarding to offer the best ergonomic comfort and the best quick and easy lacing you have ever experienced!
What are your top marketing stories for next season? 
NIDECKER BOOTS HAVE THE MOST COMFORTABLE FIT RIGHT OUT OF THE BOX.
Anyone can design a snowboard boot, but to design a snowboard boot that gives all-day riding comfort is an entirely different thing. Our biomechanical engineers are constantly researching and developing new technologies to make sure our products meet the highest performance standards. We build our boots with just the right amount of support for every riding style and comfort to make sure you have the best time possible every time you set foot on the snow.
FLOWFIT
Using the cutting-edge technologies developed by Nidecker and Flow, including the revolutionary FlowFit in this year's range, we guarantee these are the most anatomically correct, ergonomically designed, best fitting boots we've ever built.
ASYM3F
The 3 asymmetrical functions FIT – FEEL – FLEX are combined in an asymmetric shape and closure system that delivers optimum support and flex. The result is the highest performance and most incredible feeling boot on snow.
HEAT MOLDABLE LINER
Our Gold, Silver and Bronze Level thermo-molded* liners ranges, with pre-moulded FlowFit and re-heatable in the shop for an excellent custom fit.