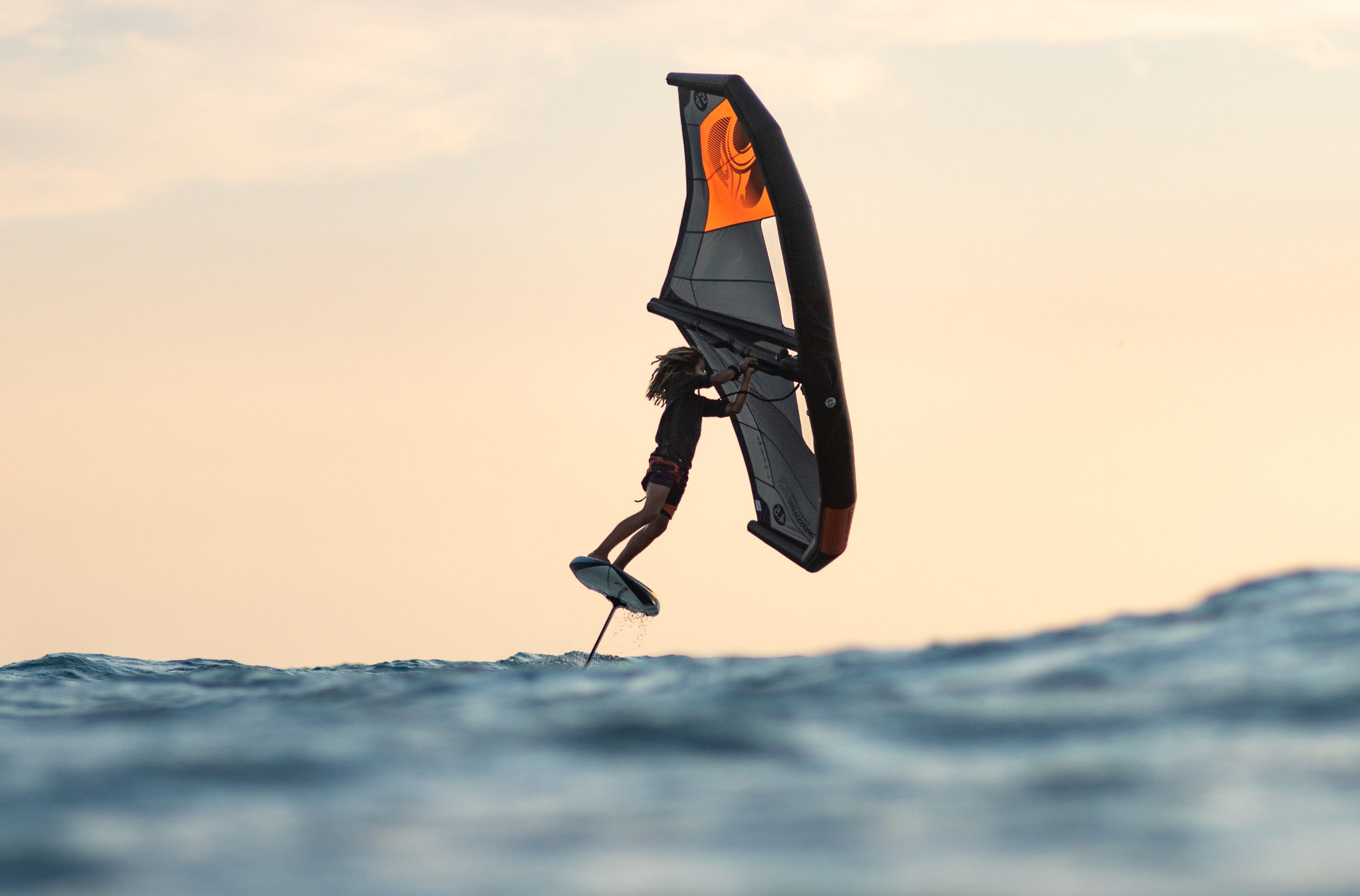 Cabrinha 2023 Foil Preview
Retail Buyers Guide: Foiling 2023 Retail Buyer's Guide
Brand: Cabrinha
Interviewee: James Boulding & Jens Dietz, Cabrinha Marketing
Is the wingfoil fad boosting all the foiling disciplines (kiteboard, wind foiling, foil surfing, foil SUP…)? Or did the wing cannibalize the market?
Wingfoiling has certainly encouraged people into the foiling disciplines although foiling has also encouraged people into wingfoiling vice versa.  We see now surfers starting to prone foil and perhaps try the wing.  All this encourages them into wind sports.  There is some cannibalization but overall there's definitely positive growth across the board. 
Price points used to be a major barrier for the democratization of the foiling activities. Is that still true?
Of course, prices have a specific role in the buying decision of a foil. However, for many water sports enthusiasts, the focus is on great fun and as well as efficient use. Foiling maximizes the time on the water and that is what really matters. We can therefore conclude that the major barrier has been broken by the strong benefit of this high technology products.
Do you do packages (hydrofoil + board, and possibly wing/kite)? Please explain why you do or do not offer packages.
At Cabrinha we put a lot of emphasis that our customers are perfectly equipped to their wishes and local windsport conditions. Choosing the right wing together with board and our matching hydrofoil models in different sizes are important factors for maximum water fun. However, by offering foil packages we would severely limit these requirements. Therefore, we offer modular systems for the best possible flexibility. For example, customers can first choose the hydrofoil series between High and Medium Aspect fitting with right size of the fuselage. For the best match they can afterwards chose the lightweight carbon mast or durability alloy mast in the perfect sizing. During this configuration, the sellers in the stores as well as we via our webpage give the right recommendation for the desired riding style. This is the only way to ensure the best possible tuning.
The modular foiling setup grew in popularity, making it possible to ride in multiple conditions and to adapt to various disciplines. What is your take of this trend?
We were quite an early adopter of a modular foil system with a host of different wing options.  The forces involved in wingsurfing generally tend to be far greater than kite foiling so we put a lot of work and investment into a new system to cater for all foil disciplines in one system.  The Cab Fusion system creates an incredibly stiff and performance driven platform offering many different front and wing options and two different construction mast options.  The Fusion system allows you to easily change the rear section of the fuselage at a very cheap cost without needing to buy a whole new fuselage. 
What are the highlights of your 2023 hydrofoil offer?
Cabrinha's new H-series wings have revolutionized efficiency in a performance foil product.  The high aspect H-series shape allows for effortless pumping, insane glide while retaining an 'easy-to-steer' feeling.  They perfectly compliment the ultra versatile X-series wings which are more of an all round foil wing.  Both excel across kite, prone and wing and with a few wing choices you are ready and raring to go in whichever foil discipline you choose on any given day.
 What are the highlights of your 2023 foilboard offer?
 For wingsurfing, the Code board is the go-to and there is a size for all ability levels and sizes.  Premium materials make for an exceptionally lightweight & durable board that allows direct control from rider through to the foil. From first starts through to aerial freestyle and wave riding, the Code has been designed with the future of Wingsurfing at the forefront.
For kite foiling, the special agent is the customers favourite.  It has been designed slightly smaller than the previous double agent but the reduction in sizing is made comparable to bigger boards due to an advanced new outline that maximizes its length while the bottom shape adds volume and float to your ride.  The UD carbon, fiberglass construction added to a geometric stringer from tip to tail gives incredible stiffness and responsiveness.
Do you fiddle with new materials/alloys as far as wings/masts are concerned?
Our product development team are constantly tinkering with new designs as well as the construction of each component to see where weight savings can be made or efficiency and stiffness gained.  What you see in these products is the culmination of these efforts.  The design team also collaborate with a team of research scientists in Norway at SINTEF and Trondheim University (NTNU).  The team have been performing various tests in their cavitation tunnel to give hydrondynamic feedback on the wing aerofoils and other design aspects.  This valuable data helps give deisgn feedback to Cabrinha's R&D team while also embarking on a partnership where the SINTEF team can gain valuable data through experiences and problems that occur in real life foiling.  This info and data sets give the team a chance to test and validate their numerical simulations in real life simulations and products already in the market.  It allows for a more in depth understanding of the performance of the Fusion system and it allows for a design process where iterations of the design can be numerically validated.  It brings a new level of theoretical and practical knowledge to the hydrofoil program.
What is the added value of your brand concerning Retailer Support: Education (online/physical), POS in shops, Clinics, etc.?
 Within the pandemic regulations, we can finally meet in person and full commitment to our dealers and customers. Direct customer service with discussions and training on the great new Cabrinha 02 Range is very important for us. We are looking forward to the exchange with all retailers who are in direct contact with our customers. We are one big family and want to bring everyone along. Also, dealer support by demo events and test material should not come too short this year. Everyone should get the chance to test our products and feel our new innovations.
In addition to direct dealer support, we place great emphasis on the availability of product information and descriptions, as well as all marketing materials through our cloud platforms. Dealers can quickly and easily download all data transparently and freely accessible for their purposes.
Key Products:
Fusion H-Series Wings (High Aspect Foil)
The H-SERIES High Aspect foil range is the latest offering from Cabrinha's state of the art foil design program in collaboration with Keahi De Aboitiz.
The H-series wings represent the pinnacle in hydrodynamic efficiency & performance while seamlessly integrates into the Cab Fusion Foil system.
The high aspect shape allows for effortless pumping, insane glide while retaining an 'easy-to-steer' feeling. Whether you use them for wing, kite or foil-surfing, rise to the occasion with all of the H-series' cutting edge features and be prepared for the endless ride…
Code Wood Board (Wing Foil)
The Code builds off the successful Macro design offering an incredibly fast lifting maneuverable platform to get you up and riding in a flash. Premium materials make for an exceptionally lightweight & durable board that allows direct control from rider through to the foil. From first starts through to aerial freestyle and wave riding, the Code has been designed with the future of Wingsurfing at the forefront.
Autopilot (Prone Surf / Prone Surf / Wing Foil)
The all new Autopilot is designed to excel in a wider range of foil boarding styles and conditions. The higher volume of the Autopilot makes paddling a simple task when surfing, while the concave deck shape keeps your feet as close to the hydrofoil as possible. It's unique convex bottom shape displaces water while paddling, providing less wetted surface the faster you paddle. The Autopilot's round kick tail design does two important things: It allows you to make a smooth flowing turn close to the water without catching on hard corners. The angle of the kick tail helps to pop the board into flying position, and it keeps the tail from touching the water when pumping.