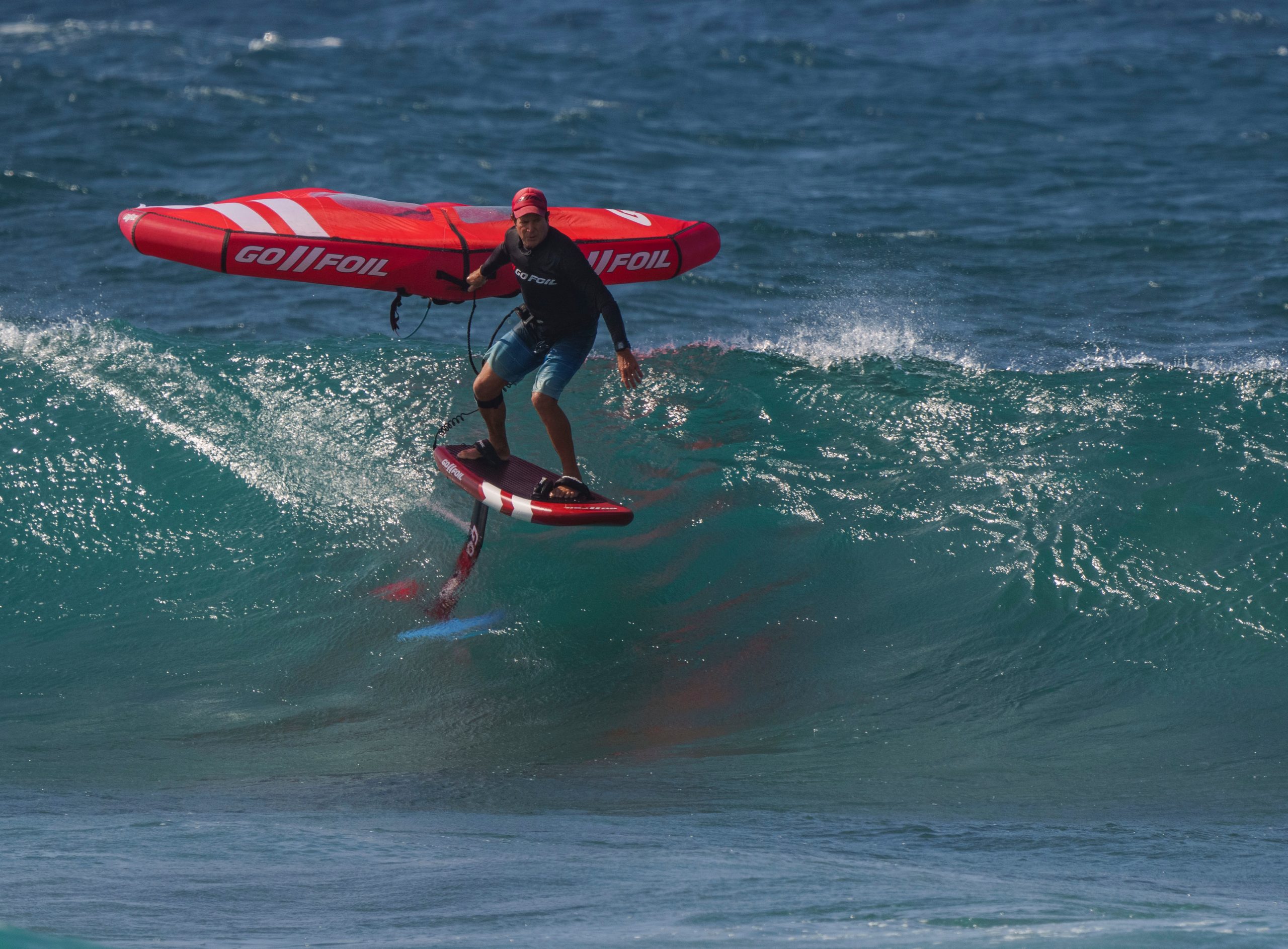 Go Foil 2023 Foil Preview
Retail Buyers Guide: Foiling 2023 Retail Buyer's Guide
Brand: GO FOIL
Interviewee: Alex Aguera Owner/President
Is the wingfoil fad boosting all the foiling disciplines (kiteboard, wind foiling, foil surfing, foil SUP…)? Or did the wing cannibalize the market?
There is probably a boost in all the other foiling disciplines but the Winging is really getting most of the benefits. Winging is just so easy to rig up and go anywhere!
Price points used to be a major barrier for the democratization of the foiling activities. Is that still true?
With Winging being less expensive than purchasing Windsurfing or Kitesurfing gear, it has a much broader appeal, and as a  bonus , it is really fun to do and can be done in relatively light wind.
Do you do packages (hydrofoil + board, and possibly wing/kite)? Please explain why you do or do not offer packages.
We offer the complete packages: Boards, Wings, and the Foils to match.
Every company offers different equipment and some do not work well when paired on other brands boards, foils, etc. We feel it is best to get a Go Foil board and Foil so they match with the right balance points, floatation, footstrap locations, etc.  Sometimes you will get another board and put our Go Foil on it and say, this doesn't balance as good as when I tried the Go Foil on a Go Foil Board! Therefore, you want to buy the Go Foil Packages together, Board and Foil.  They are balanced and fit perfectly together!
Most of the boards I see for winging are really designed without being balanced and user friendly with crazy designs that don't really work. We make easy equipment to ride and not gimics.
The modular foiling setup grew in popularity, making it possible to ride in multiple conditions and to adapt to various disciplines. What is your take of this trend?
We have always made the same mast/fuselage connection for over 9 years when we started kite foils. 6 years if you count when we first invented the "modern surf" foils. We still have some of our earliest Foils in use today because our stuff is built to last. Some only think of us as the OG , and the Original makers of the foils like the Maliko 200. The Maliko 200 is still a classic for learning to wing . But some see so many of our older foils still being ridden after 5 years that they think that is all we make! We make new innovative foils all the time and have the Best and Latest equipment whether you are a Winger, Surf Prone, DW paddle, etc . The bonus is that Go Foil equipment might last you another 5 years , as we make strong quality equipment. The boards are full sandwich! The Hand Wings are Solid, and the Foils are proven to last longer than any other brand, period..
What are the highlights of your 2023 hydrofoil offer?
We are working on new gear all the time but do not want to disclose information too much. GT Foils are the "Go To"! They are Fast and Turn unreal!
The GT2200 is the best light air Foil going. Get that with our 20" tail wing and you are set in light air! It is Fun to ride all of them. You can learn on the GT2200 and keep riding it as your favorite in light wind and not progress passed it. RS Foil Wing line is fast and one of the fastest foils out there in the market for DW and winging. They are easy to ride as most other foil brands you will ride are what we call "twitchy". Get on a Go Foil and you will understand how your foil brand is twitchy, and harder to ride than a Go Foil. EZ foils are some of the easiest foils to ride. They keep a steady pace. If you are having trouble doing transitions, get one! Go Foil Hand Wings are built to last and on our next generation, we will go to little mini solid handles so stay tuned for when these come out!
What are the highlights of your 2023 foilboard offer?
The Go Foil Boards are always Solid  Full sandwich boards . They are tested to match Go Foil Hydrofoils. We do not believe in Gimics. Some boards brands are made with fancy looking "gimics" made with steps and chines and publicity for marketing. We believe in Function not Hooplah!
Do you fiddle with new materials/alloys as far as wings/masts are concerned?
Since 2016, We have always used High Modulus Carbon Fiber to build our Foils in an Autoclave. This is the Standard that has been used by everything from Formula One to the Latest Fighter Jets. Aluminum is cheaper, more corrosive  when combined with carbon. You need more screws that can get stuck together. Aluminum is also heavier. There are other manufacturing techniques of building Carbon Foils but they do not use the high pressure of an autoclave which is sometimes up to 6 atmospheres of pressure.
Key Products:
GT2200 with 20" tail to make teaching Winging easier
Full Sandwich Boards that are balanced with no gimics
Hand Wings that balanced and built to last