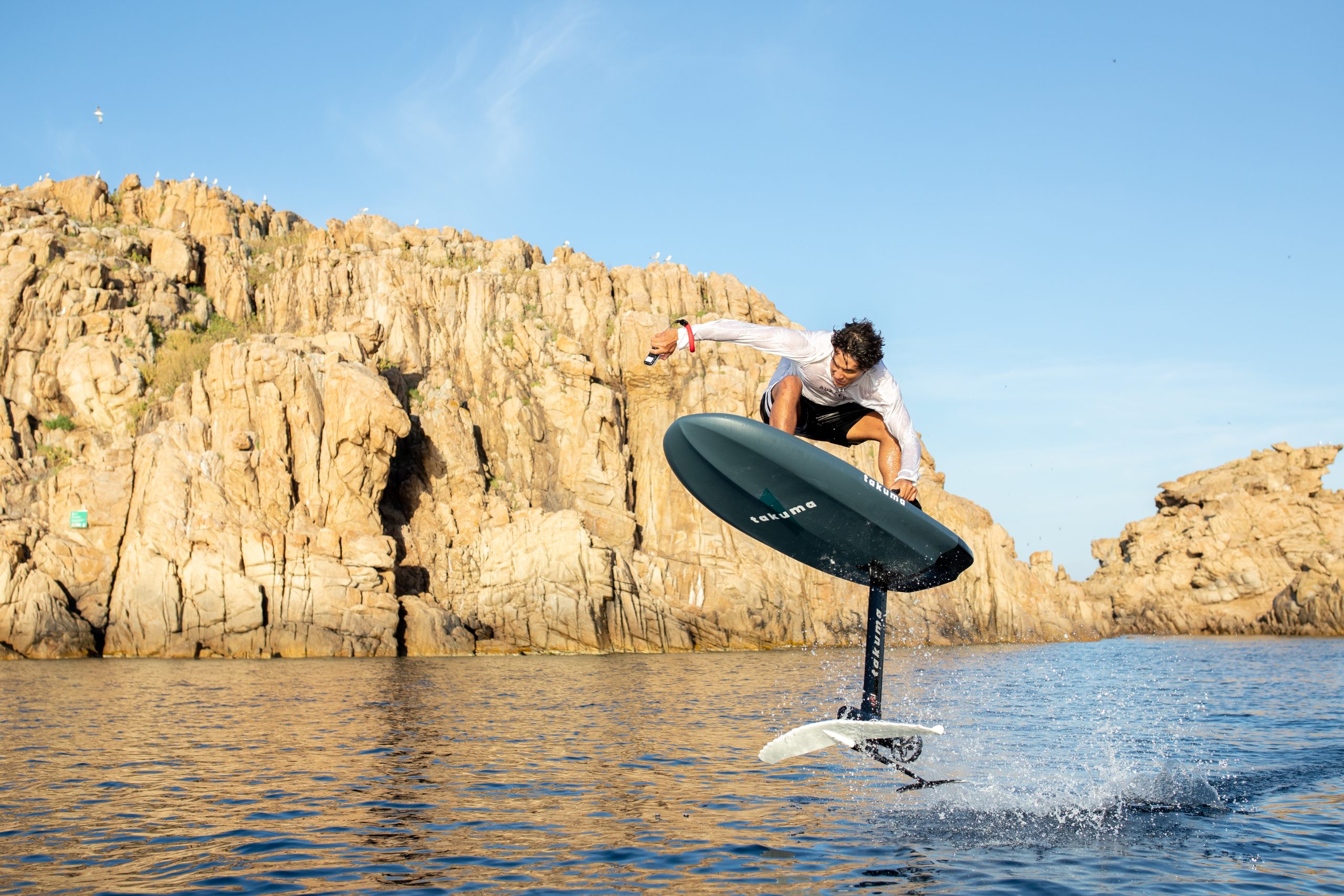 Takuma 2023 Foiling Preview
Retail Buyers Guide: Foiling 2023 Retail Buyer's Guide
Brand: Takuma
Interviewee: Lucy Allnutt, Marketing Manager
Is the wingfoil fad boosting all the foiling disciplines (kiteboard, wind foiling, foil surfing, foil SUP…)? Or did the wing cannibalize the market?
In the last 3 years Takuma has seen an incredible boom in the uptake of wingfoiling, by no means do we consider it a fad now but a more discipline unique to itself. Many of the early adopters came from windsurfing and kitesurfing backgrounds, however now that there are an abundance of good material, more appealing price points and easier access to spots, it means that wingfoiling attracts a lot of newcomers eager to learn a watersport. By being in it from the very beginning meant that Takuma has been able to develop and adapt new models quickly to assist the growing needs of the riders.
Foiling in itself has continued to grow exponentially across all the disciplines, for sure mastering the handling of the foil in one discipline helps boost the crossover of skills into another. Wingfoiling is a natural addition to watersports that is here to stay, feedback from kite schools that also offer wing foil lessons remain confident that both disciplines remain harmonious and the demand for foiling progression is currently on equal terms.     
Price points used to be a major barrier for the democratization of the foiling activities. Is that still true?
Not necessarily, many brands like us have introduced a foil that adheres to the progression level and those wanting to get into the sport for the first time. Our Kujira helium range is one of the most cost effective, high performing foils on the market. The advances in shape and materials have allowed us to develop a carbon foil with a helium foam core that is extremely lightweight, versatile, and robust, one foil that does it all and that fits a full range of riders, from lightweight to heavyweight. For the more advanced riders out there, full carbon foils are still the more desired option and although slightly more costly it is important to weigh up the price/performance ratio. Once you are hooked on the sport, having a high performing foil such as Takuma's Kujira 1095 HA (high aspect ratio) is worth the investment when you know it is going to considerably up your riding level, pure enjoyment and satisfaction. 
Do you do packages (hydrofoil + board, and possibly wing/kite)? Please explain why you do or do not offer packages.
We have moved away from offering packages purely because each rider's needs are so unique, instead we have increased our range of foil sizes and types to adapt to this increasing range of needs. We maintain a very clear wing and board offering to make it easy for customers to make their full material selection. It is then at our dealer's discretion if they choose to mix and match our range to offer a complete pack to their customers, however for sales through our website we believe the user should make a careful selection on what material is best suited for their level and riding style instead of being lured to a proposed package based on price.
The modular foiling setup grew in popularity, making it possible to ride in multiple conditions and to adapt to various disciplines. What is your take of this trend?
In an ideal world, it makes total sense for people to want one set of material that they can use for all their riding styles and to a certain degree, there are products that can handle this, such as our Kujira Helium model. This is the perfect hydrofoil to crossover to any watersport, it's that one foil that does it all, fit for any level and delivers superb performance in pretty much all conditions. 
However just like in any sport, when you reach a certain level in a discipline you will for sure want to take yourself even further and that is where our more dedicated foils come into play. Each specific size and model of the Kujira Carbon range has been tailored to advance to the highest performance, uniquely designed to deliver the best execution be it in waves (the 750) in sharp manoeuvres (the 980) in pure extreme gliding (the 1095 HA) in pumping and speed (the 1210) or for downwind (the 1440). Every rider has a unique style in each discipline and should therefore be matched with a foil that is fit for their size, level and conditions if they intend on taking their riding up a notch.
What are the highlights of your 2023 hydrofoil offer?
As mentioned earlier we have increased the range of our sizes and introduced a high aspect wing, the Kujira full carbon 1095 that delivers a whole new perception of foiling. Made for insane endless gliding with a fast top end speed. The intelligent design allows it to maintain a superior level of manoeuvrability and stability for such a high aspect wing, with a smooth acceleration and insanely effortless pumping.
After the huge success of our Kujira Helium 1500 launched last year, we have developed a larger model, the 1750 that performs exceptionally in light wind and is perfect for the progression of heavier riders. Our latest release, the 1200 is more dedicated to playful foiling as it is extremely agile and super fun to ride while maintaining the stability and control that the Helium model has become renowned for.
We are stoked to announce that the long-awaited Carbon Mast set is finally here. Stiffer, stronger and lighter, the integrated mast and top plate will make an undeniable disruption to the foiling game. The extreme stiffness will radically improve performance and the pure feeling you get from riding. Designed to deliver the perfect efficiency, and maximum comfort in flight, allowing for better glide and speed, with less drag, and more manoeuvrability. The unique 'Conic Locked in' system maintains a secure airtight fuselage connection for the smoothest glide possible.
 What are the highlights of your 2023 foilboard offer?
We have been very busy of late and have recently launched a whole new line up of foilboard offerings. Our new CK Carbon range is the lightest and strongest board for foiling. Delivering extreme comfort and control, these full carbon boards are highly responsive. They have pure performance at their core yet are forgiving and durable enough to withstand the typical impacts. With a perfectly balanced volume distribution, they are compact and shorter for more manoeuvrability.
The Takuma BK EBS (Epoxy Bamboo sandwich) are the perfect all-round wing foiling boards, they are fun and robust. The universal design fits all levels from beginners to the most advanced riders. With a soft and progressive take-off, the BK EBS is easy to control, comfortable and very versatile.
Gone are the days when custom prone boards outperform. We have made a true transformation in short board design, perfecting symmetry, and stiffness. The Morning Sun board is fully dedicated to the ultimate prone riding experience. This new creation opens up the ability to effortless catch small and big waves. Delivering a super comfortable and responsive feeling while riding due to the unique construction and high-quality prepreg carbon.
A revolution in inflatable foil board technology, our Wing Air delivers unequalled performance for an inflatable board that delivers the same qualities as its rigid counterpart. It is quick to inflate, ultra-lightweight and a perfect solution for the space-conscious and frequent travellers out there.
Do you fiddle with new materials/alloys as far as wings/masts are concerned?
We are constantly testing new materials and methods. Innovation is at the core of our design process and the desire to take the sport further is key to our identity.  
What is the added value of your brand concerning Retailer Support: Education (online/physical), POS in shops, Clinics, etc.?
Our partners are our communication lifeline. Without the correct direction and training, they are flying blind. Of course, our main priority is for our network of retailers to test our foils and fall in love with them, as passion sells best. However, for those who haven't yet got the 'foil bug,' we deliver one-to-one support, as well as access to tech-focused, pdfs, user guides, product news, updates and informative newsletters in order for them to fully understand the values and benefits of our products and share this with their clientele.
Key Products: 
Efoil Cruising Jet: The safest, most user-friendly Efoil on the market
The revolutionary jet design makes efoiling even safer for beginners and as user-friendly as possible. Now everyone can enjoy this exhilarating sport and experience the incredible sensation of flying above water. The jet propulsion is not only much safer than the alternative propeller blades, it is more streamlined, which means less drag and more fun, and less maintenance.
RS Wing 
The most advanced, ultra reactive wing ever made
Born from the collaboration of legendary sail designer Robert Stroj, the RS wing will enhance your riding level to unimaginable heights. Offering fantastic upwind performance, stability and control. With an innovative design and stiff angled carbon handles, the RS will give you the confidence to master jumps and aerial rotations, allowing you to progress at a fast pace.
CK Carbon board
Extreme comfort and control
The CK Carbon foil board range delivers an astonishing balance of stability, manoeuvrability, and speed. Perfect for wing foiling, wave & swell riding, high speed, light or strong wind, it can do it all. Pulling together our in-depth experience and expertise in foil and wing board designs to create the ideal board which will suit most wingfoil riders' needs. Whatever your level or riding conditions, the CK range works exceptionally.