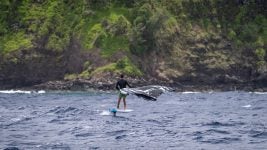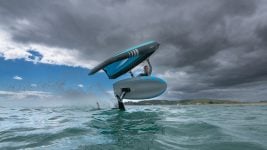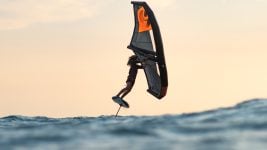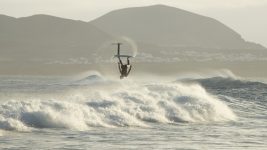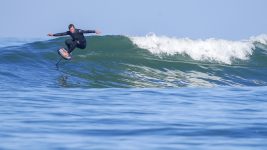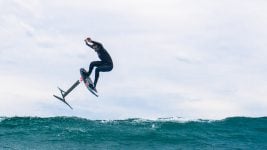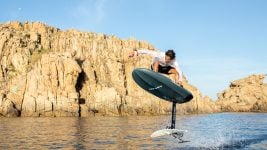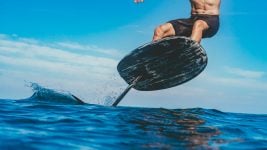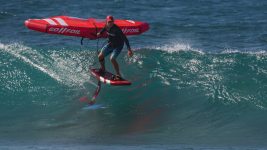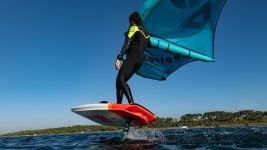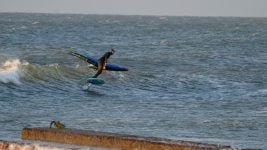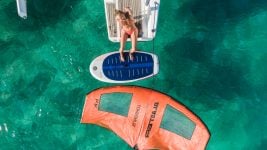 Foiling 2023 Retail Buyer's Guide
Propelled by wing foiling -the latest in hydrofoil sports – the market is getting a second wind, connecting it with a more accessible, less technical sport than pure surf/SUP foil. Brands have a suitably extensive range for 2023 so take note! By David Bianic
Faster than a Sars-CoV-2 variant, it's continually mutating and spreading unhindered throughout the boardsports world. The only handbrakes on its full expansion: getting your credit card out when it comes to buying one and the "physical barriers" which not everyone can overcome. As you will have seen, foiling has one of the fastest penetration rates in boardsports history, only its price and technical difficulty prevent it from boasting the same success as – say – the inflatable SUP.
WING SWING
Upon the arrival of wing foiling, this last constraint tends to fade, making it the most accessible form of foiling. The question now is whether wing foiling will boost all hydrofoil disciplines (kite foiling, wind foiling, surf foiling, SUP foiling) or cannibalise the market. "From personal observations, online and feedback from the beaches I would say that wing foiling caught people from wind and kite foiling and let them switch or add that sport to their repertoire," comments Max Panjak, Product Manager for Duotone/Fanatic, before adding that "Foil surfing on the other hand might have increased their number in participants through wing foilers getting into surf foiling as a next step." Konstantin Weier, Marketing Manager at Gaastra & Tabou Boards, sums up the situation wonderfully by explaining that windsurfers appreciate the lightness of the wing foil, kitesurfers love the immediate drive of the kites and surfers have the opportunity to use the wind and still get a feeling of freedom on the waves.
For Alex Maes, European Sales Director at Lift Foils, it would not be surprising if wing foiling overtakes kitesurfing in the next couple of years but he doesn't perceive too much of a threat to the diversity of the market either because it is the ability to switch from one discipline to another without changing the equipment too much that is important. We'll come back to this…
PRICES AND PACKAGES
When it comes to the price of a complete set-up (board, hydrofoil and possibly wing), this has also diversified according to their uses. From 100% carbon foils to aluminium alternatives, accessibility is improving, as explained by Andy Wirtz of Norden, a foilboard shaper for whom low-price online competition is not a fundamental threat: "I think we learned from the inflatable SUP that the cheap stuff helps to sell the expensive stuff because it makes a bigger cake".
One way to encourage foiling, as with SUP, is in part through package deals. This commercial practise differs depending on the brand and their positioning on the foil scene. At Naish or Slingshot for example, it's up to retailers to compose these packages or not, while at AFS Foils, they admit that it simplifies the choice for customers. Others like Lift Foils have gone backwards and stopped offering these complete kits in 2022 to give the buyer more freedom given the depth of their range (9 front wings, 6 rear wings).
As far as prices are concerned, the foil world and water sports in general are "not a refuge from inflation", reminds Bruno Sroka of Sroka Company, before adding that he has seen past mistakes repeated (in kitesurfing and windsurfing) by tending towards becoming an elitist discipline. Sroka are therefore limiting their prices without positioning themselves as a "low-coaster" with, for example, "plug and play" packages (wing + foil + board) between €2400 and €2600, and €2050 for inflatables. Indiana remind us that people who already practice windsurfing, kiting or snowboarding are already used to spending more for better quality equipment so a "high" price is a subjective notion depending on the customer's background. Not wrong.
HYDROFOIL DEVELOPMENTS 2023
Before diving into the detail of the wings, masts and other stabilisers, let's revisit a basic trend in foil set-ups: their modular options. Brands are making it possible to interchange these parts according to use and/or conditions. To provide this freedom, Go Foil, for example, have made the same mast/fuselage connection system for nine years, explains Alex Aguera, one of the legends of modern foiling, which is why their iconic Maliko 200 foil can still be found on the water.
This modular approach was undoubtedly one of the reasons for the success of Slingshot's Hover Glide foils, whose parts are all compatible with each other, with the brand also providing this capability on their most recent platform, the Phantasm.
But be careful not to drown the user in choice, warns Max from Duotone/Fanatic: "it's easy to get lost if there's like 25 different options to choose from.", which is why the brand are trying to keep their range simple and clear. Steve West, Mistral's R&D and Marketing Director, points out another limitation of such versatility in the set-ups: "brands are wanting to market equipment as multi-functional when in fact it's often borderline dysfunctional on account of attempting to be too many things, to too many people." He cites the similarities between wing foiling and SUP foiling, but the very different requirements of higher power sports such as kite and wind foiling.
Sometimes this crossover dimension is the result of "happy accidents", says Paul Burnett, Brand Manager at Unifoil, whose first Hyper kite designed for surf foiling was hijacked by windfoilers, then it was the turn of the Vyper – still designed for surfing – adopted by wing foilers! What about the Hyper 2 which will be released later this year?
But let's stick with versatility and the brand new CF V2 from Armstrong Foils, a foil set-up that suits a range of riders from beginners to advanced, as Operations Manager Nathan Tuke explains: "Low stall speeds combined with excellent pitch stability provide control and increased flying time across a variety of foiling sports."
For lighter wind conditions, Go Foil are highlighting their GT2200 front wing, a surface area that allows for very low speed flying, with which Alex advises trying the 20″ rear wing, "and take off into the calm!" In the same vein, the G-Series (for Glide) from Slingshot comes to mind, which is clearly aimed at effortless gliding and pumping, yet still compatible with many foil disciplines.
The big news from Naish is not in the wing but in the fuselage with a new S27 aluminium model (in 55 and 36 cm) whose connection system makes it 100% compatible with all their front wings produced so far and with their rear wings since 2018. SIC Maui are also highlighting their new Flip Fuselage, "which allows you to customise your ride with two options: pump riding style with stability and control or manoeuvrability and aggressive turning". For their part, Cabrinha are pushing a new Cab Fusion construction which is a mast/fuselage connector that ensures there is no play in the system, providing great torsional stiffness so it feels like it's just one piece.
For the most experienced foilers, the high-aspect design of the wings, i.e. a large span for a small cord (width), has become a must: faster glide, more stability, more power when pumping, but less manoeuvrability. For example, this is the case with the HA1700 front wing from Taaroa Hydrofoils, "a true weapon for dock starts or connecting endless waves.", assures Sales Manager Antoine Ravel, allowing you to fly "even in the tiniest breeze while Wing foiling with an impressive speed potential". F-One are also exploiting this "high aspect ratio" vein with two foils dedicated to downwind, the Seven Seas (AR 7.5), "great for surfing the swell and downwinding on small chops or in light winds" and the Eagle (AR 9.5) made for the high sea to "fly far and fast". Cabrinha are boasting about their new H-series range (developed with their top rider Keahi De Aboitiz for high aspect) that uses the Cab Fusion system mentioned above. This brand are working with scientists from the Norwegian institute SINTEF to gather as much data as they can about their foils such as cavitation. Takuma are joining the party with a high aspect version of their full carbon Kujira, the 1095, which reuses the brands iconic wing design and ridged leading edge inspired by humpback whales. In passing we should mention their new 1750 version of the Kujira Helium front wing, a more affordable model that has enjoyed great success for its performance to price ratio. By the way, foiling doesn't always have to be expensive, just like the Board Shim at PPC Foiling, an ingenious prop piece which sits between the mast plate and the board, thanks to which you can add/lessen the angle: "If you feel too much back foot pressure while foiling, position the thicker end to the back & it will flatten the rocker of your board therefore giving you a more level flight." And vice versa.
Finally, while many foil brands have complemented their ranges with foilboards, Freedom Foil is going the other way by launching two full-carbon foils for 2023, the Halcyon and Phoenix.
FOILBOARD DEVELOPMENTS 2023
As proof of the new-found importance of wing foils, all the interviewed brands – without exception – chose to highlight their new foilboards aimed at this use. In no particular order: the Wing Nut from Freedom Foil Boards and its "Quad Micro Channel Bottom engineered to reduce friction and allow for a quick release on take off", as well as "Gradually tapered rails redirecting water near the nose and improving flow around the tail of the board". Another example of this is the new Code from Cabrinha (6 sizes from 4'8''/58l to 5'8''/118l) aimed at windsurfing and derived from their Macro board, a light board with ultra quick take off in an ESP-bamboo and carbon stringer construction.
Another example is the new Soar from PPC Foiling, an evolution of their first wing board, the Glide. The idea behind this shape is to provide maximum stability and minimum swing weight between the board and the foil. Armstrong Foils have also worked on reducing this effect on their Forward Geometry. Nathan Tuke explains: "The logic behind the Forward Geometry is all about the mast track position in relation to the centre of the board. The further forward the mast can go the better, improving its manoeuvrability, response and dramatically reducing the rotational swing weight effect." Got it? This FG design can be found on their WKT board, for Wake, Kite, Tow.
In terms of boards, versatility has its limits and, generally speaking, the same foilbard can be used for two different disciplines but rarely more. This is demonstrated by Andy from Norden who says that "the two-in-one works very well with customers", i.e. "2 sizes that suits surf/wing foilers, 2 pure wing sizes and 2 beginner wing/ SUP foil sizes". This is also the case with Mistral's Tempest, designed as a technical SUP foil board or a wingboard for light to medium weight riders, from intermediate to advanced riders.
Still anecdotal just last year, inflatable foil boards are gaining ground, like the LTF (Learn to Fly) from Slingshot, equipped with a rigid carbon plate on the hull that helps you pump and get close to the feeling of a rigid board, all folded into a small case once deflated. Sroka are also offering three choices of inflatables from 5'3" (115 l) to 6′ (140 l) and finally a 6'4" (150 l), just like SIC Maui who are offering an Air version of their Raptor to make it easier for beginners and to allow experienced riders to travel unburdened.
Lastly, the e-Foil category has managed to win over an audience from outside the boardsports world and many are now launching into electric foils: the Lift3 from Lift Foils or Takuma with their Cruising 2 Jet and Carver. The Cruising 2 Jet replaces a propeller with a more secure turbine that requires less maintenance.
FOILS & FOILBOARDS MATERIALS 2023
Let's finish quickly with the constructions because, unsurprisingly, carbon reigns supreme in wings and masts and continues to progress technologically. Mistral are using 12k carbon fibre on their front and rear wings and will launch a carbon fuselage in 2023 (aluminium today). At Naish, a new mast appears, the C100 monocoque (4 sizes from 75 to 105cm). This breakthrough blends 3k carbon and UD (uni-directionality) to achieve unparalleled longitudinal and torsional stiffness, providing a more direct feel. For more modest budgets, Naish are offering the C35 composite mast (35% UD carbon), twin brother of the C100.
The success of aluminium masts is not only down to their lower price, says Paul Burnett from Unifoil, but also because of their rigidity and the brand is preparing to release three aluminium masts (600, 750, 850mm). We should also salute the compatibility between SIC Maui's aluminium Flite masts/stabilisers and their carbon Slash foil.
As for the boards, the standard remains PVC sandwich composite with the addition of carbon fibre for the sportiest models, but cheaper alternatives are appearing. At Slingshot, the Manticore (wing foil) is a very robust moulded board at a curtailed price, while Tahe are about to launch foilboards in Ace-Tec technology, which already existed under BIC, all at an affordable price. 
For wingfoil, F-One are now offering their Rocket Wing and Rocket Wing-S (for surfing) in full carbon or full bamboo: "The carbon ones are more recommended for intensive freestyle sessions as the carbon makes the boards tougher and extra resistant." The brand are also rerunning their unique FCT (Foil Compression Technology) construction in 2023; front wings with a high density foam core covered in fibreglass then wrapped in a Shield Skin to protect the wing from dings and scratches. 
CONCLUSION
Increasingly diversified and technical, the world of foiling can frighten off retailers who have not yet personally taken to the discipline. While many resources exist to educate customers (platforms like Slingshot's foil-academy.com, as well as online courses on sale at Indiana or on the beach through demos/clinics), taking ownership of foil sports is crucial for retailers if they don't want to lose the market to online DTC sales. "If you look at the old school model of windsurfing, retailers would offer lessons first, then sell you what you need relative to your needs. This model is gold and should be brought back into service," advises Steve at Mistral. Heed these wise words.