Deeluxe 2023/2024 Snowboard Boots Preview
Retail Buyers Guide: Boots 2023/24 Retail Buyer's Guide
Brand: Deeluxe
Interviewee: Florian Heim, Marketing Manager
How would you describe the current state of the snowboard boot market? What big developments, changes, challenges, and/or opportunities are you seeing and how is your brand navigating them?
In our view the greatest challenge for the snowboard boot market in general is that boots are often the part of a set up that many riders care about the least. While finding the right board/ binding set up is in the focus, finding the right snowboard boots gets overlooked way to often. Still, riding the right snowboard boots is crucial and probably the most important part of any set up. Everybody who ever had a boot that did not fit well knows that this can ultimately determine if you're having a good or bad day on snow. Accordingly, we are not just trying to come up with the best and most comfortable snowboard boots in the game. We're also aiming to set up a fresh looking and exciting boot collection every year to make snowboard boots ultimately become a more appealing part of every set up. 
Everyone has been affected by raw materials and shipping price increases and transport issues. Have you had to make any significant changes with regards to manufacturing, sourcing, or logistics? Are there any examples you can share of how your business pivoted effectively? Any positive developments with regards to these issues and the changes you've made?
Sourcing, manufacturing and logistics have for sure become way more difficult than ever before. We think everyone in the industry is facing the same situation here. Basically we had to move production and order cycles ahead in order to be able to deliver our products in time. Of course we're also facing higher production, raw material and shipping costs. On the manufacturing side we're pretty lucky though that we're working with the same factory since the beginning of DEELUXE and they've become a partner that we always can rely on. Having a strong partner here helps us to navigate through all the new challenges as good as possible. An example how we pivoted effectively is that instead of going through multiple sample rounds we're working more with material swatches and 3D printed parts when it comes to development and working on new boot samples. We started this already in the last years and it has made our samples production way more efficient.
After two years of heavy carry over in the industry and more of a return to normalcy last season, what's your overall sales and production/inventory strategy for 23/24?
We didn't have much carry over boots in our line in the last seasons, so this didn't change much for us now. Instead of overflowing the market with a lot of carry over product or "standard" snowboard boots, we're aiming for being on point with our line and production season after season. Sold out instead of close out is our motto here. As a brand that focuses exclusively on developing snowboard boots, our goal is to bring a fresh and interesting new line every year and provide our customers with the best products possible. We want to do our best to keep people excited and supply them with gear that makes them stoked to go snowboarding.
Does your brand have any new developments concerning sustainability and/or how you are positioning any environmental messaging?
In the season 22/23 we've introduced "The Formative" – Elias Elhardt's new signature boot to the DEELUXE line. The goal for this boot was to establish a more sustainable way on how to build snowboard boots, while not sacrificing any performance. This was the first snowboard boot made with RISE by BLOOM – an environmentally-conscious, high-performance replacement for traditional petroleum-based EVAs, made of algae. For the season 23/24 we're taking things one step further with the all new Formative 2. While the Formative was using Rise by Bloom "only" in the shell of the boot, we found a way to use it also in the midsole of the boot. On top of this, we're also introducing a version of our popular Stage 3 Liner made of Rise by Bloom for the Formative 2. This will be the first snowboard boot liner made of Rise by Bloom. Alltogether, the Rise by Bloom material used the Formative 2 has 4-times the positive environmental impact compared to the Formative 1, as Rise is is a bio-based foam derived from algae harvested from compromised ecosystems. This approach leverages algae's ability to sequester carbon while helping clean water and restore aquatic habitats. Since many years, we only use glue that's free of benzol, our boots are a made of PVC free material, we've banned any plastic from our boot packaging and we've switched to means of transportation for our gear with less environmental impact whenever it's possible. Still, we know there's plenty more to work on for us as well as the whole industry. Accordingly, we don't focus much on communicating about the steps we've reached so far. Our goal is to introduce Rise by Bloom more broadly in the DEELUXE collection throughout the next years and get rid of the industry standard EVA step by step. Besides this, we're continuing to work on new solutions how snowboard boots can be built – more durable and more sustainable. 
Will you be using any previously unseen materials (in outer shell, reinforcement, cushioning, support or grip) or construction methods? Any liner story or program you plan to highlight for 23/24?
For the all new Kevin Backstrom signature boot AERIS, we're introducing a completely new outsole that takes our patented Skateflex sole concept one step further. The zonal design of this innovative sole maximizes boardfeel & grip, while featuring a smart and effective dampening way for heavy impacts. Our goal was to come up with the ultimate all-terrain snowboard boot sole that meets the demands of Kevin's snowboarding. And as you know, Kevin is never afraid to go big.  Like mentioned above, we're introducing the first ever snowboard boot liner made of Rise by Bloom. Rise is a bio-based foam derived from algae harvested from compromised ecosystems. This approach leverages algae's ability to sequester carbon while helping clean water and restore aquatic habitats.
What lacing systems are your main focus in 23/24 and why? Where does BOA fit in your overall strategy and focus?
Choosing the right lacing system for a boot is crucial, but the lacing system itself is only one component of boots. After all, we really think that the lacing system always needs to match with the purpose and aesthetics of the boots. Accordingly, we carefully try to equip our different models with the lacing option that fits best. Many DEELUXE customers are looking for our patented Lacesmart® fast lacing system, but of course we also see an ongoing, rising demand for boots with the BOA® Fit System in the market. That's why we further expand our collaboration with BOA®, have more BOA® models in the line and also try to implement their newest technology in our line. Because of this, we only use the new M+2 for all DEELUXE 23/24 BOA® models. 
Please tell us about the dominant visual themes or patterns you plan to use in next year's boot line (materials as well as colours)? Any interesting artist collabs or partnerships you have lined up? Which other footwear sectors or fashion trends do you follow that influence the line?
Our adventure and all-terrain series consists of the technical most advanced boots in our line and accordingly the functionality of the boots results in a rather techy look. Our main inspirations for these lines are high tech outdoor gear and the more urban iteration of it – gorpcore. The DEELUXE freestyle series on the other hand is mainly inspired from skate shoe trends and the sneaker culture in general. For the 23/24 collection we're adding recurring pattern prints to selected models in the freestyle line as eye catcher.  
Which part of your range are you investing in the most? Freestyle, freeride, all mountain, beginner…? Why?
For us as a snowboard boot specialist all riding styles and every terrain is equally important. We are constantly striving for building the best boots in the game for every terrain and every riding level. This means we invest in all parts of our range and try to come up with the best solutions tailored to every terrain and each riding style. 
Pricewise, which area of the market do you cater to? What developments are you seeing with regards to product pricing? 
DEELUXE is mainly known to cater to the mid – high end price range. With the introduction of the DNA last season, we found a great way to offer an exciting and fresh model for a price point below that. Given the rising costs (materials, logistics,…) the whole industry is facing, we're seeing that snowbaord gear in general will get more expensive next season. To further react to this trend, we're also introducing the ID Lite for the 23/24 season to offer an additional price below to our popular ID family.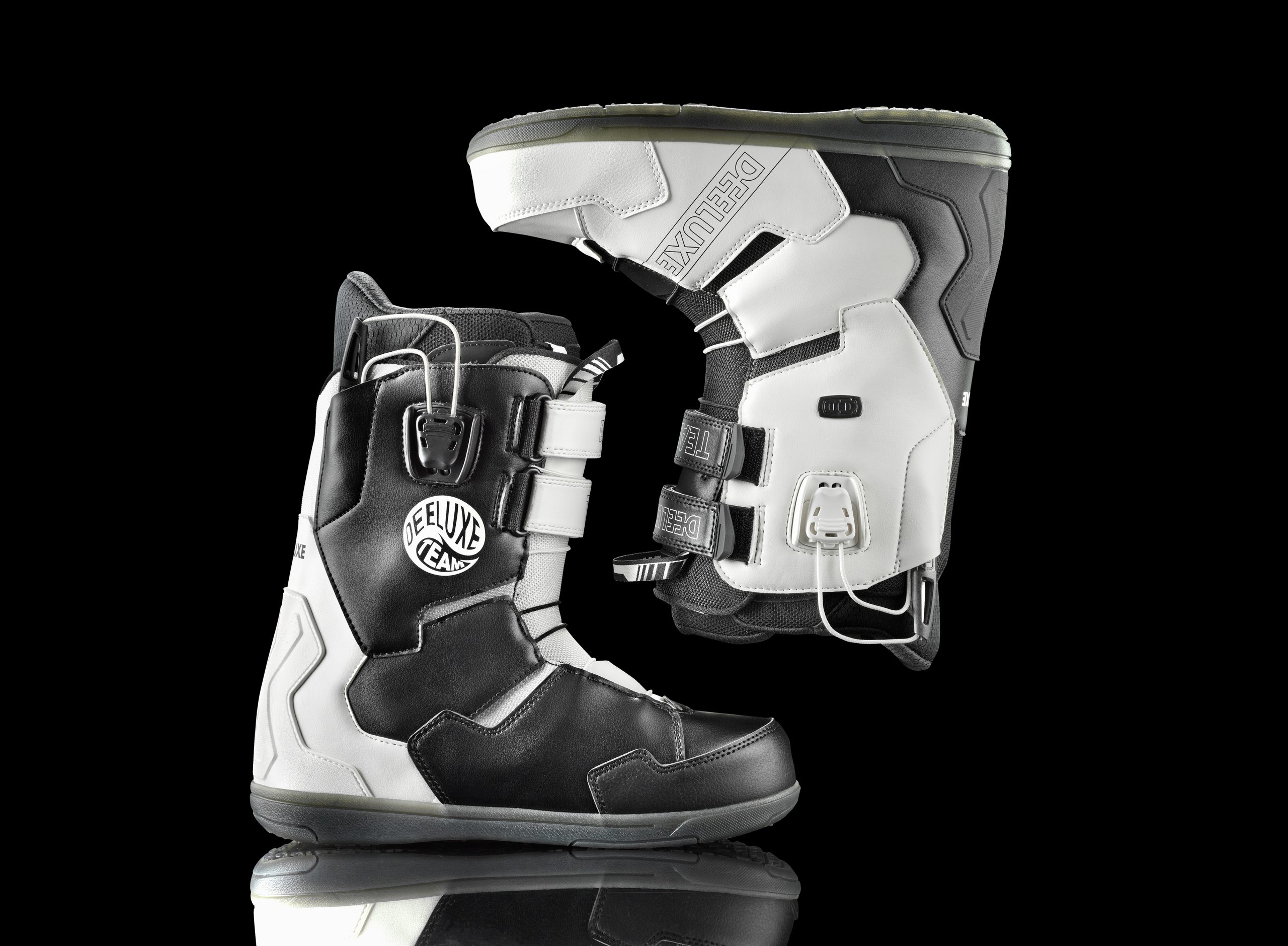 What are your top product marketing stories for next season?
AERIS:  Kevin Backstrom's new signature model and next level all-terrain boot. TEAM ID LTD.: 5 years anniversary of the DEELUXE team rider exclusive boots (team rider version of the boots first time available to the public in limited quantities) DNA PRO: Supercharged version of the sneaker-inspired DNA