Nidecker 2023/2024 Snowboard Boots Preview
Retail Buyers Guide: Boots 2023/24 Retail Buyer's Guide
Brand: Nidecker
Interviewee: Maurizio Molin, Boot Designer
How would you describe the current state of the snowboard boot market? What big developments, changes, challenges, and/or opportunities are you seeing and how is your brand navigating them?
As always, yeah, there are some clear leaders on the "cool" side and on the "volume" side. You'll find us in the middle.  We don't follow trends, we keep our communication tight with our distributors, dealers and customers, then we get our heads down and do the best job we can making the best snowboard boots out there.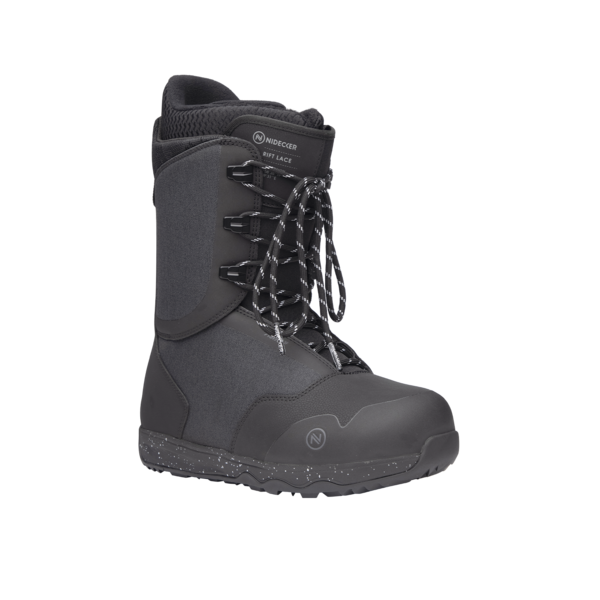 Everyone has been affected by raw materials and shipping price increases and transport issues. Have you had to make any significant changes with regards to manufacturing, sourcing, or logistics? Are there any examples you can share of how your business pivoted effectively? Any positive developments with regards to these issues and the changes you've made?
Delivery-wise, we are pretty lucky to work with a very serious factory who perfectly know how to follow our schedule. We then did not have any issue to deliver on time this year, either for SMS or mass production products. 
After two years of heavy carry over in the industry and more of a return to normalcy last season, what's your overall sales and production/inventory strategy for 23/24?
We feel we're almost back to normal now. The market has matured, and carrying over a really strong basic colorway for a year or two isn't a surprise to anyone anymore. When we drop new models with technology, new colorways accompany them. Generally, we keep things fresh but commercial with a focus on shelf appeal and there's a reason for every color we bring out. Inventory strategy is easy. Produce to order, ensuring INV levels are efficient and on point. 
Do you anticipate any shifts in the ratio of e-commerce sales vs. brick-and-mortar sales now that most Covid-19 restrictions are gone?
Nope, not expecting any significant shifts here. I think this question is a little more complex than "bricks vs ecomm" though – we love supporting core retail and firmly believe that is where snowboard boots are sold best. At the same time, market fragmentation and evolving consumer needs mean that there's a patchwork now…brand ecommerce sits alongside dealer ecommerce, Amazon shops, the marketplace environments…all mixed up with social commerce. The art is now balancing availability and service levels to do it right, in the places where consumers want to be met.
Does your brand have any new developments concerning sustainability and/or how you are positioning any environmental messaging?
Production-wise, we are trying to reduce our carbon footprint by producing fewer samples, which not only reduces the use of materials but also the recurrent transits between our production countries and Switzerland. We give 1% of everything we sell to nonprofits fighting climate change. At the same time, our head office, which also houses our development offices, is directly powered by solar panels. We organised a global litterpick with our 1% For The Planet partners Summit Foundation this summer; the activation was called Stash The Trash and showed our commitment to doing what we can to make the world a better place on a local and global level. Look around the car park of our head office and you'll quickly realise that the lion's share of our employees travel in by electric car or public transport.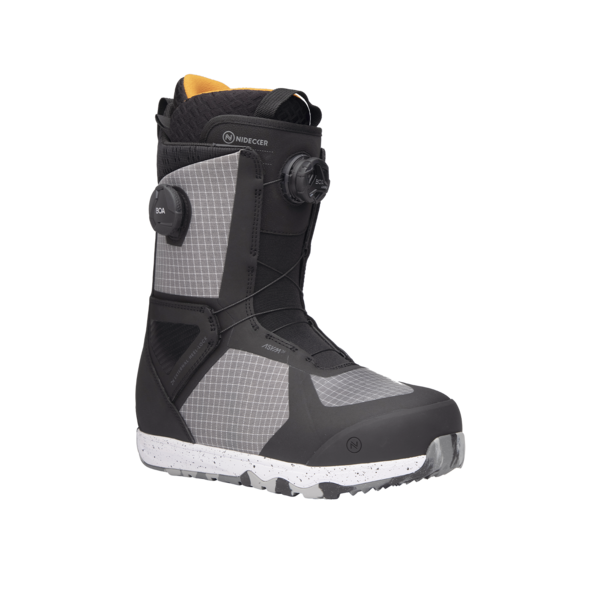 Will you be using any previously unseen materials (in outer shell, reinforcement, cushioning, support or grip) or construction methods?
One of the biggest purposes was to revamp our entry price level boots. We've started by re-designing the old full rubber outsole. Thus, we've built a brand new full EVA outsole to make the boot the lightest and the most comfortable. Talking about construction methods, the rental line revamp has allowed us to rethink the way to make a boot more durable and easier to produce. We've thus reduced the amount of pieces by using a full injected rubber toe box and full injected backstay. 
Any liner story or program you plan to highlight for 23/24?
Same as last year the main liner stories are the 1.1 Lasting and the comfort. The whole liner range are fully redesign and made by heat moldable EVA to prevent any pressure point.The liner comes with the 3D folded dual density footbed , an extra layer of High Density EVA that offers support and comfort around and under your feet.
What lacing systems are your main focus in 23/24 and why? Where does BOA fit in your overall strategy and focus?
We are still offering 90% of our range powered by BOA, because we deeply believe that it remains the best solution which fits every type of snowboarder from park to pow segment. Besides, we also wanted to reinstate the lacing possibility within our line. As you know Nidecker is on the side of the shops, and trads laces are really heavily represented amongst shop kids. As I said, BOA is still the focus, and we consider it's the best way of locking the heel, but this option means no-one is excluded form what we consider the best boots on the market today. More versatility as you adjust a full adjustability with lacing… 
Please tell us about the dominant visual themes or patterns you plan to use in next year's boot line (materials as well as colours)? Any interesting artist collabs or partnerships you have lined up?
Our boot design dominant theme is call "VISUAL TECH". That mean's before to start the aesthetic we designed the function. Along the function comes the design, that it need to speak itself about the technical features. For example the Bullet proof construction it's a tech features but it also make our boots look modern, clean with personality.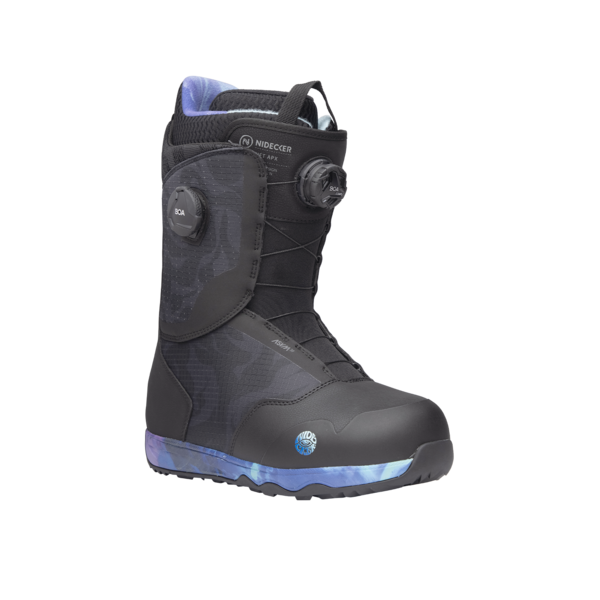 Which part of your range are you investing in the most? Freestyle, freeride, all mountain, beginner…? Why?
The first main focus this year was the low-end/kids revamp, which was still produced in our Wintersport factory with the old toolings (last, outsole…). From now on, all our boots are produced in the new factory which means new last, new outsole, new shell for all those models. The second was the rental revamp. Previous rental line was here for a couple of years now, and we wanted to develop this line according to the same guidelines we used for our mainline products. That's why we've developed new outsole, new injected toe cap, new backstay, specially to make those boots as durable as possible. 
Which other footwear sectors or fashion trends do you follow that influence the line?
There's something more interesting then others every season, in the last couple of years I really like the outdoor world…yes I got influenced by the expedition products for example or by the trail running shoes. When it comes to materials and color I try to make a color palette that make sense for the brand and the market trend or the function of the boots, but I always like to through there few colorway or prints inspired by fashion and arts.
Pricewise, which area of the market do you cater to? What developments are you seeing with regards to product pricing? 
Same as last year, our main focus is still the mid-end range. That's why we are keeping pushing the RIFT and the ALTAI that should be the worldwide best selling boots pretty soon. Besides, we know that the way to produce boots has not evolved for decades now, and it's getting more expensive year after year. Thus, our biggest challenge now is to re-think the way to produce the boots by findings new manufacturing process with new fabrics. 
What are your top product marketing stories for next season?
Like I said before, we'll keep pushing our Mid range with the Altai and the new Rift APX. Also, our entry price level which we think could probably be the best price/quality ratio boots on the market. And even if we know that traditional boots is taking now less space on the market, the Kita Hybrid (available for MNS and WMS) will let us push the internal heel-lock feature more and more.